Fearless Goose may have been, but friendly was a different story. He didn't mind meeting new humans as long as they didn't try to pick him up. Rolling on the kitchen table or flaunting his tail around the room, he would tempt visitors to pet him. However, if anyone other than me or my spouse dared contaminate his fluff with human scent, he would either seek higher ground where he was in sight but out of reach, or he would bite the offender then take a bath. .
During his first summer with us, Goose met his first dog: my Mom's Golden/Lab puppy, Link.
At first, Goose hissed and growled at the little 10lb ball of golden fur and sleepy cuddles, but after about an hour in the same room, he was batting at Link's tail. I was out of work for the summer and my Mom wasn't, so Link spent most of his days at my house.
Seeing them play was comical. Link would plop after Goose, attempting to lick his fluffy bum. When the reached the end of the room, Goose would swat at Link with his claws sheathed. Being a big baby, Link would run and Goose would chase him through the house until Link flopped over on his belly in submission.
Link grew and grew until he because an 80'lb, hyper yet loving horse of a dog. He never ceased trying to sniff and lick the rear ends of Goose and his own pack of felines, but he also continued to submit to their rule.
By the next summer, the Link and Goose were best friends. I'd walk in a room and find the two of them curled up on the couch or watching the squirrels through the screen door.
However, that friendship would soon be interrupted.
It was great being Link's Doggy Daycare provider, but I really wanted a pup of my own. Soon, I was scoured rescue sites, trying to find a dog we would both be happy adopting. Eventually, we came across a listing for a terrier/retriever mix who was being fostered in Tennessee.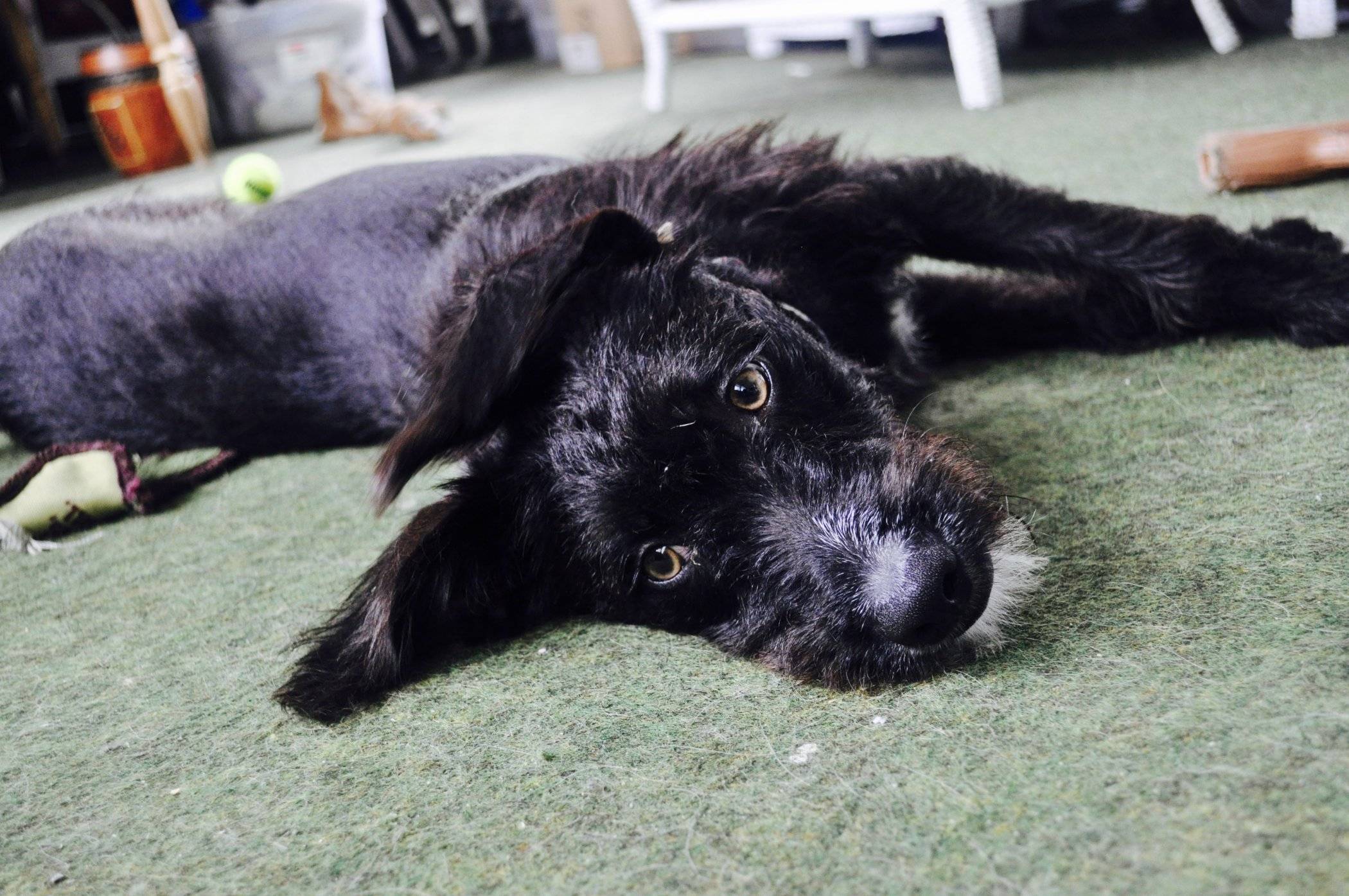 His scruffy face and intelligent amber eyes caught my attention. His story melted my heart. His mother was abandoned while pregnant. Fearing she and her unborn pups wouldn't survive in a local shelter, the neighbors brought her to a woman who basically turned her land into a private non-kill shelter. When I spoke to her on the phone about Tavi, who was then being called Rhody, I learned she had 40 dogs on her property.
Some had been picked up from shelters where they would have been put down. Others were like Tavi's mom and abandoned when their humans didn't want to deal with a litter of puppies. None stayed with this woman for too long. She worked with rescue agencies to find these dogs homes in New England where canine over population was not a problem.
After she assured me Tavi loved playing with her barn cats, we decided to adopt him. With in a week, he was transported from Tennessee to Massachusetts and held in quarantine for three days.
On a rainy Saturday morning, my spouse and I picked him up and brought him home. He was very nervous, so we let Goose onto the screen porch and played with the puppy in the yard.
When he saw Goose through the screen door, his fear dissolved. He bent down in a play bow, wagged his whole body and literally leapt into the air before breaking out into what I call his kitty dance: with his bum in the air and tail wagging, he hits the ground with his paws and swings them in the air.
Goose chirped at him, inviting him onto the porch.
We brought Tavi into the house.
And Goose quickly decided he liked the puppy better with a screen between the two of them, and growling at Tavi before running under a chair.
Everything on the internet said gradual introductions were best, but Goose was not having it. After an hour of hiding, he began stalking the puppy from atop the furniture.
When Tavi wasn't looking, he'd swat Tavi's tail or sniff his head.
Later that day, Link came over to meet Tavi and Goose was relieved to see Tavi's energy directed at another animal.
For Link and Tavi, it was love at first sniff.
After a year of only having cats to play with, Link loved having someone who not only liked getting slobbered, but would slobber him back. They ran together. They chewed on each others ears. They wrestled and dug holes.
Goose watched, but he never participated in their play unless the laser was involved. Though, Tavi always was trying to play with Goose.
Tavi has been living with us for a year now, but Goose still likes Link better. Link respects Goose's personal space. Tavi Still tried to sit on him. However, they do have a truce.
They will run around the house together, but when Tavi gets to rough, he gets scratched. Goose permits Tavi to hunt with him from the windows as long as he keeps his nose and tongue to himself.
And since Tavi is allowed outside more than Goose, Tavi does his best to bribe Goose with souvenirs.
He caught a grasshopper. Little did I know he kept the poor creature alive in his mouth long enough to deposit it on my kitchen floor, right in front of Goose.

While Goose rarely cuddles Tavi the way he cuddles Link, he and Tavi have become partners in crime, hunting leaves, lasers, magnets and lego bricks.
I have hope that by this time next year, Tavi will have matured enough to earn Goose's approval as a cuddle buddy.
However their relationship grows, it will happen on Goose's terms.
Missed part 1? Check it out here.
Advertisements
Click to visit our Shop for the hassle-free Zen Clippers!
Sara Codair lives in a world of words, writing fiction in every free moment, teaching writing at a community college and binge-reading fantasy novels. When not lost in words, Sara can often be found hiking, swimming, or gardening. Find Sara's words in Helios Quarterly, Secrets of the Goat People, The Centropic Oracle, at https://saracodair.com/ and @shatteredsmooth.