If you are a cat guardian you will know that your furry bundle of joy rules the roost. Making your cat comfortable and happy becomes second nature as, more often than not, we make do and live around where the cat chooses.
One way to avoid perching on the edge of a couch or sleeping in the corner of your bed to avoid disturbing a sprawled-out cat is to buy them their own furniture.
This isn't always easy, there are some schools of thought that suggest simply getting a box for your cat because 9 times out of 10 that's where they end up sleeping anyway.
One way to avoid that is by buying comfortable, entertaining and fun furniture for your cat so it becomes their first choice if they want a quick cat nap.
So what kind of options are available to us cat guardians that are looking to treat our feline friends?
First of all, you could look at cat trees. This is a structure that can be bought in various sizes made up of scratching posts, platforms and 'bedrooms'.
Easily constructed by screwing each section in (they usually come ready to screw in), the cat tree is a favourite for many cats. It not only gives them areas to sit on and different vantage points but offers them a warm and cosy area to sleep. The scratching posts are an excellent addition as most cats tent to stretch and scratch after a sleep so this could help to save your furniture and wallpaper.
Next up is the simple cat bed. If you have ever sat your clean washing down or rested a newspaper on a table, you will know a cat will be on it pretty swiftly. Sometimes a cat bed can be the solution.
There are so many options here for you to choose, from simple cushions to more elaborate designs you will find something to fit your cat's personality.
Cat burger beds are proving to be quite popular as it lets your cat get sandwiched between two fluffy cushions letting it enjoy absolute luxurious comfort. (Google it and you'll understand! 😉 )
The more style conscious among us might opt for an actual bed, that's right a miniature bed designed especially for cats. Another cheaper option is the Ikea doll bed that people have found are ideal for cats.
Hammocks that hang off a radiator are also great as they allow your cat to enjoy the warmth without blocking the rest of the room getting any. Coming in various designs and covering all budgets you can find some excellent options. Searching on the likes of Amazon and eBay will give you a better idea of the kind of prices you can pay and if you want to take advantage of any deals to lower the cost of your cat furniture or other homeware have a quick look here for discount codes in the UK.
For quirkier cats that might even be stars of Instagram or other social media channels, a simple bed just won't do. This is where you can look for some of the more creative options available.
Mini tepee's and yurts as well as cardboard designs can give your cat that little extra something.
One success story for interesting cardboard designs comes from the people behind 'Poopy Cat'. Despite the strange name they have been coming up with easy to construct, cardboard landmarks that are just fantastic.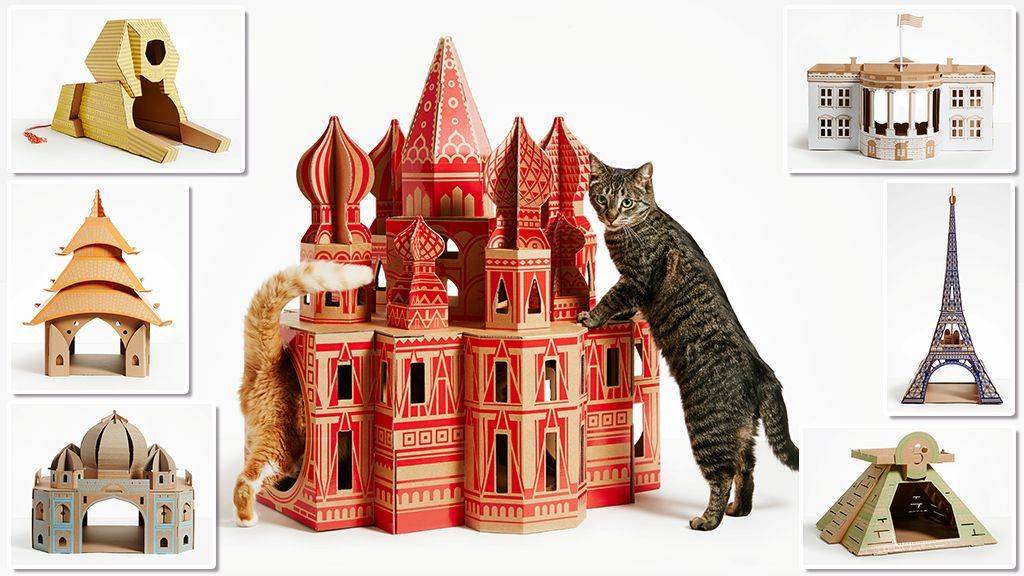 Finally, if any of you are handy around the home you might want to design your own cat paradise. Ideas like platforms and bridges built into the wall with big pipe runways, steps, scratch pads and more are a great way for your cat to enjoy their indoor space as much as the outdoors.
No matter how you decide to treat your cat we are sure they will appreciate it, they might not let you know quite as obviously as a dog might, but it is all worth it for that subtle head bump and purr at the end of the day.
Advertisements
Visit our Shop for top-quality cat toys and cat lover products!
We regularly write about all things relating to cats on our Blog Katzenworld!
My partner and I are owned by five cheeky cats that get up to all kinds of mischief that of course, you'll also be able to find out more about on our Blog
If you are interested in joining us by becoming a regular contributor/guest author do drop us a message @ info@katzenworld.co.uk .