Hi everyone,
It's Oliver here! Today we are trying to hide… away from the cameras! Not quite successful I may say!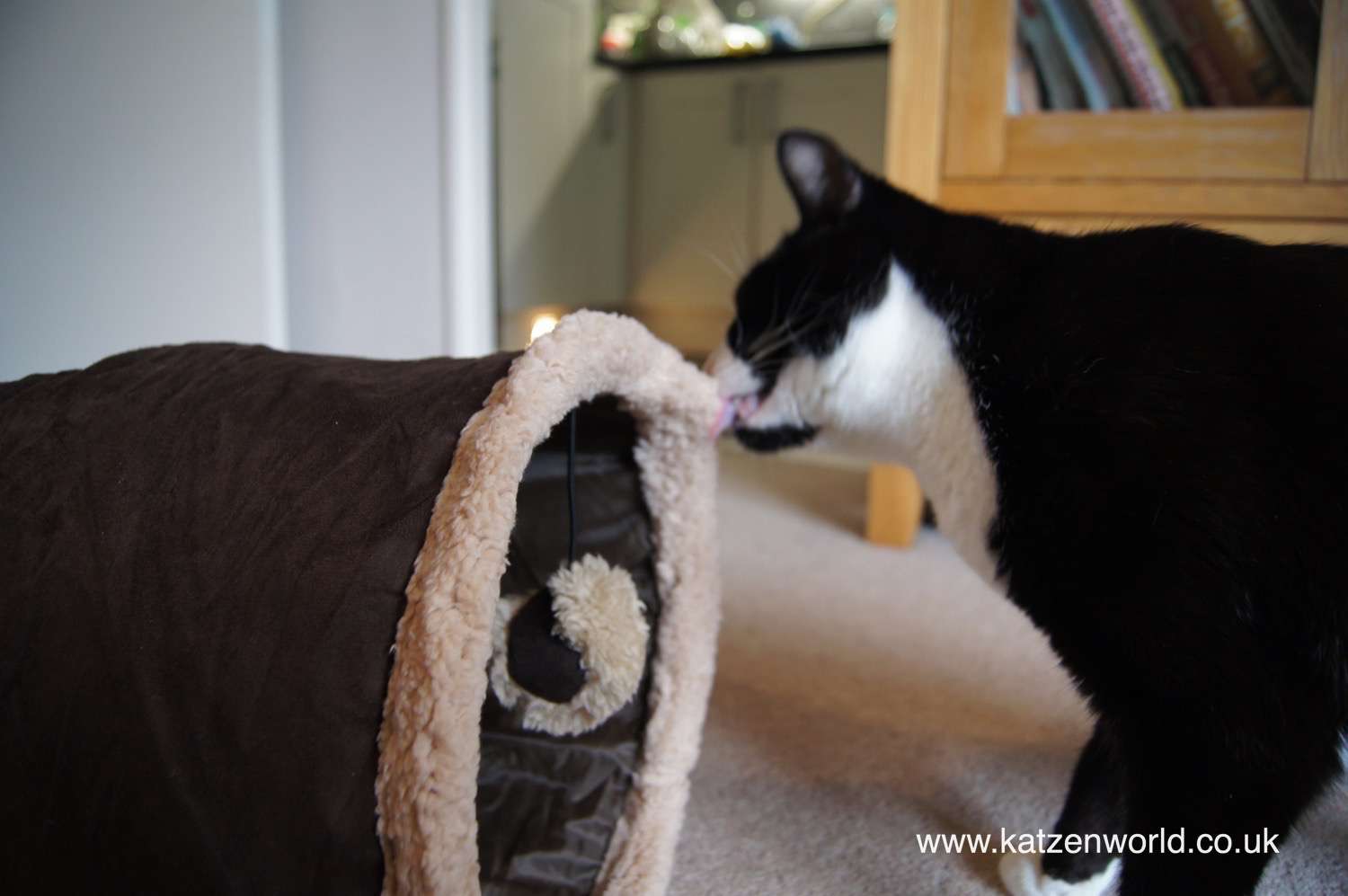 Oliver: The hoomin got us this new tunnel from All For Paws and… it looks tasty.
Oliver: Yes! Most certainly tastes of lamb!
Nubia: Stop eating all our new toys…
Oliver: I am just making sure it's genuine!
Nubia: Right…
Oliver: Right where was I? Oh yes you can hide away in!
Oliver: Certainly a mighty long tunnel! 😀
Oliver: The only downside… It has a peek hole for the hoomin camera!
Oliver: And there goes the hoomin again…
Oliver: is it safe to leave yet???
Oliver: Time to pass over to my sister! It's all yours Nubia
Nubia: At last! 😀
Nubia: I'll just look pretty 😀
Oliver: WHAT? Is that all you are going to do??? Might as well pass over to the hoomin for the review part in that case…
Thanks Oliver!
As for the tunnel we got this from www.fetch.co.uk
When it first arrived it came wrapped in a cardboard sleeve to keep it together.
The good thing about the tunnel is that while it's nice and long it can be compressed and held together with little bands on each side of the tunnel. The bands are made of the same material and colour as the rest of the tunnel ensuring that it doesn't stick out too much.
Unlike most tunnels we have tested it comes in colours that blend in better with the rest of your place. Available colours are dark brown, beige and grey!
Overall verdict?:
What can we say! Our two cats love this tunnel! Thanks to its snuggly design and crinkling noise it has managed to attract both Mr Oli and Nubia, which is quite unusual as they both have their own preferences on toys haha! The little hole in the middle of the tunnel is especially cute your cat can peek out and your can play with them through the hole. 🙂
At an RRP of £16.99 it is a bit more expensive than your standard tunnel but that's due to its great quality and the material used.
You'd like to get your own? You can find it on fetch.co.uk if you are based in the UK. For those
New to Fetch? Use VOU379997277 during checkout for an extra discount! (Discount seems to vary based on the day you use!)
We hope you liked their product line up and are looking forward to more cool posts here at Katzenworld!
You can subscribe to our Newsletter to always stay up to date. 😀
Thanks,
Marc
Advertisements
Visit our Shop for top-quality cat toys and cat lover products!
We regularly write about all things relating to cats on our Blog Katzenworld!
My partner and I are owned by five cheeky cats that get up to all kinds of mischief that of course, you'll also be able to find out more about on our Blog
If you are interested in joining us by becoming a regular contributor/guest author do drop us a message @ info@katzenworld.co.uk .