Vet charity PDSA launches #WeighUp campaign
Latest research has revealed that a whopping 1.4 million furry friends have piled on the pounds since March 2020.
Vet charity PDSA say that the worrying findings unveil the true extent of what was already a growing pet obesity epidemic, with the pandemic creating a ticking time bomb threatening the lives of pets across the UK.
The study* of more than 4,500 pet owners by the UK's leading vet charity, PDSA, and YouGov, also found that 1.4 million pets have fed their four-legged friends more human treats since the start of the coronavirus pandemic, adding further fuel to the pet obesity crisis. As a result, PDSA is launching its #WeighUp campaign, which offers online videos and a free downloadable guide to help owners get their pets in shape pdsa.org.uk/WeighUp
A couch-potato lifestyle and excessive food consumption over lockdown is having drastic consequences for our pets. And the love we feel for our pets could also be contributing to the problem, as according to owners who said their pet was overweight, the most common factors preventing their pet from losing weight were: giving in when their pet begs for food (29 per cent), they like feeding treats to their pet (19 per cent), their pet is fussy with food (19 per cent), and they feel giving treats shows how much they love them (15 per cent).
PDSA Vet Nurse, Nina Downing said: "Worryingly, the detrimental health effects of obesity in our four-legged family members don't appear to be well-recognised amongst owners. Nearly a third (31 per cent) don't agree that podgy pets are more likely to suffer from serious diseases, and 35 per cent don't agree that they are tragically less likely to live as long.
"Obesity has been a huge problem among UK pets for a number of years and sadly our PAW Report  indicates this is only getting worse. It is one of the biggest long-term health concerns for our pet population, because it is so commonly seen by vets and nurses, with vet professionals estimating that up to half of their pet patients they see each week are overweight**.
"Animals who are overweight have a much greater risk of developing health problems such as arthritis and diabetes – which can have drastic consequences, even shortening their life by up to two years***. We could therefore see this huge obesity problem impact on our pet's health for years to come."
Surprisingly, pooches are being walked less frequently than pre-pandemic, with 38 per cent leaving the house just once a day (370,000 dogs), compared to 33 per cent in February 2020.
However, the good news is that many pups are enjoying longer excursions. Although it's most common for UK's canine companions to be walked for 31 minutes to one hour (41%), 20 per cent are now getting their steps in over a one to two-hour period, up from 13 per cent before the pandemic.
Nina adds: "With many owners spending more time at home with their pets since the start of the pandemic, the potential for weight gain due to increased feeding – particularly of treats – was always a concern.
"Unfortunately, we know from previous PAW Reports that some owners struggle to recognise when their pet is overweight or obese and in need of weight loss, which is the first step towards helping them live a longer, happier life. We've created a useful free guide to help owners identify if their furry friend is overweight, along with advice on how they can support their pet back to their target weight.
Professor Alex German, Royal Canin Professor of Small Animal Medicine at the University of Liverpool and world-leading expert in cat and dog weight management, adds: "Pet obesity is a growing crisis that is having an impact on the long-term health and happiness of the UK's pets.
"Both experience and research show that carrying excess weight can have huge health implications, including associations with shorter life expectancy. We all agree that we need to tackle pet obesity urgently, although losing weight can be challenging if you don't know where to start.
"PDSA's #WeighUp guide is an invaluable tool to help empower owners to identify the signs of weight gain in their pet in the first place, and also take practical steps to address it."
Nina concludes: "The good news is that even if your pooch or kitty is in need of a health kick, it's never too late to help them eat well, exercise and play more, and live longer. In most cases, simply adapting their diet, replacing treats with playtime and encouraging them to move more can make a huge difference, and are all the ingredients needed for our pets to maintain a healthy weight, essential for a happy, healthy life."
For further information about PDSA's #WeighUp campaign, which is proudly sponsored by Royal Canin, and to download its free guide to help check if your pet is a healthy weight and what to do if not, visit https://pdsa.org.uk/WeighUp.
Case study – Paolo's story
A roly-poly pooch named Paolo's love of sausage rolls and ham has seen him balloon to become 70 per cent over his ideal weight.
Five-year-old chocolate Labrador-cross, who is a yo-yo dieter, currently weighs in at a whopping 51kg (8st), since he piled on the pounds during lockdown. He needs to lose 21kg (3st 4lb) to reach his ideal weight (30kg/4st 10lb).
Paolo's doting owner Geraldine says that lockdown has exacerbated Paolo's already topsy-turvy relationship with the scales.
She said: "We've always struggled with his weight as he's constantly on the lookout for food. But things got even worse when he started having seizures. His medication noticeably increased his appetite and I think this, alongside my health condition which meant I had to shield for a long time, made exercising him as we normally would very difficult during the pandemic, which has led to him piling the weight back on again. He loves any kind of meat especially chicken or sausages, and as he won't always take his medication, we sometimes have to encourage him to take it by hiding it in a sausage roll or piece of ham.
"I want him to lose weight – it would break my heart if anything happened to him and I'm determined to help him slim down with the help of the vets and their advice."
Penny Morgan, PDSA Vet, said: "Geraldine's and Paolo's story is sadly not uncommon, and vet practices across the UK hear the same thing every week as obesity impacts the lives of millions of UK pets.
"As veterinary professionals and as pet owners ourselves, we completely sympathise with the many owners who spent more time at home with their pets since the start of the pandemic. It was only too easy to indulge them with extra treats and titbits, increasing the potential for weight gain. And while pets with medical conditions like Paolo may have a more challenging weight-loss journey ahead, they can certainly achieve their goal, armed with expert advice, confidence and persistence."
*All figures, unless otherwise stated, are from YouGov Plc.  Total sample size for the pet owners' survey was 4,579 dog, cat and rabbit owners aged 18+ who live in the UK. Fieldwork was undertaken between 4 and 25 May 2021. The survey was carried out online using YouGov's panel methodology. The figures have been weighted and are representative of the population by pet species (cat, dog or rabbit owners) and the owner's gender, age and region.
** From the 2018 PAW Report which showed that vets and vet nurses estimated that on average 46% of dogs, 34% of cats and 30% of rabbits that they see in their practice each week are overweight or obese.
Extrapolations to pet population figures are based on the following estimates of pet populations in the UK from the 2021 survey: 10.7 million pet cats, 9.6 million pet dogs and 900,000 pet rabbits.
*** https://onlinelibrary.wiley.com/doi/full/10.1111/jvim.15367
Advertisements
The full range of Necoichi raised bowls and accessory now available @ Katzenworld Shop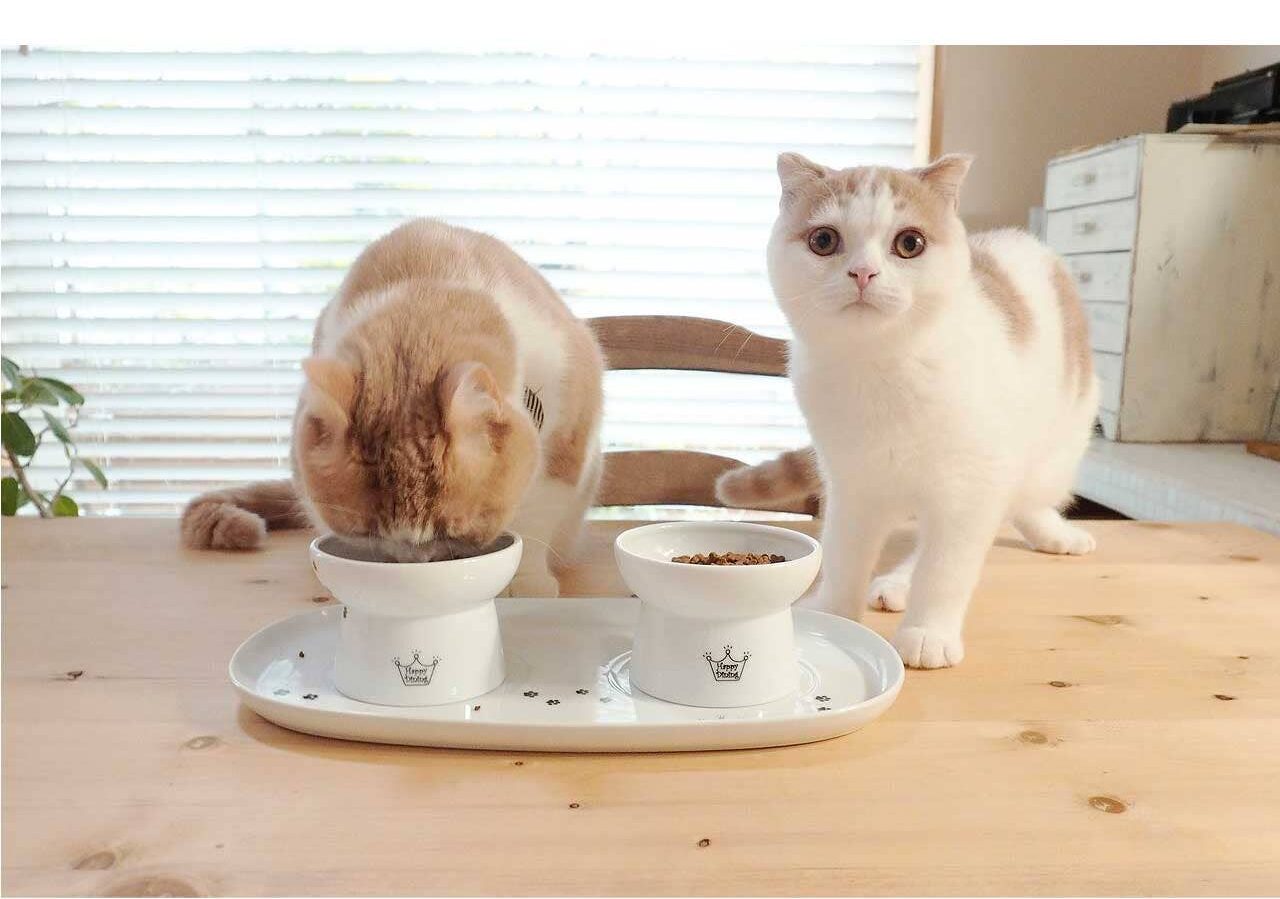 We regularly write about all things relating to cats on our Blog Katzenworld!
My partner and I are owned by five cheeky cats that get up to all kinds of mischief that of course, you'll also be able to find out more about on our Blog
If you are interested in joining us by becoming a regular contributor/guest author do drop us a message @ info@katzenworld.co.uk .