Hi everyone,
It's me Rennie here today and I got to be one of the first cats in the UK to trial the new Martingale Cat Harness from our sponsor sleepypod!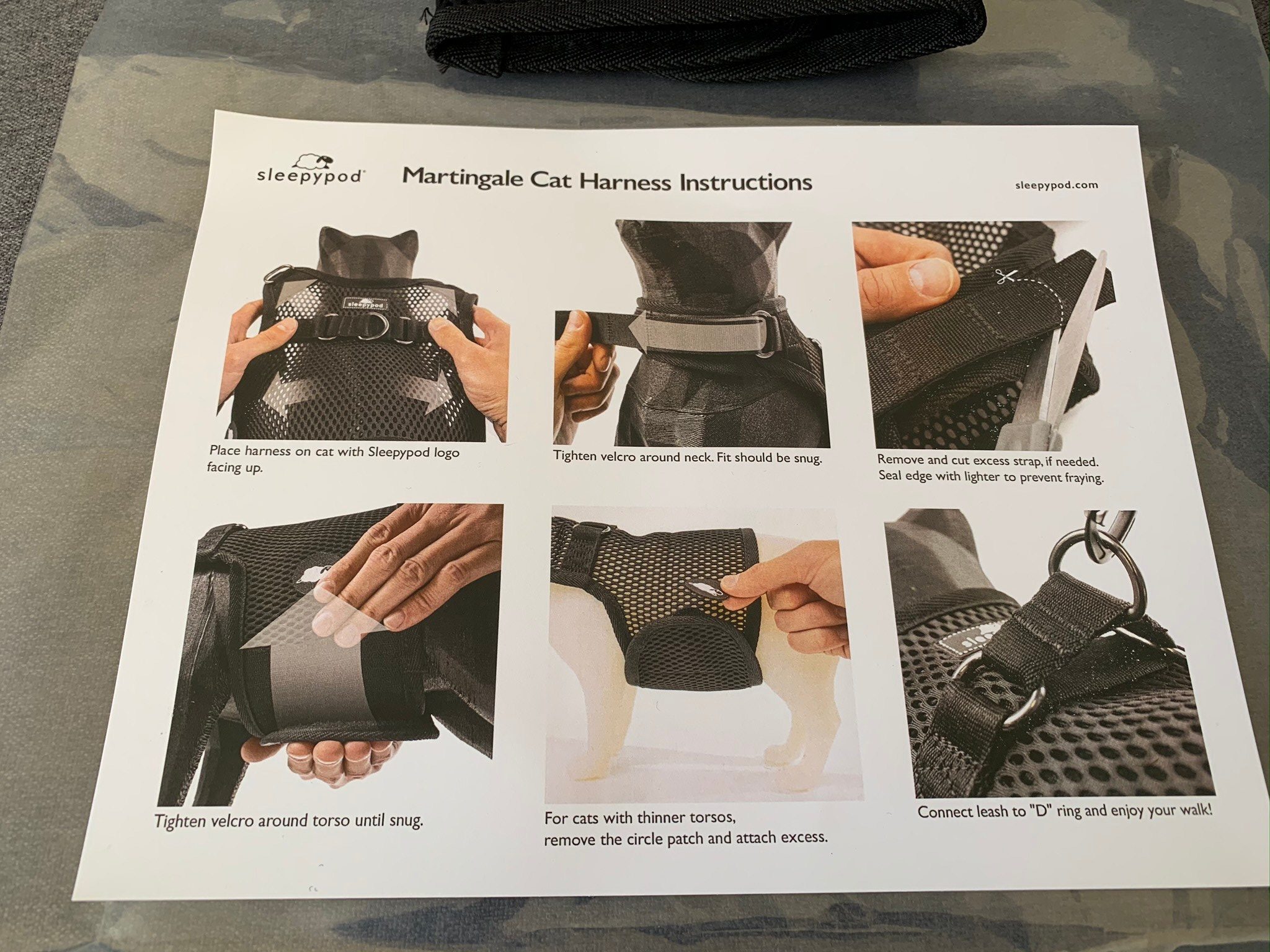 Rennie: To help our humans the harness came with a neat and easy to follow instruction leaflet!
Rennie: The cat harness is made of a super soft and light airmes material to ensure it doesn't bother us cats in any way.
Rennie: As you can see my humans had no issue in putting the harness on me! Here I am awaiting what awaits me in the outdoor trials of the harness!
Rennie: One thing to note is to ensure that your humans have put the neck safety strap correctly around your neck with a layer underneath for extra comfort. As you can see it just needs to be slide underneath the velcro strap. 😉
Rennie: Of course a harness without a lead won't do for the outdoor adventure so my humans opted for a SmartLeash – tho I do disapprove of the dog this certainly is a quality secure lead.
Rennie: Best part of the harness? I can still get cuddles!!! 😀
Rennie: And of I went for a garden adventure! Sadly at this time of the year the grass isn't quite lush yet… it usually is so tasty! 🙁 And why is it that my sister Nubia is permitted outside WITHOUT a harness???
Nubia: Could that be because a certain ginger tabby likes to escape over the fence…?
Rennie: WHAT? I don't escape… I just explore…
Rennie: Now while the harness was super comfortable I do not approve of this muddy lawn!!! When exactly is this going to dry up again!!!
Rennie: So sadly due to the rather muddy , dare I say swamp like conditions, of our garden kingdom I had to go for the safety of my humans lap…
Rennie: So what can I say about our initial trial of the sleepypod safety cat harness?
It was super easy to put on thanks to the velcro straps! None of this business of getting a belt style harness into the right holes and the humans taaaaaakkkkkiiiiiing forever!
Super secure velcro! So that even a wiggly cat can't escape. 😉
Soft, comfy and uses airmesh to ensure that the air can circulate and we don't get too hot!
Rennie: We certainly can not wait for sleepypod to add this to their range of harnesses in the UK which will be available here once launched in the UK. You can also get their dog versions but stay tuned on when the cat one will be available. 😀
Rennie: Once available and the weather in our kingdom has improved from torrential down pours with the occasional bit of sunshine… we will post an update! And in the meantime remember… you have to give us cats time to get used to a harness! Of course such a lightweight harness such as the sleepypod one will make this a lot easier!
Signed by,
His Meowjesty Prince Renegade the Flash
We regularly write about all things relating to cats on our Blog Katzenworld!
My partner and I are owned by five cheeky cats that get up to all kinds of mischief that of course, you'll also be able to find out more about on our Blog
If you are interested in joining us by becoming a regular contributor/guest author do drop us a message @ info@katzenworld.co.uk .