As a traveler, I have found Europe to be amongst the best places in the world to visit. All the things we travel for: history, culture and food abound and simply wandering its streets makes one feel so enlightened and positively civilized.
As a budget traveler, however, Europe presents a challenge. Such refinement comes at a cost and makes Europe, especially Western Europe an expensive destination. I have found Eastern Europe and the Baltics offer all of the charm without breaking the bank.
This includes the cat cafes. While varied in composition (facility and food/drink offered), they were delightfully similar when it came to the cats (mostly rescues), people (super friendly) and cost (reasonably priced).
We visited eleven cat cafes in Eastern Europe and the Baltics, including Estonia, Lithuania, Poland, Hungary, Romania and the Czech Republic. However since I've already profiled the three cat cafes of Prague (click here to read the review), that leaves eight feline emporiums remaining.
Here are four of my favorites.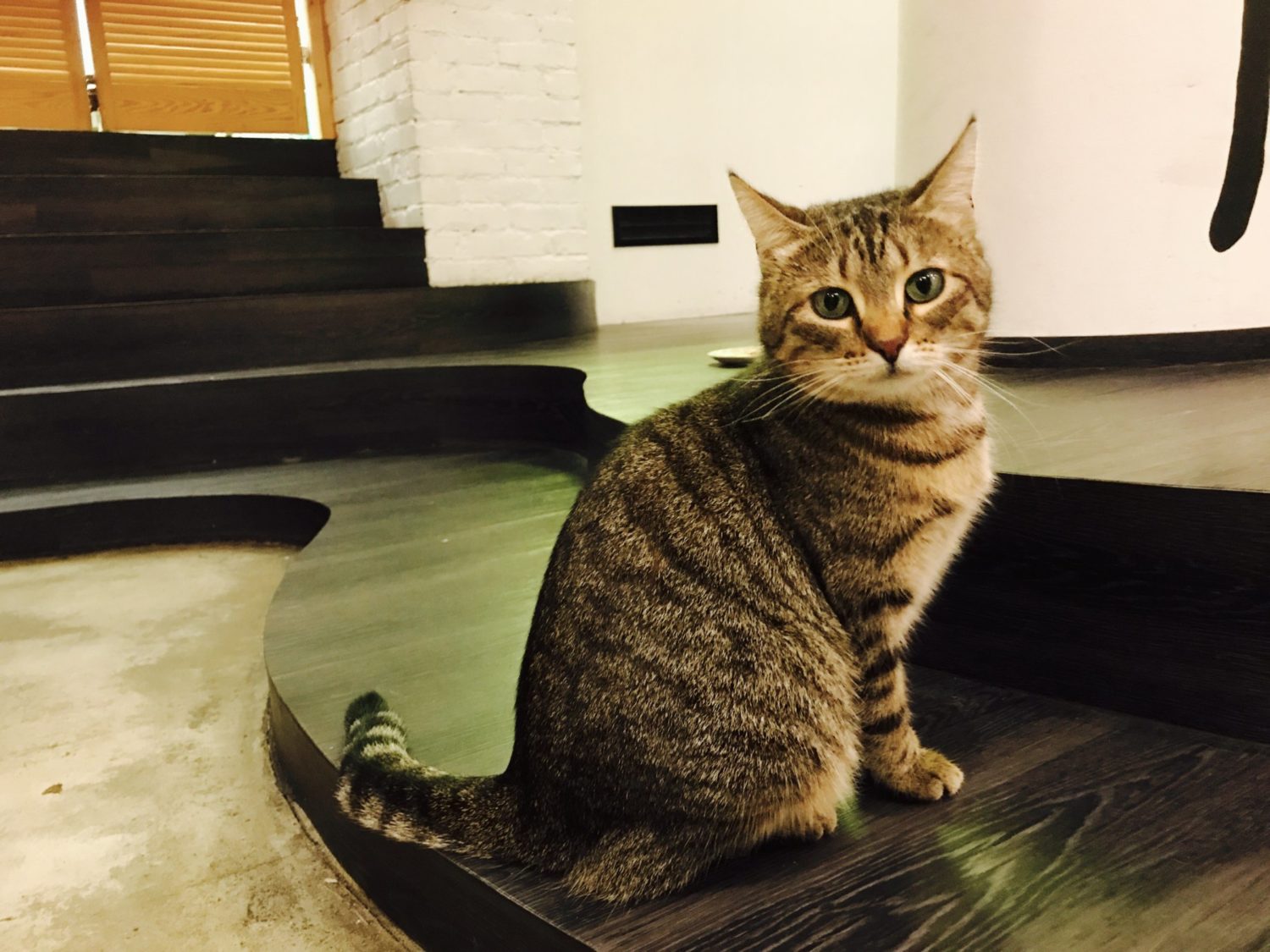 We loved our visit to Tallinn and Nurri Kassikohvik so much, that we returned a year later, and found our second visit to be even better than our first!
Our inaugural stop at Nurri was also our very first cat cafe visit EVER, and we were overcome with so much kitty-filled emotion that we didn't pay much attention to details or take very good photos. I mostly remember how I felt being there, which was inspired. I was impressed with the facility (a delightful combination of old-world charm and modern attitude), the playfulness of the cats and the kindness of the staff.
As such, I expected a similar experience on my second visit, and was not disappointed. In fact, they exceeded all expectations.
We arrived around dinnertime on a cold and drizzly day, but inside, it was as warm and friendly. The cafe was buzzing with a happy scene of customers, a combination of kids and adults, sipping drinks, laughing and playing with the cats.
This time, we made sure to catch up with the owner JJ, a lovely man and caring cat lover. He caught us up on the new cats, sourced from shelters or as surrenders, such as a shy exotic named Kriimu. The cats are carefully selected to ensure they are in good health and enjoy being around humans.
The night of our visit, the kitties were quite playful and energetic, especially Lovi (Lion), who has a penchant for climbing on your back! Some of my other favorites included Anni Vanni, a sassy black & white model and Milli, a gorgeous tabby.
We also made sure to partake in the food menu this time, and were absolutely delighted by our choices. My quinoa salad included avocado, tomatoes and spinach, and was topped by a yummy combination of pesto and balsamic vinegar which I washed down with a lovely glass of white wine. My partner's entree was a splendid caprese salad with prosciutto.
There is no time limit at Nurri and the 5 euro surcharge is a small price to pay for such a high quality experience. The cats, the food, the facility and the people- Nurri Kassikohvik ranks amongst the best in the world.
When I visited the city of Vilnius, Lithuania for the first time, I was excited to see a modern European capital with a strong youthful spirit and touch of sophistication.  Best known for its medieval Old Town, the march toward renewal as a destination for business and tourism is evident as the city erects new buildings and restores others.
Cat Cafe Vilnius fits the vibe perfectly.  One part hip cafe and one part unabashed cat haven, this light, bright and airy space is hitting all the right notes.
We popped in on a Saturday afternoon to find them fully booked so I immediately made a reservation on my phone while standing in the lobby, a system so advanced you can even select your own table!
Located just outside the Old Town center, we returned the next day to see what the fuss was all about.  The space feels brand spanking new and is furnished with a spare and uncluttered Scandinavian style.  Balancing the lean, it is nicely decorated with cat themed art and cozy pillows while 40's big band music added a light-hearted touch.
Opening the menu, I was surprised to see how extensive it was and noted that most of the patrons were eating lunch-style dishes of pasta and sandwiches.  We had eaten earlier so just ordered a couple of coffees and a chocolate cake for €7.60 which were excellent quality.  There is no entrance fee.
But this is a cat cafe review, so let's move on to the cats, shall we?
There are 14 felines in residence, mostly rescues, mostly short hair and mostly social, although a few seemed to be 'over it'.  The main hang-out area is in front where an oversized cat tree is filled with comfy cat baskets, FYI when booking a table.  I loved how they have substantial cat biographies presented in Facebook style with details about their personalities.   Despite it being the afternoon, there was lots of playful wrestling and chasing of strings to keep the patrons smiling.
Clean and inviting with great food and plenty of cute kitties, Cat Cafe Vilnius maintains a high standard that is understandably popular, so be sure to make a reservation.  I would visit this cafe even if they didn't have cats.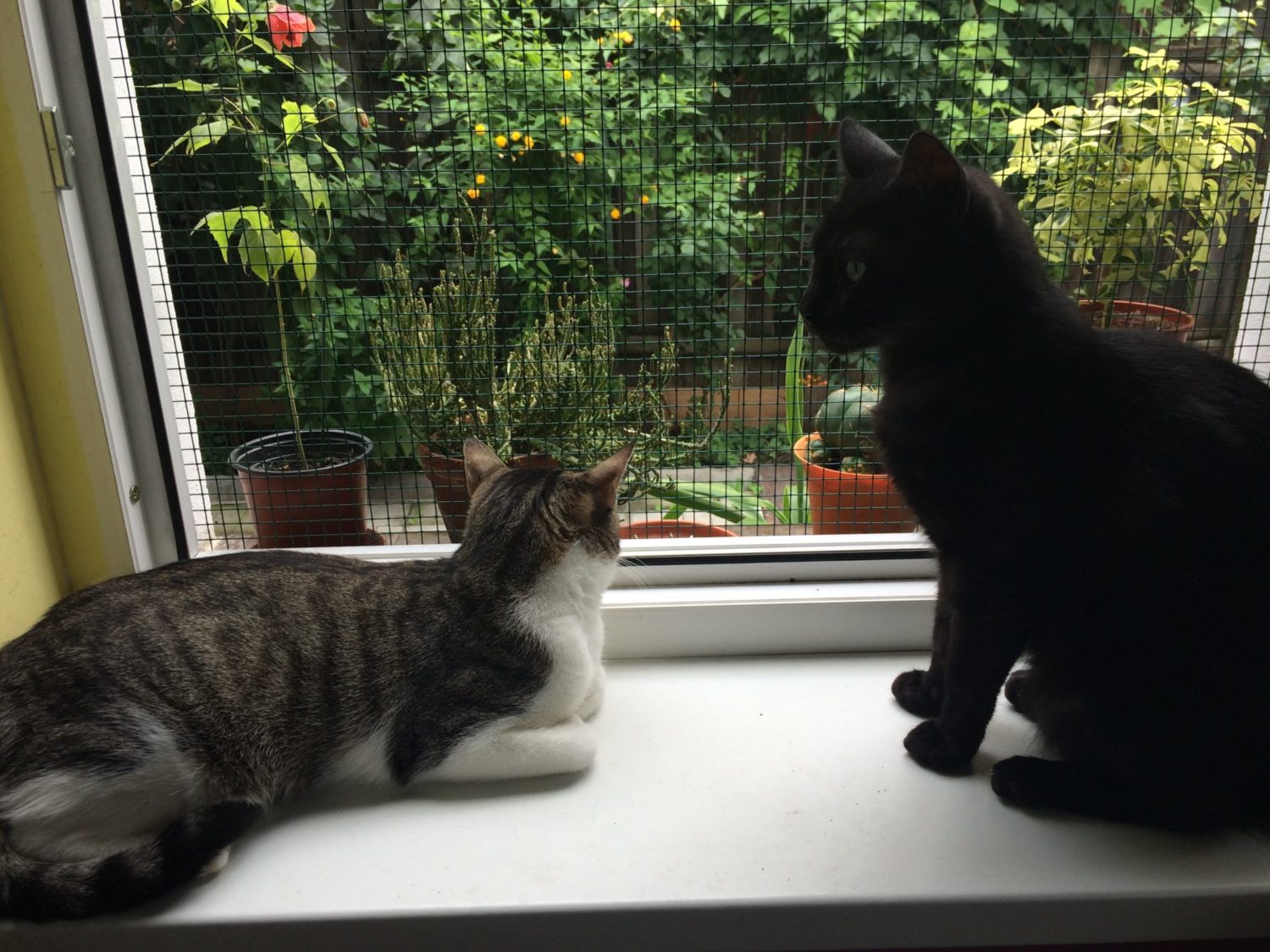 What the good folks at Miau are doing is so commendable, they should get an award.  More shelter than cat cafe, these cat heroes have taken in all kinds of abused and abandoned cats, and have created a little slice of kitty heaven.
Once we arrived, we had to do a double take.  The area is not commercial and we had to carefully consult our GPS to determine that, yes, we were in the correct spot (since our visit, the location of Miau Cafe has changed to Strada Între Gârle 7).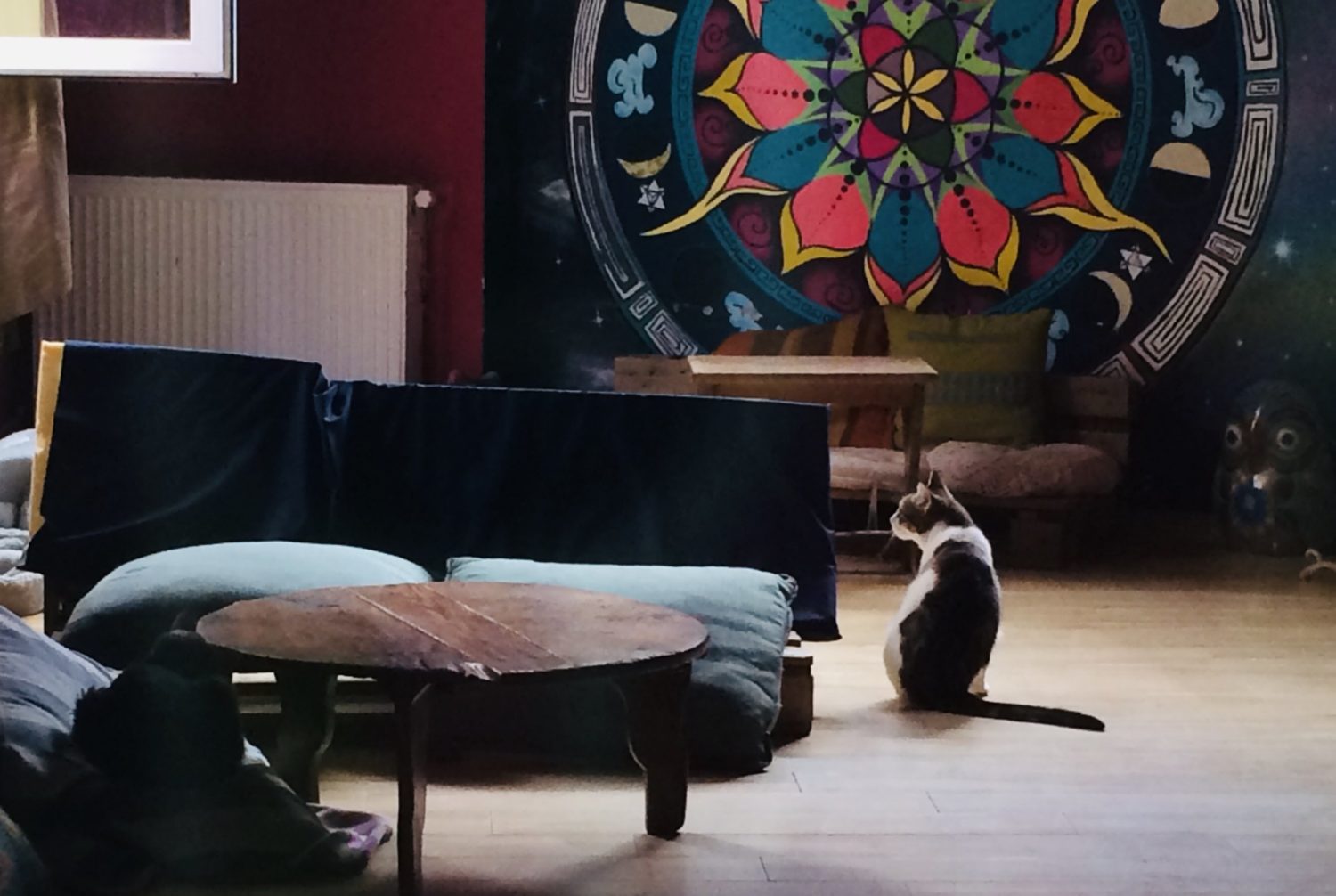 After passing through the gate, things perked up immediately.  Colorful flower boxes and lush green plants ringed the sidewalk leading to the entrance.  We could see the cats resting on the indoor window sills.
A young man with the appearance of a modern day hippie greeted us and took our drink order.  We chatted with our friendly barista while he made our iced soy lattes (the cafe is vegan) and told us the story of Miau.  In addition to the cafe, there is also a room for rent upstairs via Airbnb.   They don't turn any cats away and all donations go towards caring for their needs.
Drinks in hand, we stepped into cat utopia.  The cafe has a comfortable, Bohemian vibe with cozy pillows on the floor, colorful walls and hand painted tables.  We had the whole place and fourteen felines to ourselves!
While some were a bit skittish, most were very friendly; the kittens were especially playful and adorable.
This was the most cat interaction we had in our European cat cafe visits, and we felt very welcome to stay as long as we liked.  The price for our two drinks was a bargain at $5, so we ended up donating more than that after seeing first hand how many homeless cats live in Bucharest during our week in the city.
With cute, comfy surroundings and plenty of clearly loved and cared-for cats, Miau deserves high marks overall and is well worth a visit.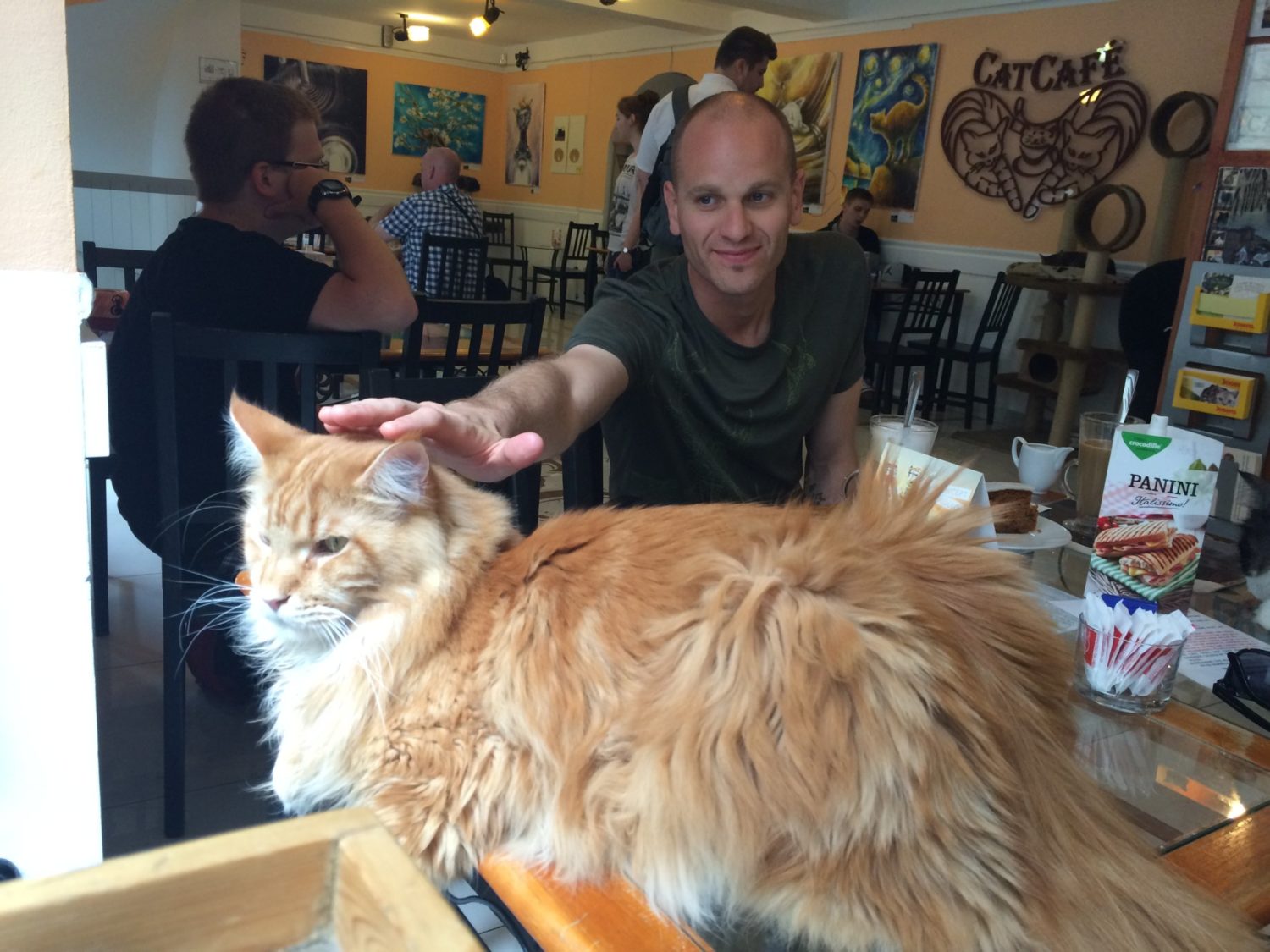 Full disclosure, my visit was in June of 2016, so hopefully my impressions are still reflective of the current situation!
I'm still dreaming about the cats here.  With their rock-star good looks, these were felines made to be worshipped.  My dear Hungarians, thank you for sharing these beautiful cats with us!
The star of the show is an enormous ginger Maine Coon, the biggest cat I've ever seen.  With a king-of-the-jungle swagger and paws as big as a six-year-old child's hand, you would swear he had some kind of mutated lion gene.
The space was extremely impressive.  The back room has a dark cocktail bar ambience with cozy couches that can be reserved like a VIP lounge.  The main downstairs room is filled with typical cafe tables and one corner couch paired with industrial-cool pallet coffee tables.
We were greeted by the waitress and began to order drinks when I spotted an item on the menu.  Cat treats.   I assumed these were for the cats, and not a cruelly named dessert, and I was right.  It was the best 450 Forint ($1.50) I spent in Budapest.  This is significant as most cafes have a strict 'treat time schedule', but at Cat Cafe Budapest, much like the city of Budapest, a laissez-faire attitude dominates.
The sound of the treat bag rustling caused a commotion.  Five cats quickly surrounded me.  I dispensed treats while playfully admonishing the big cats for boxing out the little ones.  Then the waitress showed me a trick:  Mr. Ginger Lion 'high fives' for treats.  Normally, I wouldn't ask a sweet kitty to perform like a circus animal, but in this case, I was high on feline attention and threw my scruples out the window.
After all the treats were gone, most of the cats moved on, but one sweet white and gray boy stayed behind and gave us ALL THE FEELS.
Our drinks were good, but I was so caught up in a haze of kitty love and treats that I barely tasted my latte!
One hot chocolate, one coffee, one piece of carrot cake and one bag of cat treats set us back 11€ ($12.50).  A fine afternoon spent with such beautiful and loving cats:  priceless.
The Neighbor's Cat is the alter ego of Paula LaBine, an itinerant cat lover who writes about cat cafes, rescue/adoption & TNR, and has been featured in Miau Magazine, Katzenworld Blog, The Catnip Times and Taiwan Scene. She is currently on a quest to visit every cat café in the world, 205 in 29 countries so far!  Find her at theneighborscat.com or on Facebook/Twitter @catcafeviews.
Advertisements
Visit our Shop for Lisa Parker merchandise!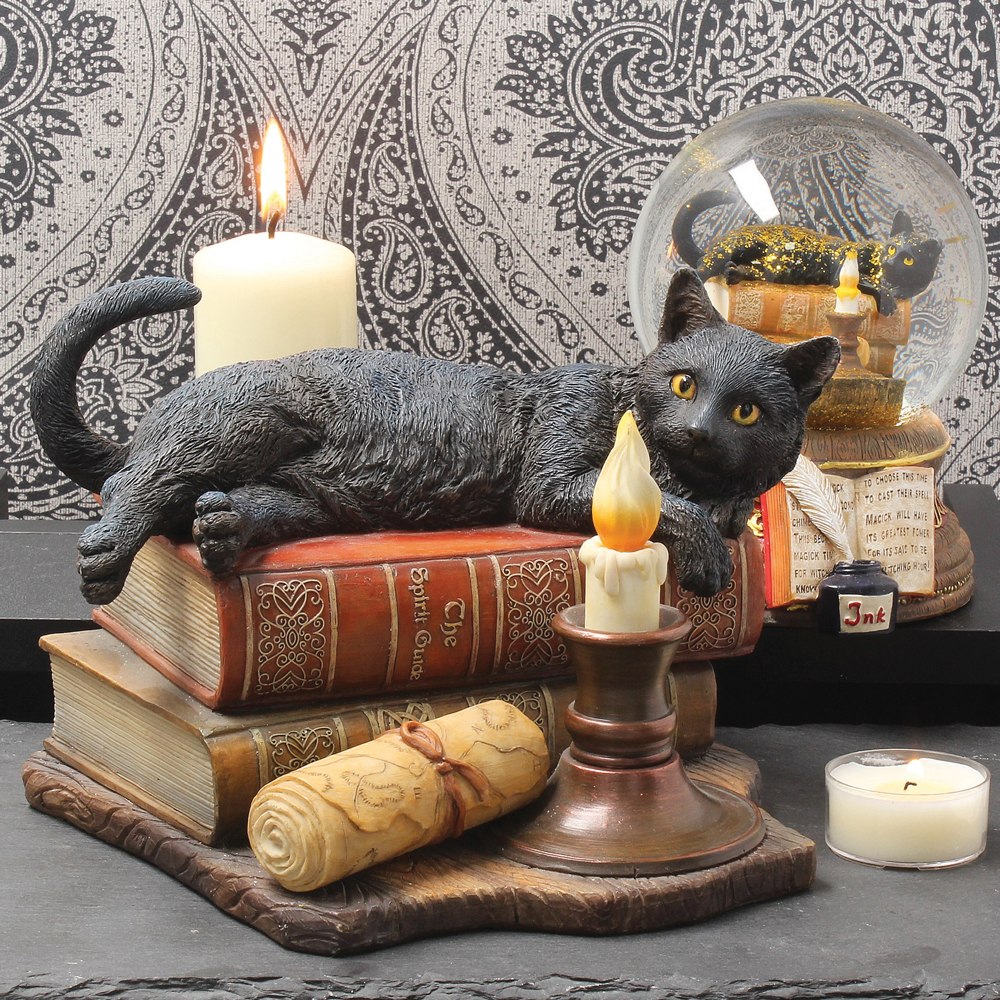 The Neighbor's Cat is the alter ego of Paula LaBine, an itinerant cat lover who writes about cat cafes, rescue/adoption & TNR, and has been featured in Miau Magazine, Katzenworld Blog, The Catnip Times and Taiwan Scene. She is currently on a quest to visit every cat café in the world, 217 in 29 countries so far! Find her at theneighborscat.com or on Instagram/Facebook/Twitter @catcafeviews.