A Different Kind of Cat Poetry Collection in Support of a Different Kind of Cat Charity
A brand-new poetry book 'The Poetic Mews: Cats and Their Poets' written by Elizabeth Wager, is being sold in support of the charity International Cat Care (iCatCare).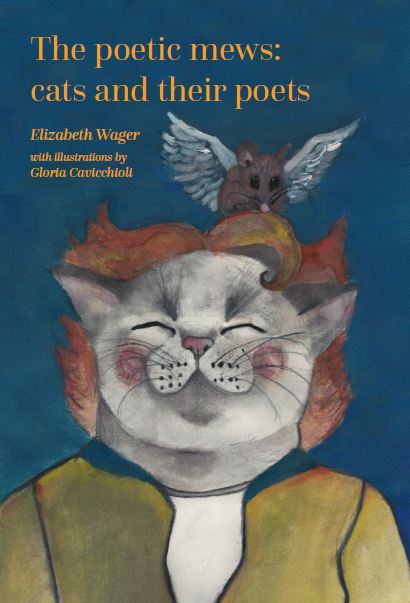 Perfect for the literary cat lover, this beautifully illustrated poetry book, is a wonderful collection of poems which tell the story of some of history's literary giants through their cats, written in their own singular literary style. The resulting collection of 20 beautiful and highly entertaining poems, takes the reader on a historical romp from Beowulf to Dylan Thomas via the likes of Shakespeare and Milton.
The book's author, Elizabeth Wager, is definitely not your usual kind of feline poet! She is a science writer with her own publications consultancy and has a self-confessed obsession with the English Language. And while cat poetry as a genre can occasionally lean towards sentimentality, Elizabeth's work stands out as stylish and witty, infused with both historical scholarship and a breathtaking mastery of poetry.
As you'd expect, Elizabeth is a serious cat fan. Her love for cats is not only evident from her poems, but she has also very generously decided to donate the proceeds from the sale of the new collection to International Cat Care, a charity that supports owned and unowned cats worldwide.
Elizabeth said: "I'm thrilled to be publishing this book in aid of iCatCare. I've been writing these poems for many years and sort of wondered if they might be publishable but, until now, always dismissed the idea. But seeing them in print is really exciting, especially with Gloria Cavicchioli's lovely illustrations. And knowing the money will go to such a good cause makes the feeling even sweeter."
On Thursday 18th October, Elizabeth joined International Cat Care and poetry fans at Lady Dinah's Cat Emporium in Shoreditch to launch the book. There was also a launch at The Dukes Wine Bar in Elizabeth's home town of Prince's Risborough.
The book is available for £9.50 from the International Cat Care online shop: https://icatcare.org/shop/publications/the-poetic-mews
Advertisements
Click to visit our Shop for the hassle-free Zen Clippers!
We regularly write about all things relating to cats on our Blog Katzenworld!
My partner and I are owned by five cheeky cats that get up to all kinds of mischief that of course, you'll also be able to find out more about on our Blog
If you are interested in joining us by becoming a regular contributor/guest author do drop us a message @ info@katzenworld.co.uk .