Hi everyone,
Who are you going to vote for in this years national award of the PDSA Pet Survivor of the year?
Each year the PDSA treats thousands of animals all across the UK and without their hard work many of those pets would most likely not be with us today… Let's appreciate all they do for us and our animals.
Read on to vote for your favourite of the shortlisted ones! Nubia of course commands us to vote for the black cat Dexter.
Thanks,
Marc
Four miracle pets up for national award
Public vote to decide PDSA Pet Survivor of the Year
Voting is now open for the public to choose the UK's most miraculous pet. Three marvellous moggies and one death-defying dog are going whisker-to-whisker in the PDSA Pet Survivor Awards – a national competition run by the leading vet charity.
All four finalists have miraculous 'tails' that shocked and inspired the judging panel, which included James McVey of The Vamps. The plucky pet line-up is:
Brandy the Staffie – who had an 11-inch (28cm) stick lodged through her throat and chest after a game of fetch went disastrously wrong.
Dexter the black cat – who was deliberately shot through the mouth with an airgun in a horrific attack.
Maximus the grey cat – who was maimed in a suspected hit-and-run accident, leaving his skull and jaw broken in two.
Skittles the ginger cat – who was found impaled on spiked railings, but was miraculously alive and conscious.
All the pets cheated death by a whisker, and it's now up to the Great British public to decide which brave pooch or puss is crowned PDSA Pet Survivor of the Year 2018. Voting is open at www.pdsa.org.uk/petsurvivor2018 until Friday 30 November.
Entries for the awards, which are run with support from Animal PoisonLine, were received from all over the UK. The winner will be announced before Christmas and will win a luxury pet hamper and a trophy.
Meet the finalists:
Dexter the black cat, from Redruth in Cornwall
Poor Dexter was found covered in blood in the garden, icy cold and struggling to breathe. His owners, Ruth and John Lewis, rushed him to the vets where x-rays revealed the horrific truth – Dexter had been cruelly shot through the roof of his mouth. He couldn't walk, his jaw was broken and he had 'shrapnel' embedded in his head and neck.
Animal Vet Services in Hayle were able to stabilise Dexter but that was only the beginning – he had surgery to fit wires and a frame to his jaw to help it heal. He then began the lengthy road to recovery and rehabilitation. He was hand-fed for weeks, as picking up food was too painful for him, and nearly five weeks later, had further surgery to remove the metalwork.
Thankfully his jaw had healed and, three months on, Dexter has almost completely recovered from his terrifying ordeal. He is the Lewis family's little miracle cat!
Maximus the grey cat, from Fife in Scotland
Maximus was involved in a suspected hit-and-run accident and had somehow dragged himself home with horrific injuries. He was found slumped against the front door covered in blood. His owner, Sharon Trotter, took him immediately to Inglis Vets in Dunfermline where they discovered the impact had fractured his skull in several places, his jaw was split in two and his right eye was missing.
He was in such a bad way that euthanasia was discussed. But Sharon knew he was a fighter, and that they had to give him every opportunity to survive. Vets devised a way to pin the two halves of his face together to help it heal, and wired his jaw, but his life still hung in the balance and he had to be resuscitated twice when coming round from the operation.
Eventually, Maximus was able to go home but had to be tube-fed for six weeks while his skull and jaw healed. His wounds had to be cleaned and dressed daily. Finally, he was able to eat by himself, and made a full recovery (minus one eye!). His vets say that in 20 years they've never had a patient like him – he truly lives up to his gladiator name!
Skittles the ginger cat, from North West London
When Skittles went missing one night from his home his worried owner, Shanakei Forde, searched for days. She became increasingly concerned for him but was completely unaware that her ginger tomcat had been found in horrific circumstances: Skittle had been impaled on spiked railings near to her home, rescued by the RSPCA and the London Fire Brigade and taken to a nearby vet.
Stunned that he hadn't died from the fall or the resulting injuries, vets performed emergency surgery to remove the railings from Skittles. Miraculously, they had narrowly missed all his vital organs. His owner, who had been desperately searching for him, finally spotted his story in the papers and realised the mystery railings cat was her Skittles. They were reunited but he still wasn't out of the woods. He ended up needing two further operations at Hendon PDSA Pet Hospital and plenty of TLC at home to help him recover.
Incredibly, just a few weeks after his final operation, Skittles was up and about. His stitches were removed and he was getting out exploring again. To look at him now, you'd never even know anything had happened to him.
PDSA Senior Vet Sean Wensley who also judged the competition said: "Reading these extraordinary cases makes me very proud to be part of such a skilled and dedicated profession. Veterinary teams save the lives of much-loved pets like these every day. The tragic and painful circumstances endured by these pets, along with the devotion shown by their owners, makes them all worthy contenders for the PDSA Pet Survivor title."
The competition was open to pets treated for a life threatening illness or injury by a vet in the UK between 1 January 2017 and 31 August 2018. Only one vote per person is allowed.
Brandy the Staffie, from South East London
Brandy was playing fetch in the garden when things went disastrously wrong. Her owner Sophia-Jayne Lye heard her scream and rushed out to see the 11-inch stick protruding out of her chest.
She was rushed to PDSA's Thamesmead Pet Hospital where vets were astonished that Brandy was even still alive. The stick had pierced her mouth, travelled through her throat and was lodged in her chest. Life-saving surgery was required to carefully remove the stick, which took nearly five hours, but it was still touch-and-go.
After several days at the hospital, Brandy was able to go home, but still required round-the-clock care from her owners and many visits back to PDSA. They had to clean the drains in her wounds daily, but she eventually made a full recovery and is now known as the Wonder Dog!
The PDSA Pet Survivor Awards 2018 are supported by Animal PoisonLine, a 24-hour advice line for owners who are concerned that their pets have come into contact with something potentially poisonous. It is run by the UK's only animal poison centre and is a triage service which only directs owners to their vets if treatment is needed (charges apply). More information is available at www.animalpoisonline.co.uk
Advertisements
The full range of Necoichi raised bowls and accessory now available @ Katzenworld Shop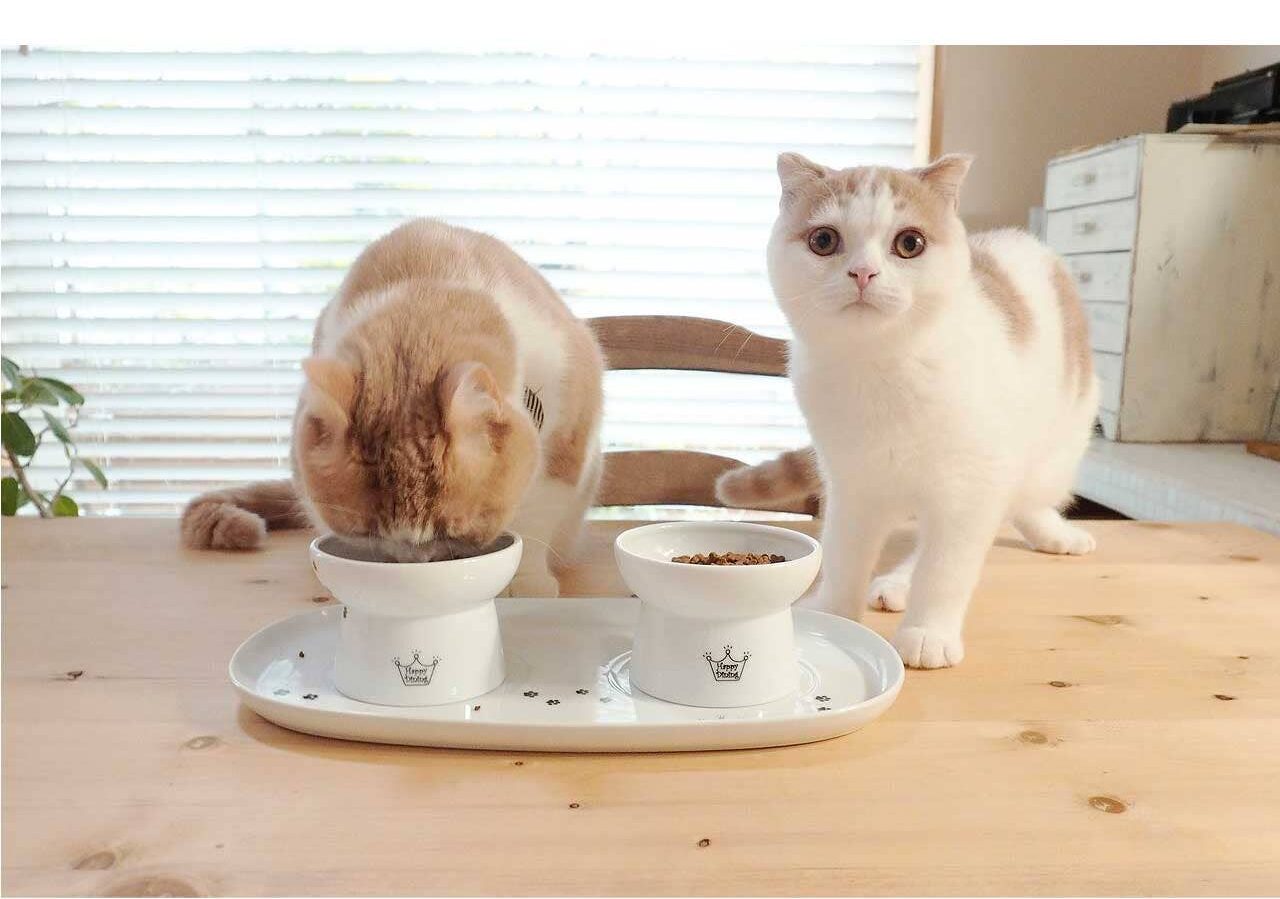 We regularly write about all things relating to cats on our Blog Katzenworld!
My partner and I are owned by five cheeky cats that get up to all kinds of mischief that of course, you'll also be able to find out more about on our Blog
If you are interested in joining us by becoming a regular contributor/guest author do drop us a message @ info@katzenworld.co.uk .