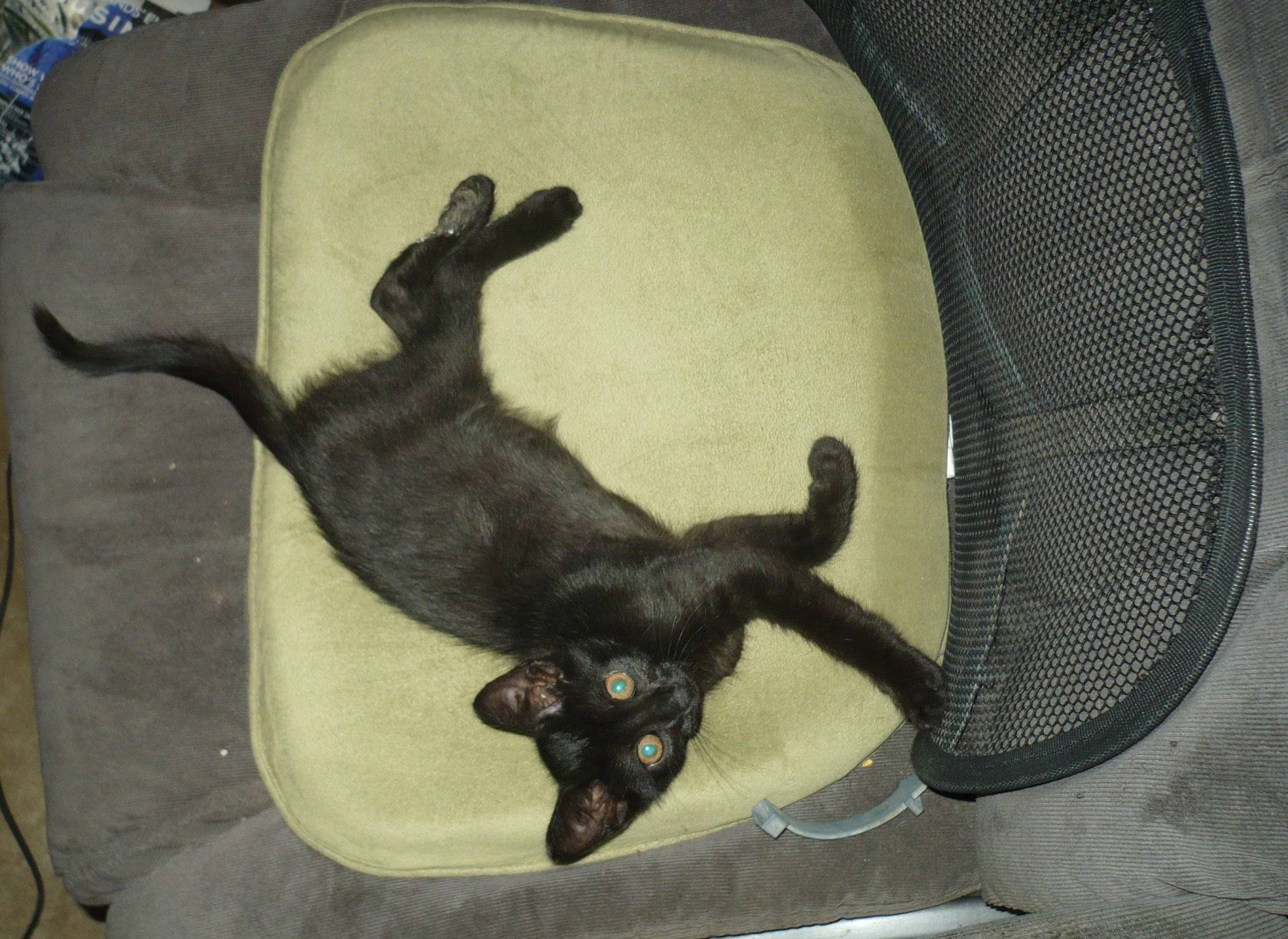 He showed up on our back step on Friday, October 13th, 2017 skinny, hungry, dirty, and this Tiny Terror took over the place.  If you must know, that's my chair and he was hogging the cushion long before he turned into this: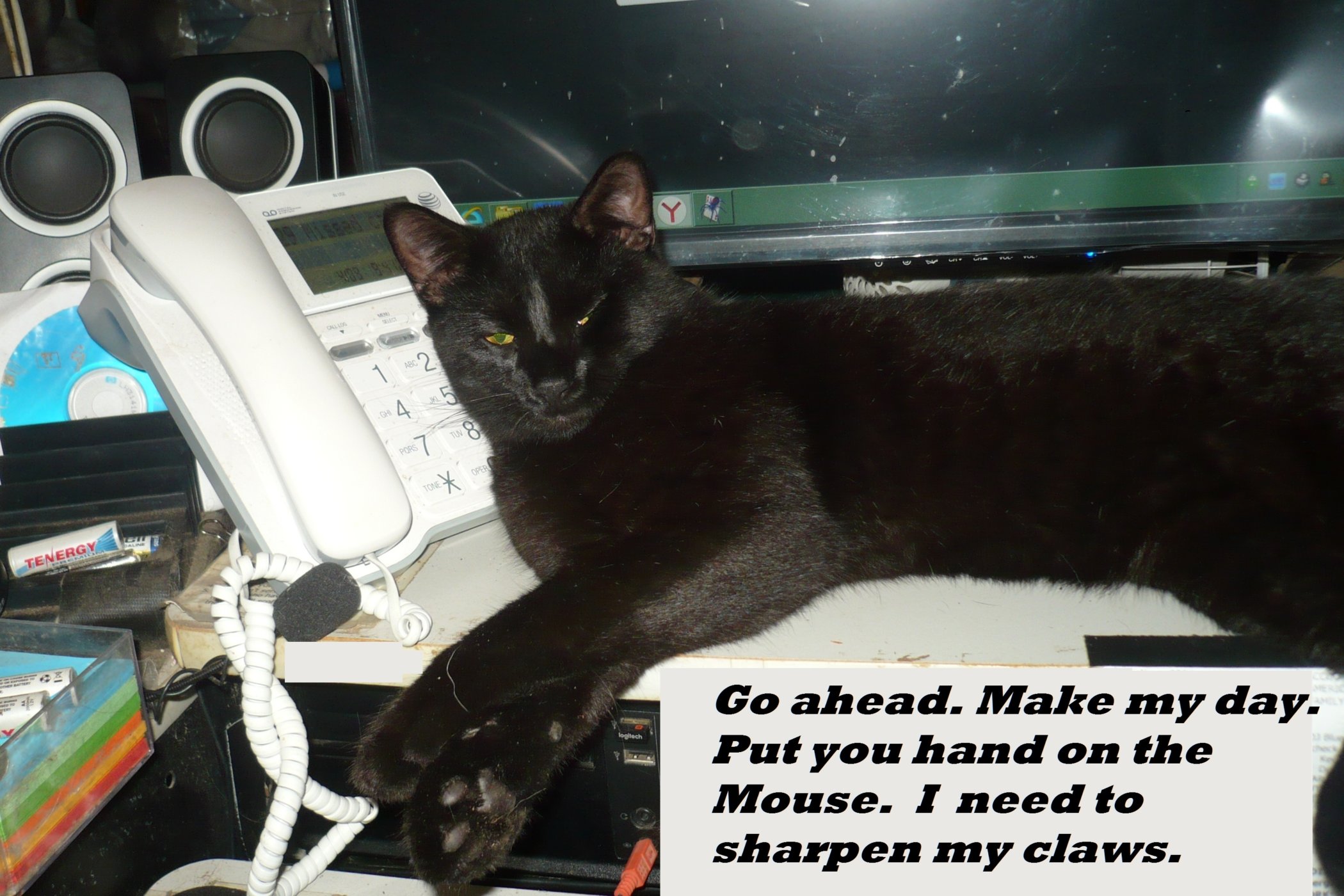 I remember the days when he was just as happy having a cushion that was warm
Soon, his fur was sleek as silk and he was twice the size
With twice the attitude of these two put together:
Coon Cat and Other Brother Coon Cat.
As a catten (not quite kitten, not quite cat), he had a perpetural food bowl, a full stomach, several padded places to sleep, and the energy level of a nuclear power plant.  He'd turned my fingers into handburger more than once, and thought my arm was a chew toy.  He still runs between dog legs like a feline Flash…and no place is sacred.   Try using the toilet when your toes are being attacked.
He insists he's my cat.  All I do is feed him, pet him, and buy him toys.  If I don't feed him, he attacks whatever I'm trying to eat.  I once sat in horror as he munched on my key lime pie.  If I don't buy him toys, he attacks dog tails and anything not bolted down. 
Most cats love to help you type.  This one pushes your buttons — in more ways than one.  There are pop-up screens I never knew existed, but the Tiny Terror will find them.  
Ever been 32 pages into writing your book and find a cat sleeping on your keyboard?  I think I hear a collective YES.  It's cute, but not when he's opened 6 windows…and 20 pages of your manuscript are missing.  Fortunately, it's easy to distract him with food.  That gives me time to close the pop-ups.  But I had to put him on my lap and pet him so he wouldn't attack the keyboard while I hit undo about 100 times.
How do I avoid having my manuscript mangled again?   Simple.  I minimize the manuscript so he can dance as much as he wants when the desktop is showing.  
That, and I never let him out of my sight when I'm using the computer.  
He is getting better, though.  He used to mangle the tissues and the box they came in, and then sleep next to it.   box.
Every time I tried to go back to writing a novel, this was the scenario:
 I'm about to kill off a few minor characters.  If the Tiny Terror doesn't kill me first.
Ow!  Stop!  Not my finger!  GAAAAH!
Thankfully, he has two cats to torment that are twice his size.  Here's a picture of him next to the largest:
FAST FORWARD  8 MONTHS
I see the Tiny Terror twice a day…when I'm opening cans of cat food.  He comes in and meows at me like a master barking orders.  If he had a whip, I'd probably have scars all over my body.
He'll allow me to hold him and pet him — for a few minutes. Not that I miss torture by claw attack but…
Why can't I have both the cat who once loved to sleep on my lap, and one who doesn't think fingers are a chew toy?
During the rare moments he actually sleeps on my desk, he still manages to find all the functions on my computer that I never knew existed. 
I wonder how he does it?
No matter…he may rule over this household, but there are certain aspects of his life I still control.  He wasn't fond of neutering, but after that he stayed around the house.
I do have a recent picture of him.  As a point of reference, that's a 20 ounce mug.
Advertisements
Visit our Shop for Lisa Parker merchandise!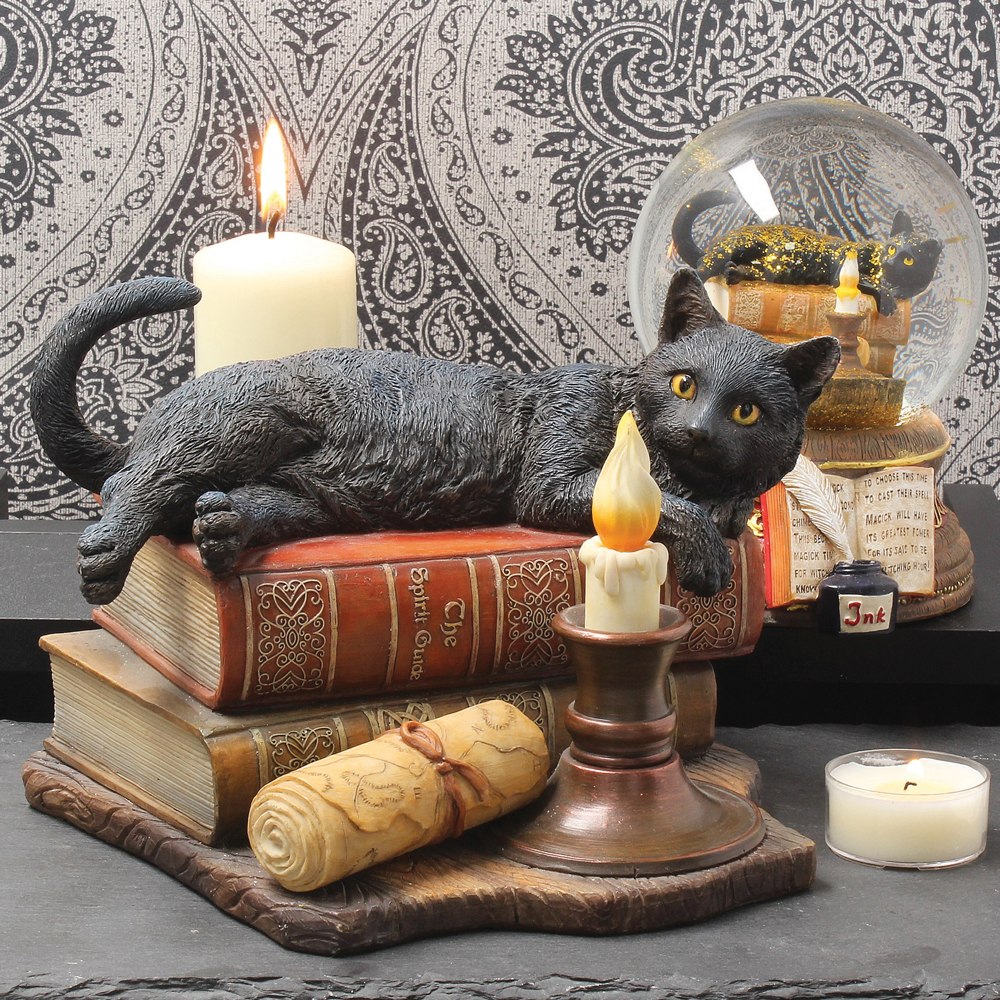 ____________________
We regularly write about all things relating to cats on our Blog Katzenworld!
My partner and I are owned by five cheeky cats that get up to all kinds of mischief that of course, you'll also be able to find out more about on our Blog
If you are interested in joining us by becoming a regular contributor/guest author do drop us a message @ info@katzenworld.co.uk .