Abandoned One-Eyed Cat Now Looking For Purrfect Home
A black one-eyed cat left abandoned by his previous owner when they moved is now on the lookout for a new home.
The 10-year-old male, named Sammy, first arrived at London-based animal welfare charity, Mayhew, when a member of the public alerted the organisation's Animal Welfare Officers that a cat with badly infected eyes had been left behind after the previous owner had moved premises.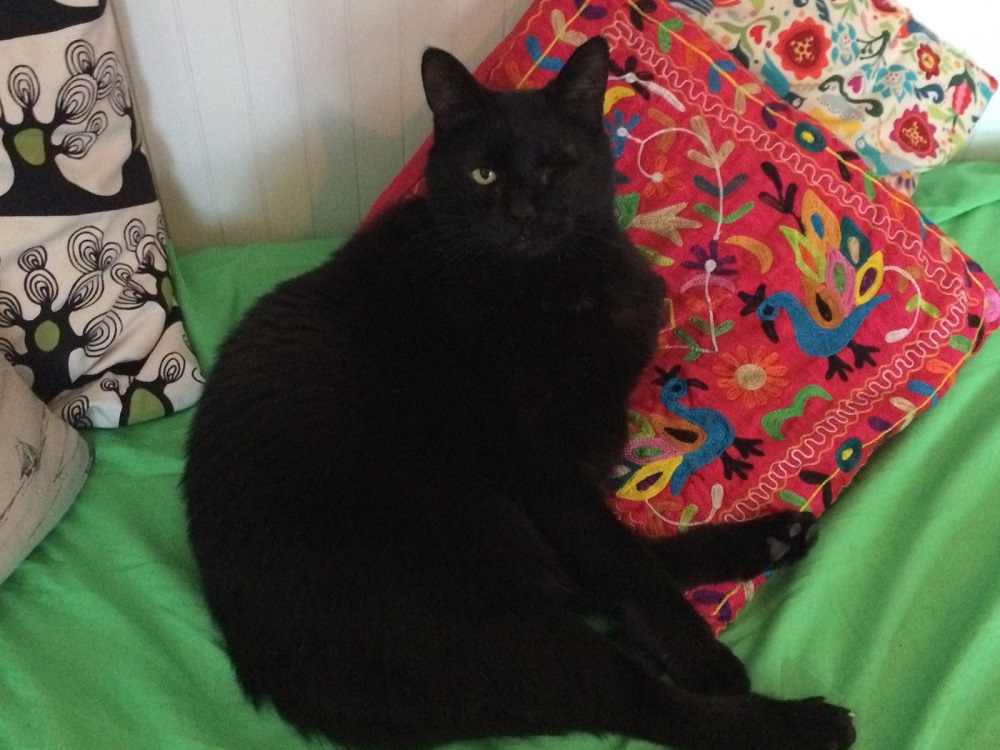 Mayhew's Animal Welfare Officer, Tania Mazzoni, said: "Poor Sammy arrived in our care after we discovered that he had been left behind by his owner when they moved."
"When we brought him back to Mayhew we could quite clearly see that he had infections in both of his eyes, so we made sure our Vet Team quickly gave Sammy a thorough health check straight away."
"We wish whoever had left Sammy behind had called us first. At Mayhew we are dedicated to helping people in crisis situations. We do not judge and we are here to assist and advise on the best course of action for the animal, no matter what the problem is."
Sammy was quickly seen to by Mayhew's experienced Vet Team at their on-site Community Vet Clinic.
Mayhew's Vet, Dr Emily Richardson, said: "When Sammy first arrived, we established that he had an infection in the right eye. There was discharge from the eye and it was being held closed due to Sammy being in a lot of discomfort."
"His left eye ball had keratitis, an inflammation of the cornea, which was likely due to past ocular irritation that had resulted in long term physical changes to the eye."
"It became apparent that the left eye was not improving with medical treatment and Sammy continued to have discomfort due to this condition, so we decided the best option was to remove the left eye to eliminate the source of persistent discomfort for him. A one-eyed cat can still go on to have a perfectly normal life once they get the treatment they need."
"Since the eye has been removed, Sammy has recovered very well and is much happier. The right eye was treated with antibiotic eye drops and the infection was fully resolved, preventing long lasting problems."
After receiving medical attention and care from Mayhew's Vet Team, including vaccinations and neutering, Mayhew staff put Sammy in foster care with one of their experienced carers, so he could enjoy a loving home environment whilst he recovered.
As soon as Mayhew's Vet Team was satisfied he was in good health, Sammy was put up for adoption and is now looking for a new home and to steal someone's heart.
If you are interested in adopting Sammy or any other cats in Mayhew's care, please visit www.themayhew.org/adopt or call 020 8962 8000.
Mayhew's Animal Welfare Officers and Vet Team respond to hundreds of abandoned, neglected and abused animals every year and provide ongoing support to carers and pet owners in vulnerable situations. Find out more about their work by visiting Mayhew's website and please consider a donation to help them help even more animals like Sammy.
If you or anyone you know needs to speak to a Mayhew Animal Welfare Officer, then you can call them on 020 8962 8000.
Advertisements
Click to visit our Shop for the hassle-free Zen Clippers!
We regularly write about all things relating to cats on our Blog Katzenworld!
My partner and I are owned by five cheeky cats that get up to all kinds of mischief that of course, you'll also be able to find out more about on our Blog
If you are interested in joining us by becoming a regular contributor/guest author do drop us a message @ info@katzenworld.co.uk .