As a reviewer, I try not to toss accolades around as indiscriminately as I do cat treats.
But I'm going to make an exception for Nagoya.  This Japanese city is not typically found on a tourist's itinerary, but it should be if you are a cat lover,
You see, the cat cafes are outstanding.  Completely charming and filled with fun-loving cats and engaging humans, you are guaranteed to experience a little slice of kitty heaven.
With all the publicity surrounding Tokyo's famed feline emporiums, it may seem difficult to believe, but since it's an easy day trip by train from Kyoto (35 minutes) or Tokyo (90 minutes), I encourage you to experience it for yourself!
Lots to Love:  Cats Gallery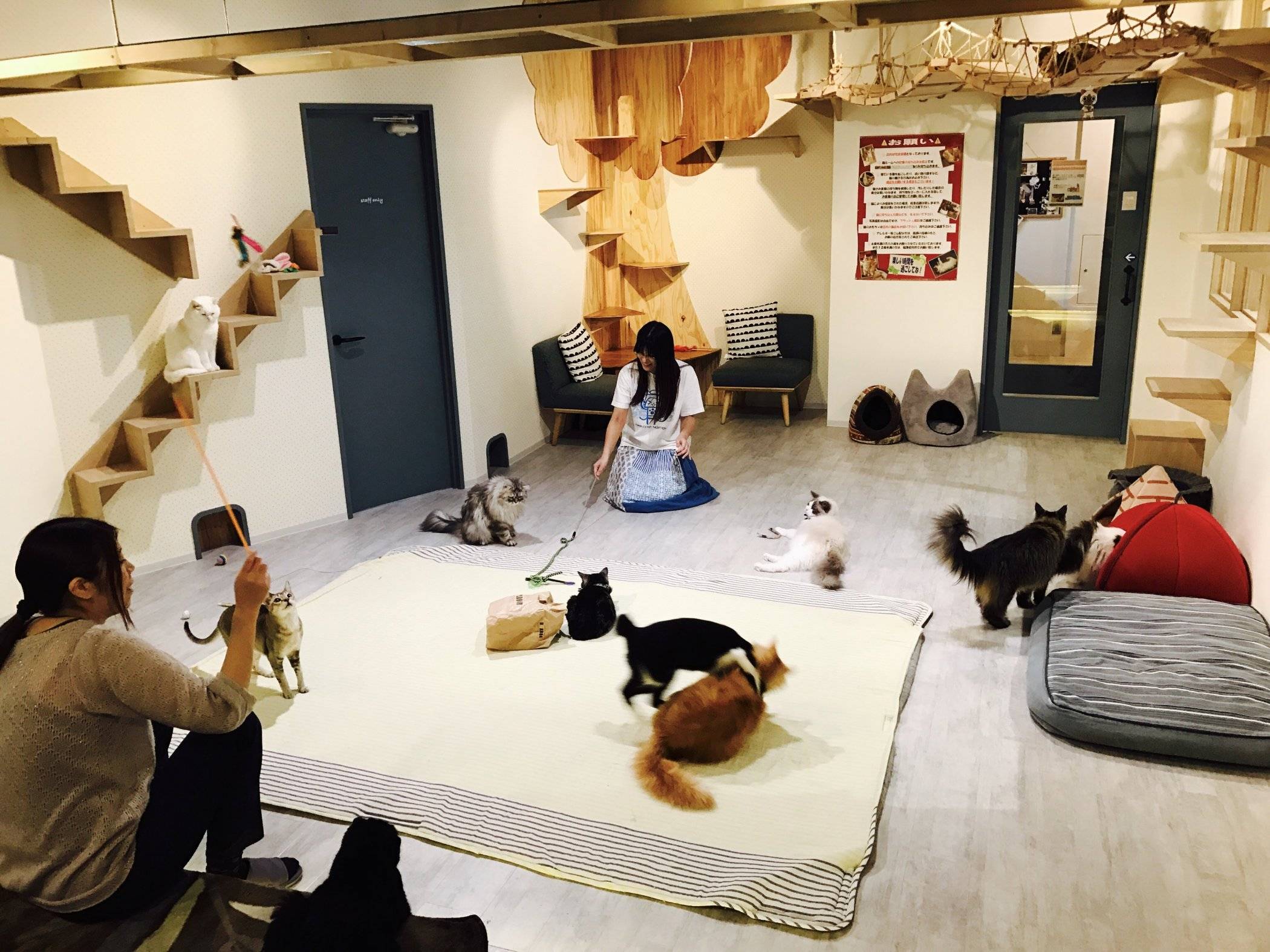 I wasn't expecting anything elaborate, so when I entered Cats Gallery, I was surprised that it was a contemporary, beautifully decorated space set to a soundtrack of soothing music.
Clean and tidy, there are three rooms to satisfy every cafe need- a lively cat play room with lots of toys and climbing equipment, a quiet side room, and a sitting room with a long table and window where you can enjoy a beverage and observe the cats surveying the outdoors.
There are 18 cats in residence and the majority were in the play room, where I spent most of my time.  With a playful atmosphere, my visit to Cats Gallery was one of the most pleasurable outings I've had in a cat cafe, mostly due to the variety of adorable kitties that were extremely social and active.  The environment is no accident as the owner, a delightful woman (first photo above), clearly enjoys what she does and despite limited English, engaged with visitors and encouraged interaction with the cats by bringing them over and demonstrating how they liked to dive into paper bags or hop up on backs.
The entrance fee is Y1000 ($8.84 USD) for one hour and does not include drinks which are your typical Japanese cat cafe vending machine variety.  One hour goes by very quickly when you are having this much fun!
Cats Gallery, with fantastic felines, an enjoyable space and a customer service oriented staff, is an outstanding cat cafe and while it's worth the trip to Nagoya alone, consider there are three additional high quality cat cafes to make the decision even easier.
For complete cafe information, click here.
Beautiful Babes:  Cat Street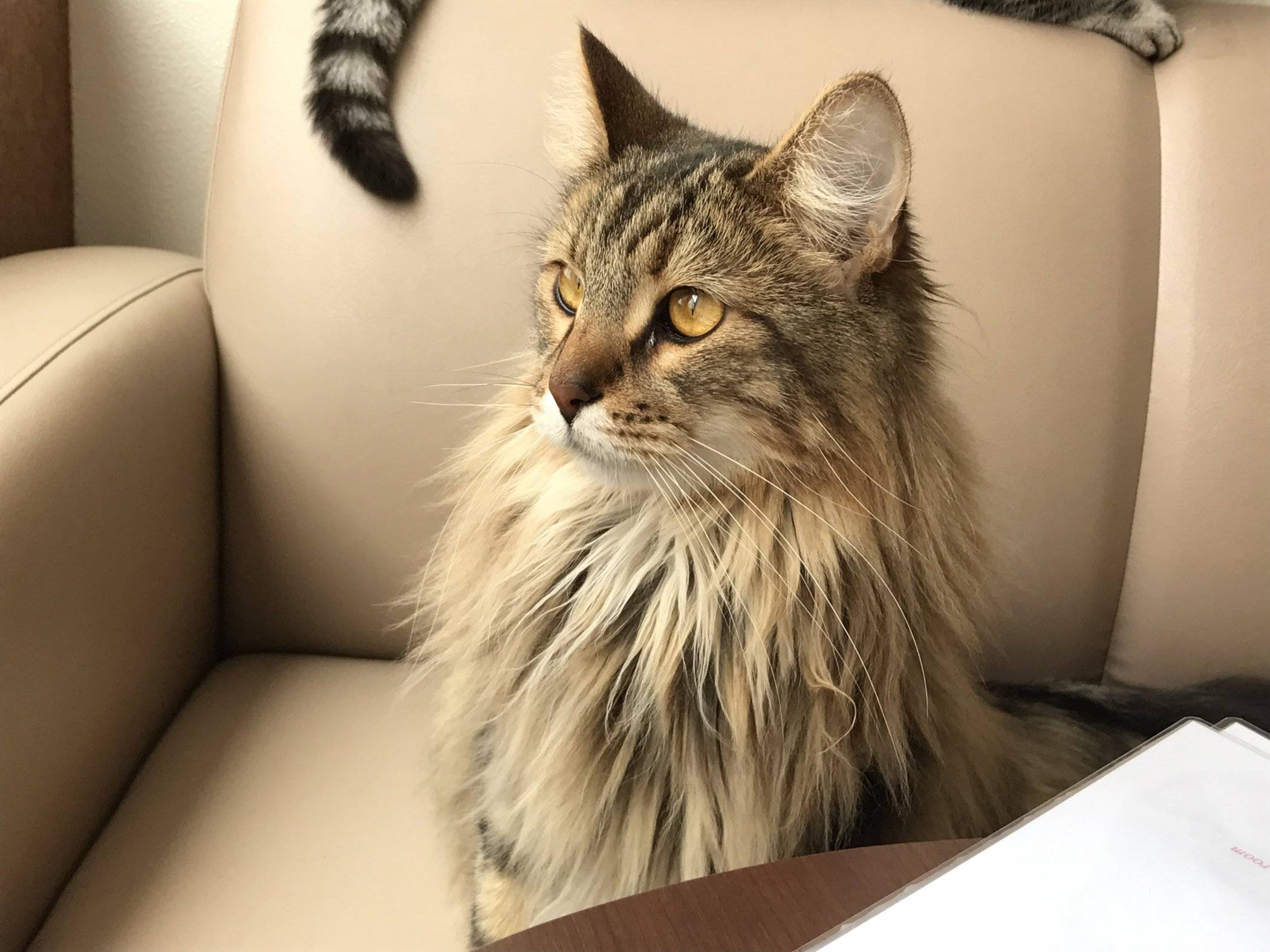 Don't judge a book by its cover.
I've heard this advice hundreds of times, but I still do it.  Even though I know the exterior of cat cafes can be very deceiving, I was a bit apprehensive when approaching Cat Street.  The building is in need of a facelift, but is bustling and full of businesses including Cat Street on the fourth floor.
In reception area, I removed my shoes and sanitized my hands while the friendly hostess gave me a run down of the house rules before leading me through the double doors.  Once inside, I was immediately smitten.
First, the big, open space is brand new and beautifully designed.  The teal carpets, white and tan leather couches and dark wood tables make for an appealing combination.  The cat equipment is thoughtfully and tastefully incorporated so that it enhances vs. cluttering the space.
There are fourteen cats in residence at Cat Street and they are gorgeous!  Breeds include Rag Doll, British Shorthair, Russian Blue, Maine Coon and even a Munchkin.  Beautiful babies to be sure, and these divas know it.  They are curious and playful, but not exactly keen on being petted.  It mattered not to me as I was thrilled just to sit and bask in their good looks.  Eventually I was rewarded as three sweet kitties decided to hang out near me.
For Y700 ($6.19 USD), you get 30 minutes and unlimited free drinks in the separate kitchen area.  The quality was above average for a Japanese cat cafe.
With excellent atmosphere and so many handsome, social kitties, a visit to Cat Street (and the city of Nagoya) is definitely worth the effort.
For complete cafe information, click here.
Stay & Play:  Neko Manma
Neko Manma is more cat than cafe and designed for maximum kitty interaction.  If your aim is to play with cats, this is the cat cafe for you!
The location is a bit far from the center and I took the Sakuradori (red) metro line from Nagoya station to Gokiso station, where I walked the remaining few blocks through a pleasant residential neighborhood.  I entered the lobby area and was greeted by the friendly staff who did not speak English, but made me feel welcome even though they were a bit surprised to see me since this location is definitely a destination and not a walk-by impulse decision.
I paid the fee of Y1296 ($11.46 USD), which included unlimited drinks, took off my shoes and headed upstairs.  There are two rooms to choose from, as males are separated from females, with approximately 10-12 felines in each space.  The owner understands what cats like because the rooms have quite a bit of cat equipment including plenty of nooks and hidey-holes, plus soft cat beds.  Everything seemed very clean and fresh.
The kitties were either chosen for their personalities or just plain love life because they were all quite social and engaging.  I was having so much fun playing with them, especially the black long-haired beauty (what a flirt!), that I almost forgot to take photos!
The drink station is well-appointed with real mugs and lots to choices.  It's definitely a step above the typical vending machines you see in most Japanese cat cafes.
Overall, Neko Manma delivers a wonderful experience with lovely cats, a nice facility, decent coffee and friendly staff which ranks it highly, especially when compared to many of the cafes in Tokyo.
For complete cafe information, click here.
Cute & Cozy:  Neko Cafe Hitoyasumi
Of the four we visited, Neko Cafe Hitoyasumi was probably the most standard.  It sits on the second floor of a nondescript office building on busy Sakura Dori street about a 25 minute walk from Nagoya rail station.
When I entered the cafe however, I was warmly welcomed by the friendly host which set the tone for a lovely visit.  After I changed into slippers and washed my hands, I stepped inside the cat area and was immediately charmed by the bright and cheerful surroundings and calming lullaby music.  The set up is geared towards the cats with plenty of beds, toys and climbing equipment, but still enough tables and chairs for humans to be comfortable too.
There were 17 cats in residence the day I visited, a variety of short and long-haired cuties with friendly personalities.  I was able to interact with many of the kitties, but a few were definitely not keen on being petted!  There was also a mama cat and five tiny kittens in a cage, which was spacious and comfy, but still a bit distressing considering the cries and meows coming from inside it.  Due to the language barrier, I wasn't able to determine why they were there, but suspect they are in the cage to protect them from the other cats.
For Y700 ($6.19), you get 30 minutes entrance into the cafe which includes free hot/cold drinks and biscuits.  I liked how the the drink station is in a separate room from the cats, although it is quite small and does not have seating.  You can make your beverage in the mini-kitchen, but need to drink it in the main room.
Overall, I had a nice time visiting Neko Cafe Hitoyasumi.  The fresh, clean environment, friendly staff and abundance of cats provides a nice break from touring the city, although I do feel the other three Nagoya cat cafes offer a slight edge in terms of space, atmosphere and the 'fun' factor.
For complete cafe information, click here.
The Neighbor's Cat is a comprehensive global cat cafe website with first-hand reviews, an up-to-date location directory and extensive photo gallery.  On a quest to visit every cat cafe (126 in 23 countries so far!) in the world, The Neighbor's Cat can help you find the perfect cafe to complement your travels. 
Advertisements
The full range of Necoichi raised bowls and accessory now available @ Katzenworld Shop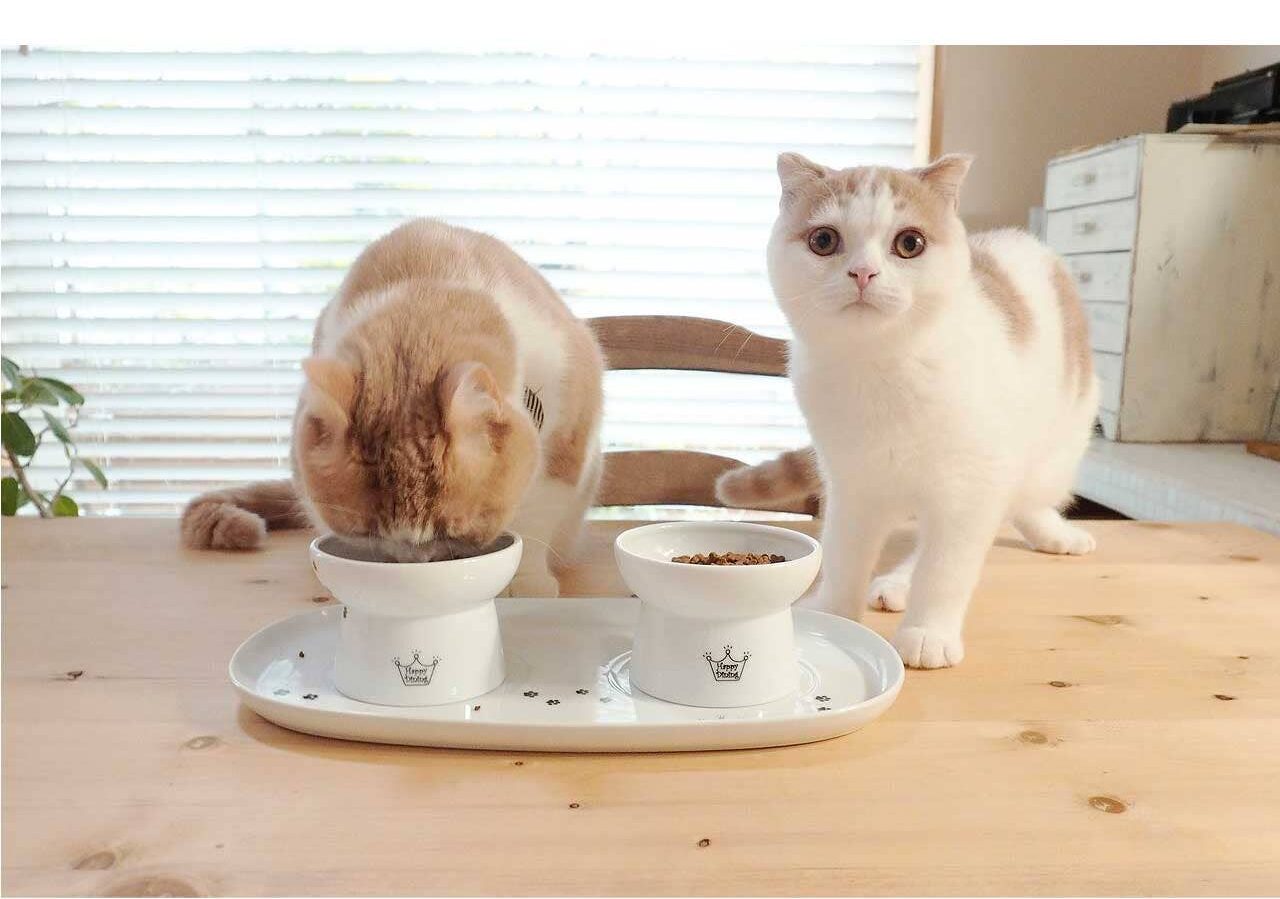 The Neighbor's Cat is the alter ego of Paula LaBine, an itinerant cat lover who writes about cat cafes, rescue/adoption & TNR, and has been featured in Miau Magazine, Katzenworld Blog, The Catnip Times and Taiwan Scene. She is currently on a quest to visit every cat café in the world, 217 in 29 countries so far! Find her at theneighborscat.com or on Instagram/Facebook/Twitter @catcafeviews.