Hi everyone,
It's Oliver here today from Katzenworld HQ! I realised from my throne the other day that our kingdom is getting rather mucky… I wonder if that's got anything to do with the new arrival of Renegade!
Renegade: Hey now… I saw you spill food all over the carpet… I am house trained unlike you…
Oliver: Right right… it might just have appeared over time.
Oliver: But… the humans have found a solution to clean our kingdom!
Renegade: You mean MY kingdom…
Oliver: Nope… MINE you are just a prince not a king!!!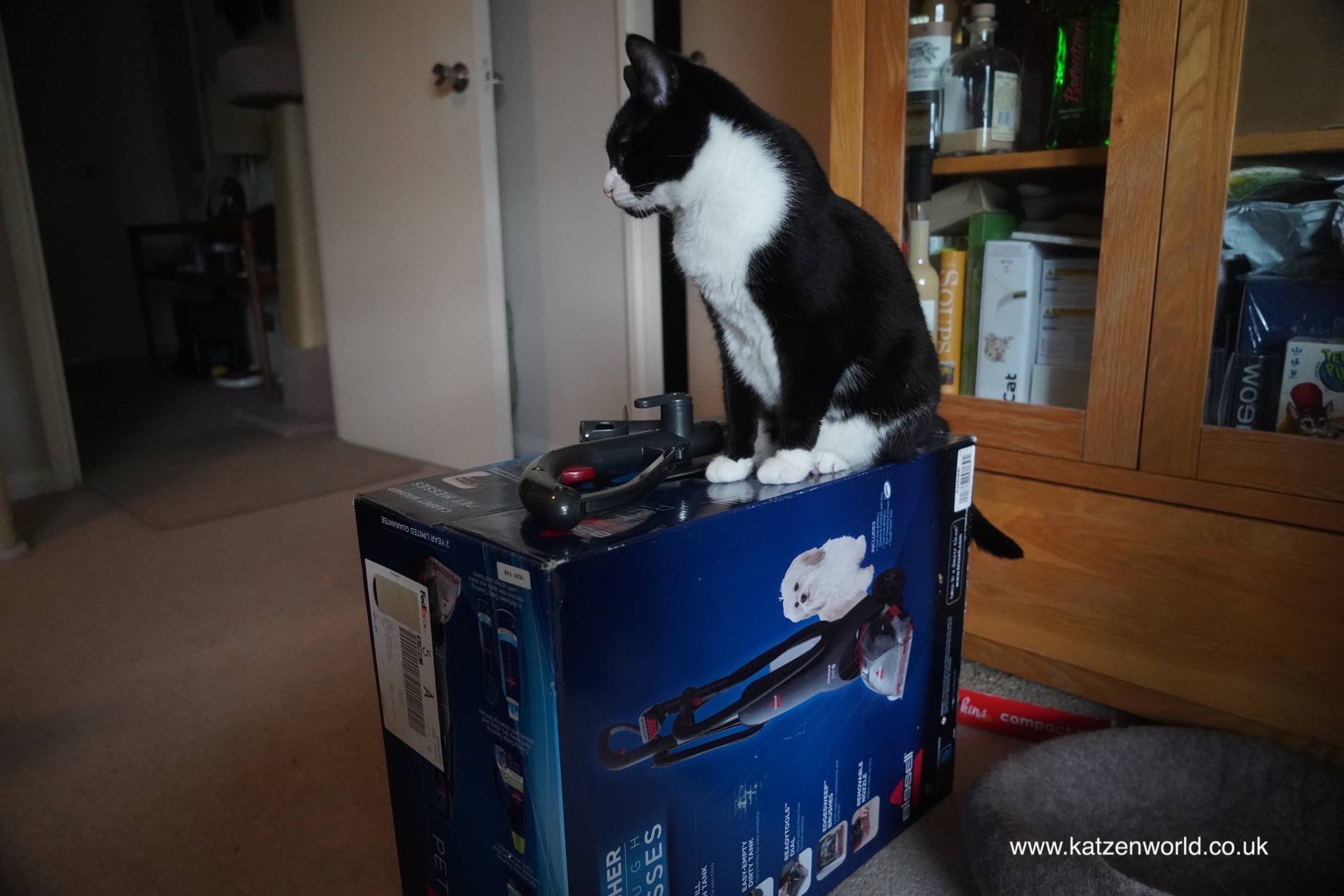 Oliver: The carpet over there looks especially dirty… 😮
Renegade: Isn't that there Nubia sits a lot…
Oliver: Yes… must be all of her fur!
Oliver: But hopefully this will help with that!
Renegade: What is that?
Oliver: It's the Bissell InstaClean Pet! Which cleans the carpet with a cleaning solution safe for pets.
Renegade: Oli so will we have to push it?
Oliver: Silly you of course not… the humans will do that! Now take your nose of the device we don't want to get you into trouble. :O
Oliver: See the humans will do the hard work. The way this cleaner works is that it's got a cleaning solution mixed in with water to "wash" the carpet. Sucking up the dirty water to put into a seperate tank area.
Renegade: I see… so it removes all the stains sister has made?
Oliver: Indeed! 😀
Oliver: So what did our humans think? Well they told us that they were very impressed! In their trial they didn't pre-treat the carpet which as you can see on picture 1 had quite a lot of marks (and this is after it was hoovered!)
Oliver: Now compare this to picture 2 after the use of the Bissell InstaClean Pet. You can see that the carpet colour is much more even now and especially where the big stained area on the top left is it's now a lot less visible and this was after just 1 short term appliance of the carpet cleaner.
Oliver: Our humans would recommend that for better results on especially long term stained areas it would be best to use the pre-treatment available from Bissell in order to help with removing the stain.
Oliver: However considering the stains have been on the carpet for over a year they are perfectly happy with the end result so far and will do another cleaning round shortly to remove the remaining staining. 😀
Oliver: Furthermore in addition to being able to clean your carpet it has handy tools to use on upholstery such as sofas.
Renegade: Also… if you can we would highly recommend shutting out us nosey cats into another room while you clean your carpet. While the cleaning solution is safe to use with pets and kids around it's always a good idea to let these dry fully before letting us back in.
Renegade: Not convinced yet? Check out this video. 😀
Oliver: Have you got a carpet stain that needs cleaning? Head over to the Bissell website to get yourself one of these. 🙂
Signed by,
His Meowjesty King Oliver the Maker of Chaos
&
Prince Renegade the Creator of Chaos
Advertisements
Click to visit our Shop for the hassle-free Zen Clippers!
We regularly write about all things relating to cats on our Blog Katzenworld!
My partner and I are owned by five cheeky cats that get up to all kinds of mischief that of course, you'll also be able to find out more about on our Blog
If you are interested in joining us by becoming a regular contributor/guest author do drop us a message @ info@katzenworld.co.uk .