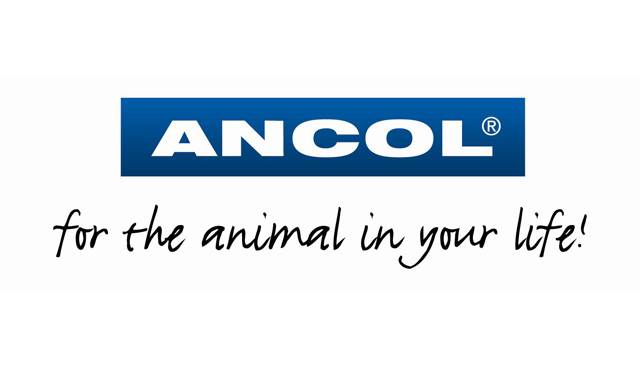 Hello everyone! Today we have tested and reviewed the Ancol Acticat three way Cat Play Tunnel. This tunnel is part of the Ancol cat range, for those that haven't heard of Ancol they are an independent family owned company that specialises in pet accessories for dogs, cats and small animals and you can find their website by clicking here.
Each of the three arms has a length of 50cm by 25 cm in diameter and there is a hole in the middle for your cat(s) to poke out. (Oli sure loved this part of the tunnel!) 🙂
The tunnel is made of a crinkly material which seems to attract cats attention even further (at least it did for mine!) Unlike the usual one way only tunnels this gives more space for your cat to play around with and if you have more than one cat they will love playing hide and seek or chase games through the different tunnel exists – or in the case of Oli a quick entrance / escape through the middle 😉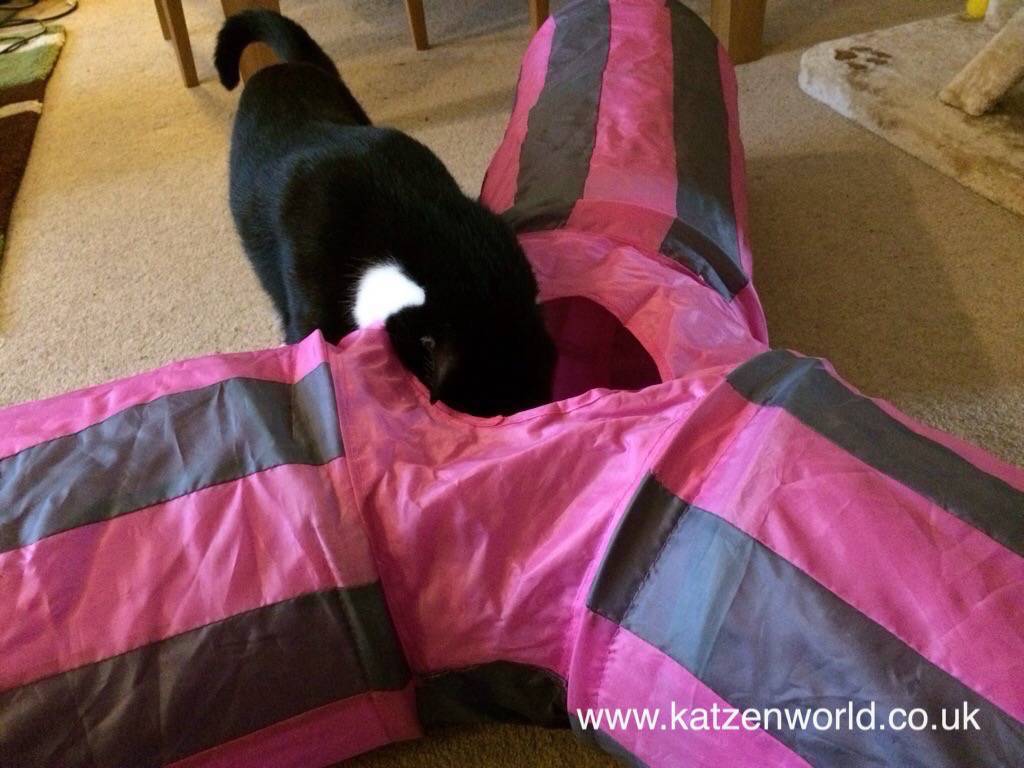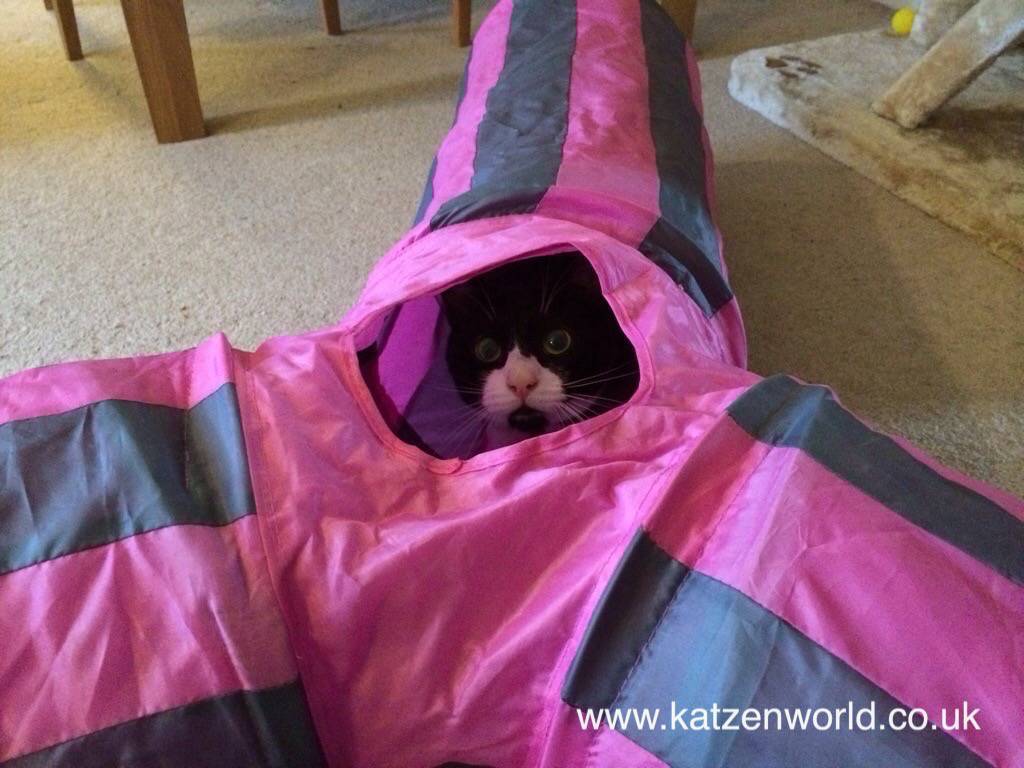 Below you can see some more pictures of our cats playing with the tunnel (They both certainly enjoyed and are still enjoying this toy. :D)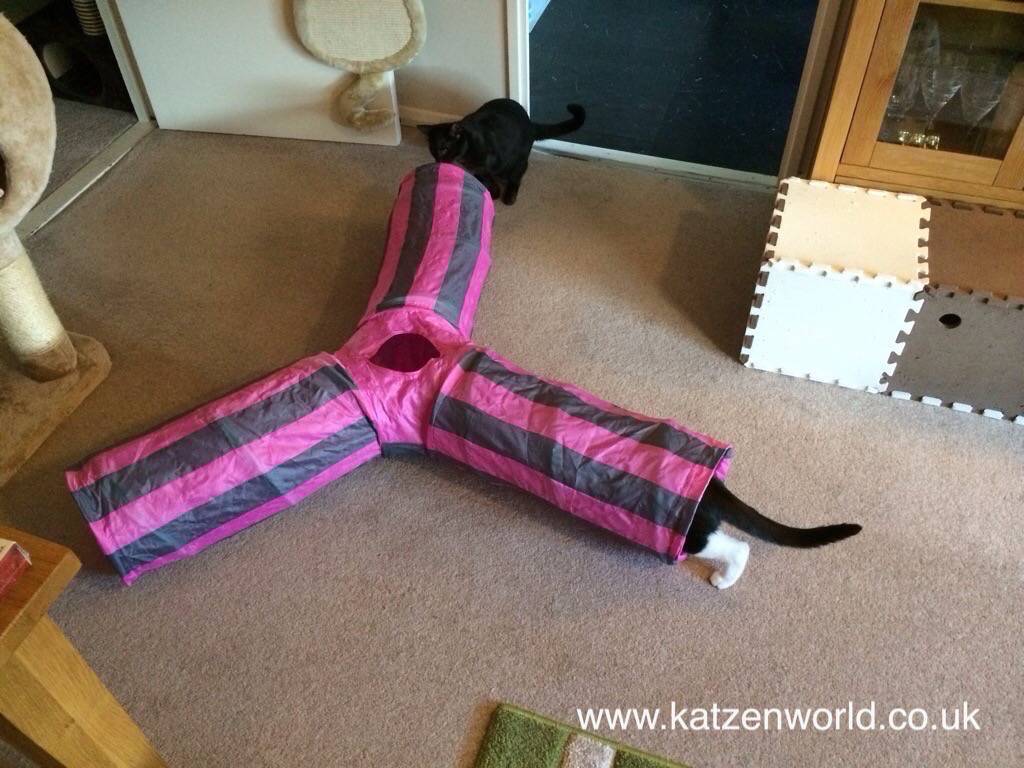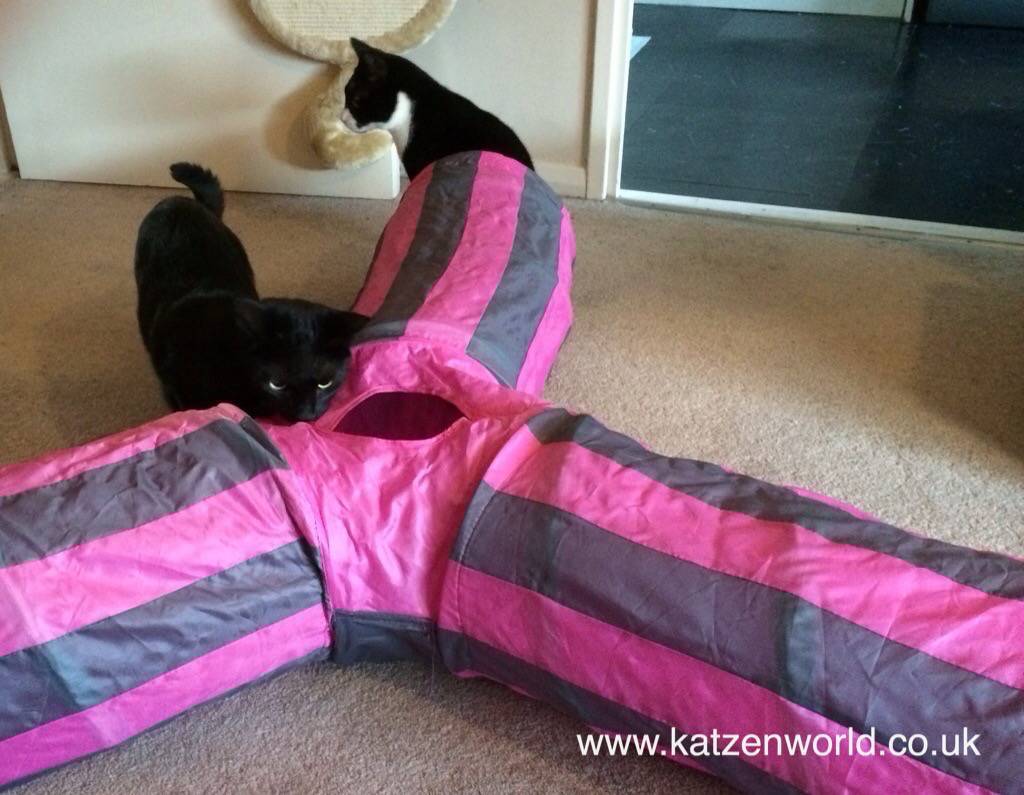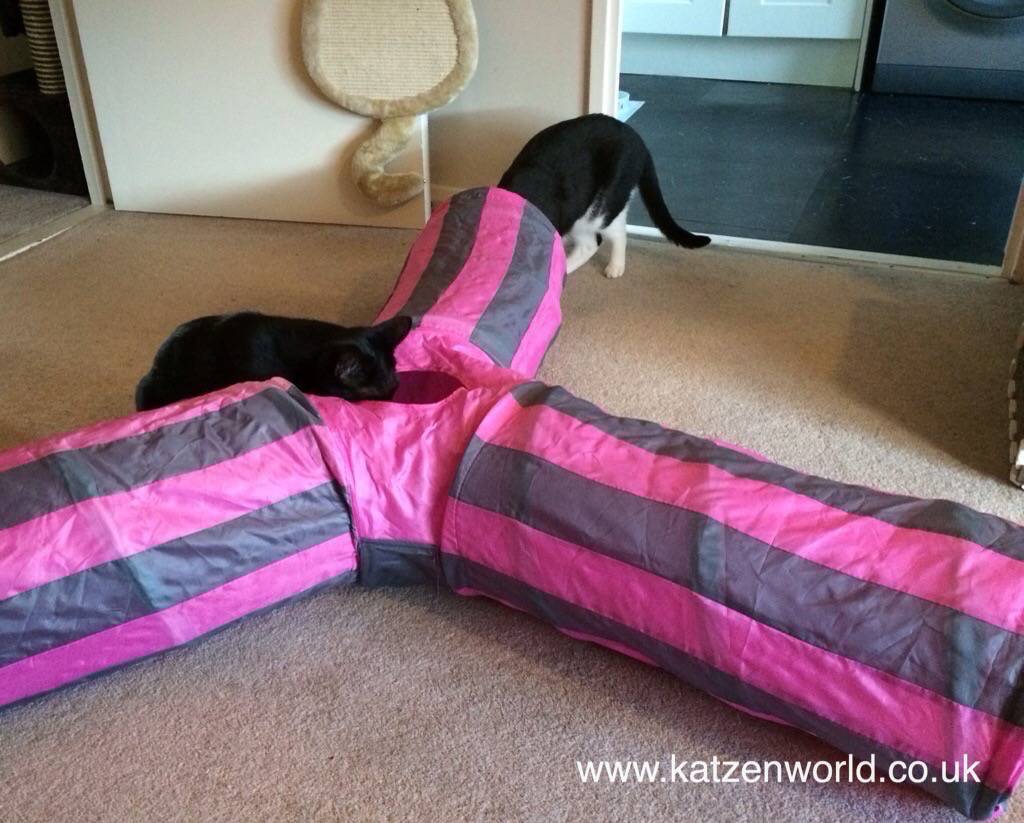 If you are worried about the size because you are living in a flat don't worry as the tunnel can easily be collapsed and you can secure it safely so it doesn't open up by itself. After collapsing it, the tunnel fits easily under one of our cupboards to be out of the way until the next time our cats need some distraction. 🙂
The tunnel is currently on special offer on Amazon for a price of £13.89 (at the time of posting this review) which equates to a 21% saving of the RRP.  Please click here to go to the product on Amazon UK. (Sold and delivered by Amazon so quick and easy delivery, especially if you happen to have an Amazon Prime membership.)
If you do buy the tunnel we would love to see pictures of it with your own cats, so do let us know if you get the tunnel! 🙂
And for the the final pictures a last game of hide and seek that ends in a cute "cat kiss" <3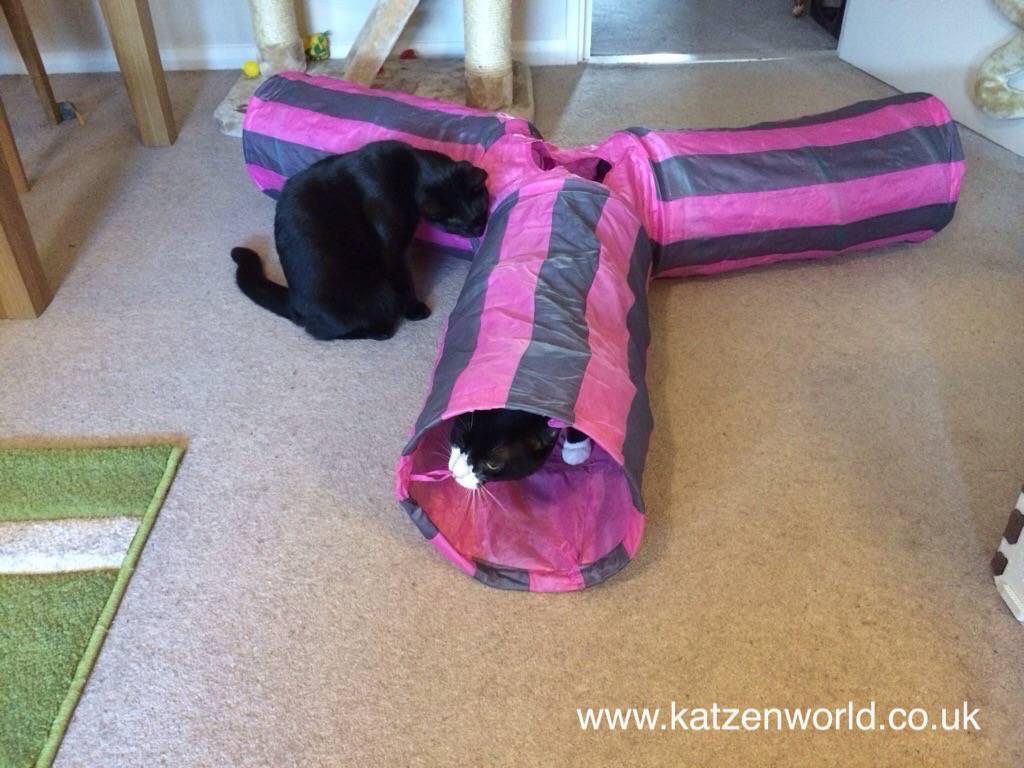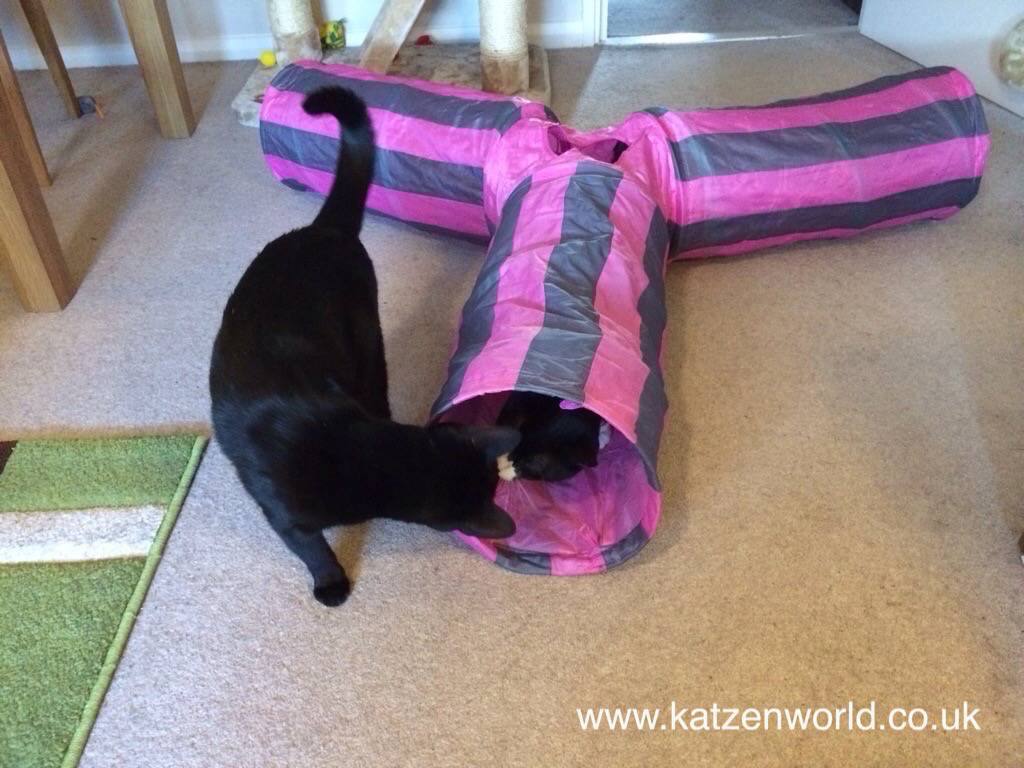 Thanks for reading our review! Oh and please do sign up to our Newsletter.
Marc
Advertisements
Visit our Shop for Lisa Parker merchandise!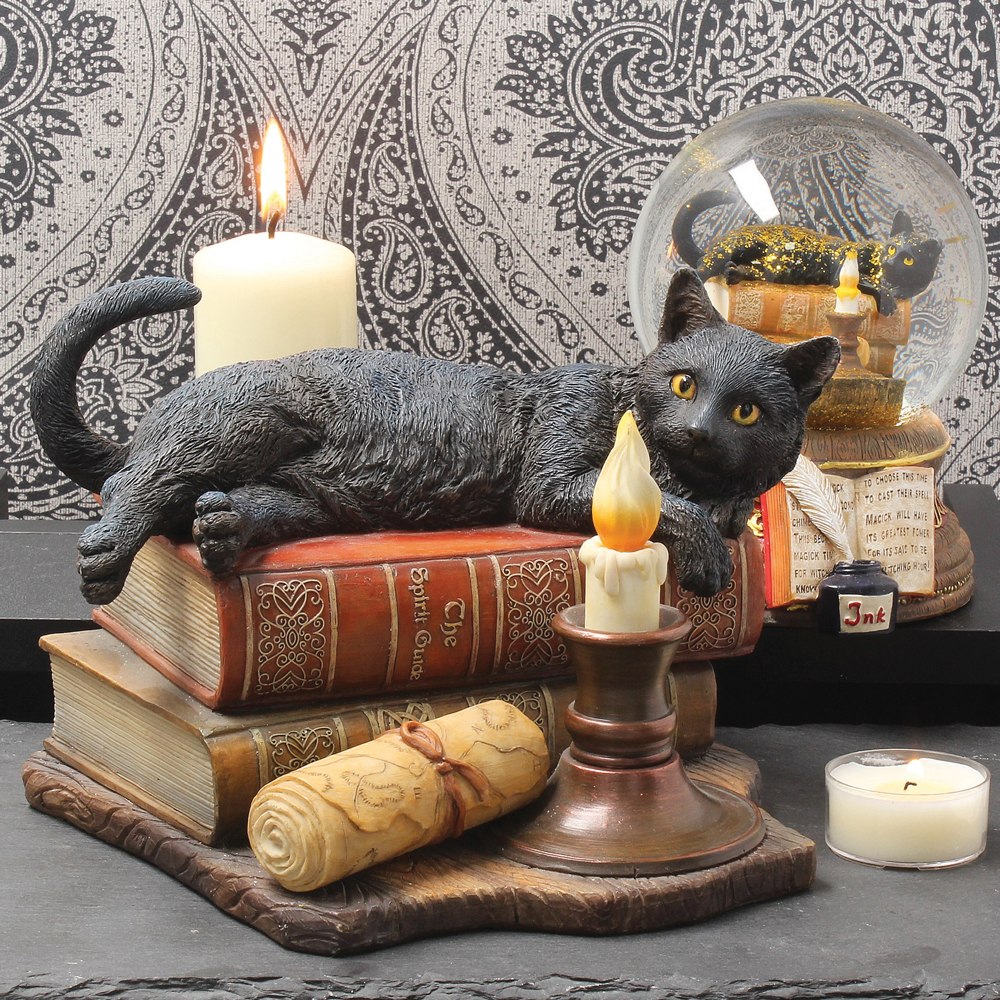 We regularly write about all things relating to cats on our Blog Katzenworld!
My partner and I are owned by five cheeky cats that get up to all kinds of mischief that of course, you'll also be able to find out more about on our Blog
If you are interested in joining us by becoming a regular contributor/guest author do drop us a message @ info@katzenworld.co.uk .