Cats can be expensive to look after once food, litter, healthcare and toys are paid for

Pet lovers from Latest Deals reveal their top tips for saving on maintenance costs

Tricks include getting free neutering, which could usually cost up to £100 in vet fees

Other hacks involve how to get free vet consultations worth £40
Those of us who love cats will do anything to keep our furry friends healthy and happy, but if you're on a budget, how can you keep costs manageable when there's food, litter and vet bills to pay for?
Tom Church, Co-Founder of money-saving community LatestDeals.co.uk, said: 'Across the UK, cats are important members of millions of households. Those on a budget will no doubt have felt anxiety when they're faced with healthcare costs they can't afford or rising prices of pet food. Fortunately, cat lovers from Latest Deals have come up with some excellent tips and tricks to cut down on costs. Here are the best I found.'
Shop Smartly For Big Savings On Cat Food – Subscribe & Save, Redeem Points & More
It's easy to get used to buying a certain brand of cat food, but with inflation hitting the UK, prices could be creeping up. Now, more than ever, it's important to shop smartly while also keeping your furry friend happy.
Sophie Orr recommends Amazon Subscribe and Save for cat food; Teresa Barnett agrees: 'I get my wet food on Subscribe and Save from Amazon, and with four cats it helps.' Tom adds: 'Simply by searching 'cat food subscribe and save' in Amazon, loads of deals come up – you can save 10% or 20% with pre-loaded vouchers, and you will save each month by signing up to one of their subscription plans.'
Jenny Kilby points out: 'For cat food it's definitely a balance between finding the cheapest one but also one that they will eat. Canned will always be cheaper than sachets.' Michelle Gallagher also has a mixed approach: 'The best way to save money is to buy good quality dry food – then you can feed the cheaper wet foods and still be sure your cat is getting all the nutrients it needs.'
She goes on to suggest looking further afield than the UK brands you might be used to: 'Try looking at the German brands like Smilla as they're quite good quality and cheaper than Whiskas.' Rita Hunte has some recommendations on what to buy, from where: 'Zooplus and Bitba sell Smilla, Animonda Carny & Bozita wet food. They all have a much higher meat content than supermarket pet food, so it's better for your pets.'
Some Latest Deals members are fans of Zooplus in general. Steph Doyle says: 'It's a good place to get pet supplies for any animal. I get my kitten's food from there.' Kerry Glover adds: 'Bulk buy food tins and litter from Zooplus. I get points as well and redeem those on treats. I have about a year of treats from points. I also redeemed them on toys and some other bits so that helps.'
Others in the community like Tesco products. Kayleigh Louise says: 'My cat loves the Tesco pouches. £2.65 or something for 12.' Nigel Wallace adds: 'Tesco sells a 2kg bag of cat food for £2.25.'
Make Your Own Cat Food With Reduced Meat – Pay Less Than Pouches Cost
If you're looking to cut costs and make some major savings, while also ensuring your kitty gets good nutrition, why not consider making your own cat food? Roxanne Frost says: 'I can feed my two on homemade balanced raw food for less than what I would pay for store brand pouches. Although it does require my time to make it, I keep the costs very low as usually I will use reduced meat I buy throughout the month and freeze it. Even if I don't buy reduced meat it's still cheaper than pouches.'
Rita Hunte chips in with her method for making cat food: 'I use an electric carving knife to make the chunks. I mix them with some minced meat. I use either whole chickens or chicken wings for the bone portion (apart from the leg & thigh bone, which I save for bone broth).
'The carving knife chops the ribs & I let the felines chomp through them for their bones. These are kittens so I want them to chew bones for their dental health. If the balance of meat to bone is short on bone I supplement with ground eggshells.'
Get FREE Neutering And Save On Vaccinations With Yearly Plans
Having healthcare plans in place with your vet can provide peace of mind, just in case your feline develops a medical condition or gets into an accident. What's more, it can be more cost effective to pay a fee monthly or annually instead of having the nasty surprise of a huge bill if something goes wrong.
Marishka Valeros says: 'I have my kitty on a plan at the vets, I paid £99 and that includes his yearly vaccinations. Saves us a ton of money, I go yearly and pay nothing else – not even the visit. We go to Vets4Pets.' Teresa Barnett adds: 'I have a care plan for all four of my cats at the vets. It covers flea and worming treatments, two check ups a year plus boosters. All for £12.50 per cat.' Similarly, Rose Martin says: 'Get a lifetime vaccination plan if your vets do it. The vets I was with first did it for £150 but I relocated so ended up paying for another one local which is like £100.'
Shopping around for the best value insurance plan is also worth it. Kerry Glover says: 'My pet insurance is just over £30 for 2 kittens with Purely Pets.' Teresa Barnett chimes in: 'My pet insurance is from Animal Friends and covers all 4 for only about £35 a month.'
Other Latest Deals members chipped in with their tricks for getting freebies. Chelsey Blackburn says: 'If you have one near you, use Animal Trust. Free consultations for life.' Rita Hunte adds: 'The C4 scheme does a free neutering for cats for people on low incomes.'
Tom says: 'On the Animal Trust website, they explain that they charge free vet consultations as they don't want owners to feel there is a financial obstacle in the way of getting care for their pets. As they are not for profit, they work to keep pets healthy instead of trying to make money.
'Meanwhile, those who live within the M25 and areas within Hertfordshire may be eligible for free neutering if they meet certain criteria, such as being on a low household income, feeding a stray cat for at least 14 days or receiving certain benefits. You can check the Cats.org website for more information.'
Buy £1 Pompoms For Unlimited Feline Fun – Scrunched Up Tin Foil Also Works
It's easy to get carried away whenever you're in a pet store or supermarket once you see all the brightly coloured toys and games available for your cat, but in reality they will probably prefer your Amazon delivery box over any fancy toy you've blown your money on.
Diane Haig recommends making smart investments in toys your cats will definitely maintain interest in: 'Laser toys have been the best for me. I got a rechargeable one so it works out a lot cheaper than having to buy batteries all the time. Plus I have a banana catnip toy which lasts for ages – again, it costs a bit, but it's worth it considering how long they last.'
Kerry Glover suggests cutting down on what you buy and rotating what you've already got: 'My cats have a ridiculous supply of toys so we don't buy them often now – just every once in a while for variety. I do swap out toys weekly from their toy box!' Meanwhile, Teresa Barnett gets creative with the basics: 'I use boxes as toys for them and make them into houses.'
Jane Small gets budget-friendly supplies from craft stores: 'My cheap cat toys are small pompoms. You can get a bag of them from anywhere that sells craft stuff for around £1. My cats absolutely love them and have hours of fun chasing and hunting them.' Rita Hunte recommended her cat toy essentials: 'The best toys are a laser pen, empty cardboard boxes and scrunched up tin foil balls.'
Buy Horse Pellets To Save On Cat Litter – Save £3 Per Bag At Equestrian Shops
Cat litter can quickly become expensive if your furry friend is picky about the kind they will use, but if you can get them used to budget-friendly alternatives your financial life will get a little easier.
Rita Hunte says: 'We use a top entry litter box with wood chip litter. It's from Pets At Home and costs  £7.99 for 30 litres. We got the box cheaply on Amazon Marketplace.' Rhea Grove chips in: 'Rita, if you can find a local equestrian shop these are £5.'
Nigel Wallace suggests comparing prices and deciding which you prefer: 'Aldi sells 10kg bags of cat litter for £1.65, while Tesco sells 10kg bags of cat litter – which I find is better quality than Aldi's – for £1.85.' Tom adds: 'Our free Supermarket Price Comparison Tool is great for comparing the same item in multiple places and finding the best deal.'
Meanwhile, Alison Melrose has devised a way to cut down on litter box changes: 'For cat litter, I buy Okoplus. It's really economical – just scoop out their mess and top up occasionally. No need to keep washing out the litter box, just every six months is fine!'
Advertisements
The full range of Necoichi raised bowls and accessory now available @ Katzenworld Shop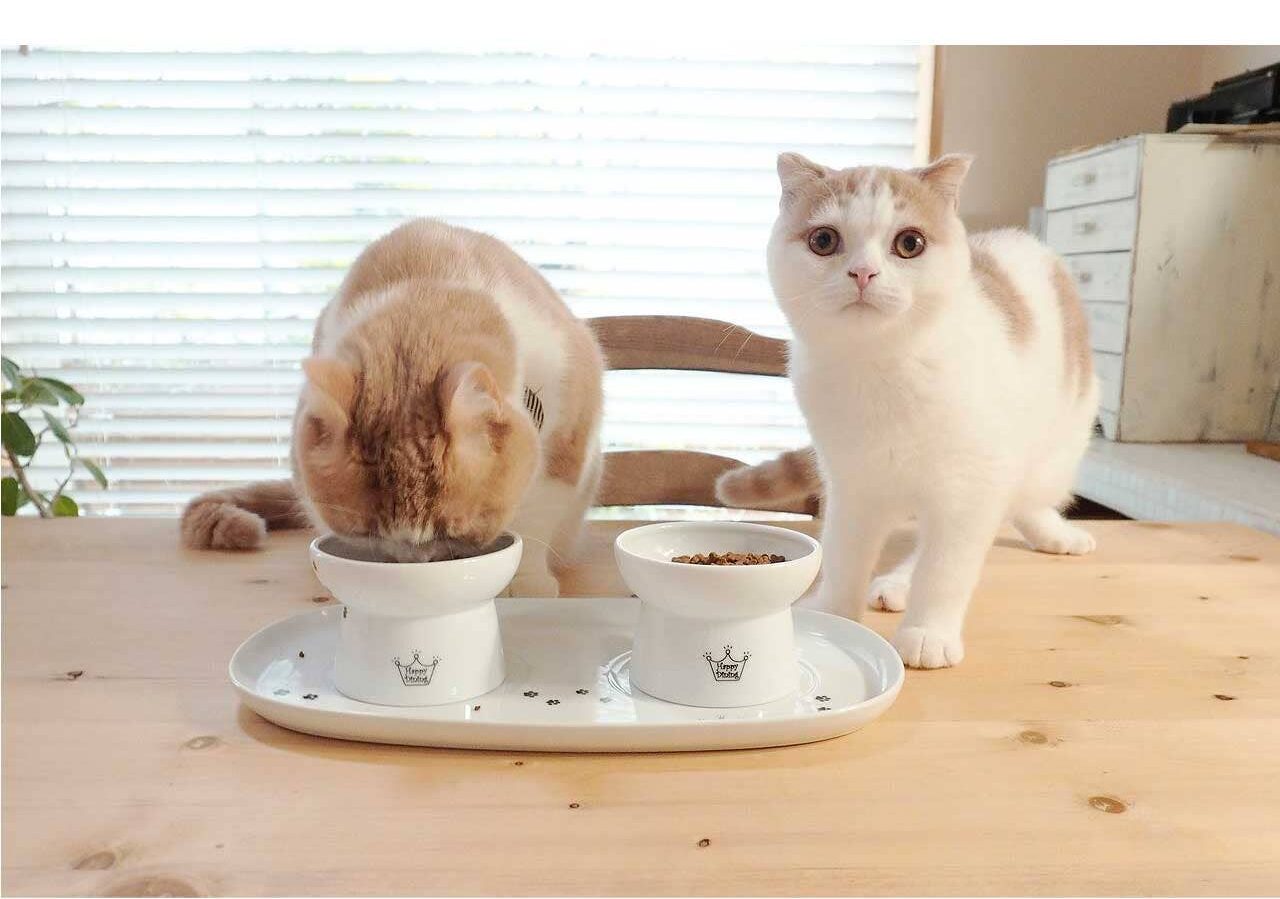 We regularly write about all things relating to cats on our Blog Katzenworld!
My partner and I are owned by five cheeky cats that get up to all kinds of mischief that of course, you'll also be able to find out more about on our Blog
If you are interested in joining us by becoming a regular contributor/guest author do drop us a message @ info@katzenworld.co.uk .