The Ultimate Pet Rich List
The World's Wealthiest and Most Influential Pets
All about Cats have created an ultimate list of the world's wealthiest pets, along with using social data and instagram earnings to reveal a list of the highest earning & most influential pets.
Influencers predate social media marketing by centuries, dating back to the Roman era where the most famous gladiators endorsed products just like today's athletes and sports personalities.
In today's influencer climate, you need not spend your days in a Colosseum or at the Olympics; you don't even need to leave the comfort of your own home. And you become an influencer? So last century! Our pets could become the next generation of online influencers, and many are already well on their way to establishing themselves as Instagram celebrities.
As the influencer phenomenon continues to boom, we wanted to find out which of our animal companions made for the most influential personalities, and of course, which cats found themselves in the top spots.
From felines to canines, cougars to hedgehogs, animals have demonstrated a true talent in engaging the masses. Many of our furry friends don't just rake in money through sponsored ads, but many also have their own merchandise, host live events, and one cat on our list has even developed their own premium food brand. So the next time you need cat food, don't forget there are a host of influencer-brand foodstuffs that your closest buddy is itching to try.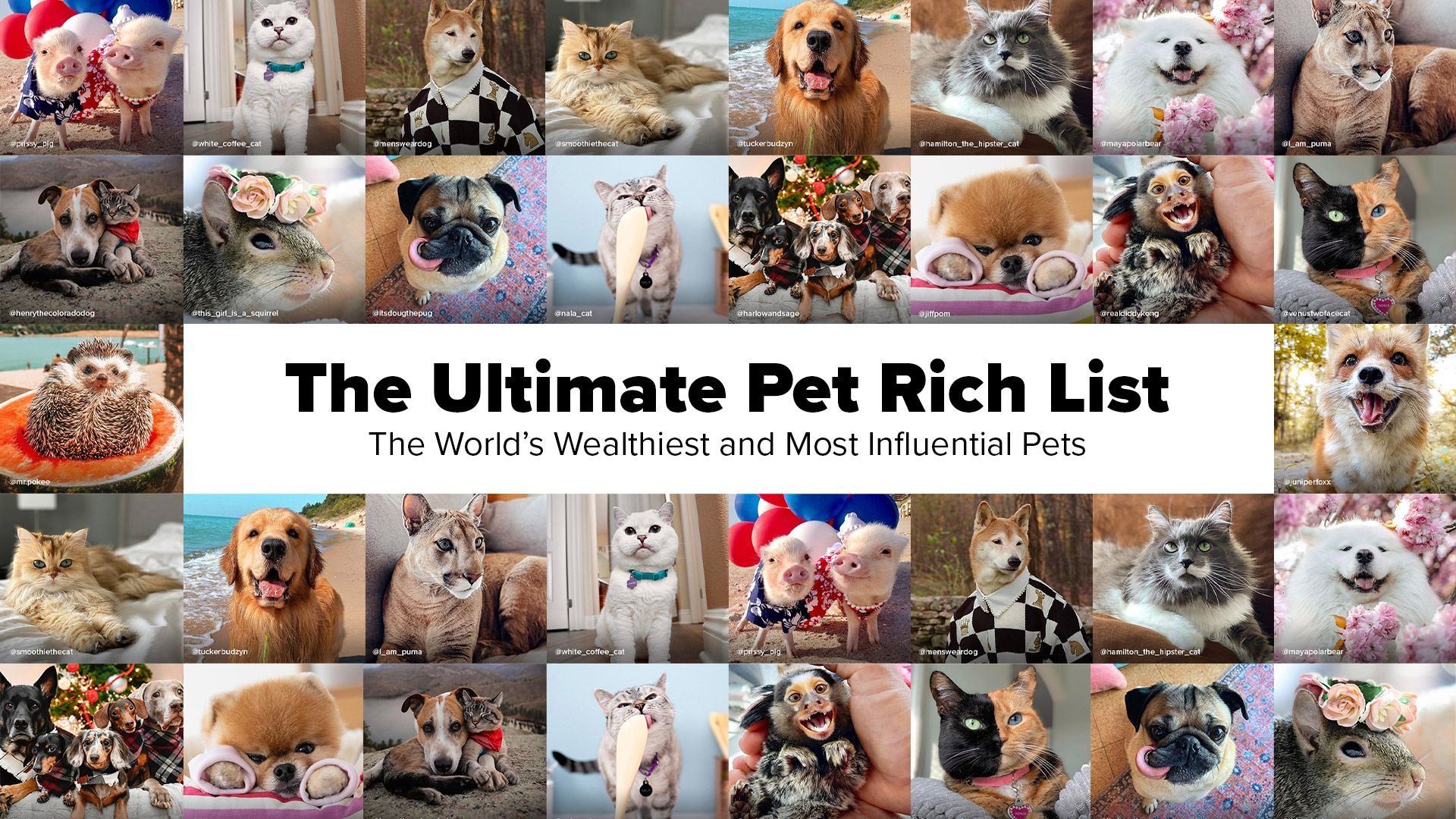 By analysing the Instagrams of pets with the most followers, likes, and engagement rates, we discovered the top 50 most influential pets. We also wanted to see just how much these animals could make for their loving owners. Using Instagram data we estimated how much each of these pets could make per Instagram post to discover who among them were the highest earners, and how much the most influential cats could pull in per post.
So, who are the most influential and highest earning pets on Instagram?
Gunther VI – Dog – £366.9M 🐶
The world's richest pet, a German shepherd known as Gunther VI, is owned by the Gunther Corporation who also manage the dog's estate and fortune and through real estate investments have rocketed Gunther's grandfather's inherited a fortune from a mere $80 million in 1992 to the $500 million reported today. It is no surprise that this lucky boy finds himself the richest pet in the world, five times richer than the runner-up on this list. To demonstrate his business ability and talent for real estate, it has been reported that Gunther has recently sold a mansion, formerly owned by Madonna, for $29 million in 2022. That's one clever dog.
Nala_cat – Cat – £73.5M 🐈
Our runner-up in this list is not our highest-earning influencer, but rather our premium cat food owner, Nala Cat, with a net worth of $100 million. Jiffpom, our highest-earning canine pet influencer, is still a long way from catching up to our richest feline influencer, some $75 million behind, securing him a spot at number five on our Ultimate Pet Rich List.
Olivia Benson – Cat – £71.2M 🐈
At the number three spot is Olivia Benson, the best friend and companion of artist Taylor Swift, who asks the question: is Instagram celebrity really the most profitable profession for your pet? With a whopping $97 million net worth, Olivia has found success outside of the world of Instagram influencing. The Scottish Fold earned her fortune starring alongside her owner in several music videos, has crafted her own merchandise line, and has had cameos in many big-budget ads, including for the likes of Diet Coke and Ned Sneakers.
At number four are the pampered Sadie, Sunny, Lauren, Layla, and Luke, Oprah Winfrey's pet dogs, each of whom has their own trust fund and as a collective are set to inherit $30 million when Oprah passes. These dogs are not the only ones on this list who have or are set to inherit their fortunes. Gunther VI's fortune was originally inherited and Choupette, late Karl Lagerfeld's Birman, inherited $13 million after his death taking her to the sixth richest pet and the third richest cat. Pontiac, the late Betty White's adopted Golden Retriever, will inherit $5 million after the recent loss of the American actress and comedian, making Pontiac the 7th richest pet in the world.
Sadie, Sunny, Lauren, Layla and Luke – Dogs – £22.0M
Jiff pom – Dog – £18.3M
Choupette – Cat – £9.5M
Pontiac – Dog – £3.7M
Doug the Pug – Dog – £1.1M
Tucker – Dog – £1.1M
Marutaro – Dog – £1.1M
You can view the full research here: https://allaboutcats.com/the-ultimate-pet-rich-list/
Advertisements
Visit our Shop for top-quality cat toys and cat lover products!
We regularly write about all things relating to cats on our Blog Katzenworld!
My partner and I are owned by five cheeky cats that get up to all kinds of mischief that of course, you'll also be able to find out more about on our Blog
If you are interested in joining us by becoming a regular contributor/guest author do drop us a message @ info@katzenworld.co.uk .