Expecting a little one can of course be an incredibly exciting time, but it's important that you make sure everyone is ready for the new arrival – including your four-legged family members. It's worth thinking about how your pet might react to a new addition to the family as you prepare for their arrival.
PDSA Vet Nurse Nina Downing said: "Babies require a lot of attention, so it's important to factor in how your furry friend will feel about this, as they may have been used to being the centre of attention. It's important to prepare your pet, so they feel comfortable when the new baby arrives.
"If you're planning on keeping areas of your house pet-free once baby arrives, help your pet to become used to this gradually.
"Baby gates can be a really useful way to keep your pooch out of certain areas. For feline friends on the other hand, you'll probably need to keep doors closed.
"When preparing safe spaces for your new-born, it's best to do the same for your pet in case the new arrival becomes stressful for them. Pooches will appreciate a den to retreat to in a quiet room – usually behind a piece of furniture. Whereas a puss will often feel safest when they're high up, so a cat climber or comfy spot on a high piece of furniture would be the perfect choice here.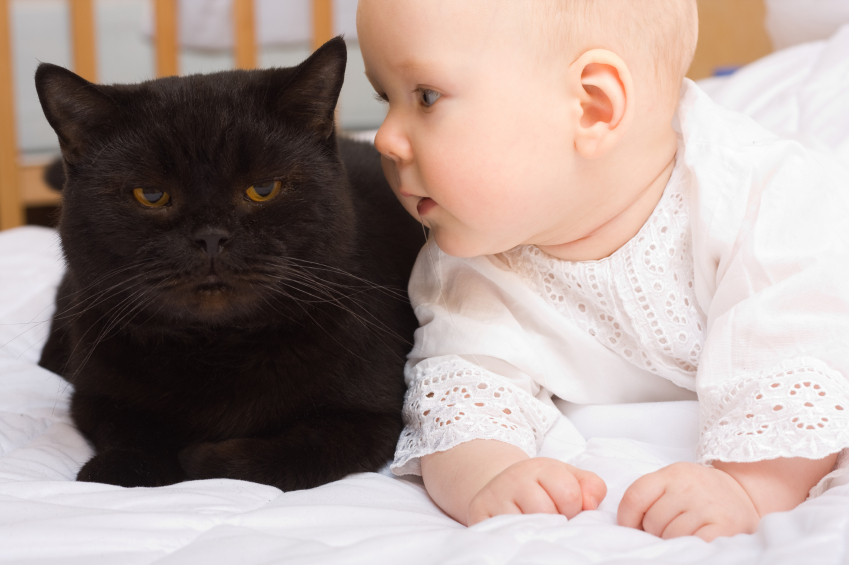 "It's helpful to introduce any new furniture, such as the baby's cot and play pen, early on, before the baby comes home. This way, your four-legged friend can start getting used to the unfamiliar sights and smells by dealing with one thing at a time.
"It's important that the first introduction to your new baby goes smoothly. The environment needs to be calm and quiet to avoid your pet feeling overwhelmed and reacting in a negative way, so preparation is key. As a first step, if possible before the baby even comes home, introduce your new-born's clothes or blanket to your pet so they can get used to the scent, let them have a good sniff and reward them if they're calm and settled.
Once you're happy that your pet is relaxed with the new smells you can allow them to meet your new arrival in a quiet room under close supervision. In some cases, our pets can be very enthusiastic when investigating the new-born, so simply gently direct them down and away and reward them when they're calm and settled.
Keep your furry friend happy and healthy
"While there can be a lot to concentrate on when caring for your new-born, don't forget to make sure your four-legged family member is given the care they need. Regular exercise is always important for pooches, so try and ensure their routine remains unchanged when your baby arrives. If you can't find the time to walk your pup, you could ask friends or hire a dog walker to help them get their steps in.
"Also remember to check your pet's health along the way. Make sure all their vaccinations, worming and flea treatments are up-to-date to keep everyone fit and well."
PDSA is the UK's largest vet charity. We're on a mission to improve pet wellbeing through prevention, education and treatment. Support from players of People's Postcode Lottery helps us reach even more pet owners with vital advice and information. www.pdsa.org.uk
Advertisements
Click to visit our Shop for the hassle-free Zen Clippers!
We regularly write about all things relating to cats on our Blog Katzenworld!
My partner and I are owned by five cheeky cats that get up to all kinds of mischief that of course, you'll also be able to find out more about on our Blog
If you are interested in joining us by becoming a regular contributor/guest author do drop us a message @ info@katzenworld.co.uk .