With an unexpected September heatwave underway, many of us are frantically unpacking our light duvet and summer clothes one last time and hitting the garden. As we soak up those last few days of summer sun, PDSA Vet Nurse Nina Downing discusses an ingenious way we can keep our furry friends cool in the heat. 
"There's no denying that the temperature is hot, hot, hot! While we're counting our blessings that summer isn't over just yet, we do need to remember that pets' love spending time with us and this can sometimes mean they expose themselves to direct sunlight and warm temperatures for longer than they should.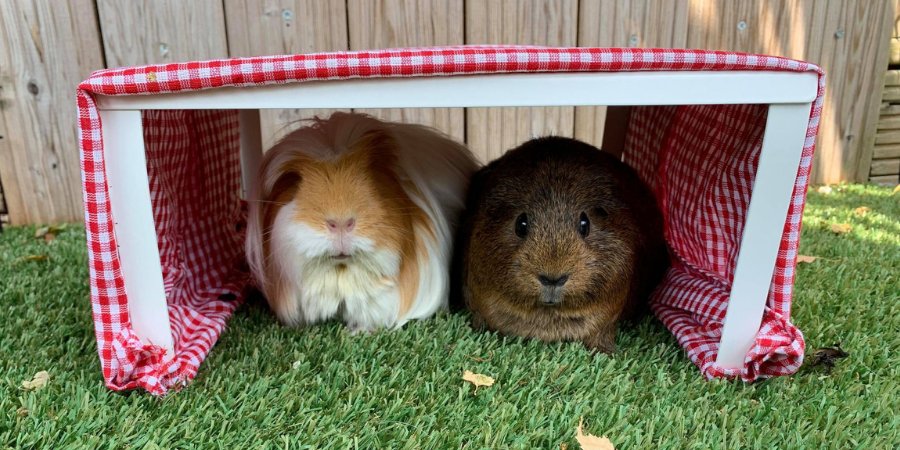 How to create a DIY pet sun shelter
"To keep your furry friend by your side in the heat, you can make them a miniature sun shelter out of items you have lying around the house!
"Start with some sort of base for your pooch or puss to lay under – whether it's a chair, table, stool or even a sun umbrella – and a large sheet or towel (try to avoid fleece blankets or sheets, as they're too thick and can trap the heat!). For the coolest pad possible, dampen a cushion or use a cooling mat to keep your furry friend comfy and cool while keeping them involved in the fun.
"Take your materials outside and find a suitable place to set them up. Keeping it out of the direct sunlight and under trees or in natural shade is ideal, as it will help prevent the shelter from getting too hot inside. Don't forget to move the den as the sun moves throughout the day, so it is always in the shade.
"Once you've found the perfect spot, take your base and drape your sheet or towel over the top, ensuring that the sides are covered to prevent the sun from creeping in. A good tip is to tuck the corners of the sheet under the corners of your shelter to stop it from blowing away.
"Create an opening at the front of the den so your four-legged family member can come in and out as they please – especially if it's getting too hot inside! Remember to leave the back of the shelter open at an angle, so it blocks out the sun but also allows a draught to prevent the heat from building up inside.
"When the pad is ready, encourage your pet to lie in it by placing their water, toys and additional treats inside with them.
"If you have smaller pets such as rabbits or guinea pigs, you can make a DIY sun shelter for them too. A stool or cardboard box will work just as well, and your little furry friends will thank you!"
Nina's top tips for keeping pets cool in the heat:
Avoid the hottest hours of the day – walk dogs before 8am or after 7pm on hot days
Provide access to shade and water – remember you may need to refill water bowls and bottles more regularly than in cooler months
Be wary of hot spaces – whatever the weather, never leave your pet in small, unventilated spaces, including cars, caravans and sheds
Watch their weight – although it's a more long-term solution, overweight pets are more at risk of heatstroke 
PDSA is the UK's largest vet charity. We're on a mission to improve pet wellbeing through prevention, education and treatment. Support from players of People's Postcode Lottery helps us reach even more pet owners with vital advice and information. www.pdsa.org.uk
Advertisements
Click to visit our Shop for the hassle-free Zen Clippers!
We regularly write about all things relating to cats on our Blog Katzenworld!
My partner and I are owned by five cheeky cats that get up to all kinds of mischief that of course, you'll also be able to find out more about on our Blog
If you are interested in joining us by becoming a regular contributor/guest author do drop us a message @ info@katzenworld.co.uk .