Hi everyone,
It's Nubia here. 😀 The other week we received this pawesome parcel in the post!
Nubia: I was so eager to get in that I didn't even let the humans take a photo before clawing my way in. 😀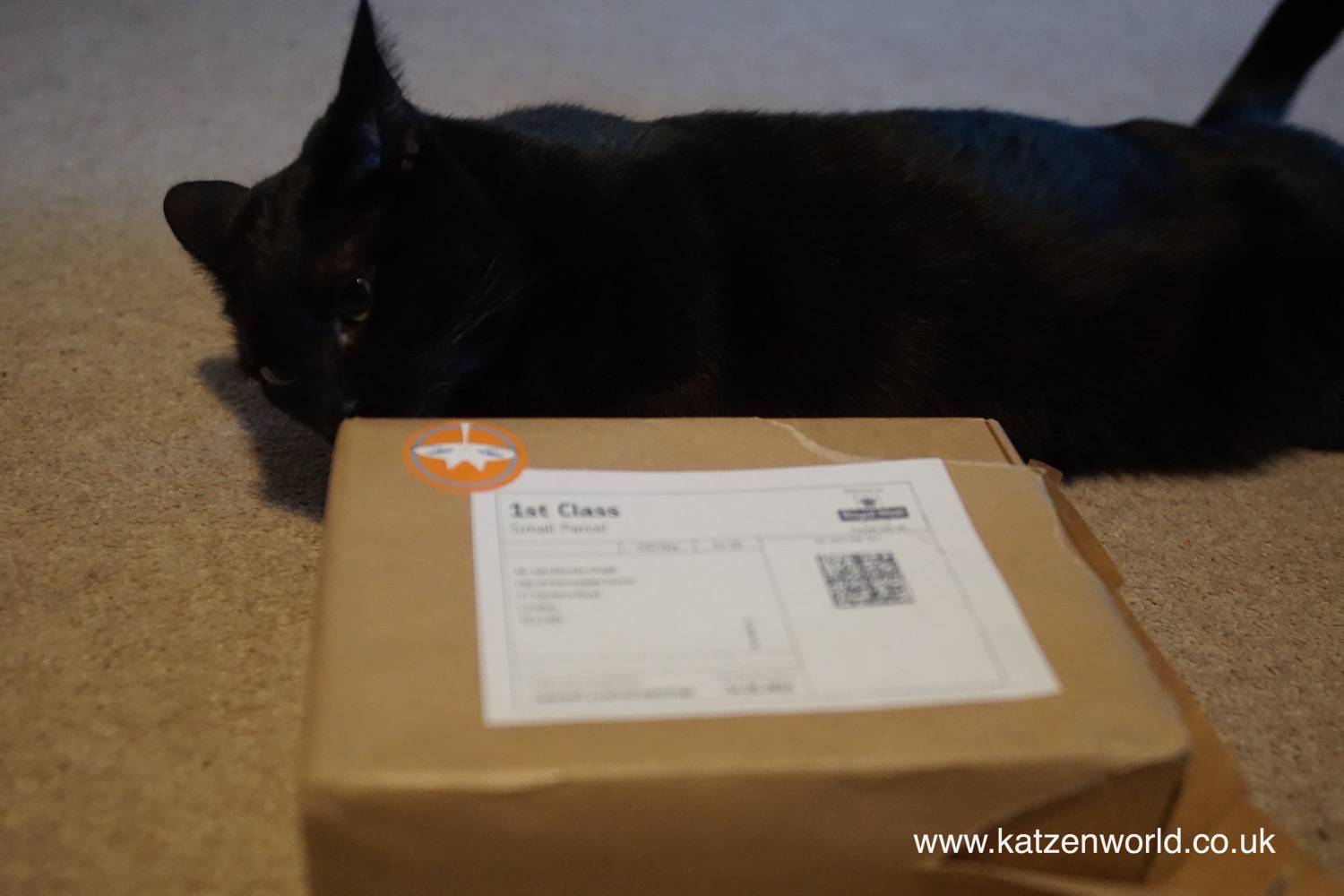 And it smelled so good…
Nubia: LOOK! It's an upside down cat! See I'm not the only cat that likes being upside down D:
Nubia: Now open this already silly parcel opener (human 😉 )  😀
Nubia: YES! It's open… Look at all those upside down cats. Wooohooo <3
Nubia: Smell… more… intense… @_@
Nubia: Oh my CAT so many goodies!
Oliver: OI! What are you hiding here from me sister?
Nubia: What where have you come from…
Oliver: It's called safety control… I'm just checking that you are not poisoning yourself… Yes that's what I'm doing!
Nubia: You mean you are a thief come to steal my presents…
Oliver: But but… there are enough to share! <3
Nubia: No!
Oliver: *Rubs all over bunny* Now that I scented it, it's mine right?
Nubia: NO!
Oliver: *Drool* When will we be allowed to play with these properly
Nubia: They are protected in the plastic bags from your slobber…
Oliver: How about the fishy… Can I have the fishy?
Nubia: But it had an upside down cat on the front so they were all for me!!!
Oliver: *Turns upside down* You ain't the only one that can do so!
Nubia: What!!! You never turn upside down o.O COPY CAT!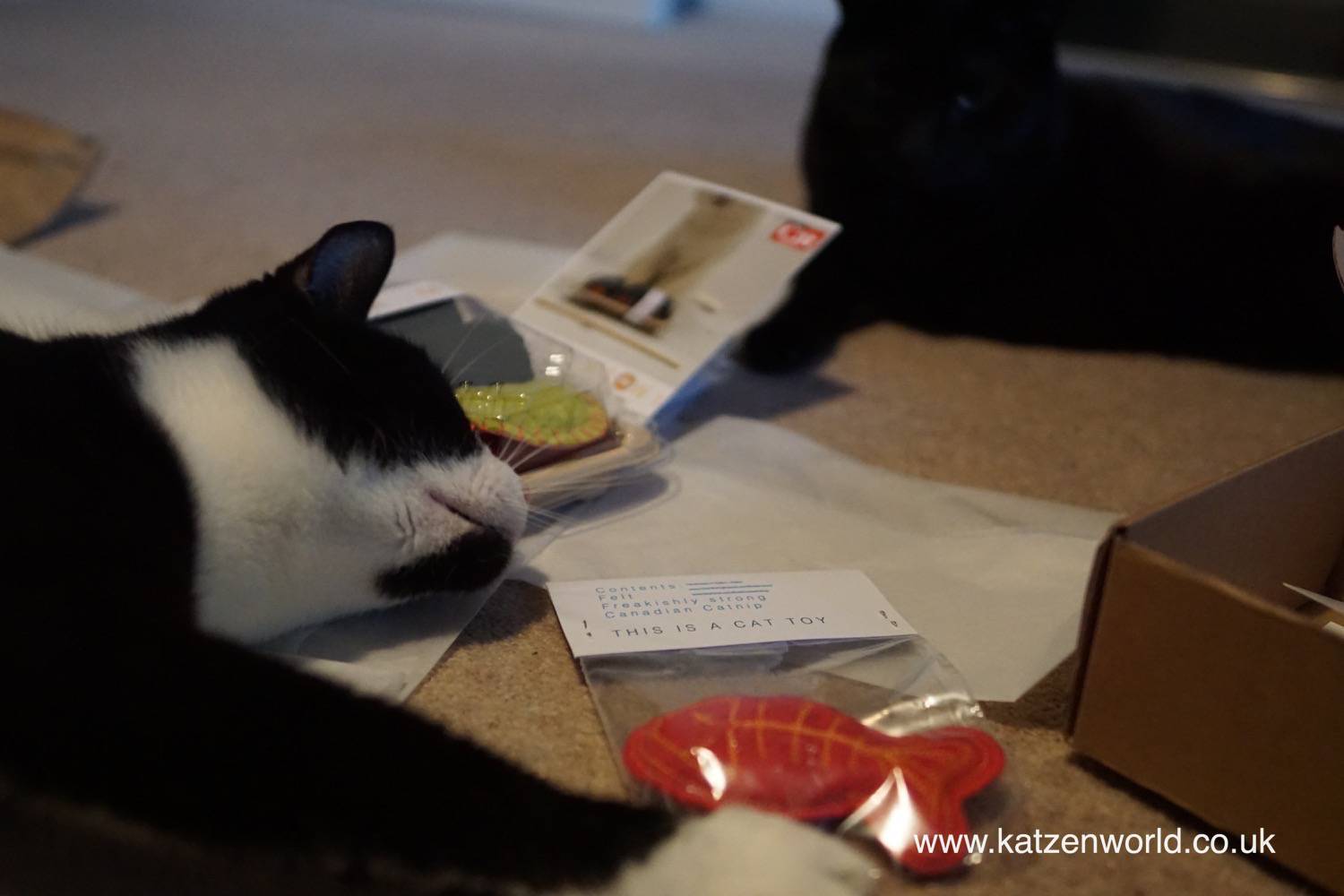 Oliver: Now I can have the fishy right???
Nubia: Fine… I give in… But we share these EQUALLY.
Oliver: 70% me and 30% you, alright!
Nubia: That's not equal…. 50% / 50% is!
Oliver: Math! To complicated! =0
Nubia: I give up. Who wants to trade my brother in for a new one?
Nubia: Anyway… I'm meant to tell you all a bit more about these cat toys that we will be testing over the next few weeks. 😀
Our friends at Freak MEOWt are available via Not on the Highstreet or their own website here in the UK.
Nubia: Not just do they have a cool design but all of their handmade catnip toys are using canadian catnip and that probably explains why Oli got high even while still in the packing! o.o
Oliver: High? Me? Never…
Nubia: More about them below:
Purrrveyors of superior, handmade Canadian catnip cat toys. Handmade catnip toys for the discerning cat, each toy is generously stuffed full of premium quality Canadian catnip and purrrfectly packaged for your feline friends delectation.

A willing team of six product testers put each new design through rigorous checks only then if it meets with their approval does the new design go into production. Current favorites are inspired by food including, sushi, tortellini, fortune cookies and fish, which are packaged in appropriate mini food containers. All toys are made from high quality fabrics and securely sewn together so they can withstand a ferocious battle with over excited kitten
Nubia: That's it from us for today! Hope you enjoyed our initial look at these and are looking forward to our follow-ups. 😀
Signed by,
Her Meowjesty Queen Nubia the Disturber of Peace
&
His Meowjesty King Oliver the Maker of Mischief
We regularly write about all things relating to cats on our Blog Katzenworld!
My partner and I are owned by five cheeky cats that get up to all kinds of mischief that of course, you'll also be able to find out more about on our Blog
If you are interested in joining us by becoming a regular contributor/guest author do drop us a message @ info@katzenworld.co.uk .