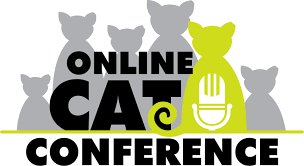 2021 Online Cat Conference: Turn your passion for cats into action January 29-31
Warren, Vt. January 2021 – Join the Community Cats Podcast for a virtual event January 29-31. Over this weekend event, you'll participate in webinars featuring speakers from a variety of roles in animal welfare. They'll give you their perspective on the industry and valuable information that will help you or your organization create a more humane world for community cats.
Speakers, nationally known for their expertise, are from national animal welfare groups like Best Friends, Humane Society of the United States and the Ten Movement. Other presenters include James Evans of Companions and Animals for Race and Equity and Sterling "Trapking" Davis, cat rapper, trapper and diversity advocate, who will be talking about cats and masculinity and Dealing with Feral Humans. Of course there is so much more!
Registration is $75. If you can't make it on the date, you can watch recordings of the presentations at a later date. To sign up: just go to: https://www.communitycatspodcast.com/product/online-cat-conference-2021/
The Community Cats Podcast is the brainchild of Stacy LeBaron. Stacy has more than 20 years of experience working with community cats in Massachusetts. She was the president of the Merrimack River Feline Rescue Society for 16 years. The podcast hopes to help create a more humane community for cats and provide education, information, and dialogue that will create a supportive environment to empower people to help cats in their community. For more information about the podcast, go to: https://www.communitycatspodcast.com or call 978-239- 2090.
###
Advertisements
Visit our Shop for top-quality cat toys and cat lover products!
We regularly write about all things relating to cats on our Blog Katzenworld!
My partner and I are owned by five cheeky cats that get up to all kinds of mischief that of course, you'll also be able to find out more about on our Blog
If you are interested in joining us by becoming a regular contributor/guest author do drop us a message @ info@katzenworld.co.uk .