Hampshire animal portrait artist Georgea Blakey admits she has a particular soft spot when it comes to painting cats after being surrounded by them her whole life.
Georgea, whose anticipated London exhibition was closed down by COVID-19, was made a Senior Art Scholar at St Pauls Girls School and studied at Chelsea College of Art. She has since staged celebrated exhibitions across the country and boasts a Who's Who of clients from the worlds of British aristocracy, showbusiness and sport.
Now the portraiture has been adapted into a special range for Christmas, including a ceramic ornament depicting her current feline favourite, a beloved four-year-old British Blue called Spartapuss.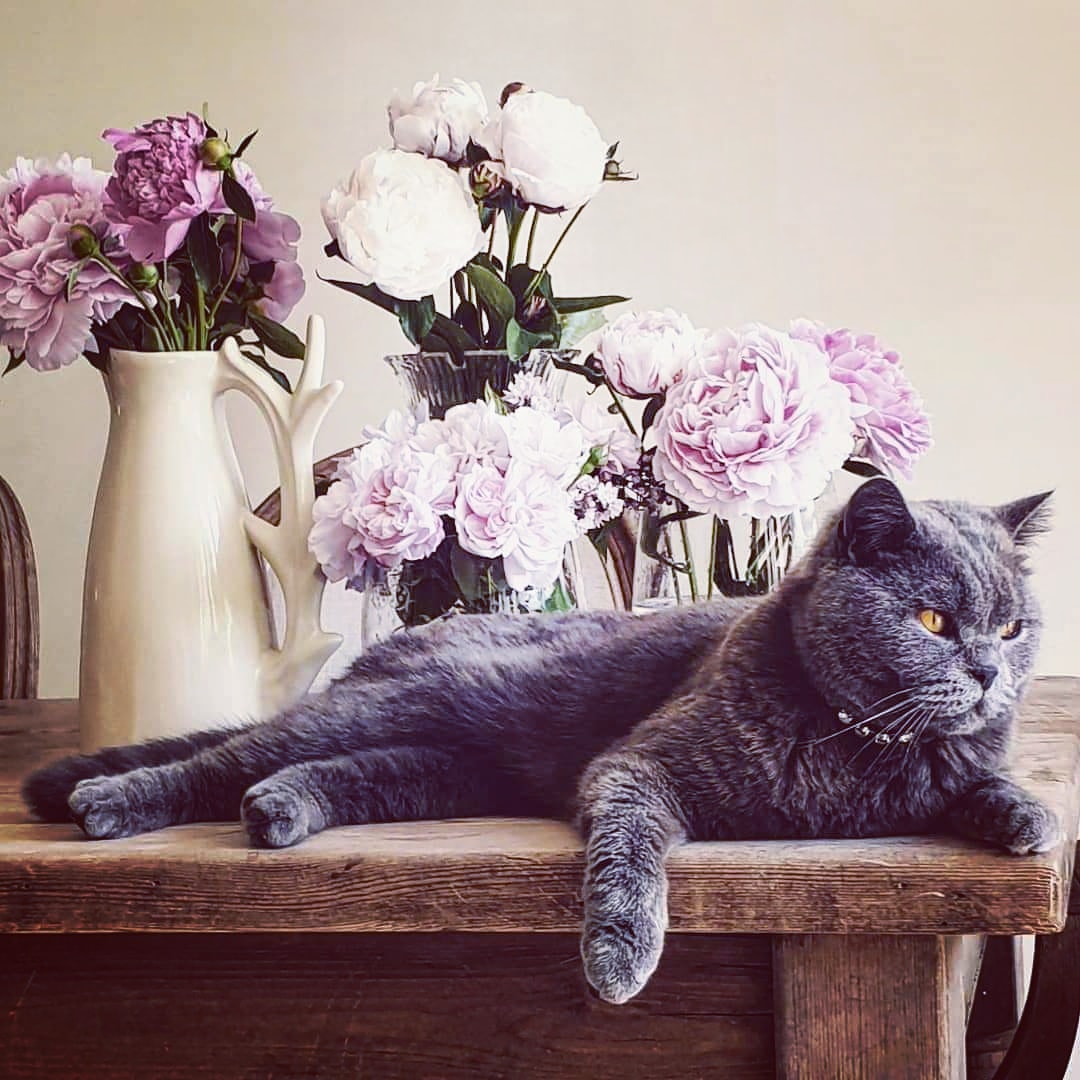 Georgea said: "I grew up in a flat in South West London with five rescue cats and drawing them became a favourite pastime. We even did some cat shows and I appeared on Blue Peter with my cat Teazle when I was 12.
"Teazle was my best friend and I was devastated when she passed away when I was 23. I still dream of her now and my nine-year-old daughter has a little toy cat we also named Teazle in her honour."
Georgea has since gone on to own seven more cats since then and Spartapuss is a constant companion at her side when working on her commissions.
"He is always throwing my paint brushes on the floor, drinking out of my paint water jar and getting tangled up in my ribbons and wrapping paper. More of a hindrance than a help – but I couldn't be without him. He is a great model and poses endlessly for me. Cats are truly the most beautiful creatures, elegant and powerful and they earn my respect," said Georgea.
"I think in cat portraiture as opposed to dog portraiture the key is capturing the glint in the eye – that reference to the traits of their wild ancestors that they still possess. Domesticated dogs have had the killer instinct bred out of them but you want to reflect that in a cat's eyes and pose.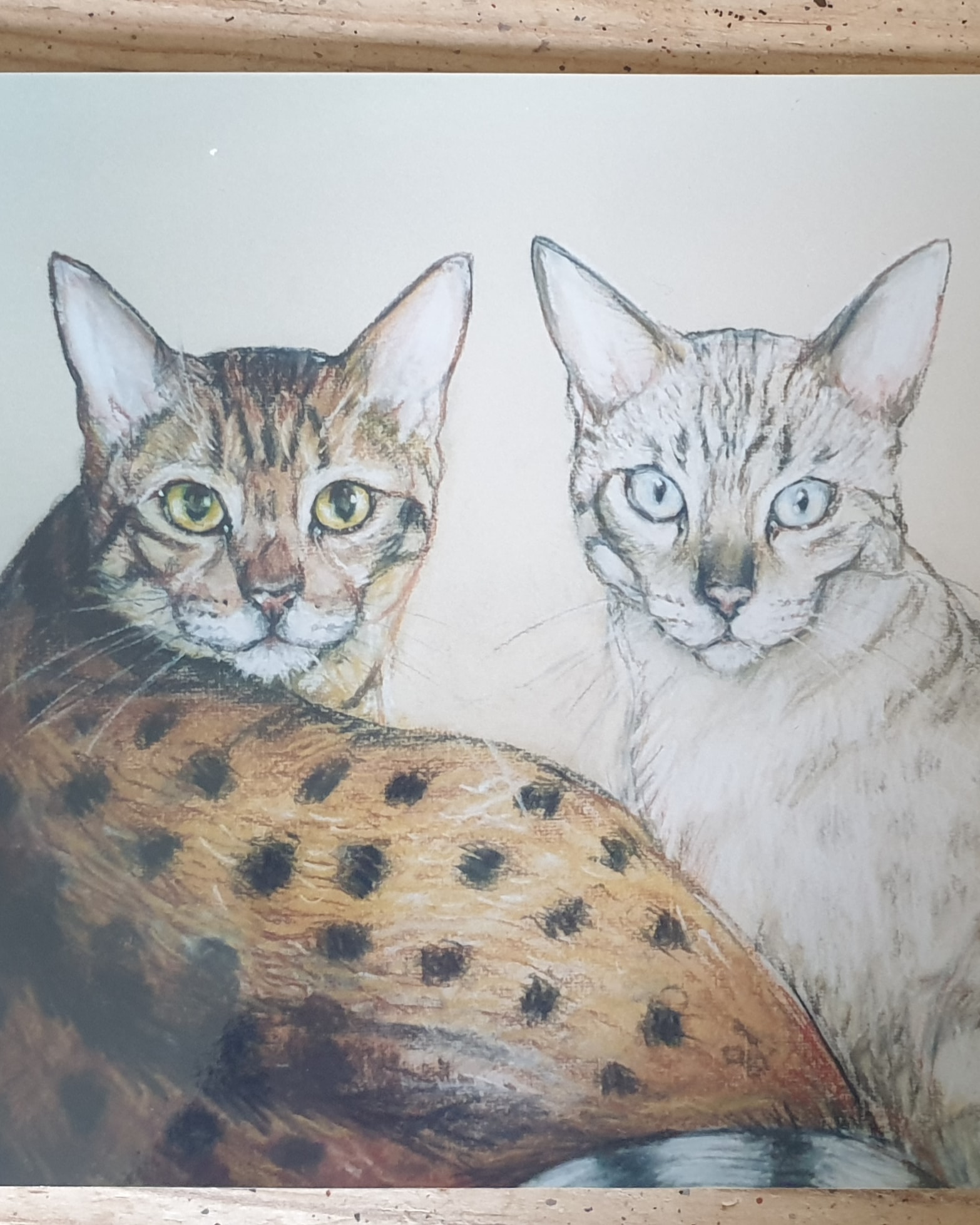 "It is fine balance of making them regal yet not too imperious, superior yet not too disdainful."
Her latest art style is as a result of lockdown – when she became inspired by everyday objects around her including discarded alcohol labels. Many of her pieces are now also available in a range of décor and gifts.
"At the point of lockdown I had to kind of start again. That's when I started doing these collages using drinks labels. I don't like to think of myself as just a pet portrait artist. I want to elevate the animal and make it so incredibly beautiful, using unusual materials to bring out its character. And sometimes alcohol labels are really striking," said Georgea.
"The collages were like a release for me by adding a bit of wit and humour to bring them together."
Georgea, who cites 19th-century animal artist Edwin Landseer as a source of inspiration, said: "My ambition is to see one of my paintings hang in The National Gallery and have my own TV show where I paint portraits of people's animals. There's so many cookery and DIY shows and I'd love to do Animal Artist of the Year or something like that.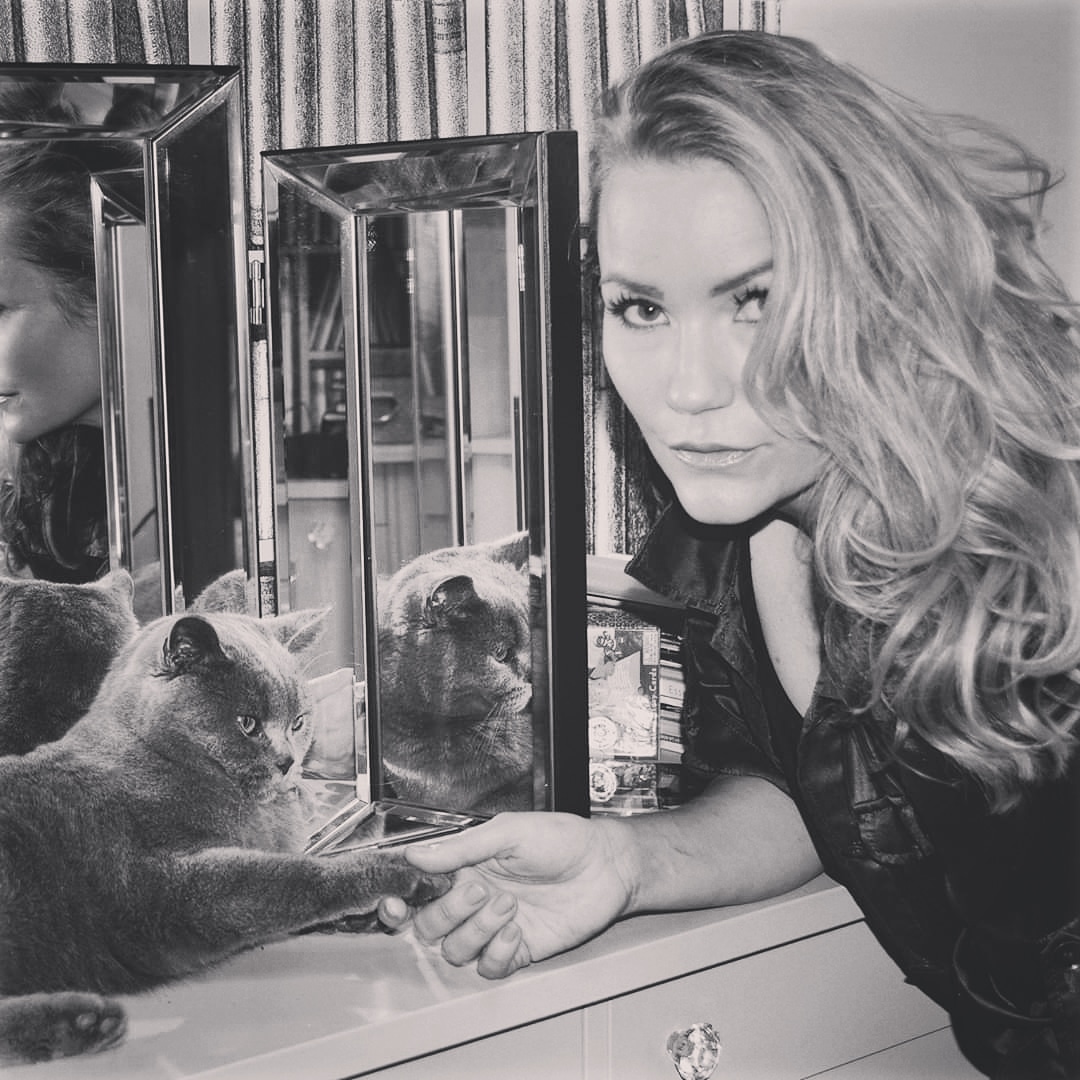 Georgea can be commissioned for cat portraits or cat and owner portraits via her website at: http://georgeablakeyart.com/ and her Etsy shop, which now also includes a new ceramic ornament of Spartapuss, can be found at: https://www.etsy.com/uk/shop/GeorgeaBlakeyArt/
Advertisements
Click to visit our Shop for the hassle-free Zen Clippers!
We regularly write about all things relating to cats on our Blog Katzenworld!
My partner and I are owned by five cheeky cats that get up to all kinds of mischief that of course, you'll also be able to find out more about on our Blog
If you are interested in joining us by becoming a regular contributor/guest author do drop us a message @ info@katzenworld.co.uk .