It can be scary enough navigating the streets as a young stray cat, but when you're also heavily pregnant and about to give birth, the great outdoors certainly lacks the shelter and security you need to feel safe.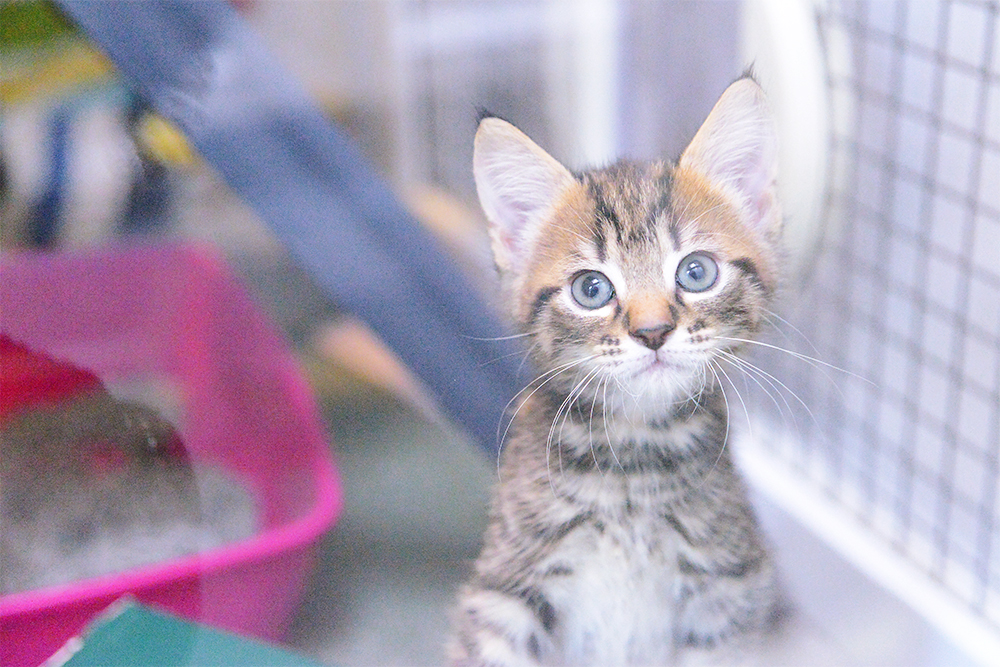 One-year-old Peeky recently came up with a rather cheeky solution to this dilemma, and visited a strangers house multiple times over the course of a few days – scouting it out as a potential 'maternity ward'.
Peeky must have liked what she found, as shortly after giving birth to three kittens on a nearby roof, she carefully carried them inside the house she'd discovered.
The homeowner was shocked to discover a newborn litter in their kitchen, and even more surprised when Peeky returned again with an older kitten from a previous litter.
Recognising Peeky as the cat who had been skulking around their property, the owner called Mayhew for help and explained the situation.
We quickly headed out to collect the young family and bring them back to our shelter, where we settled Peeky and her three newborns into a cosy kitten cabin to rest and recover. We immediately noticed Peaky's son from a previous litter was semi-feral, so we admitted him to our main Cattery to await neutering.
Peeky herself was incredibly shy and nervous on intake, and so we allowed her to acclimatise and bond with her new kittens before we conducted a health check. Luckily, she soon calmed down after a few days in our care, and we were then able to fully assess her and her kittens. Thankfully mum and babies were all in excellent health, and had not suffered from any adverse effects from being born on a roof.
We also successfully neutered Peeky's semi-feral son under our Trap, Neuter, Return (TNR) programme, and as soon as he had recovered from the procedure we released him back into the area we found him, where a feeder keeps an eye on him.
Peeky and her kittens are now being looked after by one of our dedicated foster carers, who will provide them with a safe home until they are ready to find their forever families.
If you are interested in adopting Peeky or her kittens when the time is right, please keep an eye on our Rehoming pages, where we will upload the relevant information as soon as they are available.
Please note, we are not able to take any adoption enquiries about any animals in advance of them being listed online, and we cannot reserve an animal for anyone before the animal appears on the website.
If you notice a stray cat who looks to have recently given birth, or if you come across any newborn kittens that do not look to have a home of their own, please get in touch with us or your local animal welfare organisation – you can reach our Animal Welfare Officers on 020 8962 8000 or by emailing awo@mayhewanimalhome.org.
Mayhew
Established in 1886, Mayhew is one of the most effective animal welfare charities in London. We help thousands of animals in need gain a better quality of life by delivering a broad range of community-based veterinary, social and education services in the UK and overseas.
Our team of Animal Welfare Officers work extensively with vulnerable pet owners across society, including the elderly, disabled, homeless and those facing a personal crisis, whether housing or health related. They offer a range of services including temporary foster care, a free pick up and return neutering service, free or low cost preventative veterinary care and extensive animal behaviour and welfare advice.
We also work closely with local authorities to address pet ownership issues, and collaborate with government and non-government agencies to address the challenges of misuse and mistreatment of companion animals.
Our animal therapy programme, TheraPaws, has 60 teams of humans and dogs who visit care homes, hospitals and hospices in 14 London boroughs promoting the human and animal bond and bringing well-being and joy to residents and patients.
Advertisements
Click to visit our Shop for the hassle-free Zen Clippers!
We regularly write about all things relating to cats on our Blog Katzenworld!
My partner and I are owned by five cheeky cats that get up to all kinds of mischief that of course, you'll also be able to find out more about on our Blog
If you are interested in joining us by becoming a regular contributor/guest author do drop us a message @ info@katzenworld.co.uk .