Cat lovers are taking up the 2.6 Challenge to raise funds for UK charities and put the fun back into fundraising with many stay-at-home heroes lending their support to Cats Protection.
The 2.6 Challenge was created to address the funding shortfall as events are postponed or cancelled. Supporters are encouraged to come up with fun activities based on the numbers 26 or 2.6, and to seek sponsorship for their favourite UK charities. Events should take place on or around Sunday, 26 April, which would have been the London Marathon's 40th anniversary.
Cats Protection staff, volunteers and supporters have already signed up with a range of imaginative activities to show that, despite the lockdown, they remain #HereForTheCats. All sponsored events will follow social distancing guidelines, of course.
Birmingham Stair-Trekker Clara Youden (43) refused to curtail her training for a trek in Nepal and has covered the equivalent distance of the 53km trek on her stairs; going up and down the stairs 2,600 times, clocking up 69,553 steps. She even decorated her house in a nod to the places she will see on the trip.
Clara, volunteer team leader at Cats Protection's Birmingham Adoption Centre, said: "People were doing marathons in their gardens and I thought why not walk the trek distance on my stairs? It was harder than I expected but I'm proud that I did it. It's really important to keep raising funds as the work our centre does is so incredibly important for local cats. I rehomed cats Mylo and Mikey, who mean the world to me, so it is a cause very close to my heart." www.justgiving.com/ClaraYoudenandSarahWhitmore
Gateshead cyclist Tom Parker (58) is a volunteer fundraiser for Cats Protection, who has had rescue cats most of his married life. Tom's challenge is to cycle a 26-mile loop from Gateshead via Wylam and Wallsend, in aid of the charity's Gateshead & Newcastle Branch. He said: "As a keen cyclist, I decided that this was an ideal opportunity to raise much needed money to support my favourite 'non-human' charity in extraordinary times.
"I rediscovered my love of cycling four years ago as a means to maintain my physical and mental well-being between rounds of anti-cancer immunotherapy treatment. Fortunately, I'm fully recovered, but I have retained my love of cycling as a means to stay fit." https://www.justgiving.com/fundraising/tom-s-2-6-challenge1091
Norfolk cat care assistant Leah Snowden (29), will stage a 26-hour sponsored sit-in at the charity's Downham Market Adoption Centre. She said: "I'll spend more than a day and night sitting and sleeping in one of our feline maternity pens at the centre. With the lockdown this is a good time to do it, as being confined is something we are all struggling with. It should be really interesting as I'll see life from a cat's perspective and what it's like for cats in care."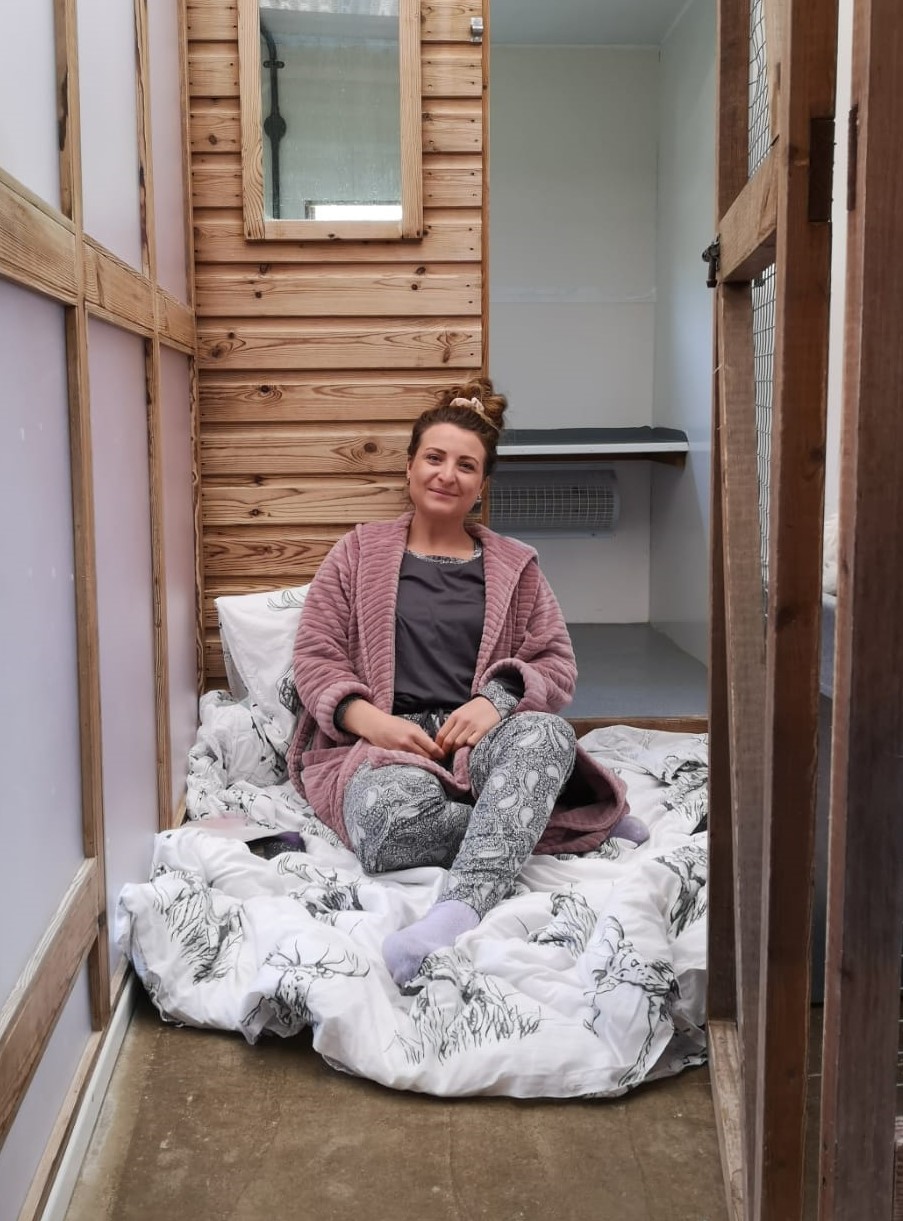 Leah rehomed a silver tabby called Lord Rufus four years ago. She said: "He's a massive part of my life and was even Mr July in Cats Protection's 2020 calendar. Cats Protection does amazing work and I am super proud to be part of the team at our centre. I see first-hand what a difference we make to the cats lives. I hope I raise some much-needed funds at this uncertain time." https://www.justgiving.com/fundraising/leah-s-2-6-challenge2020
Cardiff fitness fan Louise Smith (39) has set herself a challenge to do 26 minutes of yoga with her cat and film it for all to see. Louise, from Rumney, said: "I have been learning yoga via YouTube during lockdown and I thought it was a good idea to use this challenge to improve my positions. My cat always tries to get involved when I'm practising, which can be quite challenging, especially if I'm on all fours, or on my back.
"My cat Vanian, named after Dave the singer with The Damned, came from Cats Protection in Bridgend. He was born there but was the last one left as he was quite quiet. His more lively brothers and sisters went first, along with the mother. He was very timid when I had him and it took a bit of time to get him to open up. He can be a little anxious about being left alone but he also likes loads of fussing and snuggles on his own terms." https://www.justgiving.com/fundraising/louise-smith188
St Albans cat-lover Emily Ayres (41) will run a marathon through local woodland over the course of a week, in aid of Cats Protection and Parkinsons. Emily rescued her cat after he spent six months unclaimed. Emily said: "Mikey was four years old when I got him from a local rescue centre. I have had him for around 10 years so he is getting on a bit, but he is still healthy and active. He very much enjoys having me home all the time as he loves company and all the attention. He has been great comfort and company for me during lock down." https://uk.virginmoneygiving.com/EmilyAyers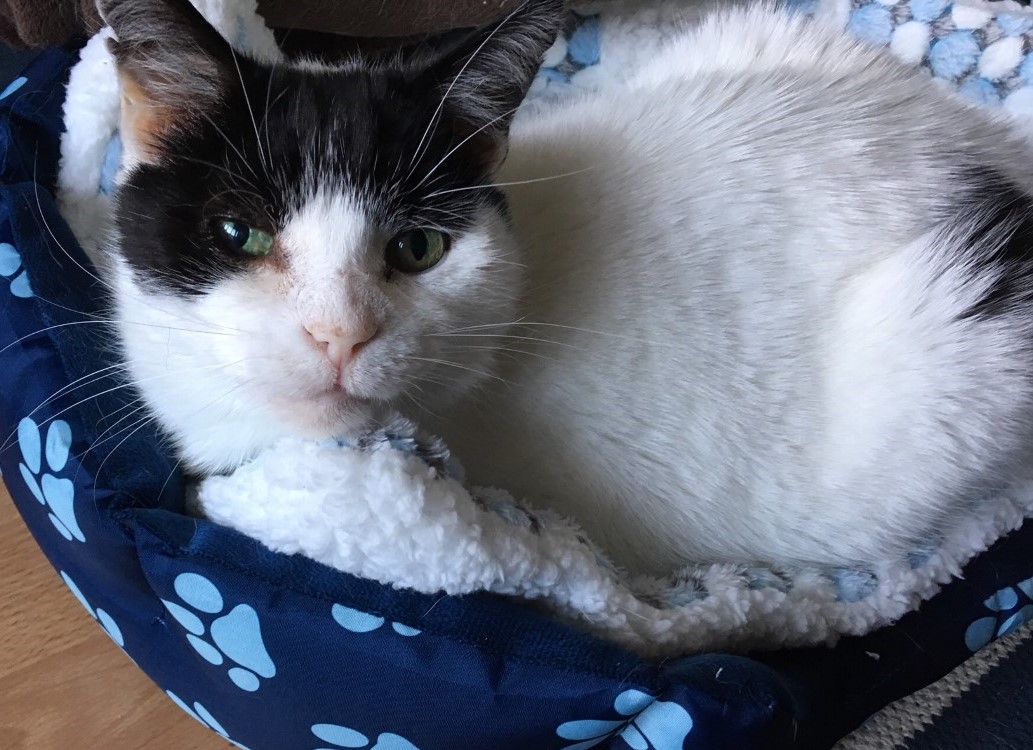 Sussex Cats Protection volunteer Karen Middleton (53) and her sons James (13) and Ben (15) plan to run for 26 minutes, but that is just the warm up. She will also complete 26 yoga poses over 26 days, accompanied by her two playful black cats Boris and Jasper, rescue brothers from the National Cat Adoption Centre in Chelwood Gate. Karen of Hartfield, said: "It's been really good fun getting ready for this, especially with the children. It has been something for us to focus on during lockdown. The only problem is with Jasper; he's in on all the action and he likes to sprawl across my yoga mat. I wouldn't want to flatten him."  https://www.justgiving.com/fundraising/karen-s-2-6-challenge2020
Sleaford horserider Karen Sheldon (58), who is self-isolating and classed as vulnerable, plans to walk 26 times round the paddock with her horse Teena. She is raising money for three charities close to her heart; Cats Protection's Sleaford and District Branch, where she is branch co-ordinator, World Horse Welfare, former home to her horse Teena, and The Multiple Sclerosis Society.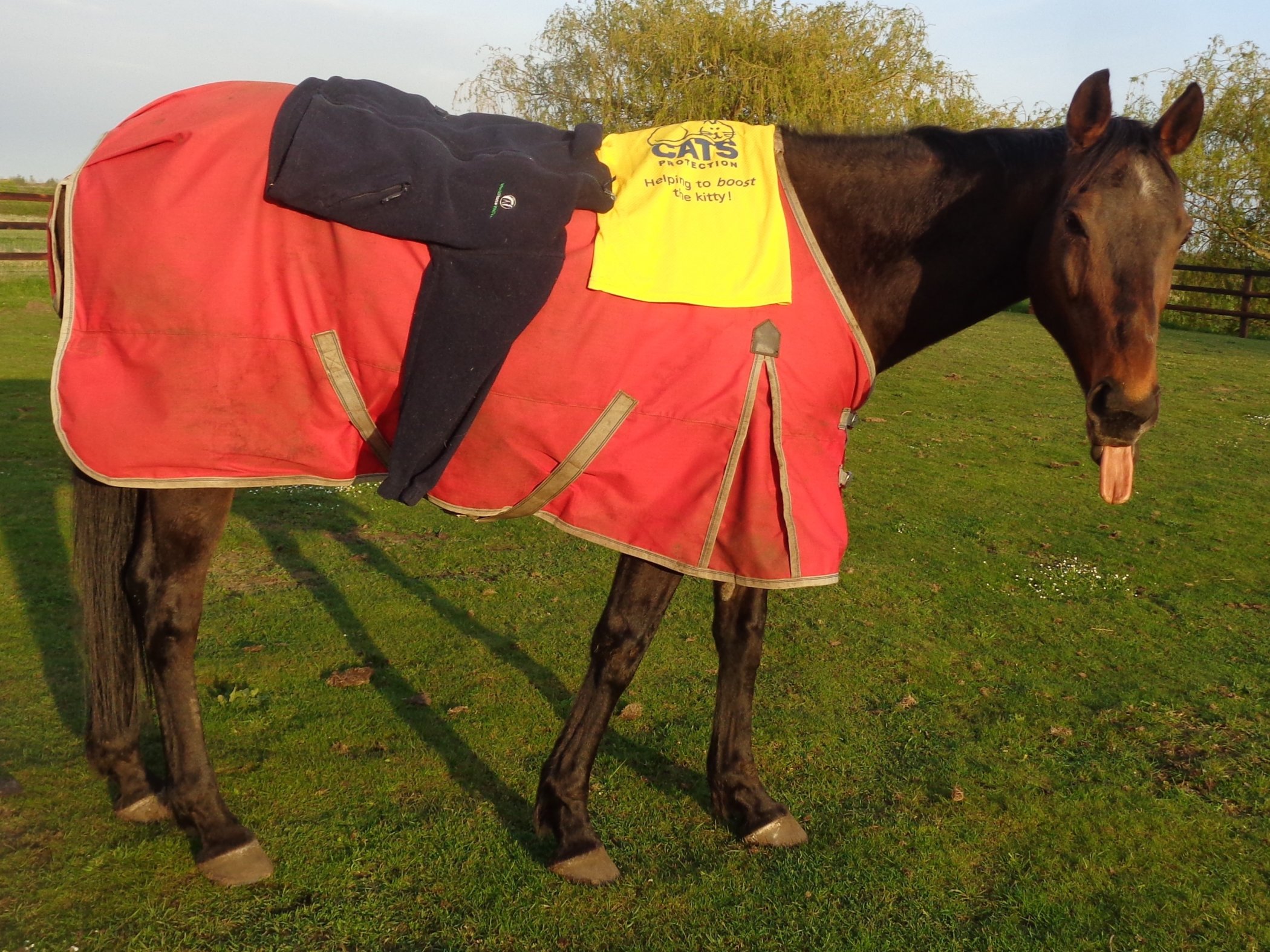 "I was first diagnosed with MS 29 years ago. I have been very lucky in that, although I have slight problems with mobility, I can walk several miles although I will be tired at the end. Unfortunately, not all people are so fortunate and humans need lots of help at the moment too." Karen became a life member of Cats Protection in 1992 when she rescued cats from a former branch in Lincoln. Since then she has re-homed many cats and dedicated a great deal of time and work to Cats Protection. https://www.justgiving.com/fundraising/kj-sheldon
Dancer Elaine Eyres will attempt 26 triple-time steps, despite not having worn tap shoes in years. https://uk.virginmoneygiving.com/ElaineEyers
Surrey dancer Leanne Sternalski-Goodman is taking part in a 26 minute online dance off dressed as a T-Rex dinosaur, raising funds for Cats Protection's East Surrey, Caterham and Redhill Branch. https://www.justgiving.com/fundraising/cpeastsurrey-dinodanceoff
Cat fan Claire Onody is walking 26,000 steps in one day to prepare for the Zambia Big Cat Challenge for Cats Protection.
Manchester runner Lorraine Griffiths is running 12.6 miles on Sunday, as she was due to run London and Manchester Marathons. https://uk.virginmoneygiving.com/LorraineGriffiths1
Like many charities, Cats Protection does not receive UK Government funding and its work is largely funded by donations and the fundraising efforts of staff, volunteers and supporters.
Cats Protection's Fundraising Mass Participation Officer, Zoe Thompson, said: "While our centres and branches are closed to the public, our dedicated staff and volunteers are still here for the cats in care. We can only continue to do this good work with the ongoing support of fundraising, sponsored events and donations.
"We need help from our band of supporters who have always been supremely generous and appreciative of our teams who look after cats all year round. We know they won't forget us now. They're here for the cats too."
To register for the 2.6 Challenge: https://www.cats.org.uk/the26challenge
Don't forget to share photos and videos using #HereForTheCats and #TwoPointSixChallenge.
Advertisements
Click to visit our Shop for the hassle-free Zen Clippers!
We regularly write about all things relating to cats on our Blog Katzenworld!
My partner and I are owned by five cheeky cats that get up to all kinds of mischief that of course, you'll also be able to find out more about on our Blog
If you are interested in joining us by becoming a regular contributor/guest author do drop us a message @ info@katzenworld.co.uk .