Friday Art Cat: 'Lazy Days' by Sema Martin
Sema Martin is an Award-winning Artist best known for her work in colour pencil. Exploring themes of realism, texture and movement, her work depicts a range of subjects from cats to dogs, rabbits and horses.  Her love of nature and wildlife brought her to the Welsh countryside where she now has a studio in the heart of the Brecon Beacons National Park and a thriving International Pet Portrait Business.
From her remote cottage in Wales, UK, she has launched her second limited-edition print "Lazy Days", one of four Giclée prints to celebrate cats through the year.  This print is created from her original pan pastel and colour pencil composition of a  beautiful ginger tabby cat sleeping on a moss-covered stone wall.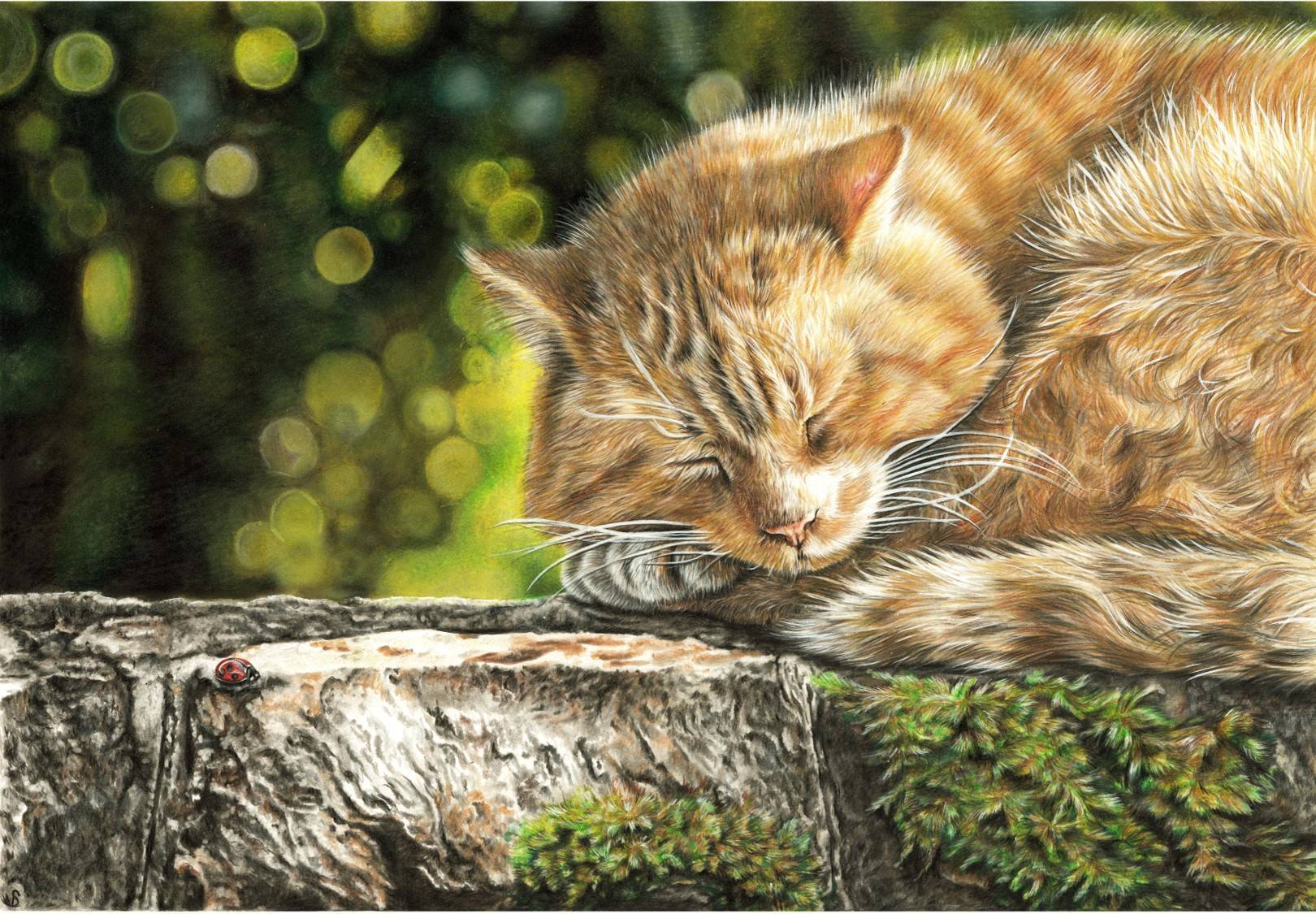 "I wanted to create that sense of warmth and security and take one back to nature, the countryside and spending a lovely summers day outside, enjoying the sun. " – Sema Martin
Drawn for your photographs, Artist Sema Martin can produce a realistic custom coloured pencil drawing on paper. The portrait will be mounted with a certificate of authenticity. Sema is very good at working from any type of photo, so if you have an old picture of your kitty that has passed or one that isn't the best quality but you just love it, then Sema can still draw a wonderful portrait for you from it. Just send her as many pictures of your baby as you like to discuss a way forward for your memorial portrait. To learn more about commissioning artwork by Sema Martin then please go to her website: www.semamartin.com 
Advertisements
Visit our Shop for top-quality cat toys and cat lover products!
We regularly write about all things relating to cats on our Blog Katzenworld!
My partner and I are owned by five cheeky cats that get up to all kinds of mischief that of course, you'll also be able to find out more about on our Blog
If you are interested in joining us by becoming a regular contributor/guest author do drop us a message @ info@katzenworld.co.uk .