Hi everyone,
At last, it's me again who gets first dibs at a new item for us to check-out!
Nubia: What fellow feline… you are wondering what I am sitting in front of? It's the Yummy Travel Bowls from our Partner and Sponsor Sleepypod! Yes they don't just make carriers. 😀
Ha'Penny: Grandma what is this?
Nubia: GRANDMA?!? I am not that old you know!!!! And it's a travel bowl set!
Nubia: Once taken apart it comes with a handy big water bowl (the green one in our case) with a purrfect anti-spill lip. A food bowl with a saucer section to put water in, in order to keep ants out of the food if you are sitting in a park and another bowl for dry food. 🙂
Ha'Penny: Ok so the humans have put the water out… now where is my food! 😮
Rennie: Does the water taste of key lime pie?
Nubia: Rennie… that's just the colour of our bowl… and how exactly do you know the flavour of key lime pie?!
Ha'Penny: Give me the food!
Freya: No give it to me!!!!
Rennie: Girls… Make a bit of room for me!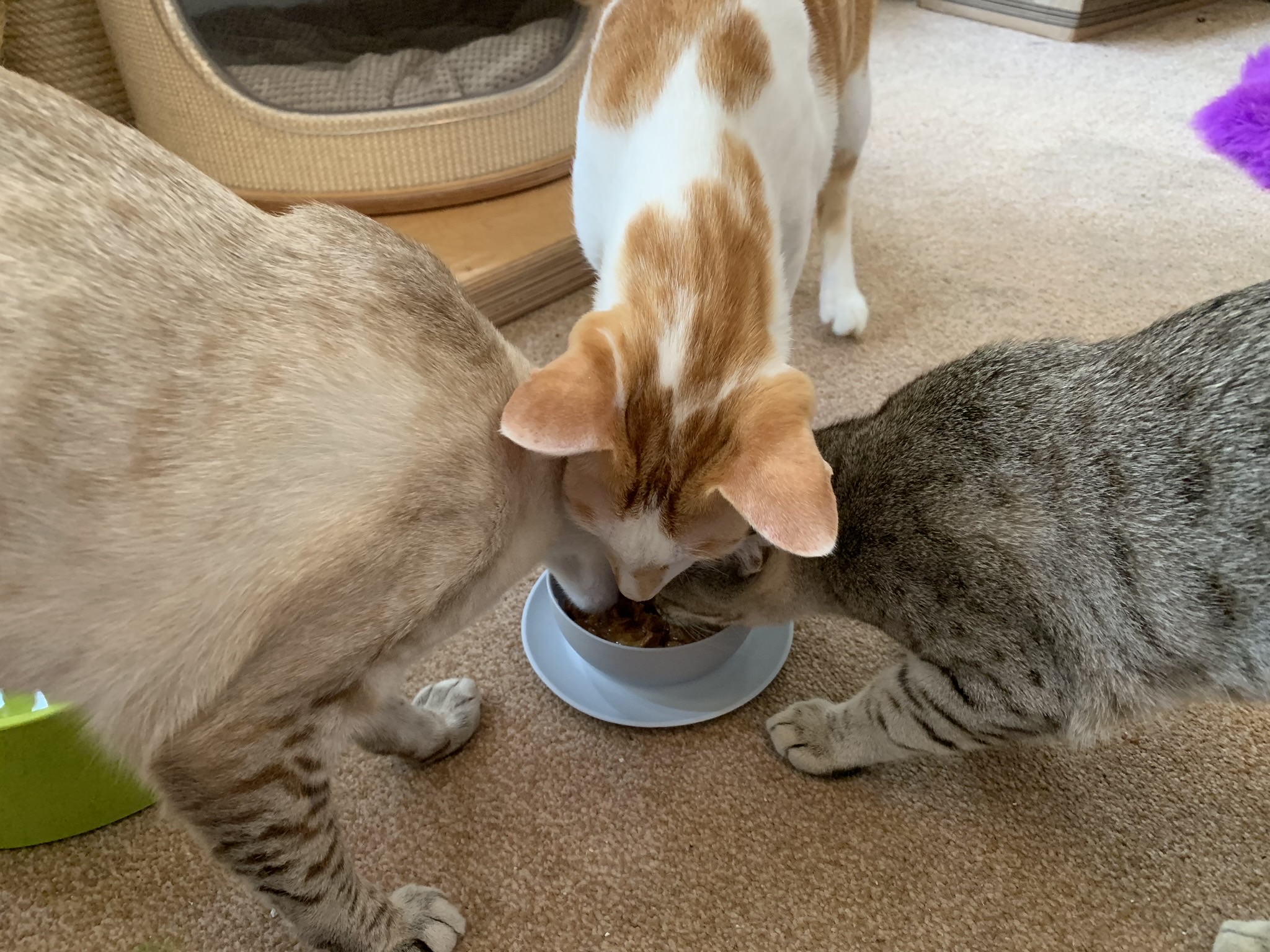 Rennie: And I am in as well! 😀
Nubia: *Sigh* Right while the siblings fight over the food bowl let me tell you more about the Yummy Travel bowls! They are available in small which is purrfect for us cats or small dogs and medium which is better for larger cats and larger dogs. Of course they also come in a selection of colours from Sleepypod and make the perfect travel accessory for your humans to take to cat shows or generally on any trip you might enjoy together!
See many of the humans that take their cats out to events such as cat shows normally struggle to have to bring sufficient bowls or end up having to clean bowls in between switching from dry to wet food or vise versa. The set of bowls that takes up minimal space resolves this problem. 😀
Freya: What are we going to a cat show?
Nubia: Depends on how you behave… the humans are after all of to Stoke-on-Trent this weekend for a cat show! ;o
Signed by,
Her Meowjesty Queen Nubia the Disturber of Peace
&
Her Meowjesty Queen Freya the Snow Leopard
&
Her Meowjesty Queen Ha'Penny the Tasmian Devil Cat
&
His Meowjesty King Renegade the Flash
We regularly write about all things relating to cats on our Blog Katzenworld!
My partner and I are owned by five cheeky cats that get up to all kinds of mischief that of course, you'll also be able to find out more about on our Blog
If you are interested in joining us by becoming a regular contributor/guest author do drop us a message @ info@katzenworld.co.uk .