Hi everyone,
Please find below a guest story by Nora Hamilton:
Our vet told us when looking for a kitten don't worry about the paint job, look at the personality. Find a kitten that's been raised by little girls.  So when we arrived at the home where the offered kittens were, we saw to our immense delight a blue-eyed long haired kitten draped over a 10 year old girl's shoulder.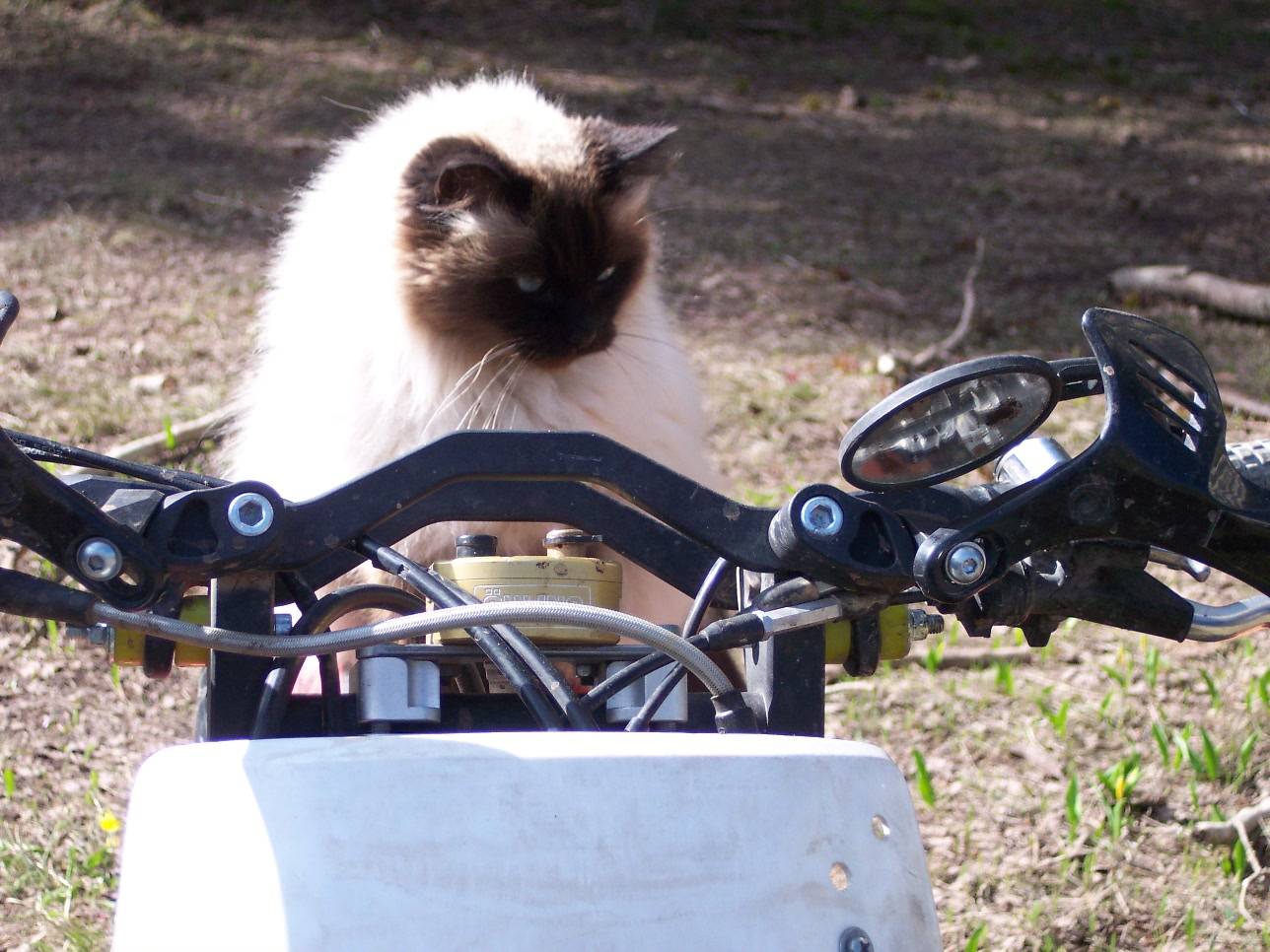 We knew we were in the right place.
We were introduced to the kitten's littermate, a lighter pointed girl, inside. To my delight, she was happy to cuddle in my arms when I picked her up, and the boy climbed onto my husband's shoulder and purred loudly.
We were enchanted.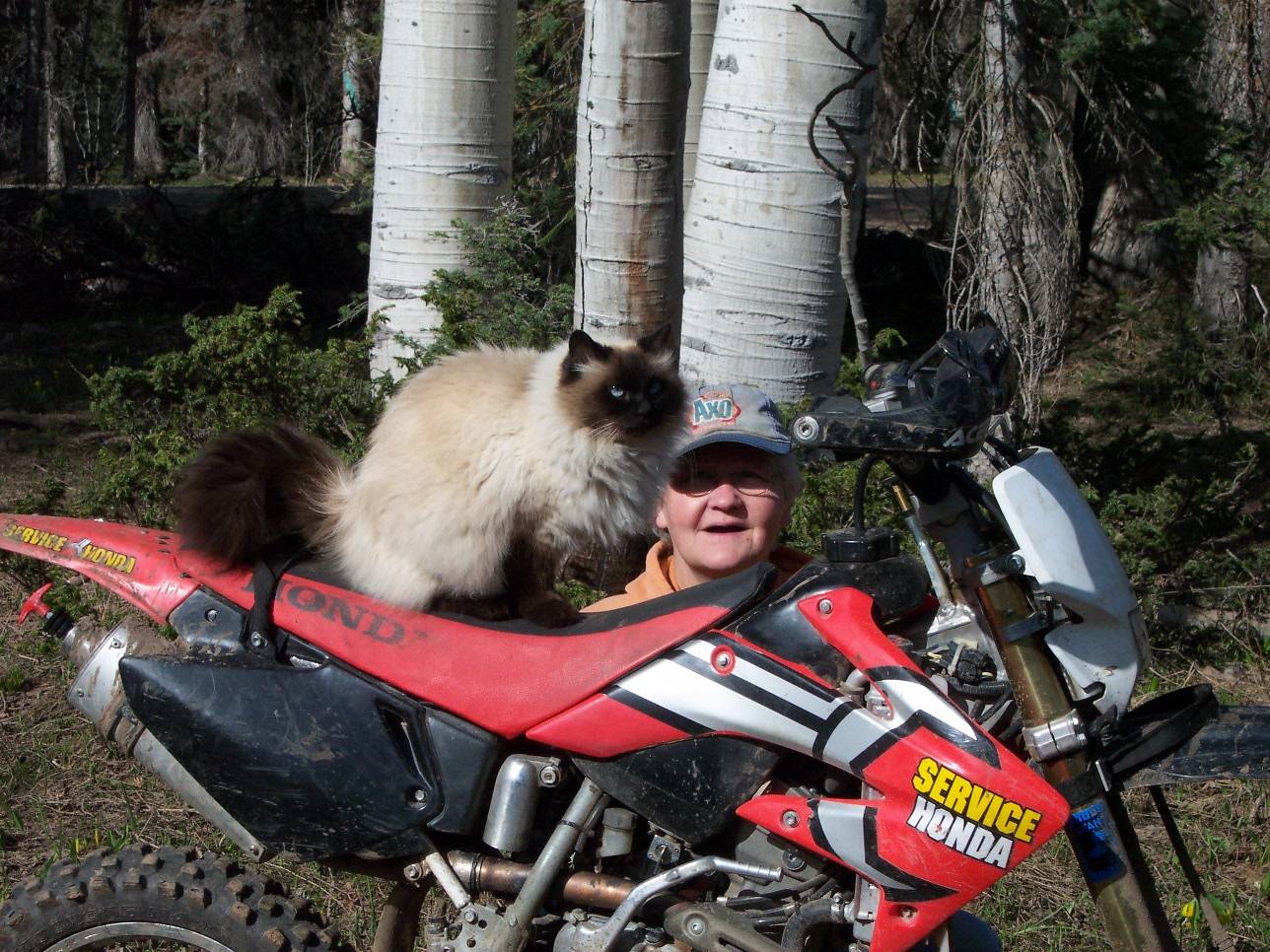 We learned that this very unlikely cat daddy, an extraordinarily skinny, tattooed, pony-tailed and cap-toothed gentleman had bred his lilac point Himalayan with its mother, a seal point. Not smart, we knew, but the kittens were so gorgeous, and healthy, and his daughter and her best friend had raised them like babies.
All his kitties were confident and happy, as he repeated to us, "I love mah kitties! I do love mah kitties!"
This fellow wanted $150.00 for both of them, and my husband offered $100.00, which was all he had on him. The kindly fellow accepted and the kittens were ours.
We named the boy Rocky and the girl Rosie. They were immediately at home and bold. First Rosie fell off our deck and ran into the house for safety. Rocky fell out of a tree and I rushed him to our vet, who found nothing wrong except an over-anxious mama (me). They became extraordinarily beautiful, he a seal point with luxurious long fur, and her a lilac point with silky light fur. Rocky would look up at me while I was standing over him, a request in his eyes, and when he saw I was ready he'd leap straight from the floor into my arms, total trust, no claws, knowing I'd catch him safely and cuddle him. And he was so intelligent!
When he looked at us, I swear he was about to open his mouth and speak his mind in perfect English.
We lived on a small farm next to the goat barn and a chicken coop. The kittens were thrilled to find an abundance of mice to chase. They never killed the mice. Rocky especially would play with them, capturing and recapturing them until the mouse escaped in the bushes. It was when the mice found their way indoors that I became concerned, although I hoped Rocky would root them out.  But he was the Cat Who Never Killed The Mouse. We were awakened at night by thundering paws and high-pitched panic squeaks. It went on until the mouse found a safe hiding place under the dresser or behind the chest of drawers. It must have been frustrating, they always got away!
Then one night I heard the thundering paws and squeaks, and then silence. I had to get up and see. There were Rocky and Rosie, Rocky with the mouse gently pinned under a paw. Then he took the mouse into his mouth, like a good bird-dog never harming it, and proceded into the bathroom, where he jumped into the bathtub and released the mouse. Rosie joined him. They then played with the mouse all night, because it could never get away. I could not imagine how Rocky had thought of this!
When I went into the bathroom in the morning they were still there, with the mouse hiding underneath Rosie. The two of them wore the smuggest cat faces I have ever seen in my life. Rocky had solved the problem. I rescued one extremely tired mouse, carrying it outside and placing it on the porch. It walked away very, very slowly, heading back to the colony I suppose, never to return to this house of horrors. After this happened two or maybe three times, we never got another mouse in the house again. I could only speculate that letting them survive was the most effective way to get rid of them –there was clearly some sort of communication between the survivors and the rest of the colony.
Then we moved to Colorado, where we could no longer let them outside because of the harsh wildlife. Foxes, mountain lions, bobcats, and coyotes roamed the high desert canyons where we built our house. To compensate, we installed interior cat doors into the walls between the rooms so they'd have a fun place to play. Indeed, they knew the outside was dangerous.
One day I came home and found one of our exterior doors standing open, but Rocky lay just inside, looking and smelling, never venturing out.
They adapted beautifully to being indoor kitties. They played with each other and us every day, and the interior cat doors were a Godsend. They loved it indoors. But there came a time when we noticed that in their chase games, Rocky would become too aggressive with his sister and we had to break it up. We were concerned. Was indoor life no longer agreeing with him?
But another day I saw Rocky fall off the counter and not land on his feet. I became very concerned, yet our vet could find nothing physically wrong in an exam. We just didn't know, until he had his first siezure. He was twelve. I heard him first, his most hideous howl as he ran to me, then flopped on his side and stretched his full length in spasms of agonizing pain.
After another exam, our vet suspected a brain tumor. He gave us prednisone, I guess because the tumor swelled when he was very active. That's when he had the seizures. The prednisone gave him relief after the seizures, but we knew we couldn't let him suffer that awful pain. It was a terrible decision –with the medication, we may forestall a few seizures but how much did Rocky's head hurt? It was clearly extreme. We made the decision. We had to free our delightful, intelligent boy from this agony that so frequently gripped him.
Yet I still had that terrible regret. I wondered, could he have gone longer with us? Did we send him off too soon?
Shortly thereafter he appeared in my dream, a happy and healthy Rocky, standing so proud in fluttering green grass with his silken fur rippling in the breeze. In the dream, he was smiling. It was a sign. We had done the right thing, in spite of my streaming tears.
It truly had been his time.
Advertisements
Visit our Shop for top-quality cat toys and cat lover products!
We regularly write about all things relating to cats on our Blog Katzenworld!
My partner and I are owned by five cheeky cats that get up to all kinds of mischief that of course, you'll also be able to find out more about on our Blog
If you are interested in joining us by becoming a regular contributor/guest author do drop us a message @ info@katzenworld.co.uk .