Hi everyone,
As some of you know from previous posts we are currently working with Sleepypod in Europe to help them introduce more cats to their brilliant cat carriers and mobile pet beds.
For many of us cat guardians, the carrier is most likely one of the most hated objects of cat guardianship but what if this didn't need to be that way? What if the difficulties of getting your cat into the carrier were a thing of the past!
Of course, getting a good carrier is a good start and one that is more comfortable will make a huge difference to how your cat will interact with his carrier. But no matter how good the carrier is you will need to help create a good experience for your cat with any carrier.
There are many things that one can do in order to create that positive association and you should ask yourself a few questions about their current carrier:
Could the cat's distress be related to the way the cat is placed in the carrier? For example, is it a battle?
• The first step is to stop any physical forcing of a cat into the carrier. Therefore, the training process should be started when there are no scheduled vet appointments in the imminent future.
• Purchasing a new carrier can be beneficial for cats that really hate the carrier as a new carrier has less association with negative events.
Could the cat's distress be directly related to the type of cat carrier?
• Is it possibly too small? A cat should have enough space in the carrier to stand up and turn around.
If this is not the case, it is advisable to buy a larger cat carrier.
• Does it smell of another cat? (eg, do all cats in a household travel in the same carrier but at different times?)
If this is the case and the cats do not have an amicable relationship, the close proximity to the smell of another cat and the inability to escape from it can cause anxiety or even frustration to the cat contained within the carrier. It is a good idea to wash the carrier after use with a warm solution of biological washing powder (approximately 10% washing powder) to remove any remaining scent of another cat. In addition, if a cat has not enjoyed being in a carrier previously, it may have left chemical secretions from glands between its toes which on subsequent investigation, alert the cat to its previously discomfort within the carrier – cleaning the carrier after such situations is therefore also recommended.
Does your cat have to travel in the carrier at the same time as another cat?
Even if cats get along well in the home, forcing them to share a small space from which they cannot escape from can create tension and hostility. Each individual cat should always have its own carrier.
Does your cat only ever go in the carrier for a trip to the vets or the boarding cattery?
This is very commonly the case and if the cat does not enjoy such events, it will simply learn that the carrier predicts an imminent trip to the vet or boarding cattery. By ensuring the carrier is accessible in the home at all times, such negative associations can be broken down.
Does your cat dislike travelling?
The cat carrier is likely to indicate travelling to a cat and if it is not keen on travelling (some cats experience feelings of travel sickness just as people can), such negative associations can generalise to the carrier (even when not in motion).
Learning to love the cat carrier
It is a good idea to always have the cat carrier out, open and accessible in the home and this is why us here at Katzenworld think that the Sleepypod Mobile pet bed is the purrfect solution to a decade-old problem in terms of carriers! Because let's face it no one wants to leave a plastic crate out in their living room… So what if one can have a nice looking pet bed that doubles up as a pet carrier? Exactly… this changes it all!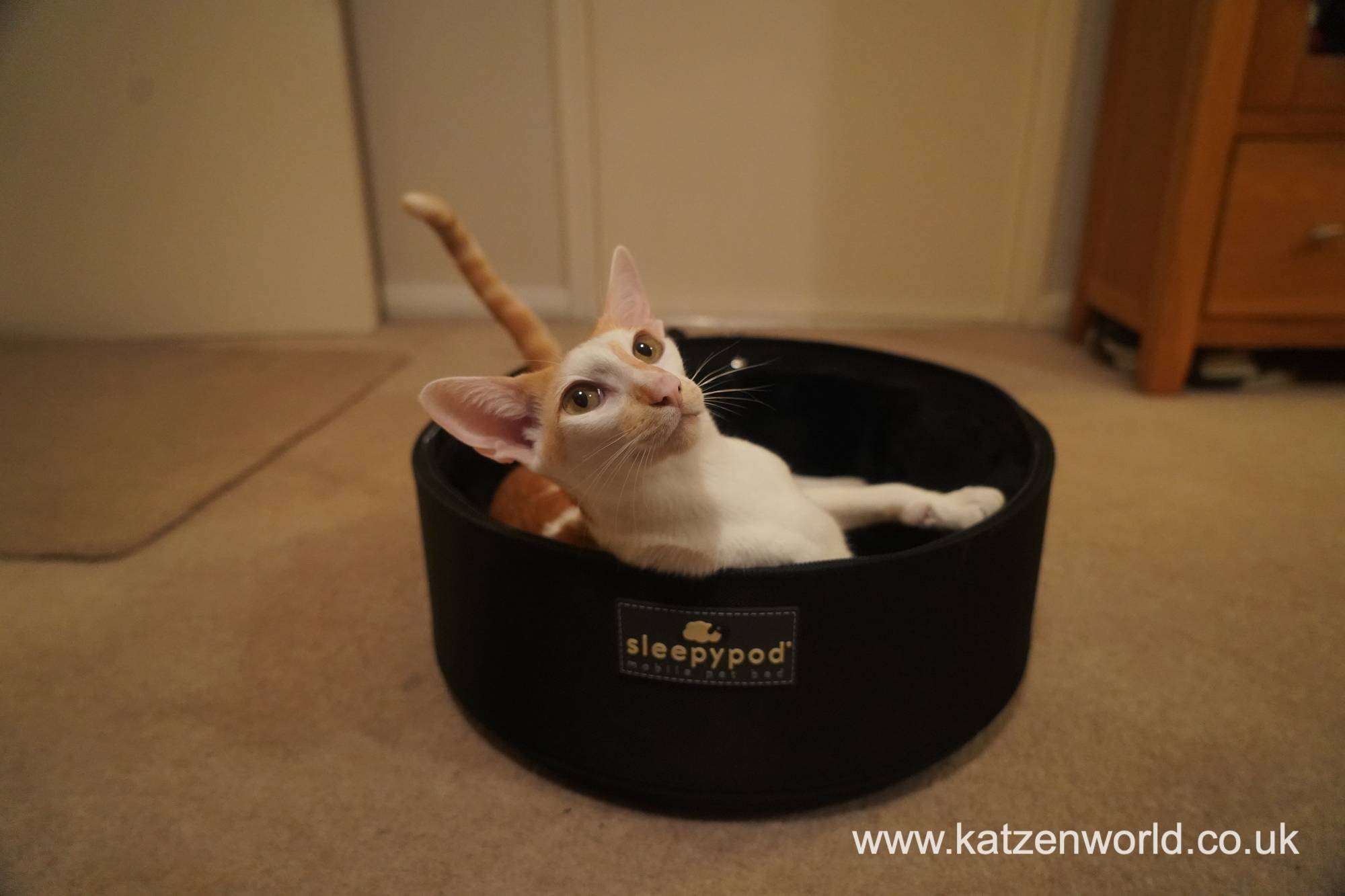 But remember positioning the carrier in a cosy comfortable place that is safe and secure will help make the carrier inviting. Choose a room that the cat commonly spends time in and ideally not the room or place it has previously been situated if it has been a battle to get the cat in it in their old carrier.
And with any new carrier don't rush your cat! Let them have the time they need to get used to the carrier. Sometimes it might even help to place their favourite blanket or toy in the carrier in order to give it a familiar smell. 🙂
Fore more tips on getting your cat used to their carrier please also check out the research by International Cat Care who has helped us shape this advisory post:
Advertisements
Click to visit our Shop for the hassle-free Zen Clippers!
We regularly write about all things relating to cats on our Blog Katzenworld!
My partner and I are owned by five cheeky cats that get up to all kinds of mischief that of course, you'll also be able to find out more about on our Blog
If you are interested in joining us by becoming a regular contributor/guest author do drop us a message @ info@katzenworld.co.uk .