Mayhew Goes Above and Beyond to Care for 6 Week-old Kitten Forced to Live in Medical Isolation
Tiny Midnight was found earlier this year by a concerned member of the public, who noticed pitiful meows coming from underneath a nearby car. The 6 week-old kitten was abandoned, afraid and totally alone.
Upon meeting her, our Animal Welfare Officers immediately noticed Midnight was suffering from a severe case of ringworm. The infection had spread all over her face and body, and was the worst example of the disease our AWO's had ever seen.
Ringworm is a highly contagious zoonotic condition, and can spread quickly and easily between animals and humans. Spores can survive for up to two years, and so it was therefore necessary to deploy strict barrier protocol for Midnight's care.
Although we badly wanted to reassure and cuddle Midnight, we couldn't risk the health and safety of our staff members and resident animals. We immediately admitted her to our isolation unit, where she is now undergoing a series of treatments. They include:
Medicated baths every three days
Oral antidotes every other week for six weeks
A buster collar to prevent her licking off the medicated soap
As if that wasn't enough for such a tiny kitten to contend with, one of our primary concerns is our inability to socialise her through human touch. Midnight is nearing the accepted cut-off point of 8 weeks, when a cat should be domesticated or risk going feral. Because of the extremely high likelihood of spreading ringworm spores, we are unfortunately unable to stroke, hug or play with Midnight at all.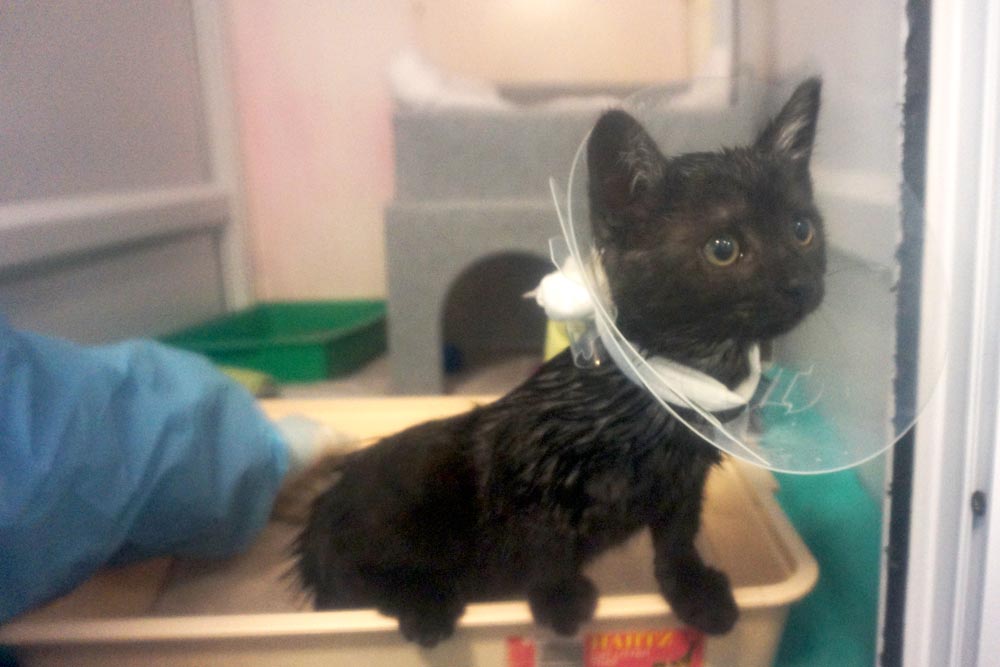 Mayhew vets and staff members are now doing absolutely everything they can to try and overcome these dangers. Every time we need to enter the isolation unit or administer Midnight's treatment, we must:
Wear full barrier protection suits
Change and dispose of everything in her cabin
Incinerate all items that have come into contact with her after a single use
Replace all items including food bowls, water bowls, towels, toys, litter trays and sponges/bedding on a daily basis
Scrub the whole cabin with Virkon, a specialist disinfectant designed to kill spores
The quarantine period for ringworm is a minimum of one month. Fur samples are taken every two weeks to see if the infection is still present, with results taking two weeks to establish. Two negative samples in a row need to be confirmed before vets can say with confidence ringworm no longer exhibits in the animal.
Midnight's most recent test returned positive results, so she will need to stay in isolation for another four weeks at least.
It costs £6000 per day to keep Mayhew operating, and we are entirely funded by public donations. Your generosity means animals like Midnight are given the best and most effective treatment and care, whatever their condition – and whatever the cost. Visit our website here to pledge your support, and find out more about our wide range of services.
We will be releasing periodic updates on Midnight as she continues her treatment and recovery – so stay tuned for more news!
Advertisements
Click to visit our Shop for the hassle-free Zen Clippers!
We regularly write about all things relating to cats on our Blog Katzenworld!
My partner and I are owned by five cheeky cats that get up to all kinds of mischief that of course, you'll also be able to find out more about on our Blog
If you are interested in joining us by becoming a regular contributor/guest author do drop us a message @ info@katzenworld.co.uk .