In the build up to 'The Complete Cat' art exhibition, held in collaboration with the Society of Feline Artists (SOFA), we've been sharing the biographies of the artists involved and examples of their stunning work.
The exhibition will be held 23rd November – 8th December 2018 in the beautiful Rook Lane gallery in Frome, Somerset. And, a very generous 25% of the sales of all the artwork will be committed to our work for cats around the world.
Here are some more beautiful pieces of feline-themed art and some information about the talented artists behind them.
Dominic O'Callaghan
Since early childhood, Dominic's fascination with the natural world has been expressed through his art.
His wide ranging subject matter reflect his interest in all aspects of the natural world, from subjects studied in the wild to the birds and animals sharing his home and garden in Southend-on-Sea.
His award winning drawings of big cats share equal billing with his graphite and coloured pencil images of domestic cats; his aim always to capture the personality and presence of the individual animal.
Rainy Window (Alfie) by Dominic O'Callaghan
Daphne Lanham
Although I have had no formal art training, I have been painting for many years and have been on various courses and workshops during that time.  I work mainly in acrylics, oils and pastels.
I exhibit with The Society of Feline Artists as well as several local art societies in the Hampshire/Berkshire area, where I am very much involved in the local art scene.
My love of cats inspired me  to write humorous verse about the antics of my and my friends' cats, which has been published in a book, "Cats and Doggerel", with my own paintings as illustrations.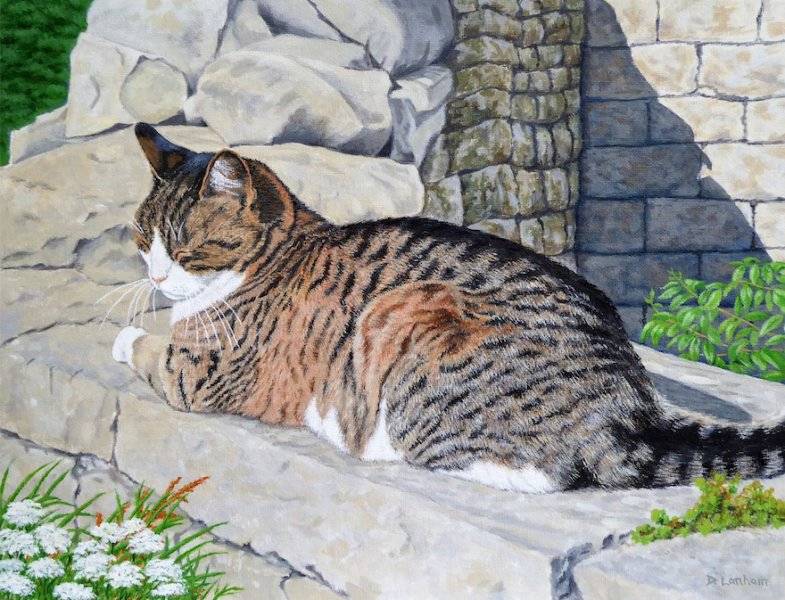 The Afternoon Nap by Denise Lanham
Denise Laurent
Denise studied photography at Bournemouth college of art before turning to paint and becoming a  painter of animals and landscapes with a particular fondness for cats. As an artist who clearly loves animals, Denise's colourful work explores the unique personalities of her subjects with an intimacy and deftness of touch while filling her canvas with warmth and humour.
Her colourful style has made her a popular artist, exhibiting and selling work to collectors both in the UK and abroad, as well as taking commissions for clients around the world.
Denise works in a range of media, including oils, acrylics and watercolour. Recently she has started working with resins and pigments, creating unique, glittering, jewelled artworks for the wall as well as smaller pieces as wearable art, exquisite brooches and necklaces of cats, hares, foxes and other animals.
Denise sells paintings, limited edition prints, greetings cards and the jewellery on her web site at www.deniselaurent.co.uk or www.thepaintedcat.co.uk. She also takes commissions for paintings and brooches.
She is currently  owned by three cats who have her well trained!
Mr Stripes by Denise Laurent
Running Cat No 2 brooch by Denise Laurent
Advertisements
Visit our Shop for top-quality cat toys and cat lover products!
I am the feline behaviour specialist at feline charity 'International Cat Care'. We are about engaging, educating and empowering people throughout the world to improve the health and welfare of cats by sharing advice, training and passion.