From Feral to Domestic: Paladin's Three-Day Transformation
A very attractive Tabby somehow got the idea that our place was good for three square meals a day. He would come for one, two, or three meals for a few months. He was a really handsome cat, and I fell for him. I went out on the patio with him and petted him while he was eating, scared the contact would cause him to bolt. But he did not bolt; he purred. I adored the cat and promptly named him Paladin, after the cowboy knight in Have Gun Will Travel, played by Richard Boone. I think Paladin looks a lot like Richard Boone did in the series. I wanted him to enter our house and be comfortable with our then three-year-old spayed female cat Effie, and she with him.
It was soon evident that Paladin was not accustomed to entering a house.
After some months of his patio visits to which I always looked forward, we opened the screen door to Paladin. He began climbing it as if it was the only way to save his life. He clung to the door, terrified. I was in tears.
Paladin had not been neutered, and we were pretty sure neutering would make his domestication more possible.
I made an appointment with the Animal Shelter vet. We had Shelter access because Effie had come to us through there. Within two and one-half hours on the appointed day, Paladin was neutered, vaccinated, wormed, and microchipped.  The vet determined his age to be four years, the same age as Effie! She assigned him a birth date as the day of his neutering.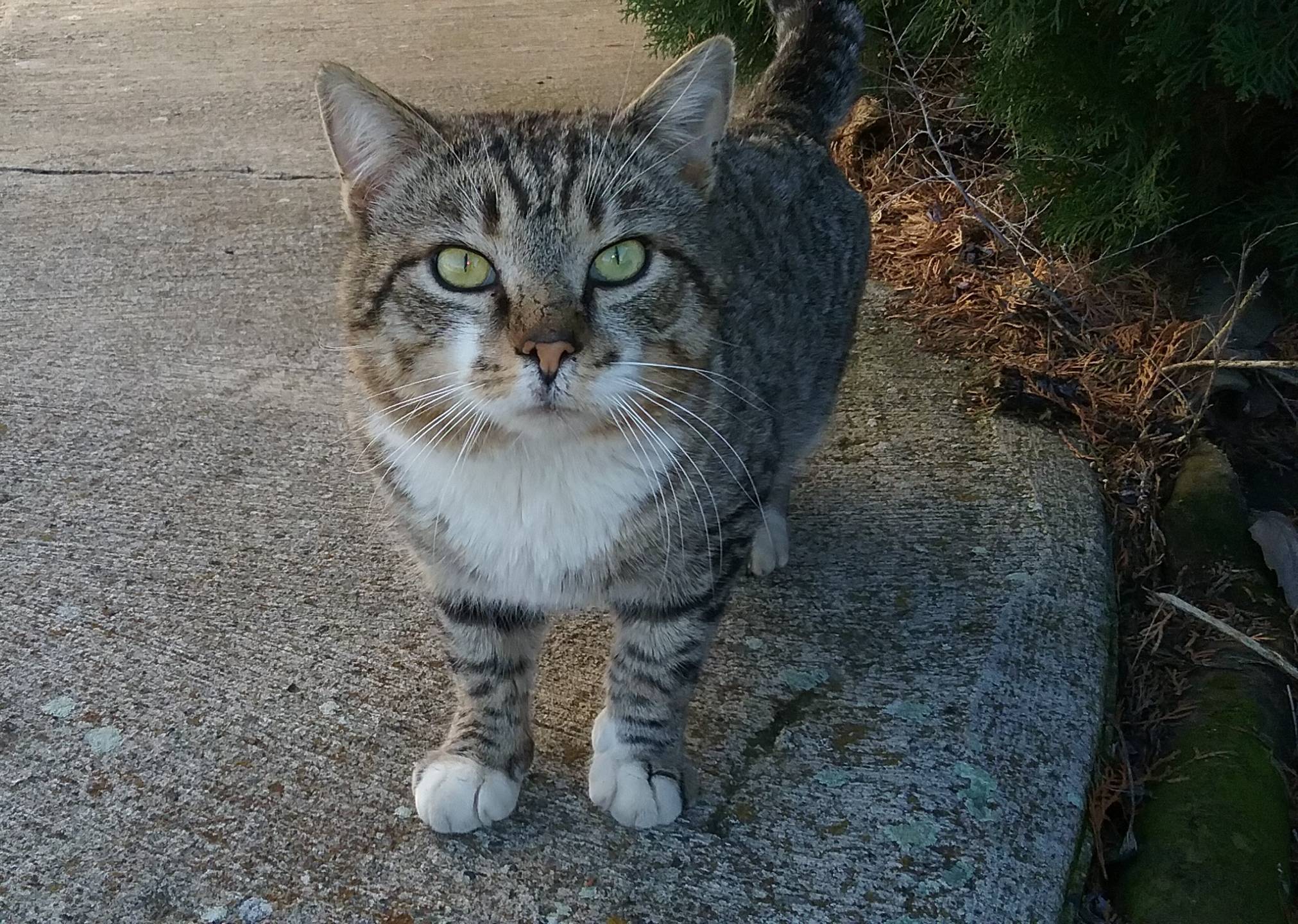 Within a few days, Paladin was changed forever, from a feral to a domestic cat. When we brought him home,  we released him from his carrier and placed him on a foam pad. Groggy from his transforming adventure, he slept throughout the day and the evening.
The following day he was getting around slowly, as Dr. A apprised us he would. She also told us his transition would take three days, the same period of time his recovery would also take. He crawled for two days, and by the end of the second day he was standing and could access his new litter box.
On Day 3 Paladin was exploring his forever home and purring as he went about. He liked having his people around him. And he discovered something entirely new: playing with toys. He was no longer feral! He had crossed the threshold and become domestic. He has a home he enjoys exploring, he enjoys his people petting and holding and playing with him, and he enjoys playing with toys. He has the gold stars of a truly domestic cat. Paladin has been wonderful to live with!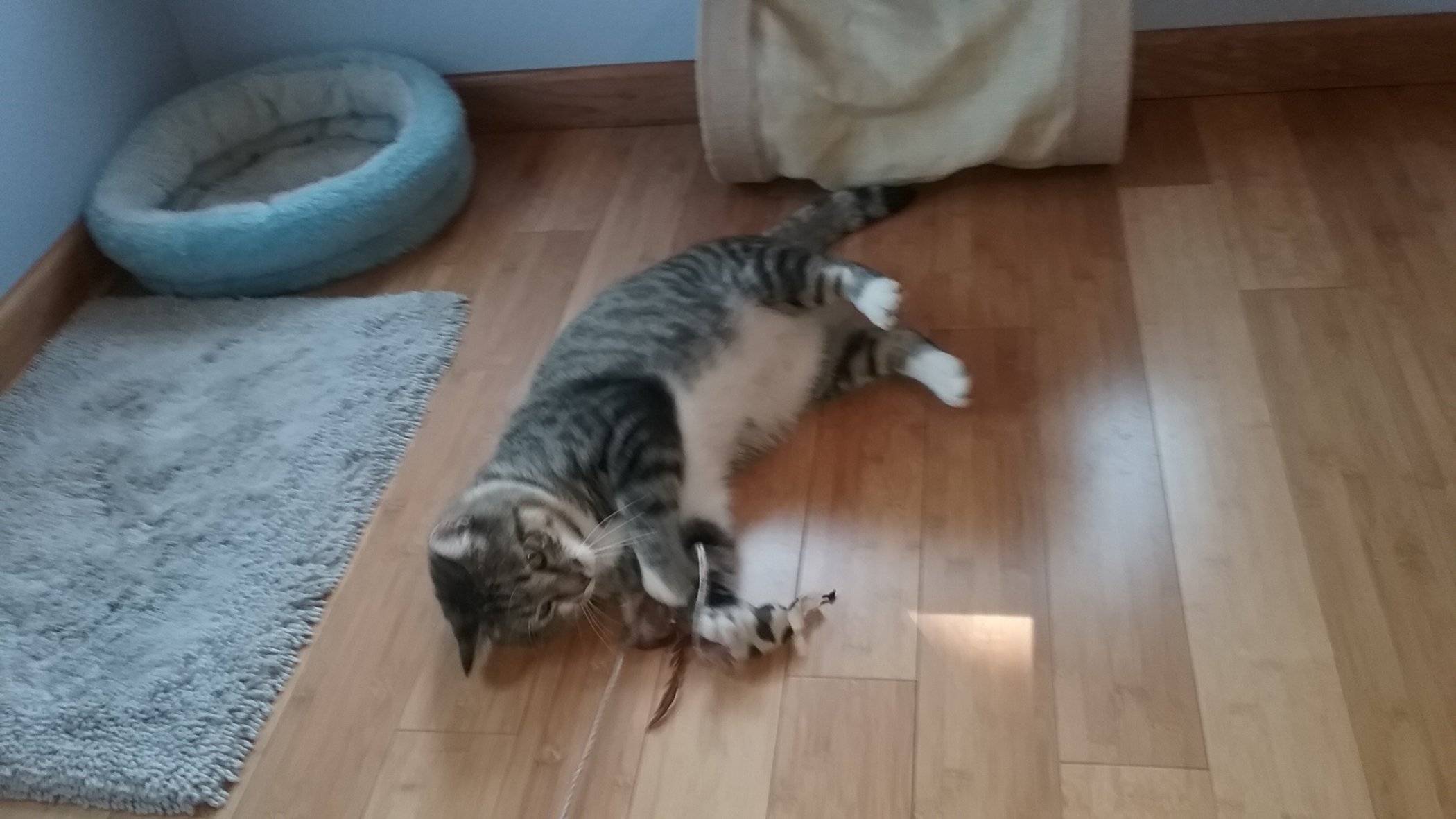 Paladin and Effie share a 1,000 square-foot fully fenced garden when they are outdoors. The garden is safe from predators and raptors. Overhead fencing keeps out eagles, hawks, and owls. They love their garden and their home, and they love their people and each other. Effie is the same age as Paladin, but her actual birth date was known by her former owner who had to move and could not keep Effie and took her to the Shelter with all her information. Effie is four months younger than Paladin. Even so, she acts like a little mama toward him.
"Paladin delights in toys, big time! Here he is with his crocheted rainbow ball, made by Ellen Pilch, whose blog is here: http://15andmeowing.com/"
(Note: This post was created by Lauren Bottomly from Eel Creek Chronicles. All photos and text remain the property of the author.)
Advertisements
Click to visit our Shop for the hassle-free Zen Clippers!
I'm a retired attorney, married to a hard-working attorney. We have a companionable cat named Effie. I am a writer, and I take photographs of what I find enjoyable and beautiful around me, especially Effie, the basalt hills, prairie grasses, and the Snake River. My husband and I are avid fishers, and we enjoy fishing on the Snake River from wooden boats my husband builds.