Cat Rescued From the Brink of Death After Worst Case of Fleas Vet Has Ever Seen Now a Treasured Family Pet
A kitten that had to be rescued from the brink of death after suffering from a severe flea infestation has made a miraculous recovery and is now a treasured family pet.
Little Casper nearly died after he was rescued from a home in Blackpool at just six weeks old in September 2016.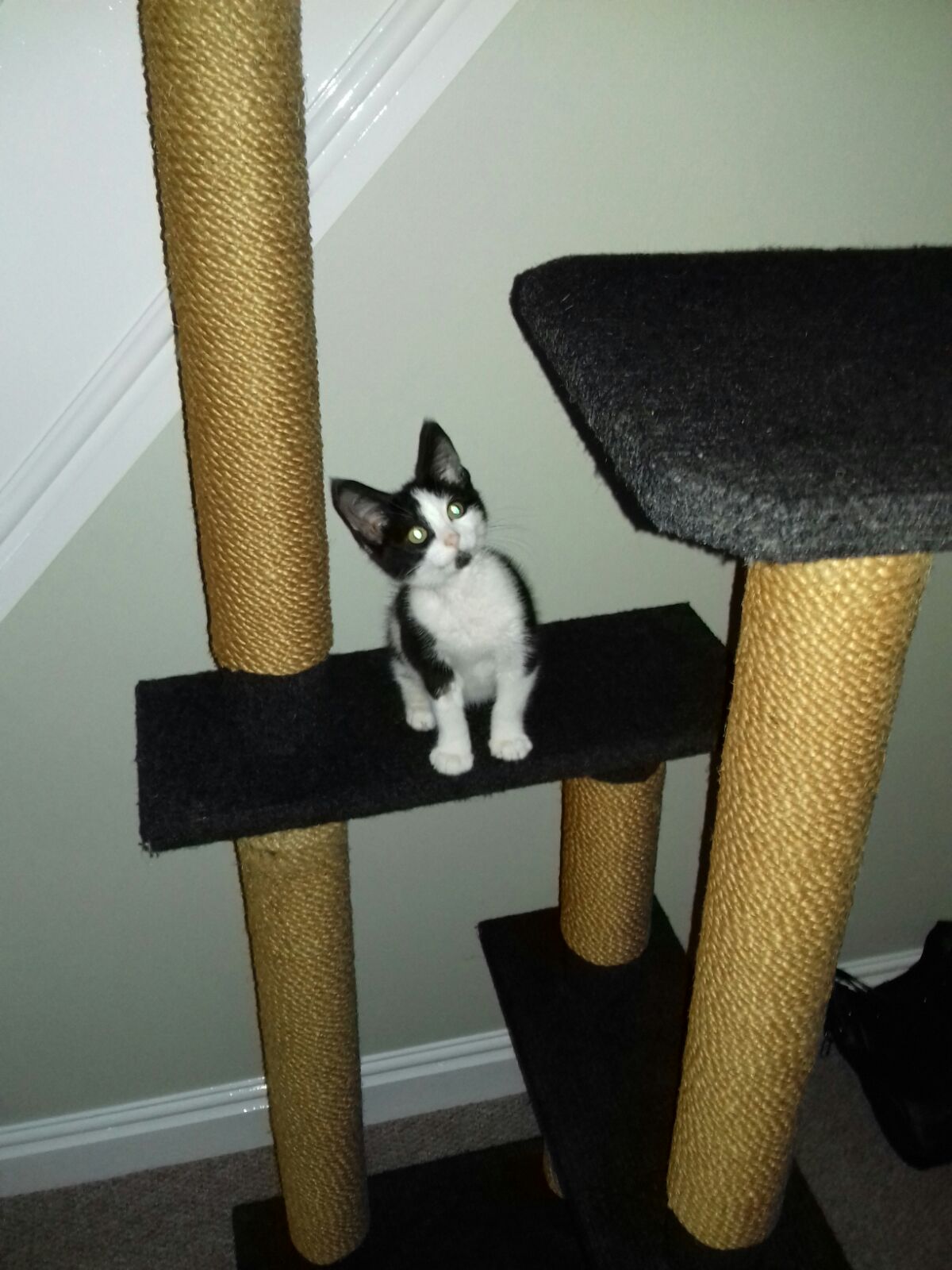 Pharmaceuticals company MSD Animal Health is now sharing Casper's story as part of its Big Flea Project – an initiative to raise awareness about the dangers of fleas and encourage pet owners to talk to the vets about flea protection.
The kitten was taken to The Veterinary Health Centre in Lytham, Lancashire. The practice owner and vet Siuna Reid described the case as the worst she had seen in her 26-year career.
Video footage shows little Casper whimpering in distress as the parasites crawl all over his face. The fleas had sucked so much of Casper's blood he was anaemic. His blood sugar and packed cell volume (PCV) levels were so low he was dipping in and out of consciousness.
Casper's two siblings, who were also taken to the practice, were pronounced dead on arrival, and Casper had to be given emergency life-saving treatment.
Eighteen months on and Casper now lives with the receptionist who checked him into the practice, and new pictures show him happy in his forever home.
Vet Siuna Reid said: "I vividly remember treating Casper. He was brought in by the RSPCA one evening after he was rescued from a house.
"Casper's fleas were the worst I had ever seen in my 26 years as a vet. His two siblings had already died. The fleas had sucked so much of Casper's blood he was anaemic, and he was dipping in and out of consciousness.
"There was a point where it looked like we would have to put Casper down, but I wanted to do my best to stop that from happening."
Casper's packed cell volume – a measure of his red blood cells – was just 8. A healthy number is considered to be between 35 and 43.
Siuna said: "His PCV levels were not conducive with life. We had to give him a protein fluid. It took around three or four days before Casper's condition was no longer life-threatening."
Casper was finally discharged from Siuna's care on 9th October 2016 – 19 days after he was admitted.
He was adopted by the practice receptionist, Helen, who fell in love with the black and white moggy during his stay in the practice.
Casper is now a fit and healthy young cat and has become the perfect pet to Helen.
Helen said: "Casper is now a fit and healthy young cat and happy in his new home. I had lost my seventeen year old cat about four months previously and was still missing her dreadfully when the RSPCA brought the tiny collapsed kitten into the practice.
"I had never seen as many fleas on an animal before and was shocked that he could actually die from the infestation.
"Over the next few days he battled on and I sat with him, grooming out the flea dirt. As he recovered I was still unsure about taking him home, but his fantastic little character began to make its way into my heart.
"Casper is now a much loved member of the family and I'll make sure he never has another flea again!"
Big Flea Project vet, Hannah Newbury, from MSD Animal Health said: "Casper's story is truly shocking and highlights the dangers fleas and other parasites can have to innocent animals.
"Flea infestations can occur in this way when we forget to treat our pets. At least 12 weeks' continuous flea treatment is needed to break the flea life cycle and so it's really important for pet owners to keep on top of the treatment process and to treat their pets year round.
"Thanks to Siuna and her steadfast dedication, Casper is now able to live the happy, healthy life that all animals deserve.
"This summer we will be travelling across the UK to highlight the dangers fleas pose, as well as offering handy tips to keep them at bay."
Advertisements
Visit our Shop for top-quality cat toys and cat lover products!
We regularly write about all things relating to cats on our Blog Katzenworld!
My partner and I are owned by five cheeky cats that get up to all kinds of mischief that of course, you'll also be able to find out more about on our Blog
If you are interested in joining us by becoming a regular contributor/guest author do drop us a message @ info@katzenworld.co.uk .