Hello again Cat Lovers!
We have been traipsing around the beautiful island of Britain visiting cat cafes, with the last two articles spotlighting The North and The Midlands.  Today, our last installment features four feline-focused establishments in The South.  I hope you have enjoyed our tour, meeting these magnificent moggies and posh pussy-cats, and hope you agree that the United Kingdom has some of the best cats and cat cafes in the world!
The Neighbor's Cat visited twelve UK cat cafes in November, 2017.
Meow Right:  You & Meow, Bristol
I usually take tons of pictures when I visit cat cafes, because cats images are hard to capture and you need to take A LOT of photos to find a few usable ones.
I didn't take many photos at You & Meow, but I got something way better– an in-depth visit with Ewa, the owner.  As a cat cafe fanatic, it was incredibly exciting to speak with someone who is as into it as I am.
Ewa had previously worked at a cat cafe in London before deciding to open one in Bristol due to its strong emphasis on independent businesses.  Her location on Denmark Street is perfect amidst cool and youthful bars, shops and restaurants- You & Meow fits right in.
When I visited, You & Meow had been open for eight months and the atmosphere was quite calm and tranquil, resembling a Japanese Zen Garden, but Ewa wants to further evolve the cafe into an experience focused on mindfulness and wellness with classes and special healing rooms.  Not only does this approach set it apart from other cat cafes, but truly reflects Ewa's passion and personality.
The kitties (all rescues, twelve in total) seem to enjoy this chill vibe and are quite social and friendly.  Impish ginger Noel entertained guests by running around while sweet Thomas took a cat nap on my lap.
I was very impressed with the quality of my pumpkin spice cake and tea, which was elegantly presented.  My partner had a latte with the foam decorated as a jack-o-lantern.  The attention to detail and small touches really help You & Meow stand out.  Even the toilets are pretty and smell amazing!
I was really impressed with You & Meow and Ewa's commitment to helps cats and people.  With its unique atmosphere and great service, this top notch cat cafe would be a winner in the middle of nowhere, but considering its also in the cool, independent-minded Bristol city center, I suggest you make your way there asap!
Feline Fun:  Feline Good Cat Cafe, Cardiff, Wales
We had so much fun at Feline Good Cat Cafe, our cheeks hurt from smiling!
Not only are Feline Good's cats super energetic and playful, but Hollie, the owner is so lovely, cheerful and friendly, the enthusiasm in this pretty cafe is contagious.
Will you indulge me if I gush about the kitties a bit longer?
The eight cats in residence love being around people so much that I wondered if they had a touch of dog in them?  Handsome Freddie stole my heart immediately.  He also turned out to be a fantastic model and I was able to capture such gorgeous photos he earned a spot on the coveted 'Most Photogenic' list.  Then there was Marie, Ash, Marshall, Rory, Winston, Penny and Black.  They showed me how much they love to play by diving into the pink nylon tunnel, chasing strings and taking a spin on the huge cat wheel.  Such personalities, I loved them all!
I haven't even gotten to the food yet.  Our tea and coffee were beautifully presented and tasted wonderful, but OMG, I am going to be dreaming about that Chocolate Peanut Butter Cup for years to come.
All of the guests were having a great time, we looked at the cats and each other with goofy grins.  The cafe only opened in July so everything is fresh, clean and new with plenty of comfortable seating.
We had such a great time visiting with Hollie and playing with the cats, it was difficult to leave.  If you have the good fortune of living in Cardiff or plan a visit to Wales, make sure and add Feline Good to your list of 'things to do'.
Smiles await you.
A Proper Lady:  Lady Dinah's Cat Emporium, London
My expectations were high and how could they not be?
Lady Dinah's opened in 2014 to great fanfare and a months-long waiting list.  It has become quite famous, topping many 'Best Cat Cafe' lists and remains solidly booked even after three years!
So, I was definitely curious and when I asked my friend Alison, a cat cafe newbie, to join me for afternoon tea, she was as excited as I was.  Arriving at nearby Liverpool Street tube station early, we decided to amble down Brick Lane which just happened to be on the way to our 1 pm scheduled appointment.
As we waited in the reception area to be checked in, I was pleasantly surprised by the gracious and friendly greeting offered to each guest.  Instead of barking instructions or speeding through the rules (somewhat understandable if repeating them for the millionth time), the hostess spoke to each of us with courtesy and kindness.
Once inside, we were seated on the main level where a lovely 'cat carer' gave us great information about the seventeen cats in permanent residence, all rescues.  I particularly loved how she told light-hearted stories about their lives at the cafe, like Wookie, a big boy (17.5 pounds!) who doesn't like a lot of fuss and prefers to observe the action while chilling out and Salome, a sweet girl who was wearing a cone since she had recently been spayed.
After a short time checking out the cats, our high tea arrived in a magnificent presentation, three tiers filled with sandwiches, scones/clotted cream/jam and a melange of petite sweets such as macaroons and eclairs.   Ali and I nibbled and chatted away while world music played overhead and the kitties frolicked around us.
It was exactly what I had hoped it would be.  I found that the tea service made for a relaxing atmosphere as guests focused more on food/conversation and less on trying to attract a cat to their lap.
Before our 90 minute time slot was up, I made a trek downstairs and loved how cool and cozy it was, with a slightly more intimate vibe than the upstairs, which is more like a formal tea room.
Lady Dinah's is deserving of the many accolades it has received.  With the combination of a fresh & clean space, delicious food, engaging staff and friendly felines, it has all of the elements of a great cat cafe, plus the added bonus of a proper high tea, making a fun afternoon out even more special.  Yes, the cost of £25 per person might seem substantial, but when you consider the average price of an afternoon tea in London is £30-£50 (sans kitty snuggles) I find Lady Dinah's offers exceptional value for money, especially when you consider they are caring for a clowder!
Great expectations, yes, but Lady Dinah's delivers.
It Takes a Village:  London Cat Village, London
First impressions can be hard to overcome, but when the complete experience exceeds expectations, it's easy.  Such was the case at London Cat Village.
I was especially excited for this visit as my friend Alison was joining me.  We had a bit of rocky start wandering around Shoreditch for a bit as our GPS had put us in the wrong location.  Luckily we had built in plenty of extra time!  Our greeting wasn't the warmest, with the staff member speed repeating the rules as she seated us in the basement.
Feeling a bit isolated, I asked to be reseated upstairs, which was honored, and while I'm not sure our host was thrilled, I was one happy camper!  I really loved the atmosphere on the main level with lots of exposed brick and sleek dark floors softened by warm wood, cozy shearling and dim lighting.  It felt like the perfect cafe environment with comfortable seating areas built for conversation and potential lap visitors.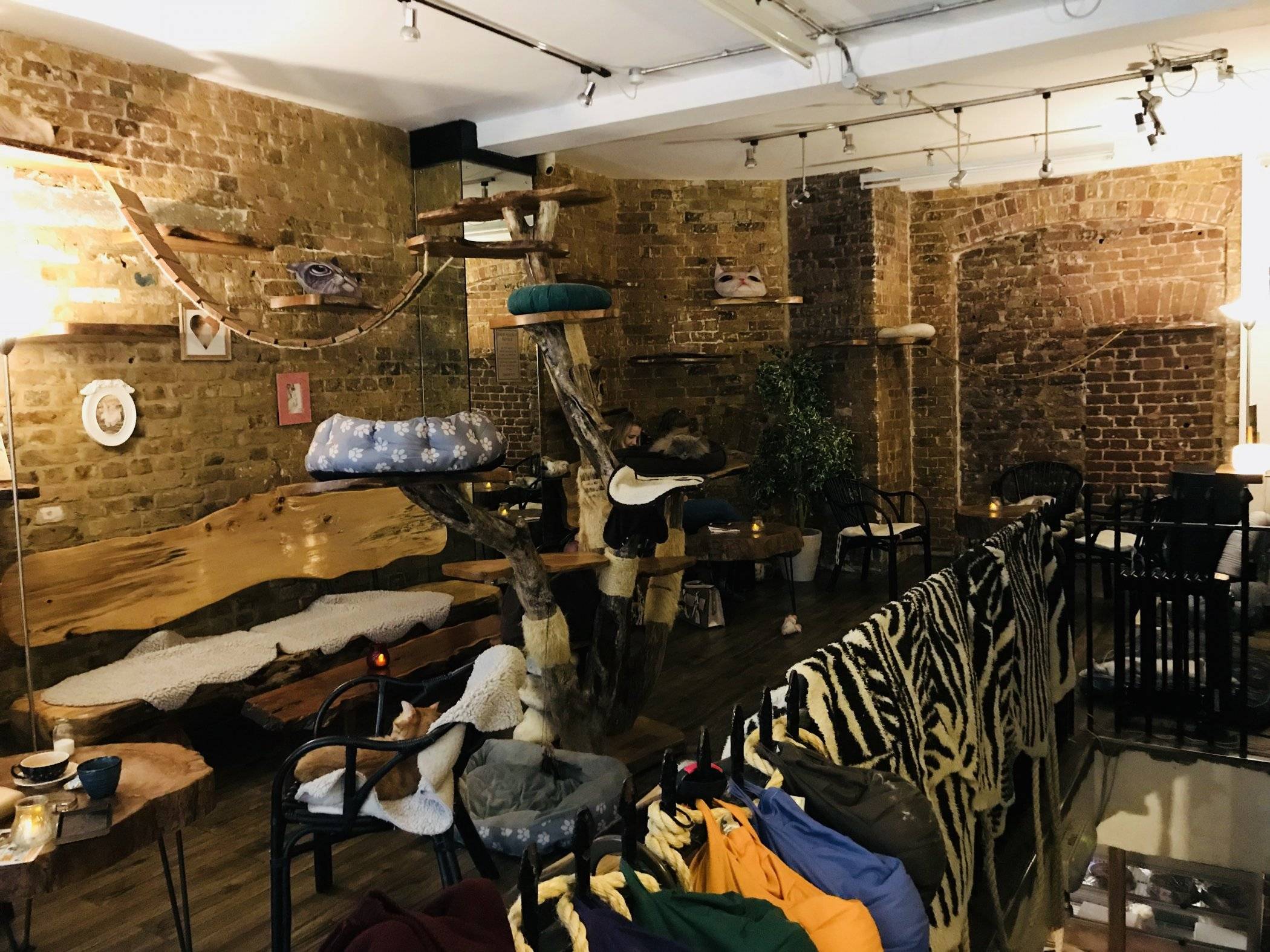 There were 16 cats in residence the day I visited, an incredibly diverse and stunning mix, including Misty the Persian, Fred the Ginger, Ted the Russian Blue Mix, Mr. Moors the Exotic, Snow the Birman, Polar the American Curl, and Nunu the Gray Birman.  I was particularly smitten with friendly Fred, who curled up on the chair next to me while I rubbed his chin.  I have heard there is a 'no touching' policy that was recently implemented, which I wouldn't consider a deal breaker as one of my favorite cat cafes in the world, Cat Apartment Coffee, has this policy and it didn't diminish my experience.
Whatever the case, the cats are definitely the stars here, but I was also impressed by the food service.  Our toastie, latte and pot of tea were tasty and beautifully presented and how can you not smile when being served tea out of an adorable kitty pot?!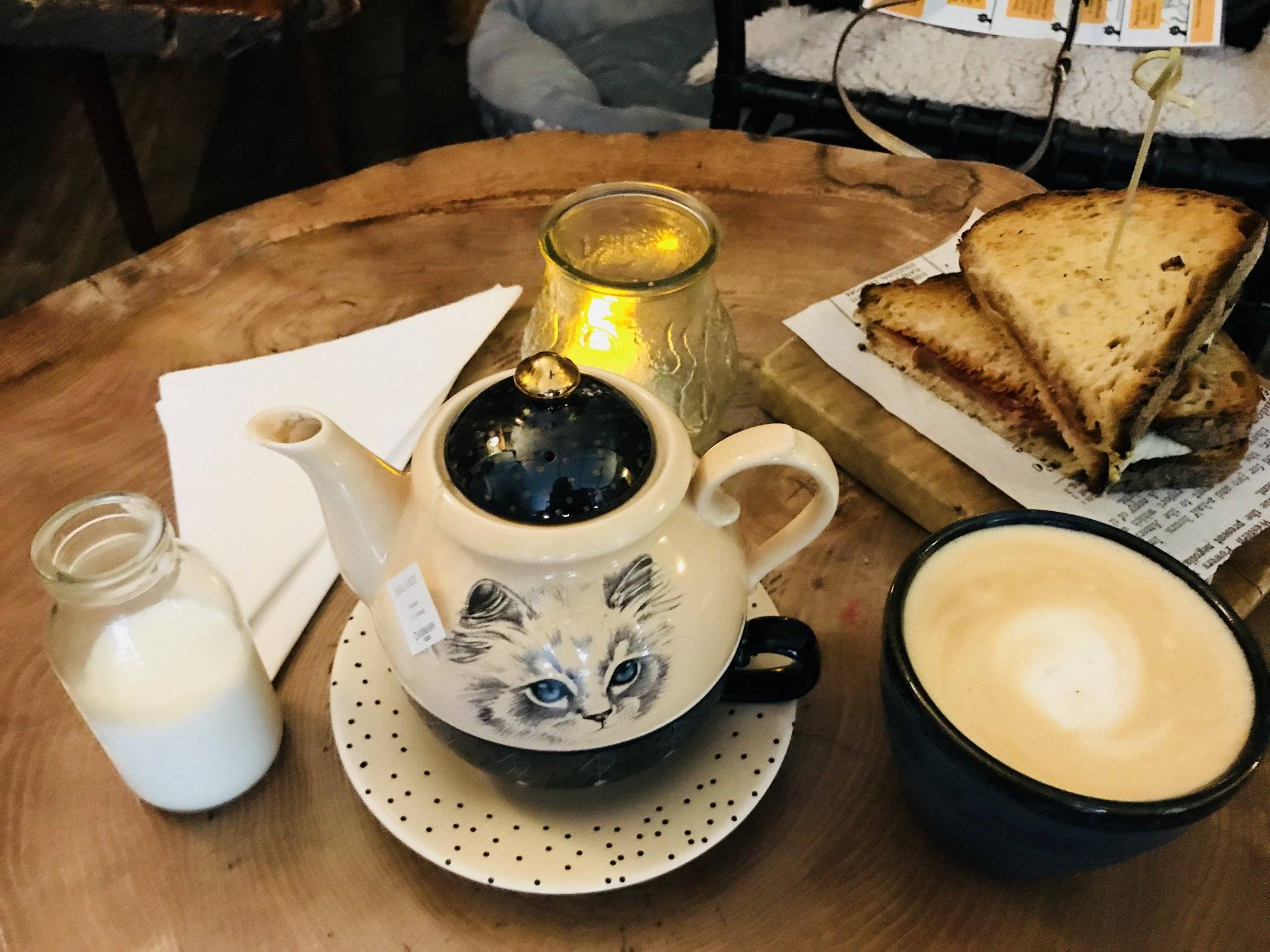 Later, I was able to have a brief chat with another staff member, a friendly cat-loving kindred spirit who shared stories about the kitties and was incredibly supportive and encouraging when I discussed my cat cafe adventures at The Neighbor's Cat.
Overall, Alison and I had a wonderful catch up over tea and nibbles while watching the kitties frolic around us.  The cozy space, lovely food and gorgeous felines made for a special visit.
By the time our hour was up, my lasting impression was that I was officially a fan.
The Neighbor's Cat is a comprehensive global cat cafe resource with first-hand reviews, lively articles, the most current locations and an extensive photo gallery of the cutest cats on the planet.  On a quest to visit every cat cafe (129 in 23 countries so far) in the world, The Neighbor's Cat can help you find the perfect cafe to complement your travels. 
Advertisements
Visit our Shop for Lisa Parker merchandise!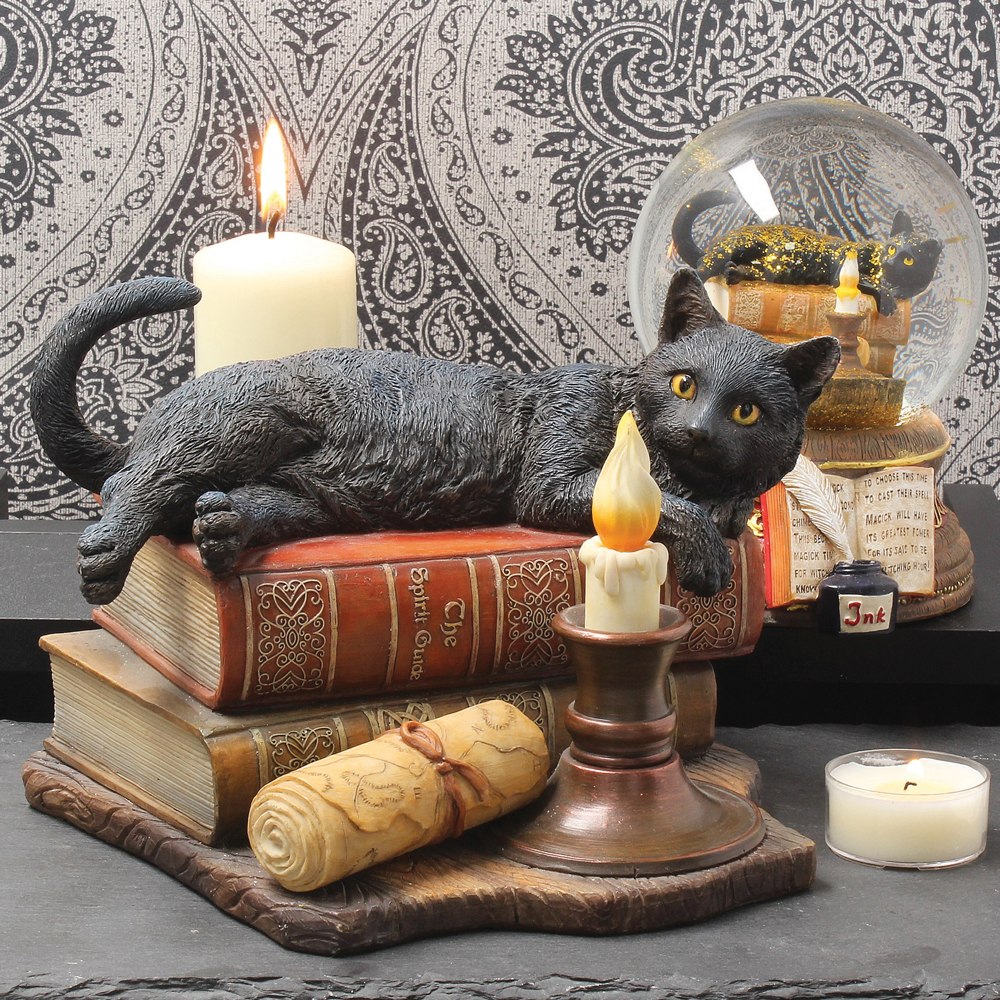 The Neighbor's Cat is the alter ego of Paula LaBine, an itinerant cat lover who writes about cat cafes, rescue/adoption & TNR, and has been featured in Miau Magazine, Katzenworld Blog, The Catnip Times and Taiwan Scene. She is currently on a quest to visit every cat café in the world, 217 in 29 countries so far! Find her at theneighborscat.com or on Instagram/Facebook/Twitter @catcafeviews.