Hi everyone,
Please find below a guest story by Andrea Gaines:
Sassy's mom, Gracie,was found emaciated and weak in one of my outdoor shelters I keep for the neighborhood feral cats. She was sweet and gentle and I started feeding her and sitting with her while she ate. One day, out of the blue, she crawled into my lap and let me hold her . That's when I noticed she was very pregnant! She was so thin it was hard to tell till I ran my hand over her body. I called our local shelter and offered to foster her and her kits till a home could be found for them all.
Long story short, Gracie gave birth in my closet. It was a very hard birth. She had 7 kits! True story! I helped her birth most of them.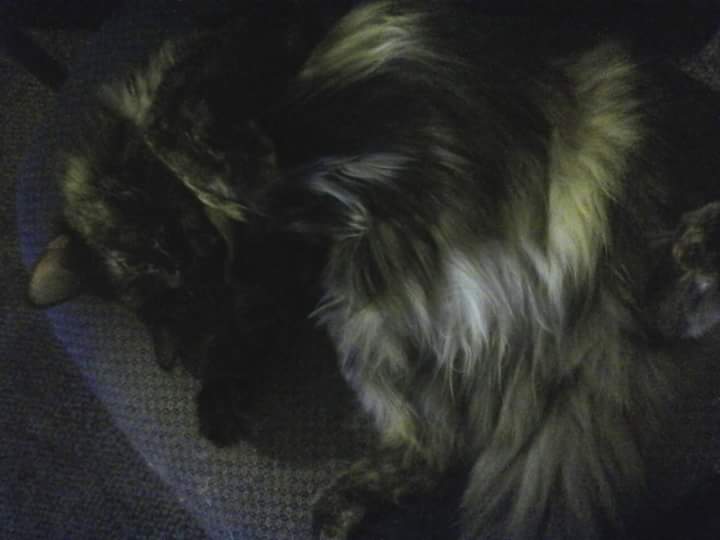 Little Sassy was born breach. We almost lost her, but I managed to pull that little girl out, bit by bit, until her head was finally free.
Momma cat was so weak, I thought I was going to lose her and Sassy wasn't breathing well.
My Dad raised and brea d Siamese cats and taught me when I was young how to gently rub the kits tummy to get them to breath better.
It worked on Sassy!
After that we were bonded! I just couldn't give her up and she never passed up the chance to play in my lap!?.
To sum it up…..Momma and All kits lived…all healthy….all happy…and All got their very own furever homes…..including Sassy..right her with me and my husband and 6 other cats…all of which are rescues from horrific abuse and saved from being euthanized!
And that's Sassy's story. Hope you enjoyed it!!???
From Andrea H Gaines in Colorado.
Advertisements
Click to visit our Shop for the hassle-free Zen Clippers!
We regularly write about all things relating to cats on our Blog Katzenworld!
My partner and I are owned by five cheeky cats that get up to all kinds of mischief that of course, you'll also be able to find out more about on our Blog
If you are interested in joining us by becoming a regular contributor/guest author do drop us a message @ info@katzenworld.co.uk .