Hi everyone,
It's me Rennie once again and my sister Nubia and I are testing a new water fountain from Petsafe today.
Renegade: *Sniff sniff* I wonder if I can get meat flavoured water…
Nubia: That sounds disgusting Rennie! Water has to be clean and fresh! :O
Renegade: You are right! But now… what's the easiest way to drink from this. The top or the bottom?
Nubia: Courtesy to us would mean you should drink from the bottom!
Renegade: Alright I shall drink from the top that's easier! 😀
Nubia: I am guessing he didn't even listen to me… :O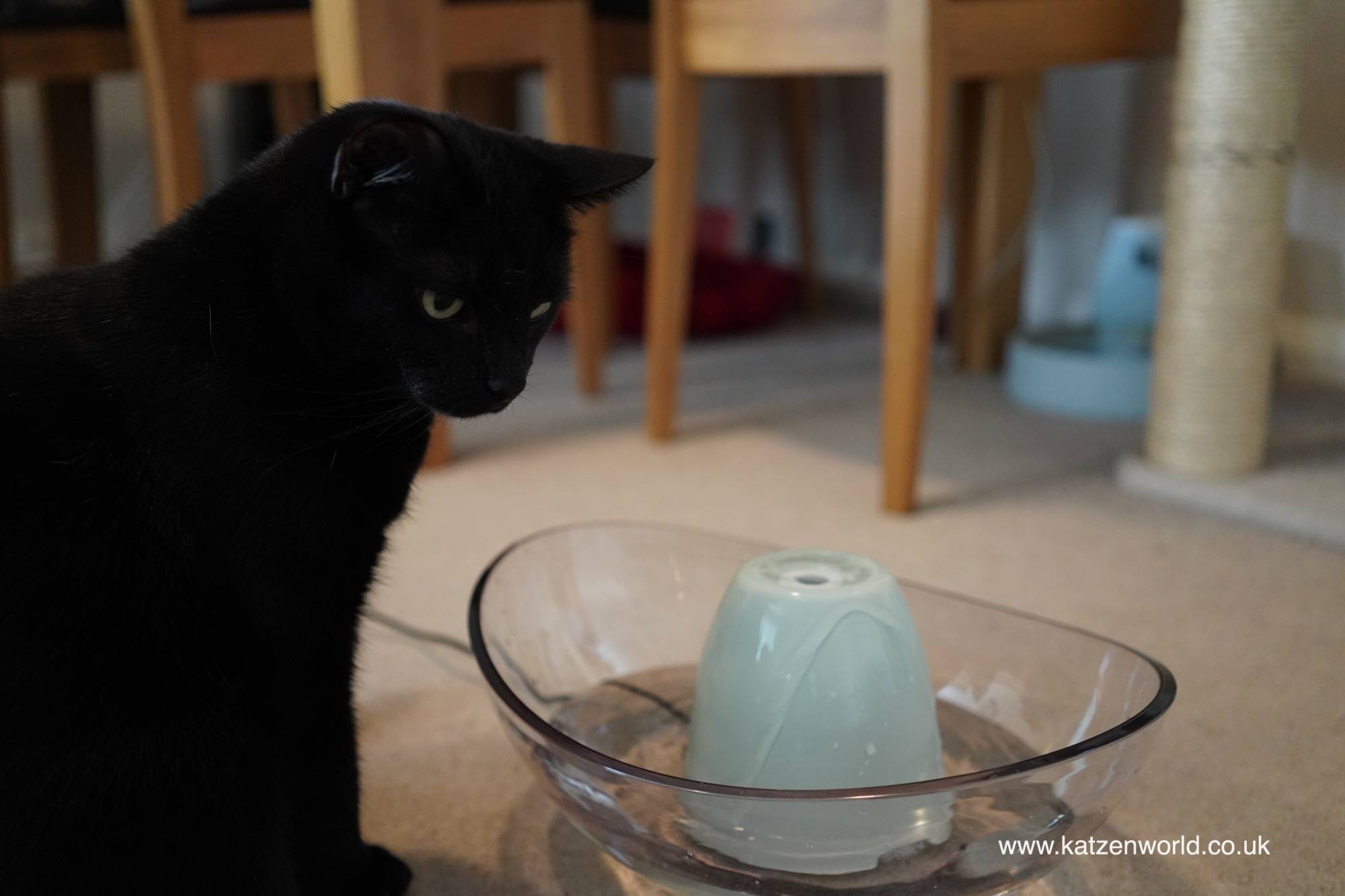 Nubia: Now… will this water taste of Rennie. 🙁
Renegade: Are you trying to say I am dirty. :O
Nubia: Of course not…. 😉
Nubia: This fountain certainly is a lot quieter than our old one.
Nubia: And maybe Rennie is right it does taste nice from the top. 😀
Renegade: TOLD YOU!!!
Renegade: Yes?
Renegade: Actually it tastes nice from the bottom too. 😀
Nubia: Gosh… make up your mind brother. ;o
Renegade: But isn't this one of the benefits of this fountain. 😉
Nubia: Well I suppose you are right! In fact our humans thought it was great that we can drink from both the top and the bottom.
Renegade: See! I am the smarter one. 😀
Nubia: Sure sure… if you think so. ;o
Renegade: The humans also said they thought this fountain looks much nicer than our old one and as you mentioned it's a LOT quieter.
Nubia: Indeed and there are no exposed parts of the pump for Oli to play with. Because that's what he used to do with our old fountain. 😮
Renegade: I suppose we should point out to our readers which model this one was and where to get it?
Nubia: I was getting to that! So this particular fountain is called the Drinkwell® Sedona Pet Fountain and it's available in most countries via the Petsafe online shop for the relevant country or through their retail partners and Amazon.
Renegade: Right I am off to cause some mischief. 😀
Nubia: *Sigh* I better keep an eye on him.
Signed by,
Her Meowjesty Queen Nubia the Disturber of Peace
&
Prince Renegade the Maker of Chaos
Advertisements
Click to visit our Shop for the hassle-free Zen Clippers!
We regularly write about all things relating to cats on our Blog Katzenworld!
My partner and I are owned by five cheeky cats that get up to all kinds of mischief that of course, you'll also be able to find out more about on our Blog
If you are interested in joining us by becoming a regular contributor/guest author do drop us a message @ info@katzenworld.co.uk .