Hi everyone,
It's Oliver here and I am on top of OUR new scratch tree. Of course it took the humans to assemble it so let's see how they performed today. : D
Nubia: It arrived in a box complete with all parts and one of those metal thingies to screw it alltogether. And surprisingly our humans were quite quick at building this. Those of you that follow us for a while will know that they are not great with DIY. 😉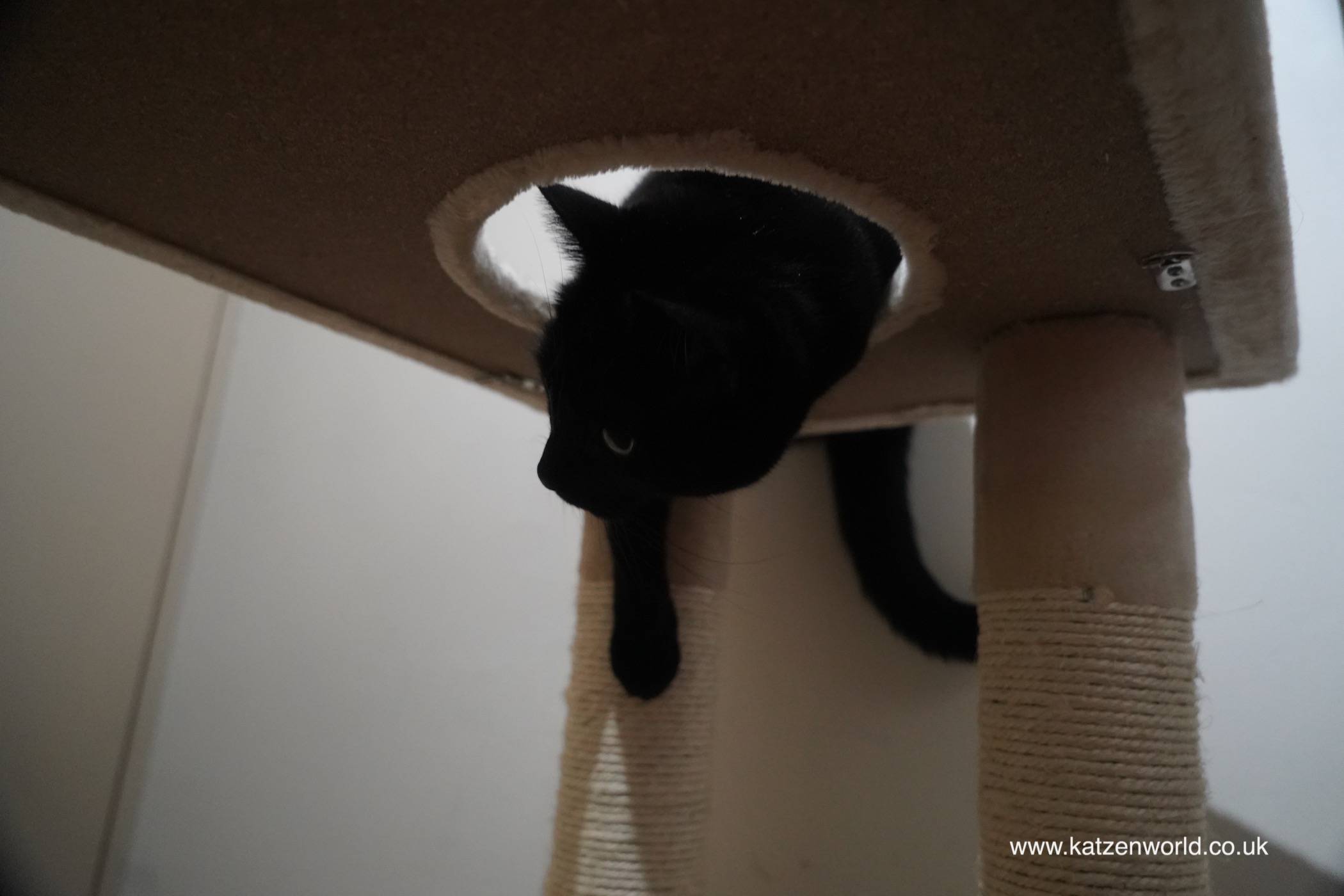 Nubia: Quickly the middle platform was ready for me to inspect it's stability! And it got my paws up already at this point.
Nubia: Not sure why but the humans were not too pleased with me sitting on top of it. Can't they just build around me? 😉
Oliver: Despite my sister's interventions the scratch tree was assembled successfully! But how am I going to get up there…
Nubia: Jump! You are a cat! o.O
Oliver: I found the stairs! 😀
Nubia: Soooooo lazy….
Oliver: I would call it intelligent. 😉
Oliver: Hmmm…. how am I meant to fit into this tube thingy…
Nubia: I have a suspicious feeling that it's not for us… *glares over to Rennie*
Oliver: You would think that's what our humans did?  Get him his own tree?!? o.o
Rennie: Meoooow! What where? I want to try it now!
Oliver: We are not finished yet young one… let me explore.
Rennie: *Runs around in circles at the bottom of the tree*
Oliver: Renegade! Be calm down there!
Rennie: *Sits folded up for 3 seconds before running around again* I did!
Oliver: Not long enough… o.o
Oliver: Well I think this scratch tree was made for a King such as me!
Renegade: Right, it's my turn! Now move. 😀
Oliver: *Jumps off*
Nubia: Didn't expect Oliver would actually jump from so high up… ;D
Rennie: My turn!!!
Rennie: Wow… there are so many cool places on this tree! A hideout, a crows nest and best of all…
Rennie: A hammock! All for myself!!! 😀
Oliver: You should tell our readers where they can find this awesome product young one…
Rennie: Oh yes! But first shouldn't we tell them what we thought about it?
Oliver: Ha learning quickly! 😛
Rennie: So the scratch is very durable! It's even withstanding my biting and scratching without any problems. 😀
Nubia: Just as well you are attacking the new one rather than my bed and blankets!!! *points at holes in her favorite blanket*
Rennie: Yes yes… your blanket is just cheap. See a quality product such as this scratch tree is withstanding my teeth. 😀
Rennie: As for where people can find the cat scratch tree it's available on Amazon UK and other sites. Depending on your country just search for songmics cat tree and you should find various versions of their trees.
Oliver: And we have an extra special surprise for our fellow felines! YOU are in for a chance to win this scratch tree!
Rennie: WHAT NOT MY SCRATCH TREE!!!!! YOU CAN'T GIVE IT AWAY
Oliver: Calm down young one… not YOURS but we are giving another one away!
Rennie: Thank the cat god… that's alright in that case. 😀
Oliver: Righto back on topic…. for a chance to win the scratch tree all you have to do is be based in the UK or have an address in the UK at least and complete any of the actions in our giveaway tool below. The more actions you complete the more chances you've got at winning this. 🙂
Oliver: Good luck from all of us here at Katzenworld.
Signed by,
Her Meowjesty Queen Nubia the Disturber of Peace
&
His Meowjesty King Oliver the Maker of Mischief
&
Prince Renegade the Creator of Chaos
Advertisements
Click to visit our Shop for the hassle-free Zen Clippers!
We regularly write about all things relating to cats on our Blog Katzenworld!
My partner and I are owned by five cheeky cats that get up to all kinds of mischief that of course, you'll also be able to find out more about on our Blog
If you are interested in joining us by becoming a regular contributor/guest author do drop us a message @ info@katzenworld.co.uk .