Hi everyone,
Today's guest post comes from Milly Moos and her and her human Victoria:
The Amazing Milly Moos
Milly Moos is one awesome cat! Why you ask? Well because she has a special gift! She has the gift of sensing anxiety in people, especially children. This gift won her a place in The Cats Protection National Cat of the year finals in 2014. She has a "pawsome" relationship with her little human William, which started before he was even born. Milly Moos and William are the best of friends so read on to find out what adventures Milly Moos gets up to.
We got Milly Moos when she was a kitten eight years ago from a local person who's cat had a litter of kittens.
When we first brought her home, she would hide like most kittens do, but over time she came out of her shell and grew in confidence — and now she's quite aloof! She does rule the roost, and I think that's why she's so protective over William.
She seemed to bond with William before he was even born. Before I was pregnant she would never sit with us or take any interest in us, but when I fell pregnant with William she would sit down next to me and put her paw on my bump. It's usually dogs who can sense these things but she just knew something was going on.
As I was getting the nursery ready for William's arrival, I'd often find Milly Moos curled up inside his Moses basket, and then I'd have to wash the sheets again! It's like she was preparing for him coming as much as we were! Ever since William was born she's had a great bond with him — they grew up and he's always known her to be here.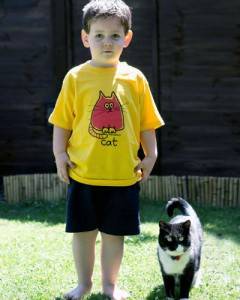 First day fears
Their special bond became real just after Easter 2014 when William started pre-school. He gets anxious in situations that make him uncomfortable, and was getting frightened just thinking about going to school. He's always felt anxiety and when he's uncomfortable he'll get upset — and at school he was completely out of his comfort zone.
Milly Moos seemed to sense he was scared, so one day when we were getting ready to go to school, she just came and sat by the front door. Instead of worrying about going to school, he became focused on her and ever since then she has been coming to school with us! She will walk either next to him or in front of him; she knows where the school is and where she is going.
She won't go right up to the school gates as it gets really busy around there, but she'll go as far as some bushes nearby and then walk back home with me. She also knows what time she needs to go with me to fetch him as well. It's like she has a built in clock!
It's quite nice because it's become a real talking point for William — he's been able to make friends as they will ask him about his friend the cat, and that has helped him with his anxiety. When new people talk to him, he's able to talk to them about Milly. And he now really enjoys walking to school with Milly! If she's not there when it's time to go, he'll go looking for her saying 'Come on Milly, it's time to go to school!'. He's completely lost his fear now.
A feline celebrity
I had wondered if our situation happened to other people, but when I found out that it hadn't, I decided to enter Milly into Cats Protection's National Cat Awards for the Most Incredible Story category earlier this year. We had a great time at the awards and even though we didn't win, Milly has become quite the celebrity cat.
Walking William to school is now a bit of a habit for her and she enjoys the attention she gets from people as well! She used to be aloof but she's all about William now, I've since had a daughter and she's not interested in her at all — she didn't even come and sit with me when I was pregnant with her! It's definitely William she has the bond with.
Do check out Milly Moos page here.
We hope you enjoyed her story and don't forget to subscribe to our Newsletter!
Thanks,
Marc
We regularly write about all things relating to cats on our Blog Katzenworld!
My partner and I are owned by five cheeky cats that get up to all kinds of mischief that of course, you'll also be able to find out more about on our Blog
If you are interested in joining us by becoming a regular contributor/guest author do drop us a message @ info@katzenworld.co.uk .