Hi everyone,
Today's guest post comes from Marie!
The Unlikely Momma
By the time Trixie came to live with us we had a ten year old Papillon/Chihuahua mix, Max and his three cats, Cookie, Clara and Cleo, all between 10 and 12 years of age. They grew up together and though Max and Cookie were best friends, they all got along.
When Trixie was just a baby, they tolerated her.  As the months went on, she grew bigger and bigger and happier and happier.  Unfortunately, Max's health started to decline and he had no tolerance for the large mix that had taken up space in his world.  They tolerated each other, but walks were a challenge.  Max was old and wanted to rest, Trixie was young and wanted to explore.  Max wanted to pee on every blade of grass, Trixie wanted to run.
When Trixie was about four, Max took a turn for the worse.  When we lost him, Cookie, was never the same.  Within weeks she was gone.  You can read more about them here. Besides the house seeming so different going from five animals to three, Trixie seemed to lose her place in the world.  She was different, a bit more clingy than usual and interestingly she started barking at all the small dogs in the neighborhood.
Here is a picture of Trixie, Max and Cookie in better days.
One day a few months ago, I went to the vet to pick up ear medicine for Mikey, the amazing rescue dog that now lives happily at my dad's house. You can read more about Mikey here or here. The vet had a kitten that needed a good home.  He was shy, un-socialized and needed love.  They named him Bob Marley.  I decided to take Bob Marley home.  I stopped at the pet store, bought kitten food, a new litter box, toys, and bowls for food and water and then brought him into the house. Before introducing him to the brood, I put him in my granddaughter's room, planning to get him acclimated to me first. Trixie had other ideas.
Trixie insisted on coming into the room and visiting with Bob Marley.  By day two, Bob Marley was coming out from under the dresser to look at Trixie, but he wouldn't come near me.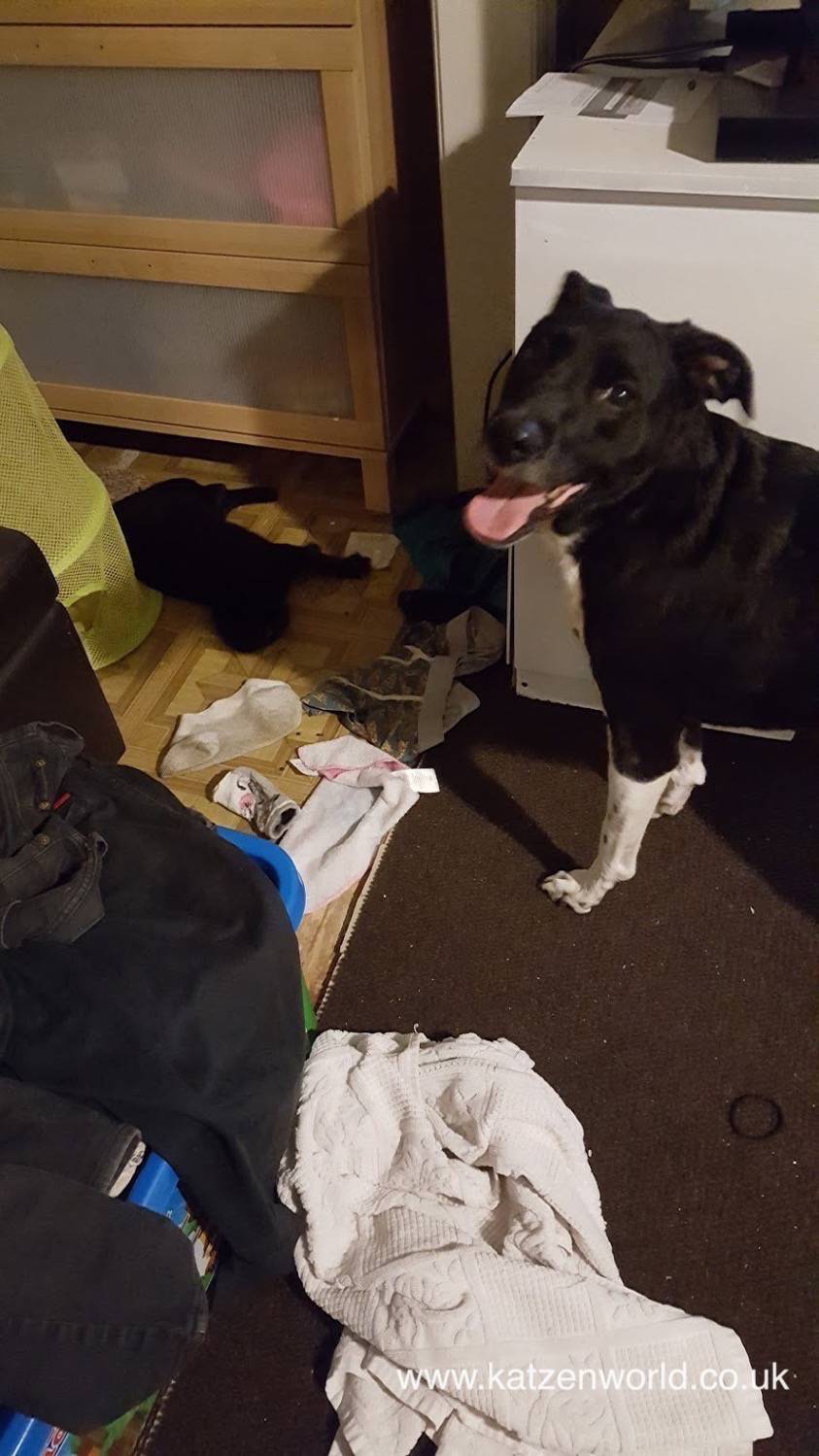 By day three, it was apparent that something special was happening.  Trixie would gently lick at Bob Marley's fur and he would playfully roll over and expose his belly to her.  By day four, Bob Marley was downstairs with Trixie and we re-named him Norton- after Trixie and Norton from the Honeymooners.
After that, Trixie and Norton became inseparable.  He kneads his little paws into her belly as she patiently waits for him to settle down.  They nap together, they play with cat toys together, they run up and down the stairs together and they hang on the couch when I vegetate and watch Netflix. Norton has added so much to our lives, but even more to Trixie's. She was born to be his mother and it gives me joy to watch them every day.
This slideshow requires JavaScript.
We hope you enjoyed her story and don't forget to subscribe to our Newsletter!
Thanks,
Marc
Advertisements
Visit our Shop for top-quality cat toys and cat lover products!
We regularly write about all things relating to cats on our Blog Katzenworld!
My partner and I are owned by five cheeky cats that get up to all kinds of mischief that of course, you'll also be able to find out more about on our Blog
If you are interested in joining us by becoming a regular contributor/guest author do drop us a message @ info@katzenworld.co.uk .