Hi everyone,
Today's guest post comes from Mike James:
Which common house and garden plants are poisonous for your cat?
Cats may have 9 lives but that doesn't mean they're invincible. When it comes to your home and garden you may well think it's a perfectly safe environment for Fluffykins to spend time in, but you'd be wrong. Many plants are harmful or poisonous if eaten by your cat.
Obviously, it's a good idea to be very clued up indeed about the unsafe plants and flowers in and around your home, so you can protect puss from the danger or get rid of them altogether. Toxic plants are not necessarily deadly; many are mere irritants that can cause unwanted and painful inflammation of the skin, stomach or mouth.
There are literally thousands of plants that are harmful to felines – here are a few of the more obvious ones you need to know about, supplied by Mike James who works with Totally Plants
Asparagus Fern – This fern is poisonous to both cats and dogs, the toxic agent in the plant being sapogenin, a steroid found in a number of plants. If Fluffballs ingests the berries of the asparagus fern, vomiting, loose stools and stomach pains will be the result. Skin inflammation is likely with repeated exposure.
Azaleas and Rhododendrons – Azaleas are actually a species of Rhododendron and both these plants contain grayano-toxins which affect the feline cardiac and skeletal muscles. All parts of the plant are considered poisonous and when eaten, drooling, vomiting, abdominal pains, abnormal heart rate, weakness and tremors can result.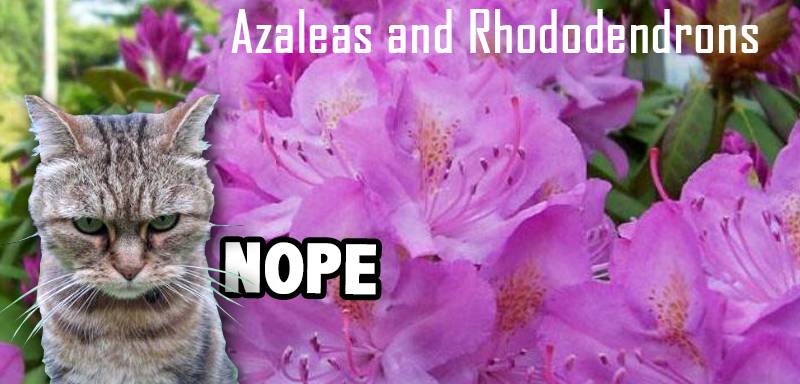 Lilies – A cat can die of kidney failure if it ingests any part of a lily! As little as two leaves can make your feline friend very sick indeed, and urgent treatment is needed as soon as possible after the incident. Symptoms include vomiting, loss of appetite, increased urination and dehydration.
Dracaena – A very popular houseplant also known as Corn Plant, it contains saponin which is toxic to both cats and dogs. If ingested, your cat may have dilated pupils, and loss of appetite and vomiting (sometimes with blood) can occur.
Elephant Ear (Colocasia) – Elephant Ears have bold, tropical-looking leaves that contain a chemical that results in irritation of the mouth. Increase saliva production, difficulty in swallowing and vomiting may also occur.
The list goes on and on, comprising numerous well known plants and flowers including Amaryllis, Autumn Crocus, Chrysanthemum, Cyclamen, English Ivy, Peace Lily, Sago Palm, Spanish Thyme, Tulip, Narcissus and Yew. For a comprehensive list of hazardous plants for the feline population, please check here.
So, what should you do if you think Fluffy has eaten a poisonous plant?
The first thing to look out for are any symptoms of distress. As many toxic plants are irritants, especially in the gastrointestinal tract, the most common symptoms are likely to be pain and inflammation in the stomach area, redness, swelling, and an itchiness of the skin or mouth. If the toxins invade a particular organ, then the symptoms will be directly related to that organ.
Typical symptoms include:
If Tiddles' airways are affected, he will have trouble breathing normally.
If the throat, mouth or oesophagus are affected, drooling or difficulty with swallowing will occur.
If the stomach or intestines are affected, vomiting is the main symptom.
If the intestines or colon are affected, then diarrhoea will result.
If the kidneys are affected, excessive drinking and urination will take place.
If the heart is affected, fast, slow, or even irregular heartbeats will be the symptom.
If your cat has eaten plant matter and you're not sure if it's toxic,
Immediately remove any plant material you find on your cat's fur.
Try to identity the plant, as this is vital for determining what treatment is required. If you don't recognise the plant, take it with you to the vet.
If Tiddles has vomited, collect some for the vet.
Veterinary care
Your vet can make the most accurate diagnosis if he can identify the plant that's been ingested. After examining your pet, the vet will order blood tests to be carried out to determine what exactly is wrong and how badly the cat is affected. These tests are vital, especially if the plant is known to target particular internal organs.
At the veterinary surgery, once Fluffykins has vomited, the vet may administer activated charcoal to absorb any of the toxins remaining in the gut. Medication like sucralfate may also be given at this time as this helps to protect the damaged areas of the stomach. If necessary, anti-inflammatory medication and intravenous fluids will be used, especially if the gastro-intestinal tract has been seriously affected.
Unfortunately, certain plants are fatal for cats when eaten, no matter how quickly you get to a vet. Lilies are deadly and other plants can cause enough damage that long-term medication or a special diet may be necessary. Walk around your home and garden and get rid of any plants that may cause harm to your cat. If you can't identify certain plants, take a cutting to your nearest garden centre and let them help identify any danger to your feline friend.
Bio:
Article provided by Mike James, a tech-obsessed, cat-loving content writer
We regularly write about all things relating to cats on our Blog Katzenworld!
My partner and I are owned by five cheeky cats that get up to all kinds of mischief that of course, you'll also be able to find out more about on our Blog
If you are interested in joining us by becoming a regular contributor/guest author do drop us a message @ info@katzenworld.co.uk .