Hi everyone,
Today's Purrsday Poetry post comes from Patricia Carragon.
tuxedo kitten
     climbs the chain-link fence
             makes that Olympian leap
Patricia Carragon, Bear Creek Haiku, Issue #131, February 2016
Bear Creak Haiku publishes a print journal at least once a month, but you can check out their online postings here.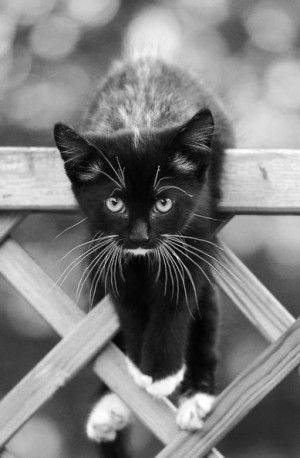 If you are an author or aspiring author of cat poetry why not send them in to us? 😀
P.S. Don't forget to sign up for our new Newsletter here. To always get an update of our posts.
Thanks,
Marc
Photo Credit: Pinterest, owner unknown
Advertisements
Click to visit our Shop for the hassle-free Zen Clippers!
We regularly write about all things relating to cats on our Blog Katzenworld!
My partner and I are owned by five cheeky cats that get up to all kinds of mischief that of course, you'll also be able to find out more about on our Blog
If you are interested in joining us by becoming a regular contributor/guest author do drop us a message @ info@katzenworld.co.uk .