'The Hidden Paw' art exhibition is underway at the Fosse Gallery in Stow on the Wold, UK and runs until 24th September. Gallery owner, Sharon Wheaton is a wonderful cat fan who has kindly decided to donate 10% of the sales profits to our charity International Cat Care.

The exhibition has attracted some big names from the UK contemporary art world and the artists have been invited to paint around the theme of the favourite children's poem by T S Eliot 'Macavity, the Mystery Cat'
We'd like to share with you a few of our favourite pictures from the exhibition.
Anthony Yates
Born in Aston, Birmingham in 1957, Anthony Yates attended Bournville College of Art and was elected a member of RBA in 2005. His works appear in many private collections in the UK, France, Ireland and in Oregon and California USA. Often choosing subjects from his immediate surroundings he pushes beyond objective reality.
We think that this piece – 'Struggling Cat' – beautifully captures an experience that we've all had!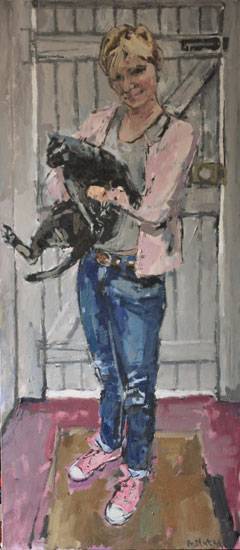 Nicola Slattery
Nicola Slattery RBA has worked as a professional artist and tutor since graduating from Coventry Art College. For several years she lived in Oxford and was an active member of Oxford Printmakers and The Oxford Art Society. In March 2015 she was elected to the Royal Society of British Artists. Nicola's work has been exhibited widely both in the UK and in Europe and examples are held in many corporate and public collections as well as by private individuals.
Her paintings have been described as being populated with "archetypal figures of compelling enigmatic inwardness" (Philip Vann 2015) and are characterised by what the artist calls 'this thoughtful peacefulness'.
We love 'The Magician's Cat' – the picture chosen to front the exhibition, but our favourite is 'Book of Cats' – a gently humorous painting, superficially simple but with lots of depth that keeps you coming back for another look.
Lydia Corbett
In the 1950s, Lydia Corbett was introduced to Pablo Picasso at Vallauris on the French Riviera. At this time Picasso was breaking-up with his wife Francois Gilot and Lydia's presence brought a new and positive phase to his work. She became the model for a series of forty works of art. She was known then as Sylvette David, but changed her name during this period. The 'Heads of Sylvette' a series of moulded metal sculptures which Picasso worked on through this time, introduced a new major innovation in this work.
In 1968, Lydia decided to move to England and gave all her creative energy to painting. She has been exhibiting ever since and has had numerous shows in London, Europe and Japan. The Anthony Petullo Foundation, one of the most influential collections in America, has a collection of Lydia's watercolours. In 1993 the Tate Gallery staged a major exhibition of Picasso's sculpture and paintings. A documentary film on Lydia, and her friend and mentor, was shown on BBC2 at the same time.
We really like the intricate lines and pops of colour in 'Japanese Cat'.
Pamela Kay
Pamela Kay is a graduate of the Royal College of Art (textile school) and Canterbury College of Art (Fine Art degree). She is both a textile designer – producing designs for Liberty and John Lewis among others – and an artist. She works in watercolours and oils and is notable for her flower and still life painting. A great traveller, she has painted in Hong Kong, Vietnam, Thailand, India, Sri Lanka, the Yemen, the Middle East, the Mediterranean and the Baltic Countries.
We love the contrast of the delicate eggshells in the foreground with the black cat in the shadows – 'Cat and Duck Eggs'.
George Underwood
George Underwood was born in 1947 and joined Beckenham Art School in 1963. At art school George Underwood became more and more interested in music. As a result he pursued a career in the music world. Along with lifelong friend David Bowie he made one record (The King Bees ) and also a solo record under the name Calvin James.
George returned to art studies and then worked in design studios as an illustrator for two years. Initially he specialised in fantasy, horror and science fiction book covers. Many of George Underwood colleagues in the music business asked him to do paintings for them. This led to George becoming a freelance artist. Art work for the first T Rex album and later David Bowie's Hunky Dory and Ziggy Stardust album covers established him as a leading and creative art illustrator.
George Underwood paintings are held in many private art collections. One of his art collectors, David Bowie, says: 'George has, over the years, refined his work to the point where I would put him among the top figurative painters coming out of the UK right now. There's a sublime isolation surrounding his subjects that really touches the viewer, the figures being both heroic and vulnerable simultaneously. There's a timeless element in the choice of subject matter that overlaps with the mythical world of Odd Nerdrum, say. Now that a huge shift to painting is taking place, I would expect to see George's name pushed further and further to the front'.
'With a Kitten' is a striking image – although you may have to check twice to spot the kitten!
Let us know if you agree or disagree with our choices!
Click here to see all of the paintings from the exhibition.
Advertisements
Click to visit our Shop for the hassle-free Zen Clippers!
I am the feline behaviour specialist at feline charity 'International Cat Care'. We are about engaging, educating and empowering people throughout the world to improve the health and welfare of cats by sharing advice, training and passion.