Hi everyone,
Today's guest post comes from Kosmo
The Life of Kosmo
On June 2014 we were mourning, our hearts were broken. Our dear cat
Viiru had heard his sister´s call from the Rainbow Bridge and left us.
We were crying every day and we decided never ever to take a pet,
because we cannot stand the moment they must go.
After three weeks a young black and white cat walked to our yard. I was
sitting on the steps and the cat came straight to my lap. I was really
surprised, my first thought was that Viiru has come back, only the
colours were different.
I asked the cat wait for a second, and I brouht him a bowl full of cat
food. He was really hungry.
Now Kosmo tells his story:
I had lost my home, I was in a strange village, I walked and walked
trying to find my home. I was hungry, tired and my tail was injured when
I heard a human voice, it was a grey haired women and I fellt so
terrible lonely that I walked to sit to her lap. She gave me food, much
food. I ate and went to sleep under a bush. I follwed this human all
time, that she is does not disappear.
These two humans took photos of me. They said that they try to find my
home. They didn´t find and nobody missed me.
Humans asked me to come in and they showed me a cup full of food. So I
went in and never came out. I got a home. In ten minutes humans arranged
food, water, a bed and a litter box. Then I slept twelve hours on the
sofa.
At the beginning happened a strange thing. Humans said that a vet is
coming to see me. I did not know what is a vet. She was a young women
and I thought that maybe this vet came to play with a pet. No way, she
was weird, wanted to look to my ears, my eyes, my mouth and suddenly she
lifted my tail and looked there, very inpolite. Then she said I was
castrated. No idea what that ment, but humans said that it is a good
thing. The vet said that I am about three years old and my tail will get
well.
Now I have Mom and Dad and I am a working cat. In the morning I wake up
humans to give me food. Then I work with my Dad. We set fire on
fireplaces and also we have to bring wood from downstairs. I always
check that there is wood enough. I also am a guard, I watch the yard and
birds from the window. Dad is feeding all the birds in the whole world.
Then I tell Dad when the beggar cats come to ask for food. I run really
fast to the window, so he knows there is a cat. My main work is, of
course, to be a lovely pet, and I am, really.
I love to bath in a warm sauna. I really enjoy the heat.We sit there all
together. And I always want to put fire on sauna stove, with Dad, he
doesn´t give me matches.
I am terribly afraid of what is behind the outdoor. Humans tried to
teach me to walk in a leash, but I was in panic. They tried many ways to
take me out with them, but it was impossible. Mom said that I have
trauma, I don´t know where it is. And humans decided not to try more,
and I am an indoor cat.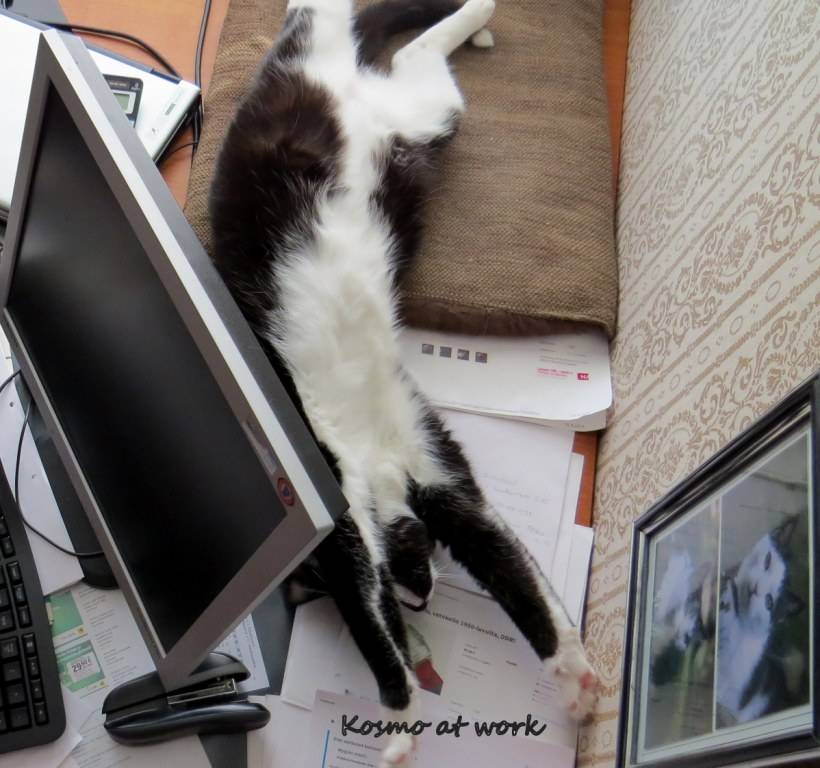 My name is Kosmo, it comes from a Russian word Kosmonavt, same as an
astronaut, but for Finns is easier to say Kosmo. My humans said that I
had to come from the space, because nobody knew me or missed me. Mom
said that one possibility is that somebody throw me out from a car, so
that I could not find my home, but I like to be from the space. My
humans think that I was sent from the Heaven to help them with their
sorrow.
So life goes on, I am happy. And I want to say that take care of your
cats, I know what is to be abandoned.
More of Kosmo's stories can be found on this Blog here.
We hope you enjoyed her story and don't forget to subscribe to our Newsletter!
Thanks,
Marc
Advertisements
Visit our Shop for top-quality cat toys and cat lover products!
We regularly write about all things relating to cats on our Blog Katzenworld!
My partner and I are owned by five cheeky cats that get up to all kinds of mischief that of course, you'll also be able to find out more about on our Blog
If you are interested in joining us by becoming a regular contributor/guest author do drop us a message @ info@katzenworld.co.uk .