Hi everyone,
It's Nubia here! Today we would like to show you this great Cat Scratcher from Charley and Billie!
Nubia: As you can see the first thing my brother thought was "How do I get up there"
Oliver: What's wrong with that???
Nubia: Nothing! Just saying. 😉
Oliver: But I want to get up there! :O
Nubia: Let me show you how it's done silly brother!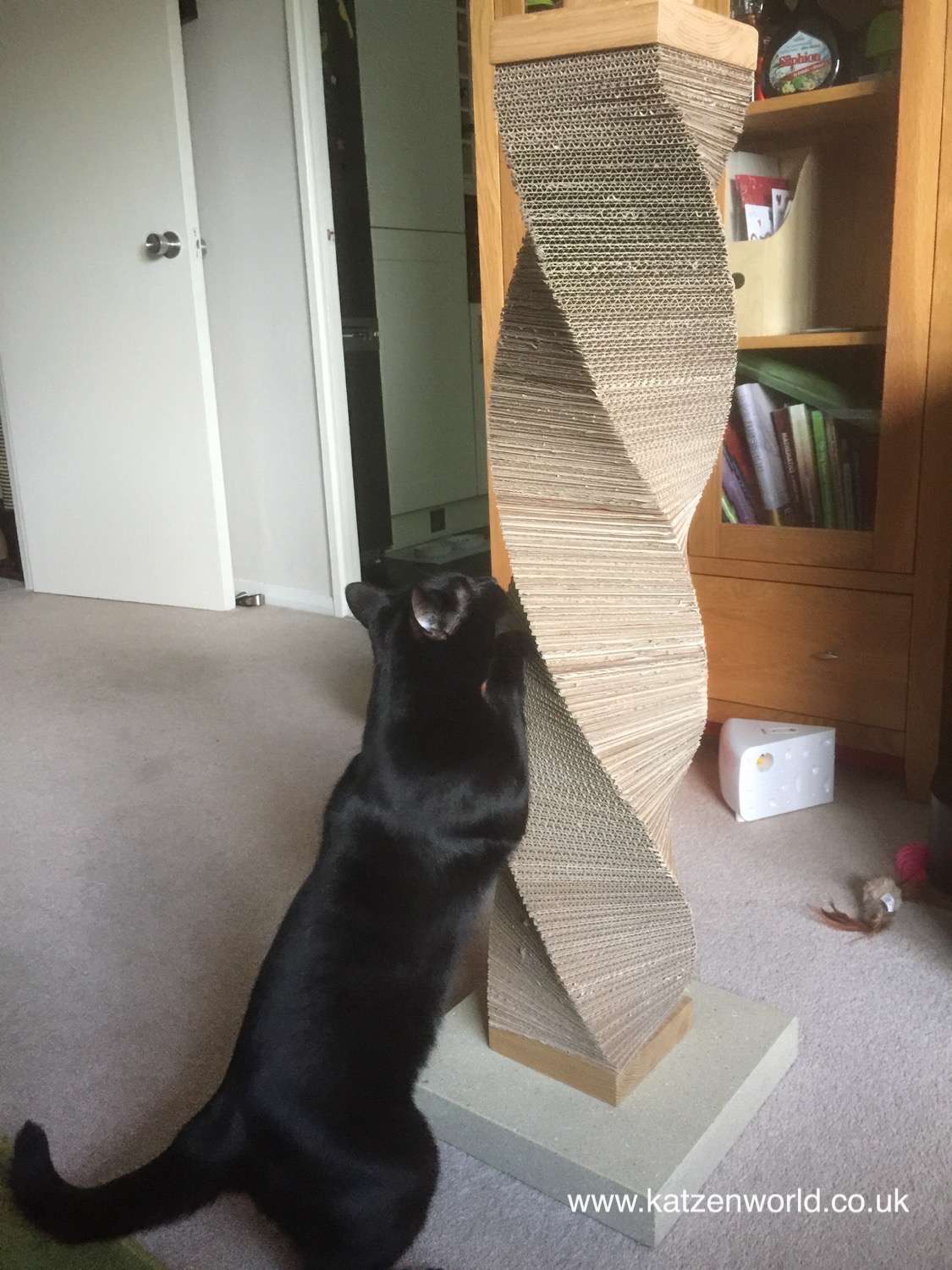 Nubia: Stretch upwards!
Nubia: Pick a good location and start SCRATCHING. 😀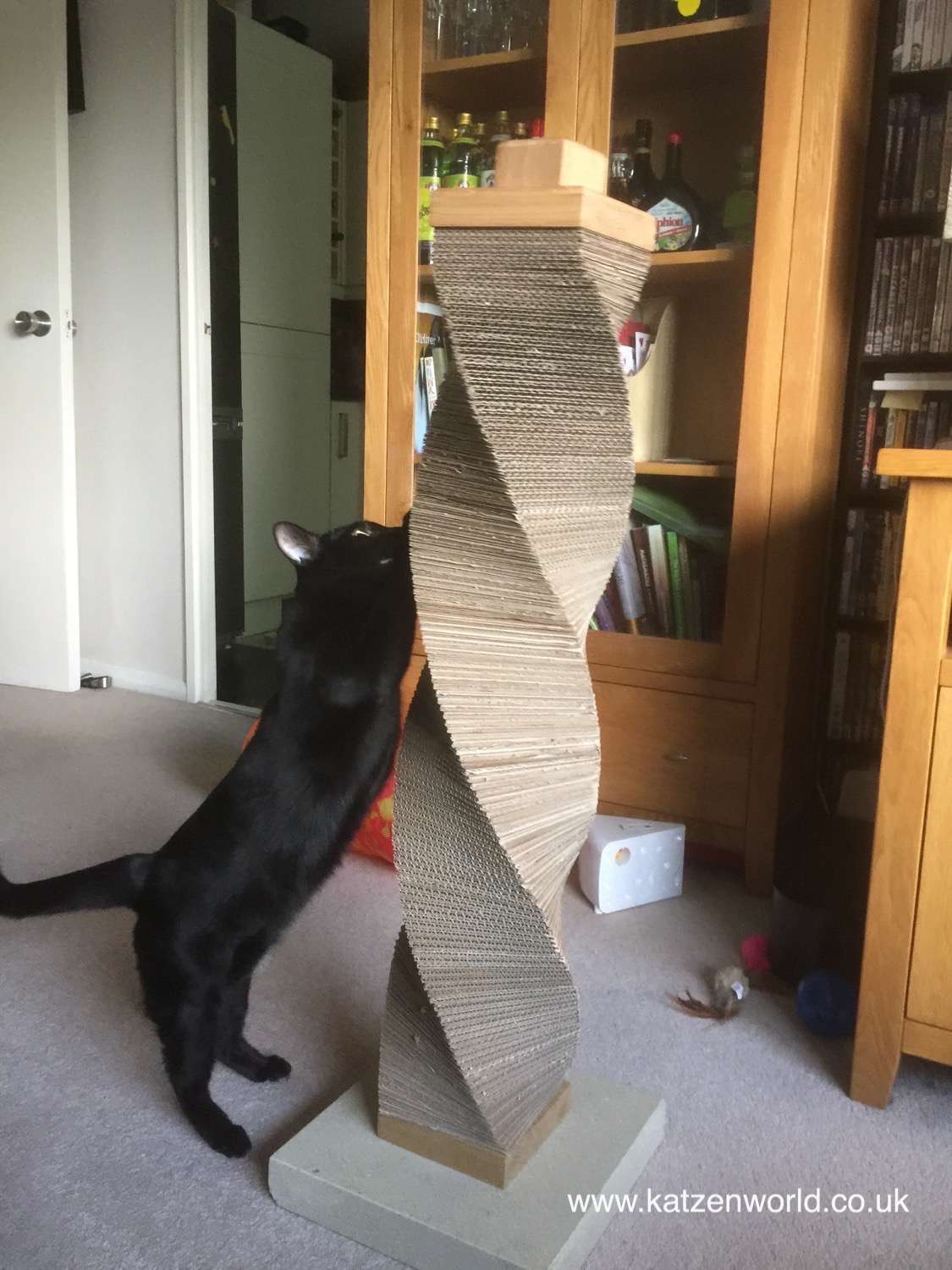 Nubia: Now swap to the other side!
Nubia: Focus ALL of your energy in one singly paw strike!!!
Oliver: You are only saying that because you can't use two!
Nubia: Meany! Of course not! It's just much more effective. :p
Oliver: OMG!!!! Look there are treats up there!!! How am I going to get to them!
Nubia: Will Oliver die of starvation? Will he throw me up there to get them for him? All shall be revealed tonight haha! For now let's pass over to the hoomin to tell you more about the review.
Product Review:
Thanks Nubia! Right let's take a look at The Scratcher from Charley and Billie (unfortunately doesn't exist anymore). This fantastic scratch post is available in various sizes and for this particular review we used the tall version. We thought this is especially cool as it doesn't look like it's a scratch post! It looks more like a contemporary piece of art that fits well as a centerpiece in your living room.
The way it works is that the cardboard gets compressed by screwing the wooden nut on top in place and pushing down on the cardboard. As you can twist and move the cardboard to your liking you are able to create unique looking alterations of the original design. Such shown on their website – see the example below.
Of course more importantly the scratcher has also been designed with the natural behavior of cats in mind! What many people don't realise is that they LOVE stretching themselves out as long as they can before starting to scratch on objects. This is where many of the box standard scratching pads fail in their design and Charlie and Billie lead the field by offering a "cat ergonomic" design!
As mentioned previously for this particular review we got the tall cat scratcher:
Our Overall verdict?:
We love it! This has been one of the most fabulous cat scratchers we have tried with our cats and not just because of it's stylish design that fit right in with our wooden furniture. To date we have never seen Nubia stretch out to her full length while using scratch pads with her missing arm it is often a bit of a struggle for her to get proper use out of the pads we buy for the two. This scratcher has resolve that issue as she can safely lean against the stable scratch post before digging right in!
While the price tag may appear high on this item we would like to point out that these are hand crafted in the UK using ethically sourced stone and sustainable timber.
Also the replacement packs of cardboard are priced very well at £15 for the original and £25 for the tall version in comparison to many of the single use cardboard scratchers we all buy for our little ones. Replacing old used cardboard sleeves is very easy and is explained on the refill pack pages.
Where to get it:
You'd like to get one for your cats? Head right over to their online shop (ceased operation)! Prices start at £95 for the classic version and they can be delivered worldwide.
And don't forget later today we shall reveal if Oliver managed to get up or not haha!
P.S: Not yet subscribed to our Newsletter? Click here!
Thanks,
Marc
About Charley and Billie:
The story of Charley and Billie began in 2013 with the arrival of their two British shorthair cats, Charley (blue) and Billie (chocolate)!  Donna struggled to find a high quality and functional cat scratcher which would compliment the traditional and contemporary surroundings of her home.  Therefore, She had the idea to design and make her own.  A cardboard cat scratcher was chosen because of the cat's natural magnetism for this material (Dougherty, 2014).  Shortly after designing the first prototype cat scratcher, the Leather-eared Mouse cat toy followed as a means of using up left-over cardboard and so – along with the leather – utilising upcycled materials.
As a result of the comments and encouragement received from family and friends, in 2014 She opened an Etsy shop to offer for sale theCharley and Billie Original Cat Scratcher and the Leather-eared Mouse cat toy.
Advertisements
The full range of Necoichi raised bowls and accessory now available @ Katzenworld Shop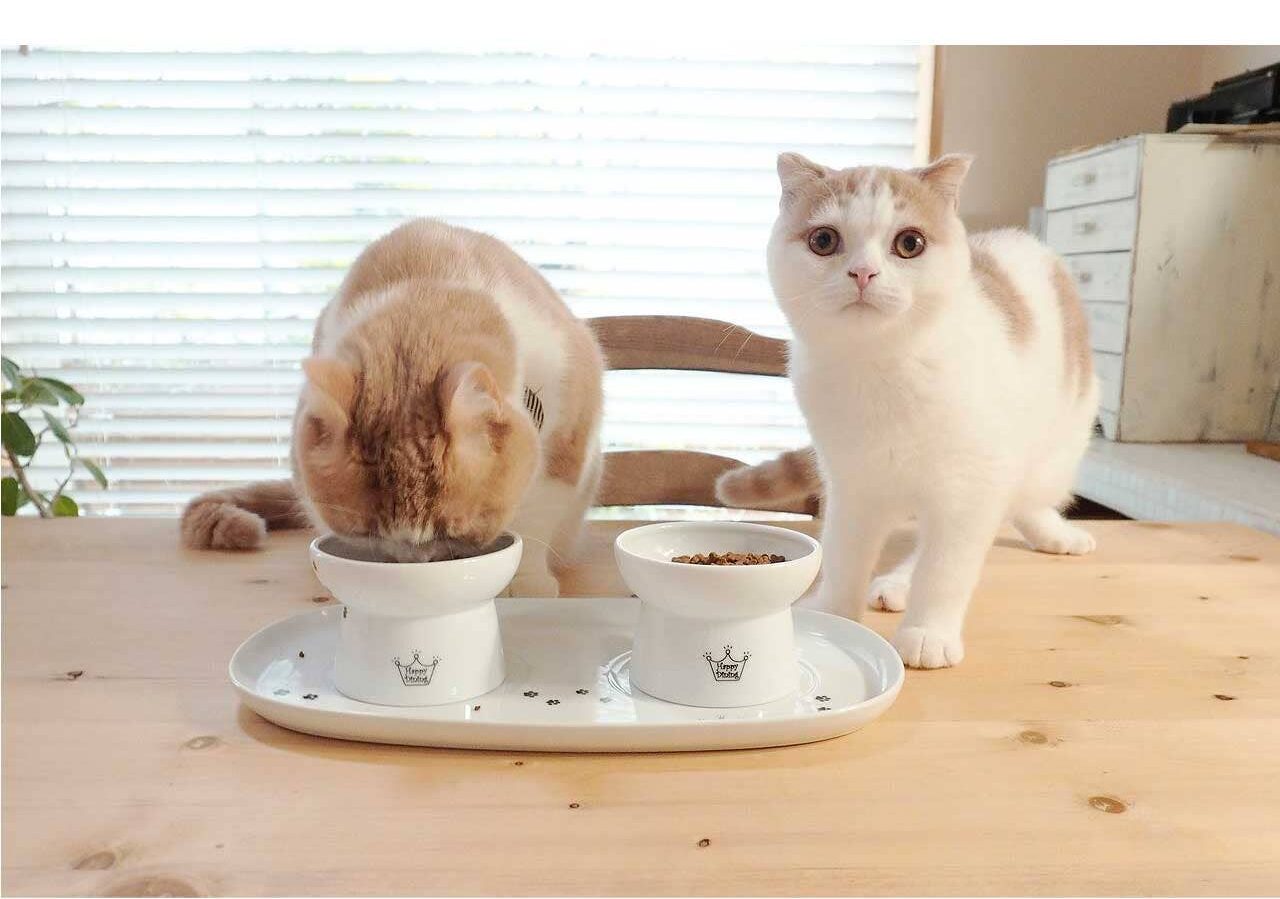 We regularly write about all things relating to cats on our Blog Katzenworld!
My partner and I are owned by five cheeky cats that get up to all kinds of mischief that of course, you'll also be able to find out more about on our Blog
If you are interested in joining us by becoming a regular contributor/guest author do drop us a message @ info@katzenworld.co.uk .