Hello everyone,
Once again the kids had a surprise of their liking. This time we went for a fabulous scratch tree from Wayfair! 🙂
This particular tree is manufactured by Amarkat and the total height is 198cm!! You can imagine the joy of the cats at the thought of this height. 😉
Oh by the way if you haven't subscribed to our new newsletter yet why not do so by clicking here!
Of course I had my two usual little helpers immediately engaged with the object of their desire!!!
Not easy to unpack a box if the cats are in it! But eventually I got all pieces out of the box haha.
Oliver wasn't particularly convinced that I could sort out the mess I created…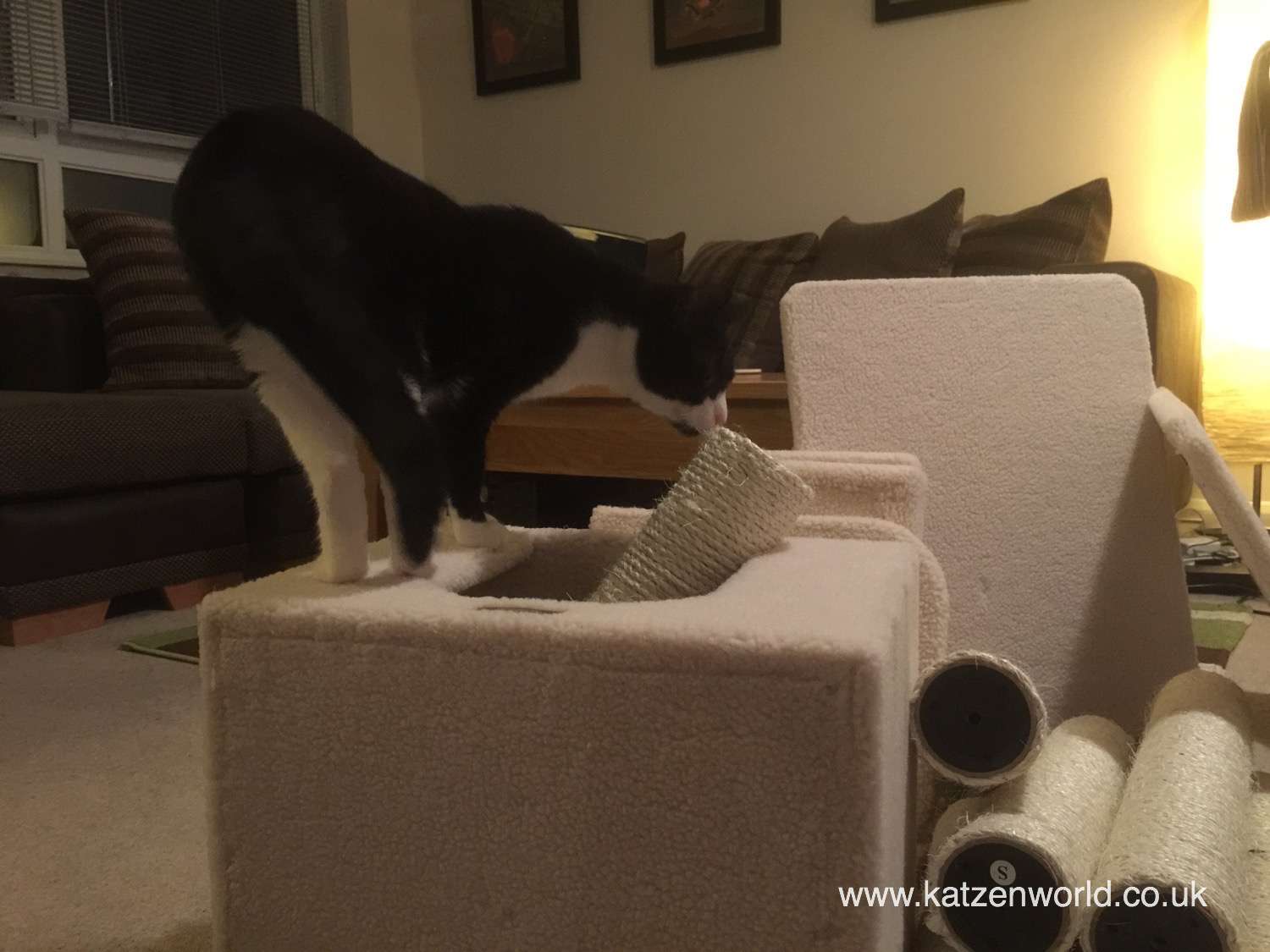 So he decided to supervise!
I have to say that the instructions of this scratch tree were one of the easiest that I assembled for the cats. Every piece was clearly marked with a letter for ease of assembly.
At least as long as you don't have a cat sit on it…
Nubia: What! I am just going to read these out to you… We all know humans struggle with instructions! 😛
Nubia: Let me give you a paw with screwing this thing together
Ack! Nubsey go play somewhere while I build this for you!!!
"Despite" all the helpfulness of Nubia eventually the first stage was completed!
Nubia: Hey!!! I was helping. 🙁
Of course I had my little supervisor back for stage 2
Which I eventually finished. 🙂
Nubia: Can I stay on this ledge??? I promise I won't disturb you!
Oliver: Nope! This is my ledge. :O
When I got to the point of adding the box cave to the tree I found a little surprise. Nubia was back again to lend a paw! LOL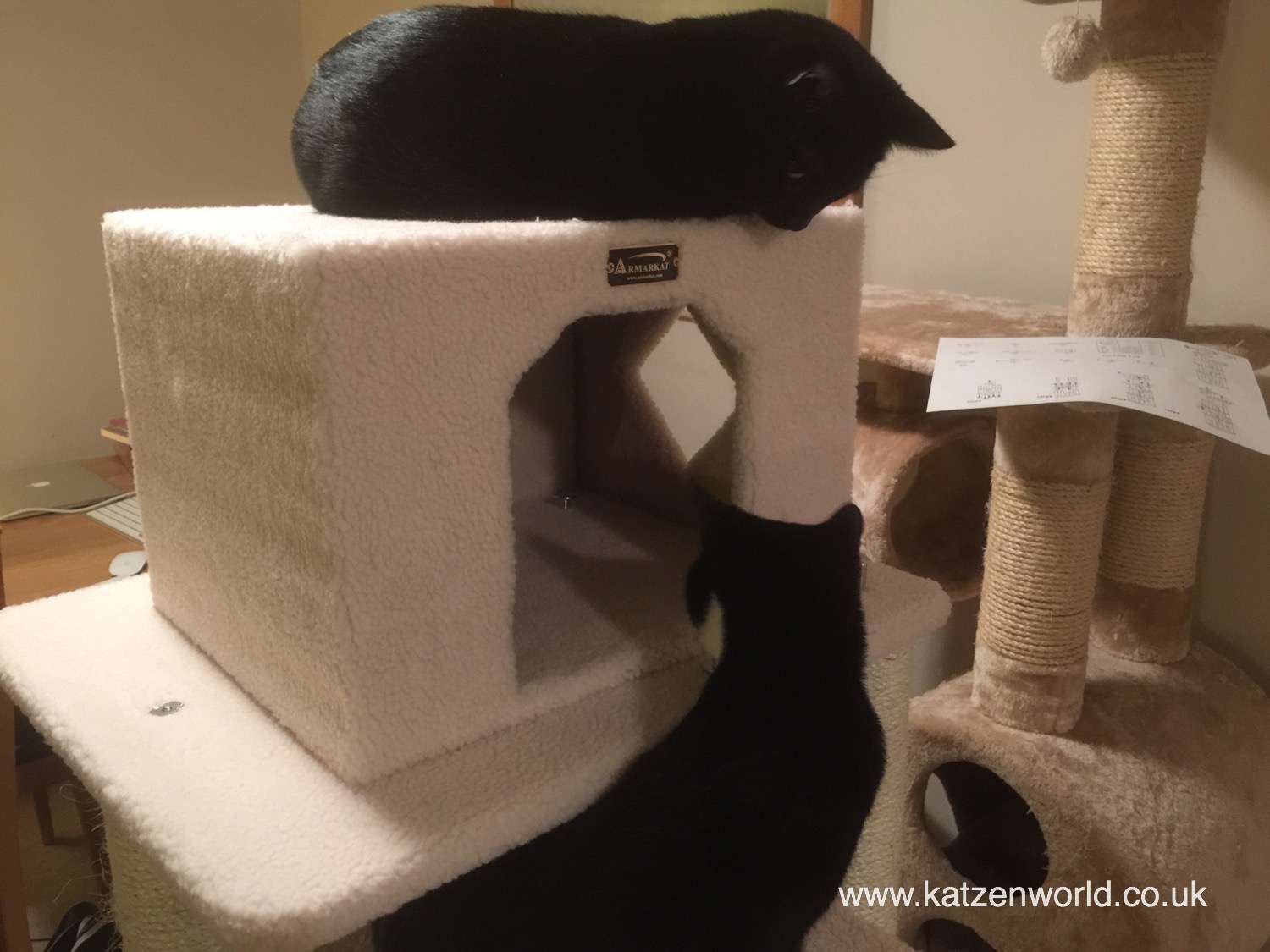 I am sure we all know how much cats love boxes and these two sure were no different in that matter haha.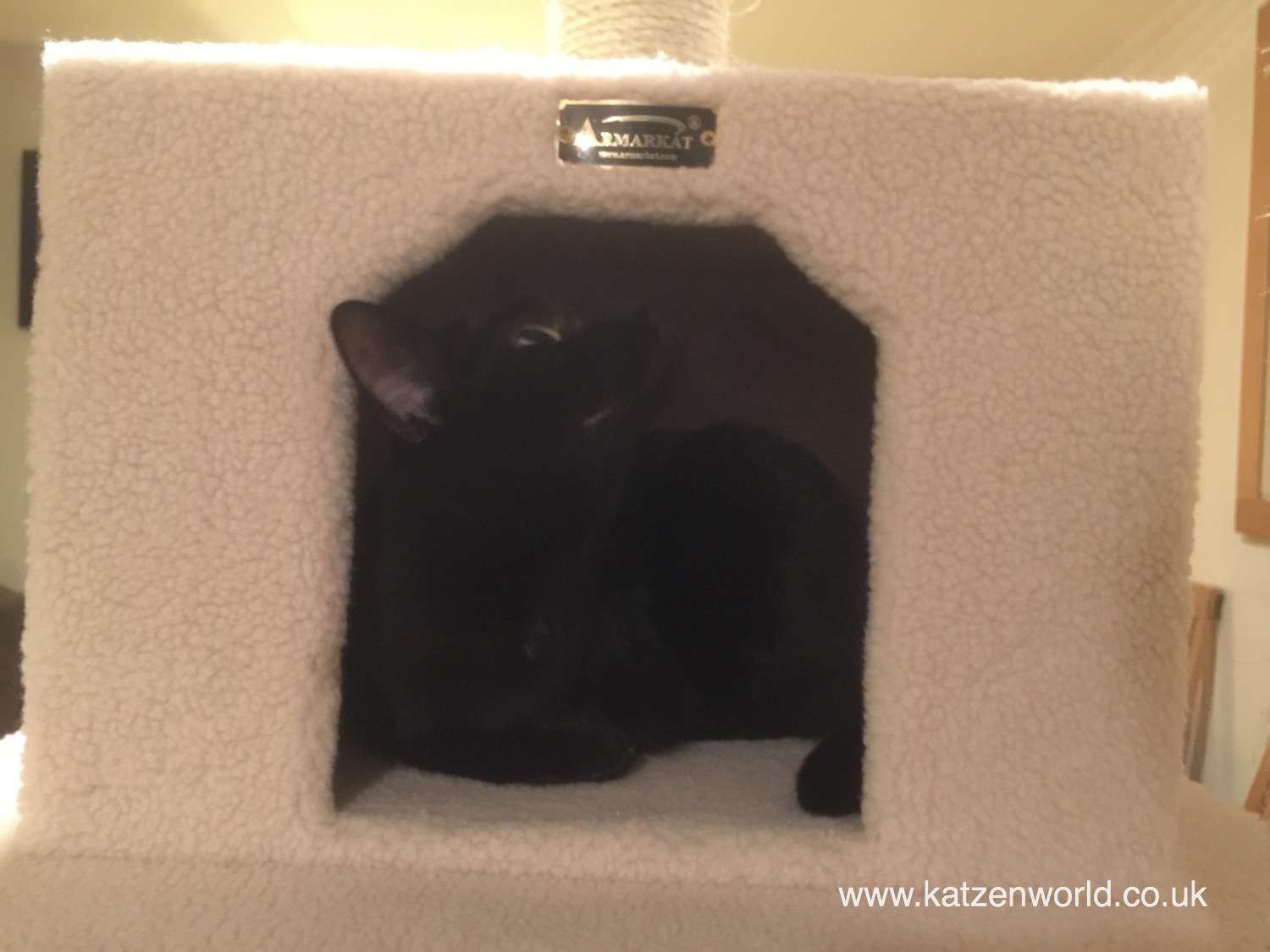 Nubia: Does that say Katzenworld up there??? 😀
Almost Nubia… Almost (Don't tell her!)
Eventually I managed to finish the last stage of adding the platform. Which Nubia had to catvestigate right away! 😀
Nooooo don't look into the light!!!
Nubia: So shiny… are those glowworms?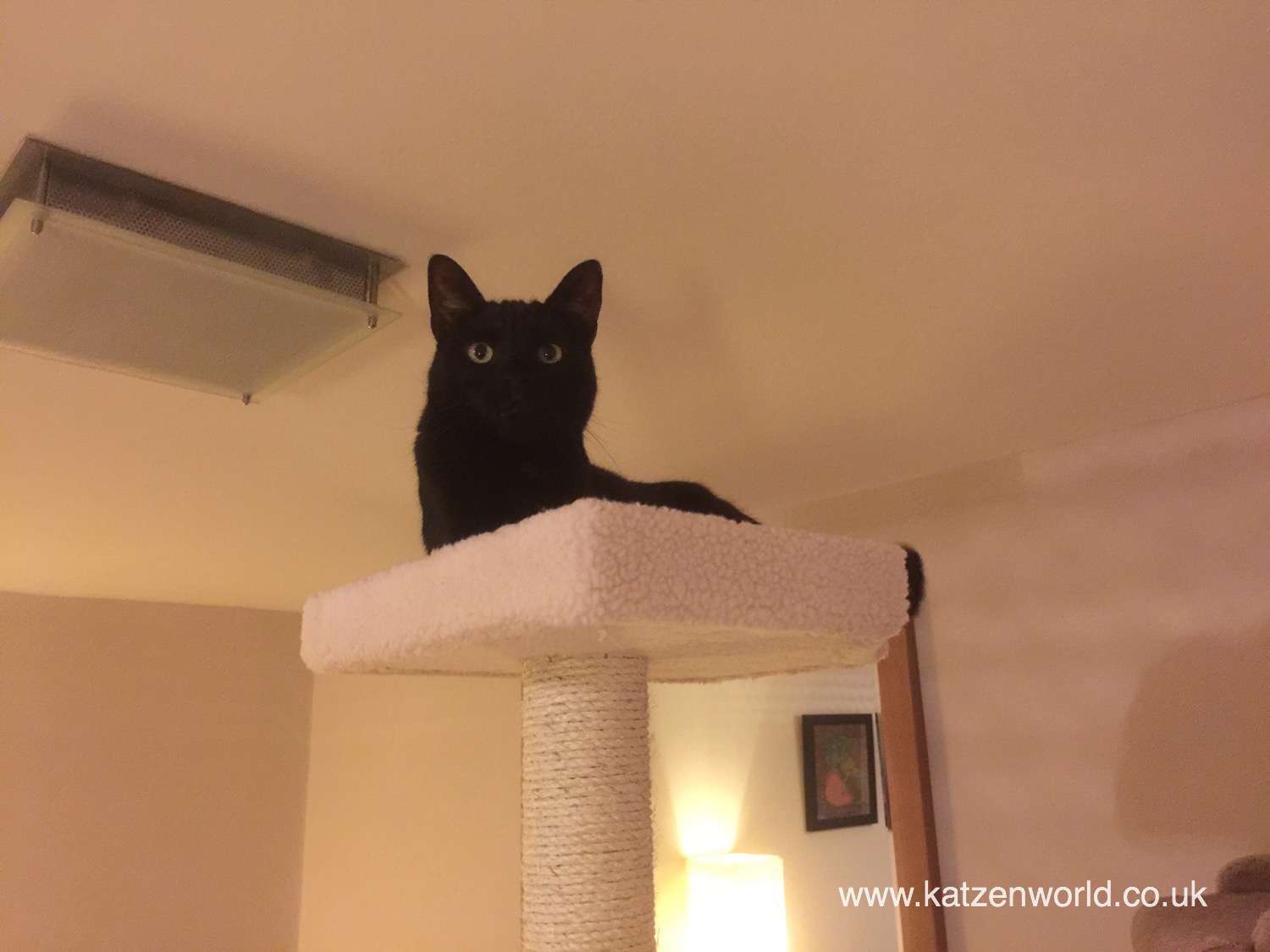 Much better now without blinding you Nubsey! 😉
As you can see she LOVES being up high and this tree has now replaced her old one as her new favourite resting place. 🙂
But little did she think that her brother would come up to join her! Haha – more stories of their adventures on the tree to follow soon. 😉
Overall verdict:
At an RRP of £160 this certainly a bit more expensive than some other scratch trees out there, however you can tell it's worth by the quality of the product. The tree is made of heavy duty MDF plates and very sturdy. There is minimal wobbling even when the kitties are running up and down the tree.
The two platforms are large enough even for bigger cats. Our cats are approximately 4.5kg in weight and there still seems to be plenty of space on the platforms! Also those platforms are far enough apart from each other that they can sniff each other if they want to but are not invading each others private space. 🙂
Even better news the scratch tree is currently on special offer for £89.99 on Wayfair by clicking here. At that price it is an absolute bargain for the size and quality of this particular tree.
Looking for this scratch tree and other fabulous cat trees to choose from? You can find a listing of fantastic cat trees? They've got you covered.
Thanks,
Marc
Never want to miss an update again? Sign up for our weekly newsletter by clicking here!
Advertisements
Click to visit our Shop for the hassle-free Zen Clippers!
We regularly write about all things relating to cats on our Blog Katzenworld!
My partner and I are owned by five cheeky cats that get up to all kinds of mischief that of course, you'll also be able to find out more about on our Blog
If you are interested in joining us by becoming a regular contributor/guest author do drop us a message @ info@katzenworld.co.uk .