By Kelly E. Connolly, Esq., M.S.
I don't know about you all over there in the United Kingdom, but here in America everyone tries to "Keep up with the Joneses." You hear your best friend buys the lastest HD TV? Then you must too! Neighbor driving a new car? Hmm, better run on over to your dealer at once. Neighborhood busybody bragging about walking her cat on a leash again? Well then, you must train your own cat to do the same!
I am the first to admit that, sadly, I sometimes buy into this hype. And herein lies my current dilemma.
Photo Credit: The Meta Picture
My elderly kitty, Paddington (named after your lovely British bear), has a lovely life. I rescued him as an older cat with a terrible upper respiratory infection. I nursed him back to health and gave him all the love that he missed as a kitten. I bring him for regular veterinary checkups, let him sleep on my bed, and even cook him human food. Surely any cat in his position would shower me with obedience and loyalty in return for this level of care, right?
Well, maybe not so much.
Since Paddington lives mainly indoors, I would only allow him to explore the outside neighborhood if he were on a leash. I'd heard many stories about cats successfully trained to walk on leashes, and figured it wouldn't be that difficult to train Paddington to do the same. After all, I'd just read about a cat named Honey Bee who hiked actual MOUNTAINS while on a leash-and she's completely BLIND! I thought to myself Really, how difficult would it actually be to train Paddington to walk on a leash, if even a blind cat can manage? Surely my own healthy, spoiled, fully-sighted cat would quickly catch on. And actually, wouldn't I be doing him a FAVOR by giving him the chance to experience the great outdoors in person?
I proceeded to purchase a pretty, purple leash and harness from a pet travel company in eager anticipation of the day when, sometime soon, I'd be able to prance Paddington outside, bragging for myself about how EASY he had been to leash train. I couldn't wait to parade him around town! I wanted to show him off to everyone! I wanted the whole WORLD to witness his complete and utter DEVOTION to me! Just like Honey Bee, the famously blind mountain-climbing cat, I pictured Paddington becoming a celebrity: "The Loyal Old Cat on a Leash Who Follows His Guardian Everywhere!"
Photo Credit: A little Brown Blog
Paddington felt a bit differently about this scenario, however. The first time Paddington saw his new pretty, purple leash, he sniffed it suspiciously. The second time, he hissed at it. And the third time, he turned tail and vanished into the nether regions under the bed where no human arms could ever reach. It was clear he wasn't going to be walking anywhere anytime soon, on a leash OR off.
OK, I thought. Paddington's obviously having a bad day. I'll leave him alone for now, and try again in the morning. Morning dawned, and I again produced his pretty, purple leash. Paddington actually let me clip it to his harness this time. Success! I silently cheered. Get ready, world! Here we come! Little did I know, however, that clipping the leash to his harness was as far as I would get, because Paddington chose that precise moment to lie down and completely ignore me. Sprawled in an ungraceful heap on the floor, limbs splayed in every direction, Paddington proceeded to take a full-on, passed-out, snoring, drooling, five-hour catnap. With the pretty, purple leash still clipped to his harness.
Hmm, I thought to myself. Paddington's just tired. Wait until he wakes up and try again. He must be used to the leash by now! When Paddington finally awoke, he noticed the leash still attached to his harness, and glared at me accusingly. I felt my resolve weaken, but I just had to try again. I began gently tugging the leash in order to rouse Paddington to his feet. Instead of standing, however, Paddington simply melted further into the floor. And he wouldn't get up for anything. Not for my coaxing; not for my begging; not even for a new can of the expensive gourmet tuna he liked so much that cost a fortune at the local natural food store. He was as complacent as a rock. As pliable as a bag of cement. As stubborn as grains of sand in a bed. His entire 18-pound bulk just DIDN'T WANT TO MOVE.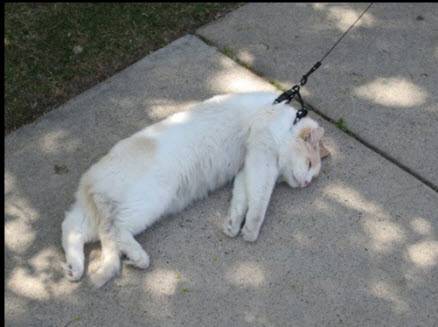 Photo Credit: Montlake
I finally gave in when it started getting dark. I'll leave it for a later time when he's in a better mood, I thought. I unhappily unclipped his leash and put it away in the cupboard. The moment the cupboard door closed, my calculating rascal of a cat very deliberately got up off the floor, walked to the bedroom, and proceeded to enjoy that same can of expensive gourmet tuna with which I had earlier tried to bribe him.
I hadn't entirely given up on my idea, however. A few weeks later, the sun was shining and it was warm as toast outside, so I decided to give it another go. I opened the cupboard door for the leash-but it wasn't inside! I knew it had been there before, so where was it now? I spent hours looking while Paddington watched me from a kitchen chair. After I finally gave up, I turned to Paddington with suspicion-and saw that he was laughing at me.
I never bought another leash, nor attempted to walk my cat outside, ever again. To this day, the whereabouts of that pretty, purple leash are unknown to anyone-except perhaps to Paddington. And he's not telling.
Photo Credit: Kelly – Yes this is Paddington! 🙂
Advertisements
Visit our Shop for top-quality cat toys and cat lover products!
We regularly write about all things relating to cats on our Blog Katzenworld!
My partner and I are owned by five cheeky cats that get up to all kinds of mischief that of course, you'll also be able to find out more about on our Blog
If you are interested in joining us by becoming a regular contributor/guest author do drop us a message @ info@katzenworld.co.uk .