Revealed… the most cracking Christmas 'crimes' committed by our pets that you could fall victim to this festive season 
When their PET-iquette leaves a lot to be desired – the 20 festive 'faux-paws' committed by the nation's cats and dogs
How to keep your pet off the naughty list? Leading vet, Zoe Costigan, provides her guide to a peaceful, pet happy Christmas
LONDON: 12.5 million* pets will be in the dog house for committing a 'crime' this Christmas – with Jack Russells and Siamese cats expected to be the most likely 'offenders'.
Devouring the Christmas fairy, relieving themselves on the Christmas tree and flashing their 'lipstick' in front of unwitting relatives, feature on a list of festive 'faux-paws' that British cats and dogs commit over the festive season, according to new research from pet wellbeing specialist ITCHpet.com.
The study of 2,000 adults who own a cat or dog revealed that 53 per cent of pet owners admit their four-legged friends have wreaked havoc over the festive period, with one in 10 (12 per cent) saying they've embarrassed them in front of their family and friends.
"Your cat or dog might be your best friend, but that doesn't mean they can't cause chaos from time to time." said Charlotte Harper, Co-founder of pet wellbeing specialist ITCHpet.com.
"Whether it's subjecting Auntie Margaret's leg to a mortifyingly amorous display of affection, gifting fleas to your mother-in-law's dog, or dragging their butt across the floor while everyone's eating, their pet-iquette in front of family members can leave a lot to be desired."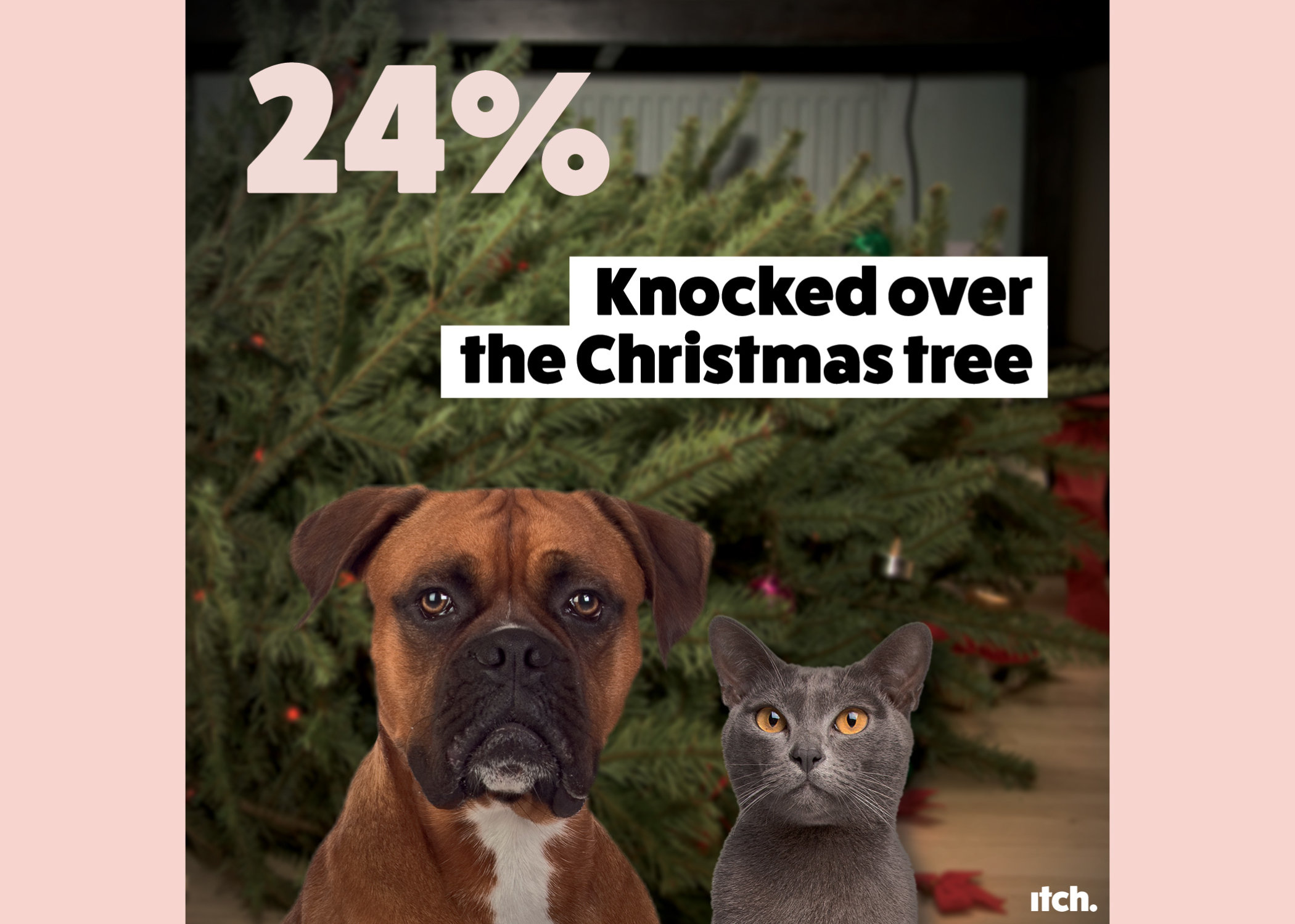 A quarter (24 per cent) of the nation's felines and hounds have knocked over the tree and one in 7 (14 per cent) have broken wind during Christmas dinner.
A shameful 7 percent have attempted to play St Nick, leaving a less than festive 'present' under the Christmas tree for family members to find.
And 5 per cent have even gone as far as kidnapping baby Jesus from the nativity scene.
The research also uncovered that one in ten (11 per cent ) cat and dog owners worry about their pets behaving badly at Christmas.
Despite this, over a quarter (29 per cent) admit that they don't actually mind that their four-legged friend is a little bit naughty, as their relatives can be equally testing.
Charlotte Harper added, "Gifting relatives and their pet's fleas is also an issue at Christmas and one that could easily be resolved. Itch's personalised monthly subscription service means you'll avoid unwanted guests this Christmas and help to avoid fleas forever."
Other festive horror stories that emerged from the study include:
A naughty feline who brought in a dead rat and placed it on the top of the turkey
One rascal canine who completely destroyed a Grandmother's boots, meaning she had to be carried out to the car on Christmas Day
A puss that used Auntie's suitcase as a litter tray, spoiling all of her new Christmas clothes
A respondent's brother who was armed with presents, was greeted by an excited dog. Welcoming him to the house with an enthusiastic leg hump, the family member dropped the gifts, smashing the glassware inside
A mischievous dog that left his owner unable to eat turkey for 14 years after he ate the whole turkey. His wind was so unbearable, they haven't been able to eat it since
Leading vet, Zoe Costigan, provides her guide to a peaceful, pet happy Christmas
Christmas is the perfect chance to spend more time with pets but it can be unsettling for them.
Keep confectionary out of reach
Chocolate poisoning in dogs often peaks over the festive period, with even modest quantities able to cause vomiting, agitation, seizures and sadly death. Our canines often go to great lengths to find chocolate, but it's highly toxic to them. If you find your dog does eat any, try to identify how much and the type of chocolate they have consumed and contact your veterinary surgeon.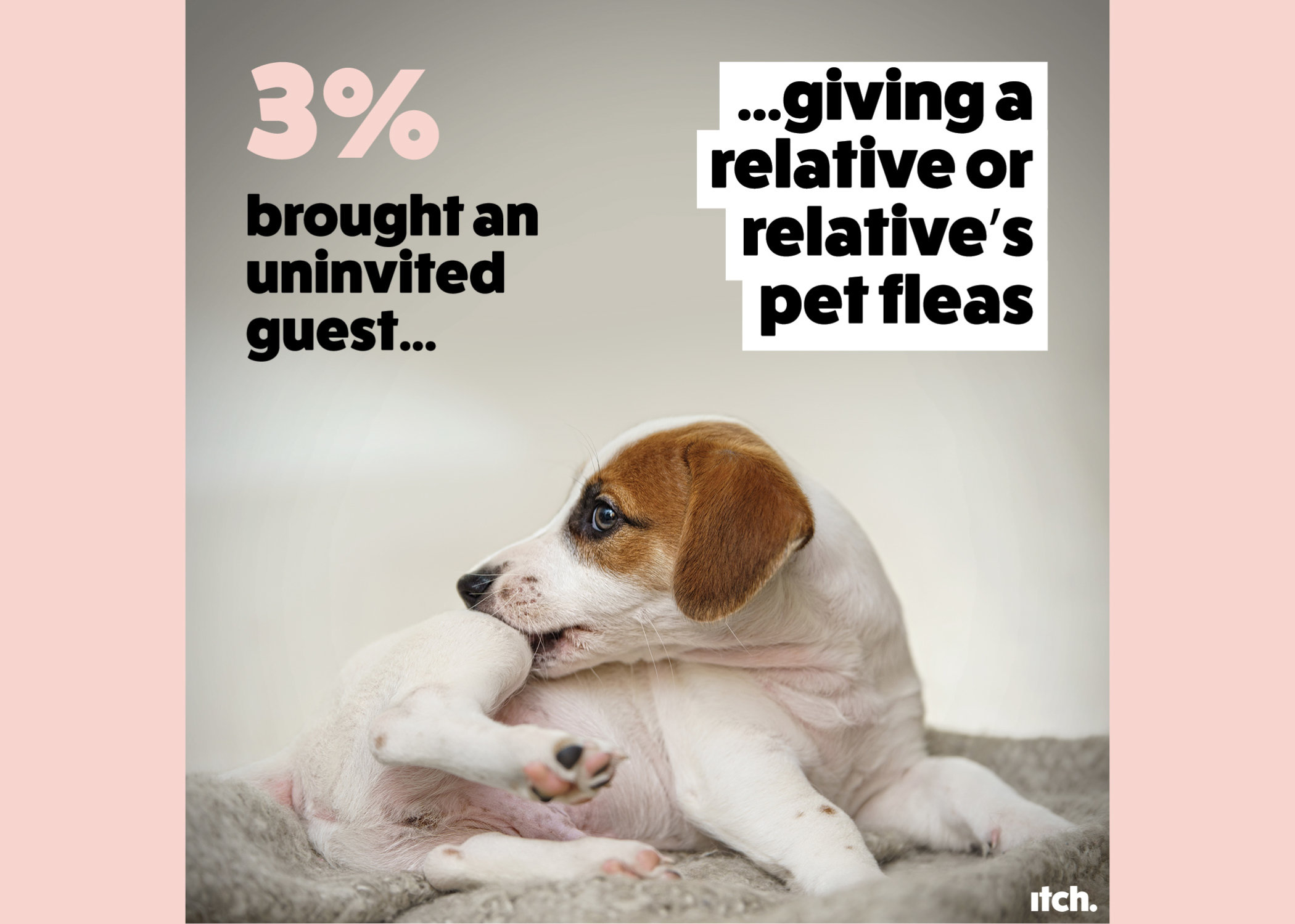 Avoid the nightmare before Christmas and deflea
Fleas are a nightmare for our pets. Worse still if you leave them at a relative's house. It is so much easier to prevent an infestation than treat one. I love the Itch Flea monthly subscription pack. It makes it really easy to protect your pet so you never forget a treatment and the first month is even gifted free!
Create a calm and quiet space
Rowdy children, unfamiliar people, crackers banging and new smells – that's a lot to deal with for cats and dogs. Cats aren't especially fans of big groups, it can be overwhelming. It's important to carve out a space that our pets can feel calm and safe, providing a hiding place somewhere quiet, with a recognisable blanket, so they can escape the chaos and moving litter trays from busy areas.
Routine is key
It's one of the first things that tends to go out of the window at Christmas, but having a predictable daily routine that helps your dog anticipate when they will get to eat, go outside, and spend time playing with you, can help them feel more confident and less nervous when outside factors cause stress.
Avoid poinsettias and tinsel
Cats and dogs can be captivated by tinsel, but if ingested, can cause serious problems leading to expensive vet bills. Poinsettias are also a pretty addition to the home over the festive season, but ingesting can lead to a pretty sick pet.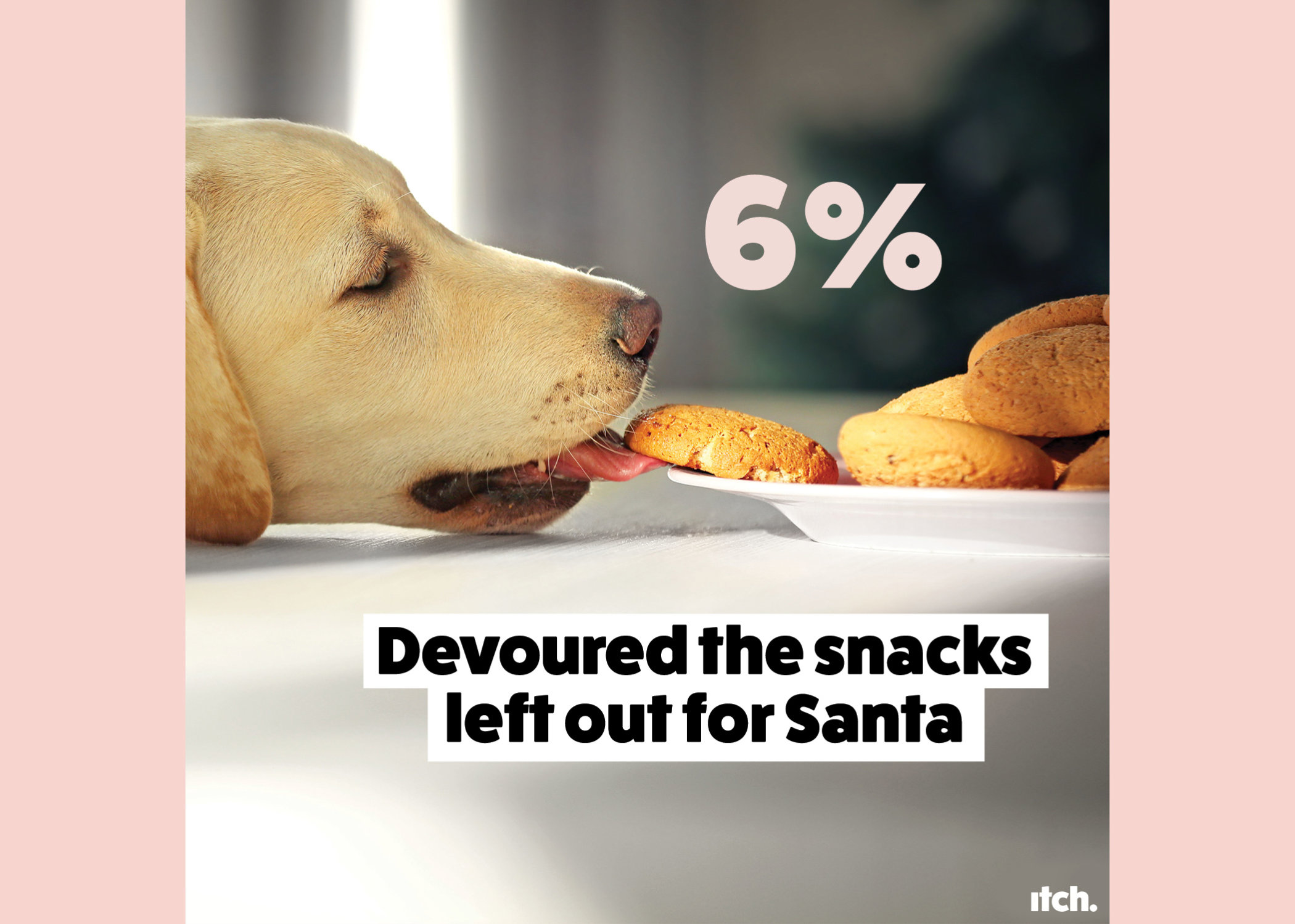 Dispose of cooked turkey bones separately
Christmas dinner leftovers are extremely tempting for your pet and the kitchen bin is a Pandora's box of exploration. Cooked animal carcass' are really dangerous for your pet, so try and dispose of them separately and keep a close eye out for mischievous four-legged bin raiders.
Consider calming solutions
Naughty and mischievous behaviours such as chewing, raiding food and going to loo in the wrong place can be signs your pets are anxious. Calming supplements can help, such as Itch Calm is made with a unique blend of ingredients designed to promote feel good hormones and reduce stress. Itch Calm is available as an add-on to the Itch Flea subscription.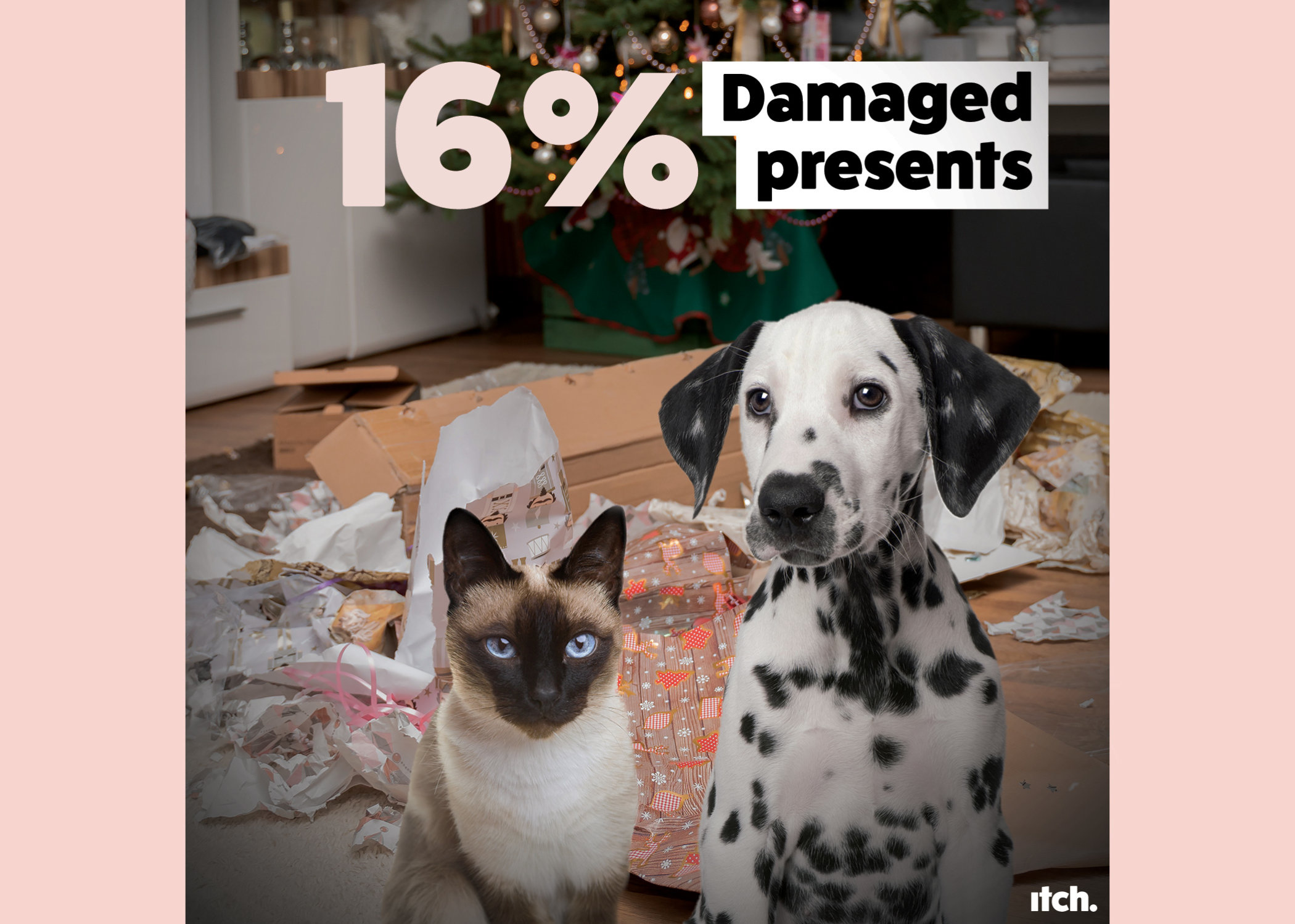 Top 20 Christmas 'Crimes' committed by cats and dogs
Damaged decorations
Climbed the Christmas tree
Knocked over the Christmas tree
Stole meat from the chopping board or from someone's plate
Damaged presents
Broke wind during Christmas dinner
Sat with his 'lipstick' out in front of friends/family
Inappropriately humped or sniffed a family member
Ate a relative's slippers
Brought in a dead animal during Christmas dinner
Relieved themselves on the Christmas tree
Left a festive 'present' under the Christmas tree
Relieved themselves on a snowman
Tripped up Granny or Grandad
Devoured the snacks left out for Santa
Chewed Christmas gift cards with money in them
Nabbed a character from the nativity scene
Ate the Fairy from the Christmas tree
Stole underwear from relatives
Brought unwanted guests, giving a relative or relatives' pet fleas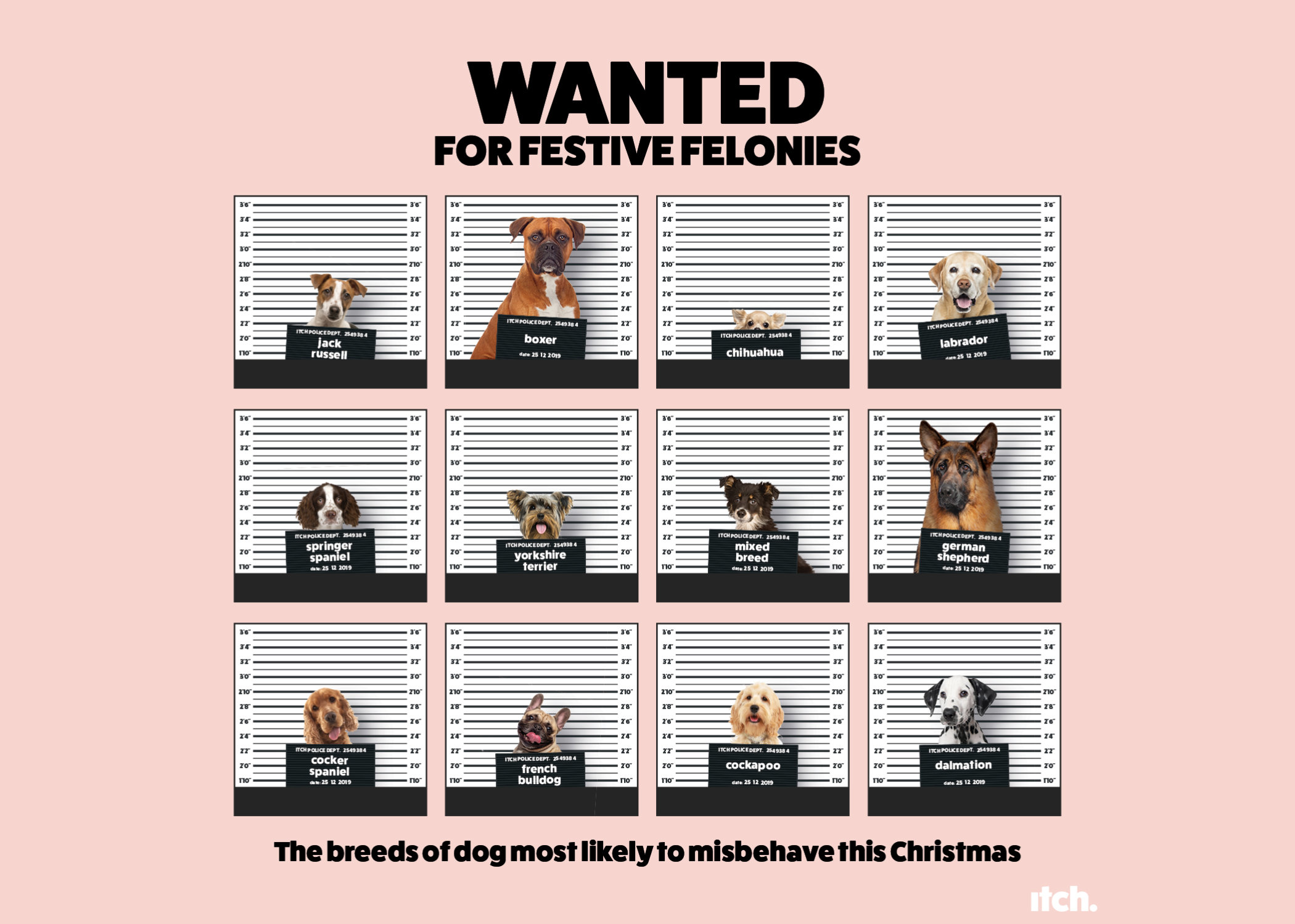 The Top 12 Festive Felons: The 'Dirty Dozen' dog breeds most likely to misbehave at Christmas:
Jack Russell
Yorkshire Terrier
Chihuahua
Labrador
Springer Spaniel
Boxer
Mixed breed
German Shepherd
Cocker Spaniel
French Bulldog
Cockapoo
Dalmatian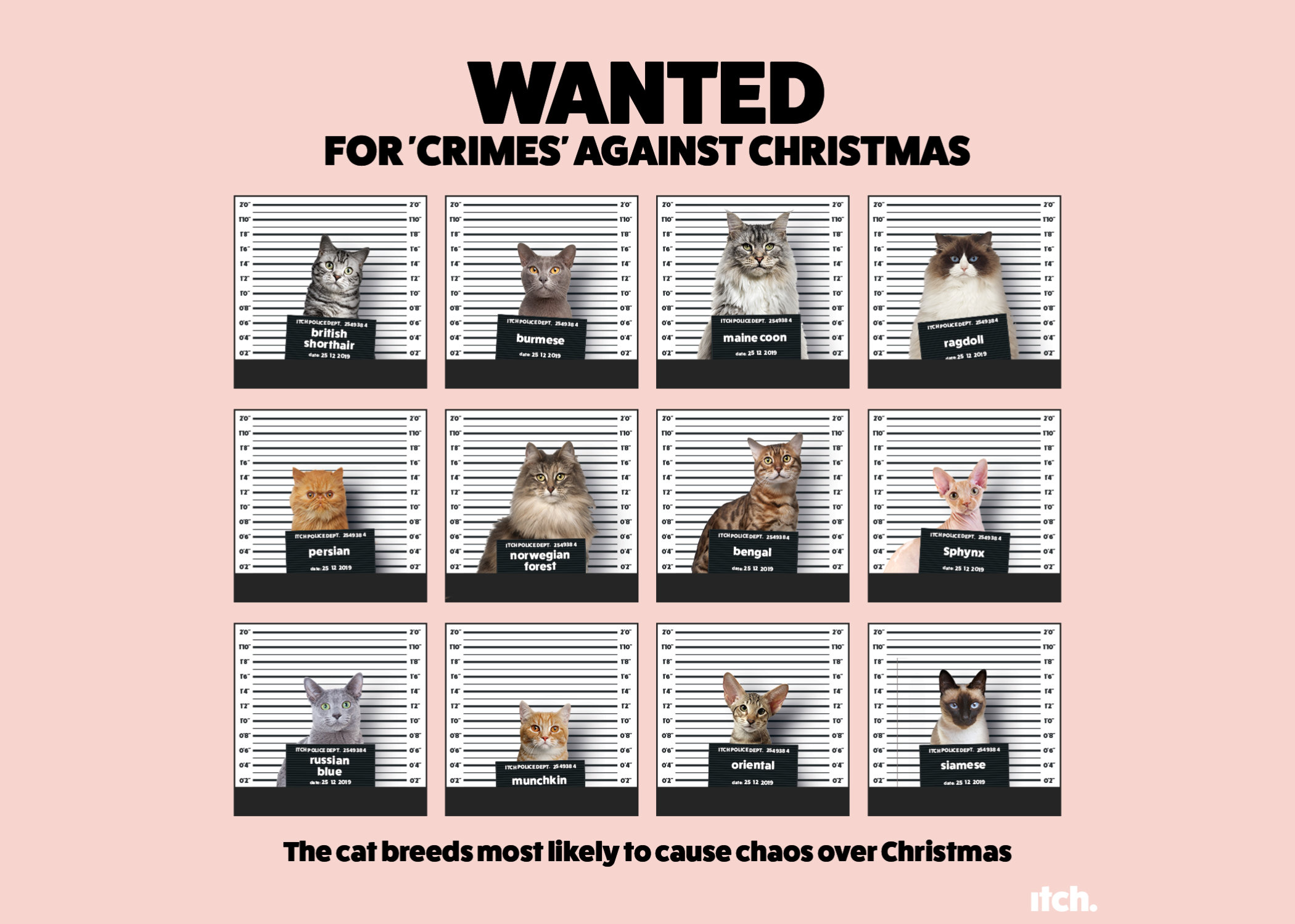 The Usual Puss'pects – The Top 12 cat breeds most likely to misbehave at Christmas:
Advertisements
Visit our Shop for Lisa Parker merchandise!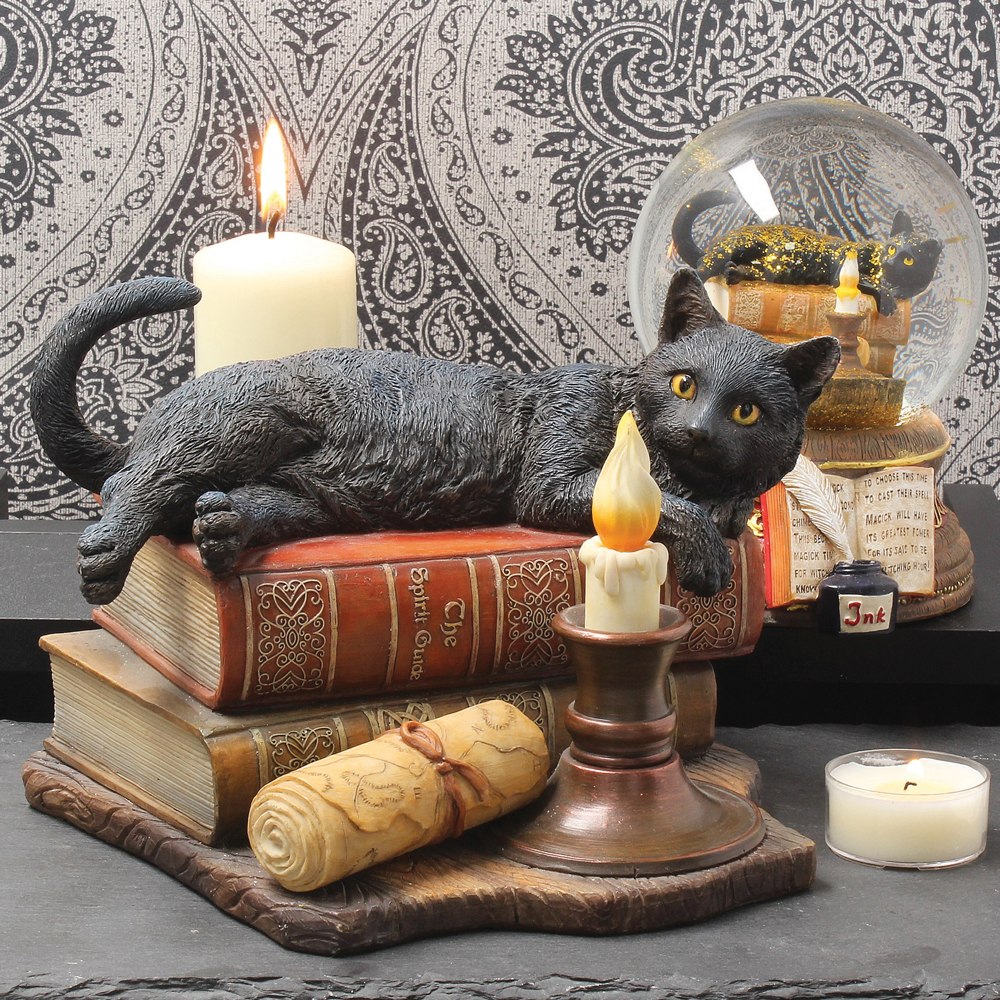 Siamese
British Shorthair
Bengal
Persian
Sphynx
Burmese
Ragdoll
Munchkin cat
Maine Coon
Oriental
Norwegian Forest Cat
Russian Blue
We regularly write about all things relating to cats on our Blog Katzenworld!
My partner and I are owned by five cheeky cats that get up to all kinds of mischief that of course, you'll also be able to find out more about on our Blog
If you are interested in joining us by becoming a regular contributor/guest author do drop us a message @ info@katzenworld.co.uk .