As the darker nights are drawing in and the days get colder, PDSA is offering advice to help keep our pets safe, happy and healthy over the coming winter months.
PDSA Vet Nurse, Nina Downing, said: "With reports of wet, stormy and freezing weather expected over the next few months, it's important to remember that, despite their fur coats, pets can suffer from the cold just like we do. They can't tell us how they are feeling, or if they're suffering, so it's up to us to make sure we provide the extra care they need during colder weather."
To keep our much-loved four-legged friends cosy and content this winter, Nina has put together some top tips for pet owners.
Dogs and cats
Make sure they always have access to warmth and shelter – never leave them outside for long periods.
A suitable waterproof coat can help keep dogs dry, and especially good for pets that are very young or old, are sick, or have very thin fur.
Dogs will still need daily walks and cats may still want to go outside, but keep these excursions short and frequent, rather than longer periods outdoors. But don't force pets to go outside if they don't want to.
Never leave pets in cars, caravans or unheated conservatories, as temperatures can quickly plummet, risking hypothermia.
After a walk, towel-dry them straight away if they get wet. A hair-dryer on a low setting can be useful to dry off dogs with longer hair. To avoid burning your pets' delicate skin it's important not to hold it too close to their body.
Check pets' paws regularly and clean any build-up of salt, grit or dirt from them, as this can be painful.
Wear a high visibility jacket yourself for walks on dark nights, and use a high-vis or LED collar and a hi-vis dog jacket to make walking near roads safer.
If you spot your pet shivering, bring them into the warmth straight away and call your vet. Hypothermia can develop quickly and can be fatal if not treated.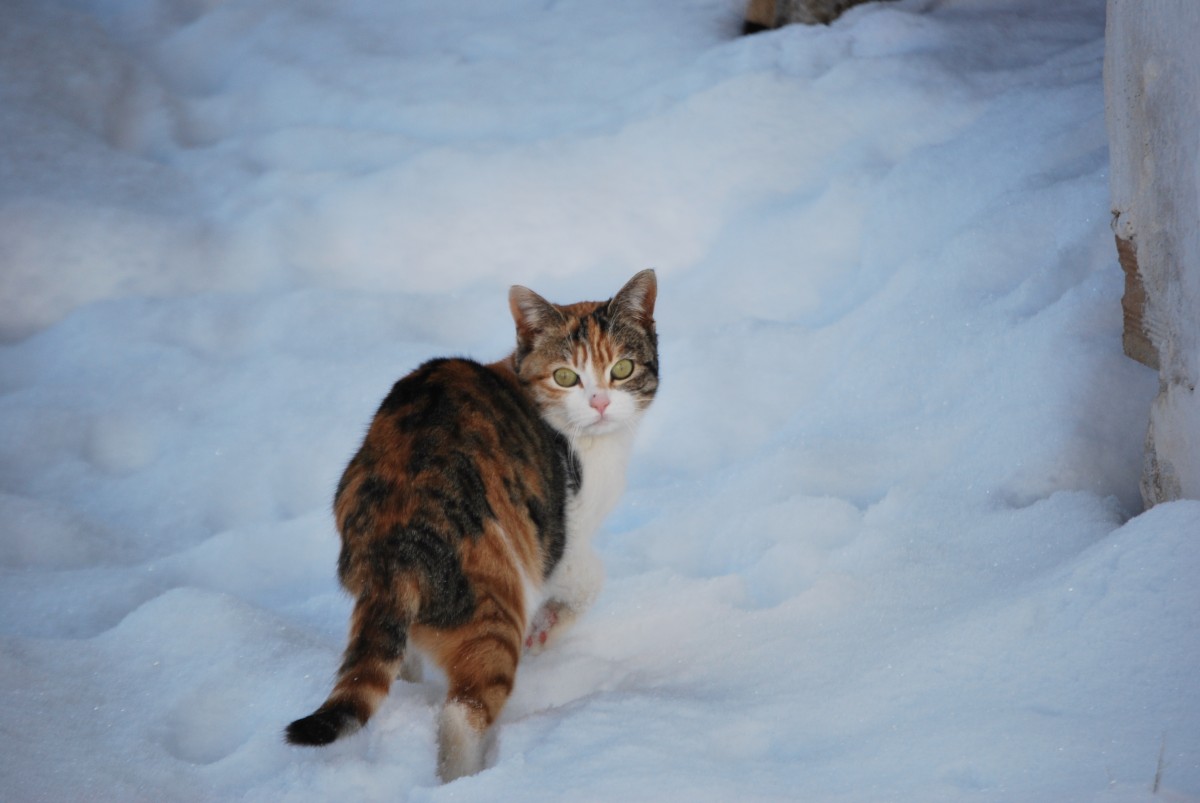 Smaller pets
Prepare to move guinea pigs and rabbits to a warm, dry and sheltered spot – a shed or car-free garage is ideal, but remember that these can get very cold so you may need a heater to keep the area warm. They will still need sunlight and a run for exercise and stimulation.
Provide extra bedding for warmth, and consider covering the hutch with a duvet, blanket or even an old carpet to keep out the cold. Make sure they still have good air flow though, and the blanket is out of reach of nibbles!
Make sure they have plenty of good quality feeding hay – this is separate to their bedding and particularly important if they no longer have daily access to grass.
Move small animal cages away from windows – hamsters, gerbils and other small rodents can be susceptible to cold draughts, (hamsters especially can go into hibernation).
In freezing temperatures, check water dishes and bottles twice daily to ensure they haven't frozen. Always check water runs freely as nozzles can freeze before the rest of the bottle.
For more advice on taking care of your pet this winter, visit www.pdsa.org.uk/winterhealth
PDSA is the UK's leading vet charity. We're on a mission to improve pet wellbeing through prevention, education and treatment. Support from players of People's Postcode Lottery helps us reach even more pet owners with vital advice and information. www.pdsa.org.uk
We regularly write about all things relating to cats on our Blog Katzenworld!
My partner and I are owned by five cheeky cats that get up to all kinds of mischief that of course, you'll also be able to find out more about on our Blog
If you are interested in joining us by becoming a regular contributor/guest author do drop us a message @ info@katzenworld.co.uk .