Katzenworld readers, tuck in for a special treat because today's article isn't just your typical round-up of reviews.
First, it contains a write-up of Helkatti, location of the best coffee I've ever had. Which is saying something as I've had tons. It also contains a recap of my favorite cat cafe ever. Yes, you read correctly. I've loved so many of the cafes I've visited, that it's REALLY hard to pick a 'favorite' but even after three years of cat-cafeing all over the world, Kissakahvila Purrnauskis remains at the top of my list.
Cat Cafe, Nordic Style: Helkatti, Helsinki
Finland is populated with hardy folk who escape the pressures of daily life (and the cold) with frequent trips to lake cottages in the forest to sauna.
Helkatti takes its inspiration from these woodsy traditions and has created a lodge-like environment with trees and rough-hewn wooden tables, but then kicks it up a notch with cozy and sophisticated touches like shearling throws, pops of color and soft jazz music.
We arrived on a cold and rainy day and waited outside for a bit before the friendly host let us in, done so to prevent dashes into the busy street out front.  Shoes are removed at the door and rules are explained, including the €5 per person entrance fee to help cover the cats care.  Speaking of kitties, there were eight in residence the day of our visit, a mixture of white, tuxedo and tabby; all quite young, playful and extremely cute.
We were allowed to sit anywhere, but chose the front room near the window where the lighting was better for photos and a couple of sleeping felines enhanced the chill mood.  Looking over the menu I was pleasantly surprised to see a wide assortment of sandwiches, soups, salads and desserts.  My partner selected a latte and Oreo cheesecake while I picked a filter coffee and traditional Finnish Tiger cake, a marbled bundt served with chocolate sauce and almond crunch.
I must give special mention to the coffee.  It's probably the best I've had in all my cat cafe visits and among the best I've consumed, period.  I come from filter coffee culture (Northern Minnesota) and the Nordic countries are also of this persuasion.  It was strong, smooth and flavorful- pure heaven in a cup!
The café was moderately busy for a weekday afternoon with a few couples and small groups of ladies dotted throughout the room.  The cats seemed to be making the rounds as they moved from table to table, bringing smiles to all the patrons.
While the staff and cats are friendly, the cozy atmosphere and outstanding coffee truly make Helkatti a stand out cat café and must-visit destination when in Helsinki.  Can't make it to the woods of northern Finland?  Helkatti will surely provide a welcome mini-escape.
Top of the World: Kissakahvila Purnauskis, Tampere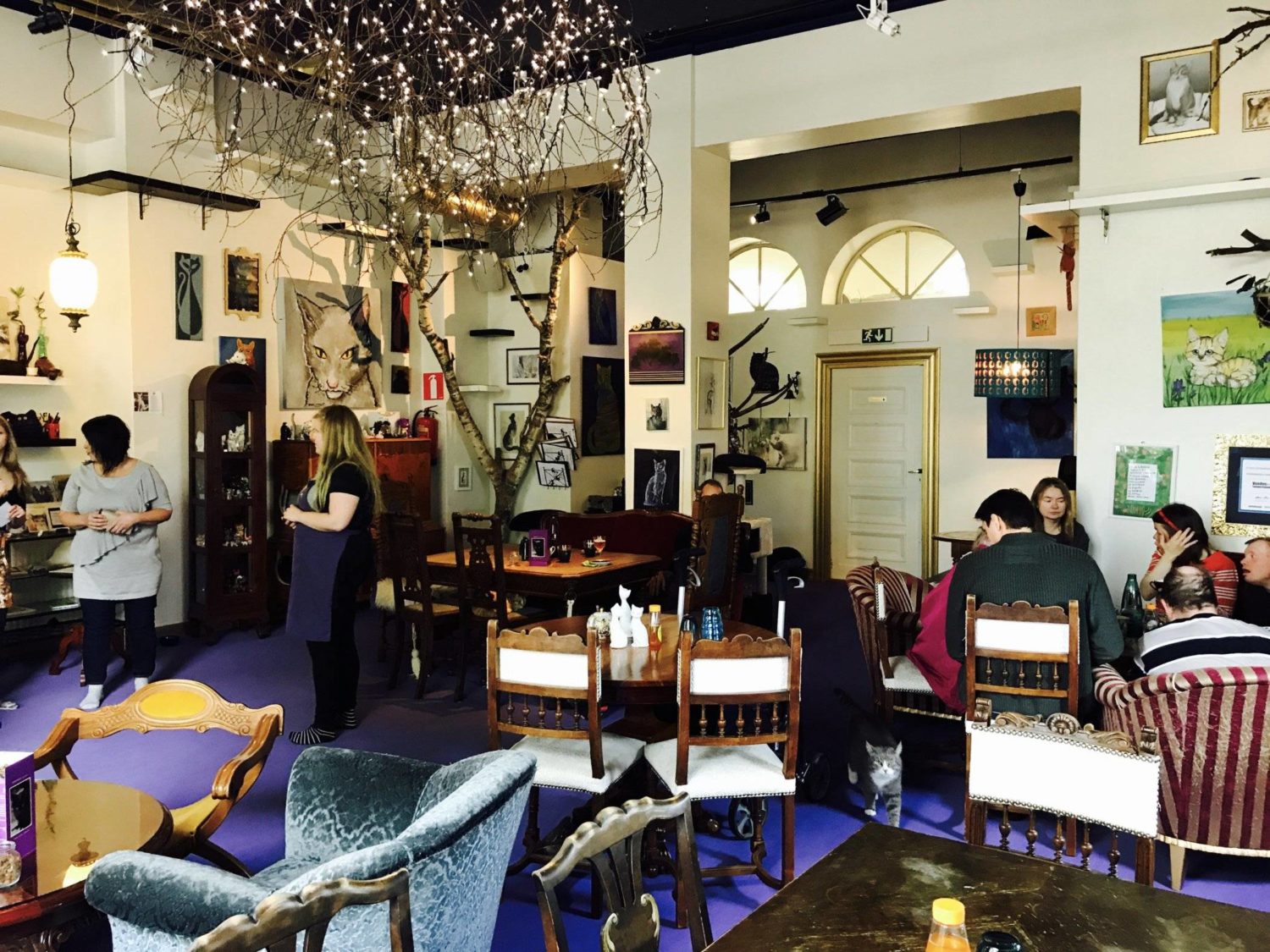 I like sleek and modern, but there is something about an old-fashioned tearoom that I love.
The delicate cups, the elegance, the ceremony, it all makes me feel like a lady, and in the middle of Tampere, Finland, an area known for its northern hemisphere locale and rugged beauty, such a place exists.
After a scenic 1.5 hour train ride from Helsinki through the Finnish forest and a pleasant walk around town, we showed up shortly after the cafe's noon opening and were immediately impressed.
The space is incredible. Light, bright and airy with tall ceilings, it also manages to feel cozy with high quality wood furnishings and lovely vintage decor.  The famed purple carpet and great music selection (old-fashioned standards by Etta James and Ray Charles) create a sophisticated atmosphere to offset any sense of granny-style twee.  It just felt satisfying to sit in there.
Then, I met the cats.
If I was impressed with the physical environment, then the cats really blew me away.  Carefully chosen for their diverse personalities, these kitties take the cat cafe concept to the next level.  Social, curious and full of energy, these seven felines took turns making me smile.  Viru, the fluffy tabby, enjoys head scratches while sitting next to you on the red settee.  Snowball is an inquisitive white kitten that wants to know what you are drinking.  Piki-Nelli, a black ball of floof likes to sit on the table and stare at you.  Then, lazing nearby there's the creamsicle colored ginger with the best name ever:  Baron von Cream.  Rounding out the crew are Lumipallo (fluffy white), Hugo (big gray) and Micu (small gray).  Rare for a first visit, I really felt like I got to know them.
The high marks continued with our lunch.  Tearing my attention away from the cats momentarily, I studied the menu, finding it difficult to choose (it all sounded so good), but ultimately selected the tasting menu with a goat cheese/chili jam on toasted brown bread starter, a hearty carrot soup topped with creme fraiche for my main and finally Tiger cake (a traditional Finnish chocolate and vanilla bundt topped with almond crunch and chocolate syrup) for dessert served with a great cup of coffee.  Outstanding!
Finally, if you will indulge my gushing, I can't say enough about the staff.  From our warm greeting at the door, to showing us which toy Piki-Nelli finds irresistible (hint:  throw the feather toy on the ledge over the door) to making sure we had enough coffee, these friendly folks demonstrated tremendous care for both their kitty and human charges.
One of the best cat cafes in the world, Kissakahvila Purnauskis cat lovers should prioritize a trip to Finland, ASAP!
New Kids on the Block: Java Whiskers & Kissakahvila Freija
So technically I'm cheating here because I haven't actually visited these two cafes, but they both look so wonderful, I felt I must alert you to them. I, for one, will be making a visit ASAP!
Java Whiskers, Stockholm, Sweden
Recently opened, Java Whiskers has embraced the cat cafe concept where the resident cats are rescues looking for forever homes. Dirk, one of the owners, stated that it's a quality place to enjoy a fika (the famed Swedish coffee break) in downtown Stockholm while getting to know the cats. The adoption process is managed in cooperation with the shelter partner, Solgläntan. Current feline residents include Figaro, Björn, Molly, Bebo, Selma, Astrid and Bulten.
From the photos, it looks like a gorgeous place and the owners have committed to delivering a high standard for their foodservice. Add in the fact that you are supporting rescue and adoption efforts, then making time for a coffee break while touring Stockholm never meant so much!
Kissakahvila Freija, Rovaniemi, Finland
I started following the hashtag #catcafe recently, and that's how I discovered another cat cafe in Finland. Billed as the 'The World's Northernmost Cat Café & Coffee Roastery' (further north than Kissakahvila Purnauskis), I love the cheeky and fun personality coming through their Instagram account such as this post:
Now in a brand new, bright and cheerful location, Kissakahvila Freija looks like a lovely place to hang with kitties while sipping delicious coffee!
The Neighbor's Cat is the alter ego of Paula LaBine, an itinerant cat lover who writes about cat cafes, rescue/adoption & TNR, and has been featured in Miau Magazine, Katzenworld Blog, The Catnip Times and Taiwan Scene. She is currently on a quest to visit every cat café in the world- 217 in 29 countries so far! Find her at theneighborscat.com or on Instagram/ Facebook/Twitter @catcafeviews.
Advertisements
Visit our Shop for top-quality cat toys and cat lover products!
The Neighbor's Cat is the alter ego of Paula LaBine, an itinerant cat lover who writes about cat cafes, rescue/adoption & TNR, and has been featured in Miau Magazine, Katzenworld Blog, The Catnip Times and Taiwan Scene. She is currently on a quest to visit every cat café in the world, 217 in 29 countries so far! Find her at theneighborscat.com or on Instagram/Facebook/Twitter @catcafeviews.