Hi everyone,
For a change it's me Freya first in todays post! 🙂 We are back for another round of looking at the great range of products by Sleepypod who are currently kindly sponsoring our publication.
Freya: This one is the Sleeypod Atom which very conveniently folds down to a compact format 😀
Rennie: How is it going to unfold itself?
Freya: Silly brother… the humans will do that!
Freya: Looks like it's ready for catploration!
Rennie: So it does, but isn't it a little small for me?
Freya: Only if your bum has gotten fatter… and if it has we may need to get the size up because remember this is the smaller more compact Atom version of the airline approved Sleepypod range. And it's for pets up to 5.5kg… so if you are saying you don't fit… we may need to put you on a diet again!
Rennie: WHAT?!? No Diets!!!!
Rennie: Let's try… one foot after another…
Freya: Hmmm…. looks like you do fit in after all. 😉
Rennie: And I am in! Do I get a treat now? 😀
Freya: No… but a well done! Also… do you mind if I join you in there? ;o
Rennie: Definitely not! This is why we've got more than one Sleepypod. :O
Freya: But but… I want to go in too now!
Freya: Right! It's my turn to try out this carrier!
Freya: Looks like it's a purrfect size for me. 😀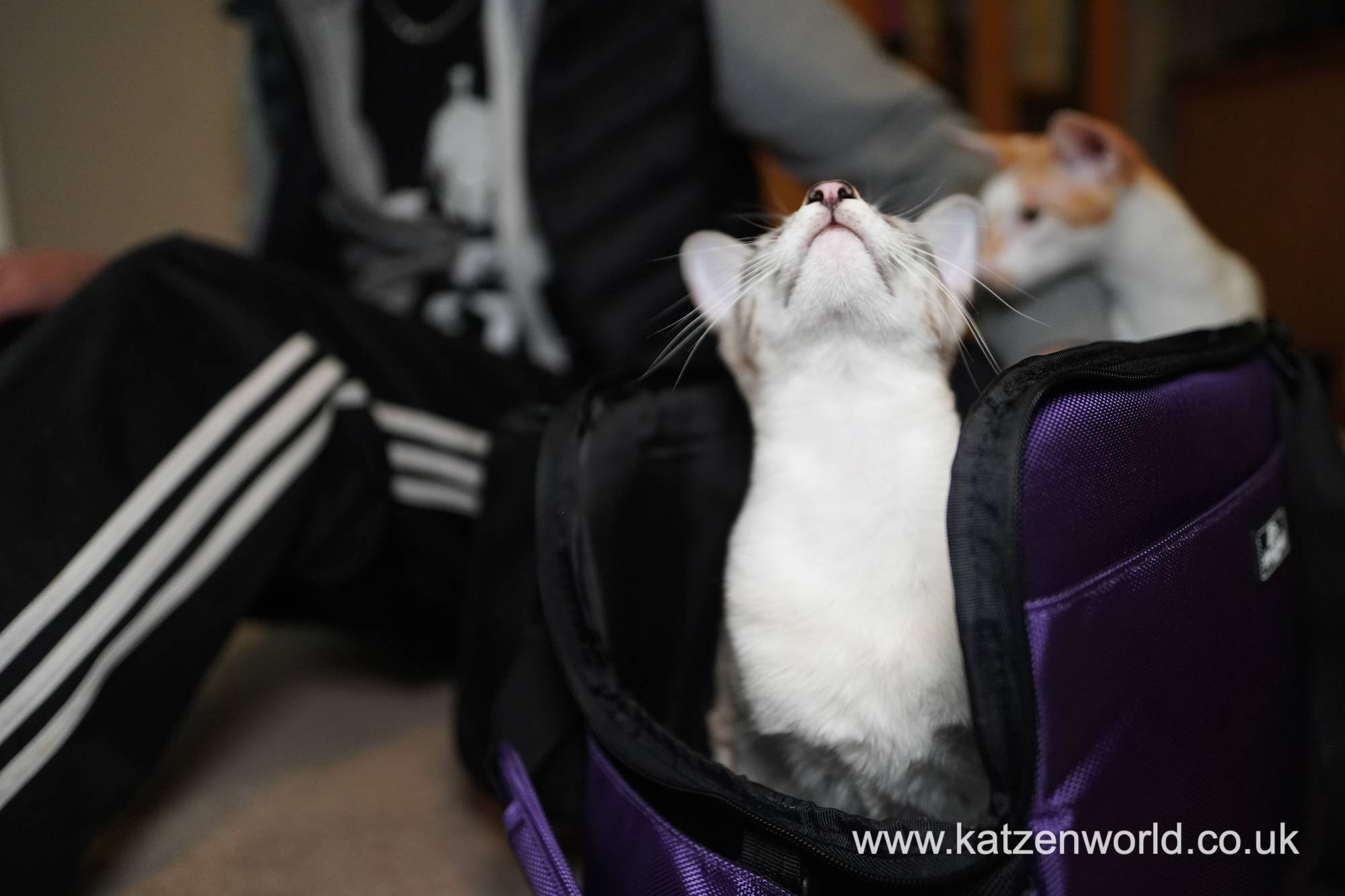 Freya: Look at me humans! Not just do I look cute in this but it's purrfectly matching my colour. 😉
Freya: Yep this is purrfectly comfy! 😀
Rennie: I want to go back inside!!!!
Freya: Noooooo you had your chance earlier!!!!
Rennie: Or not. 😉 I've managed to get back in. 😀
Freya: Meanie! I was very happy in my carrier. 🙁
Rennie: Well… maybe next time I'll let you have it for longer. 😉
Freya: Anyhow… so what did our humans think of this particular model? Well, they were very impressed! Not just is this carrier in an airline approved size but when not in use it folds down very small which minimises the amount of storage space required. And of course it was super easy to convince us to get into the carrier as it's got the super comfy cushion at the bottom. Just like the other products the Sleepypod Atom carrier is available via the Sleeypod Europe shop as well as the Sleeypod US shop!
Signed by,
His Meowjesty Prince Renegade the Flash
&
Her Meowjesty Queen Freya the Snow Leopard
Advertisements
Visit our Shop for top-quality cat toys and cat lover products!
We regularly write about all things relating to cats on our Blog Katzenworld!
My partner and I are owned by five cheeky cats that get up to all kinds of mischief that of course, you'll also be able to find out more about on our Blog
If you are interested in joining us by becoming a regular contributor/guest author do drop us a message @ info@katzenworld.co.uk .