Another country, another adventure! Yoda left Europe in March, where he stayed for a brief while reconnecting with long lost siblings living in North Carolina and Tennessee (USA). But a few weeks later, it was time to move again.
This time, to Mexico!
Yoda must be thinking, "What are they doing? Will they ever just let me sleep in one country for a while?" (sorry Yoda, we love you).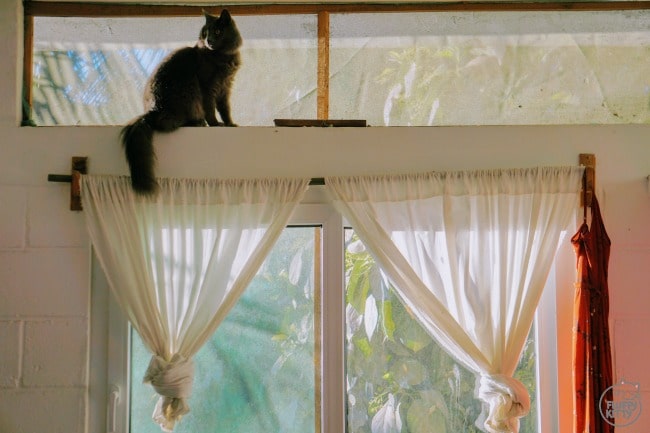 Moving to Mexico with Yoda was just another trip for him. Away we go, high in the sky, and Yoda is with us at our feet. Not making a peep, not a cry, or mini meow. He sleeps. He licks our fingers when we poke them in the carrier.
We arrive, and wow! Mucho calor! It's very hot in Mexico (who would've thunk?). In April, mornings and nights were fresh. Yoda loved his new surroundings! He's never seen so many palm trees in one place before!
But, alas, not every place is purrfect. Our little town on the beach in the state of Nayarit is full of… dog-lovers. There was little hope for making feline friends.
But then, we three moved into a new apartment on a different, sleepy street. The walls are splashed with orange and yellow, the roof has that classic Mexican-style to it, the sink is painted, and, what's this? Two stray cats live in the garden outside. The neighbor feeds them, well, at least he did until he moved. Then, the two tiger-striped kitties became ours, and Yoda didn't approve.
At least not at first. Mind you neither did the mommy cat, who was named Porker. She'd hiss and emit low, evil-sounding growls. Yoda would shy away quickly. Her teenage boy, who was named Piglet, shied away from us, too.
Our new feline friends would wait for us to open the door in the morning. "Meow, meow, meow." "Yes, good meowning to you, too," I'd say.
One week goes by, then two, then Yoda starts to inch closer to Porker while he has "outdoor time" out on our porch and in our garden. Soon, Porker starts rubbing herself against Yoda, to his surprise, funnily enough. Piglet was harder to swoon, but after a while, he loved getting cuddled (briefly). He felt human love. And then he too found a friend in Yoda. Or vice versa?
Both Yoda and his new friends, Porker and Piglet, would wait for each other each morning. Piglet would come inside and steal Yoda's toys and get them all dirtied up. Yoda would just watch, as if he was saying, "That's okay, I can share my toys with you, Piglet!"
Then one day, we had a surprise. Porker not only had Piglet to teach, but she now found herself with one little baby ginger kitten, who was born in the garden (under our nose!) We found him after one week. For his size and color, and because it fell into the name theme of the family, AND the fact that we know lived in Mexico, we decided to name him "Chicharron." In Spanish, it means fried pork rinds.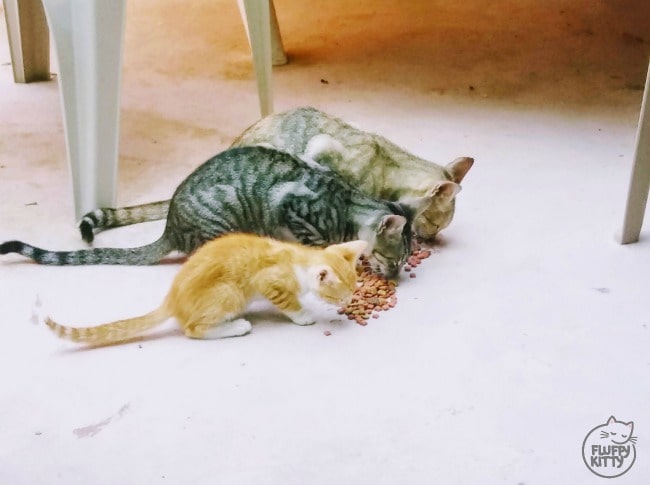 Now Yoda not only had Porker, and Piglet but now Chicharron too! Yoda loved smelling deep into Chicharron's ears and swatting at his tiny tail once he grew bigger. Chich, as we nicknamed him, was so small and playful he could run under Yoda's belly without being noticed!  
Before we knew it, we had a family of four.
So you can imagine, after caring for this beautiful little family, how heartbroken yet thankful we were when we found ALL 3 of them a home, where they could live out their lives peacefully, in a sweet little Mexican pueblo by the beach.
But that's not all!
Yoda found himself lonely, and so did we. We helped rescue and rehome three cats. Why should we stop there? At least that's what page I was on, but Paul seemed to disagree.
And that's when "Vader" came along. Who's Vader? He's a one-eyed grey/white kitty with a chipped ear, who we found in a ditch on our way home. But Paul, after saying goodbye to the other three cats, didn't want to go through the foster-adoption process again. After all, it was pretty sad to have to say goodbye to them.
So we kept walking. This poor kitty, who was so playful and meowing constantly at us, was etched into our minds. He sorely needed medical attention, and if we weren't going to help him, who would?
For the next two days, we searched for Vader at the same spot when we went home. But he wasn't there.
Then one hot afternoon when we were biking back home from the beach, there Vader stood in the grassy ditch, looking at us pitifully with his one good eye. I said, "That's it! He's coming home." I swaddled him up in my beach towel and walked him home in my arms, while Paul pushed our bikes. Vader was trusting, and his meows grew weaker.
We got him home and quickly provided a fresh bowl of water and food. The first meal he kinda just looked around would eat a little, and then eat some more. He took forever to finish it all.
Yoda was surprisingly welcoming, having just met. But Vader, having lived on his own, knew to be wary of other cats. But he trusted us, even Yoda. He knew we were okay.
That was almost two months ago. Vader is still in our care, awaiting an eye surgery to get it sealed over (there's no eye at all). Once he's fat and happy, we'll consider finding him a new, permanent home. But it hurts already. Since he's been here, he hasn't cared to step not one foot outside of our garden. He feels at home here and it shows. He gets off balance at times and loves to play with Yoda (as long as Vader has the higher ground, of course!). With a name like (Darth) Vader, Yoda and he were bound to be frenemies from the start.
Yoda loves to make new friends, but will always keep the old somewhere in that tiny little noggin' of his, of that we're sure.
Thanks for reading everypawdy! Stay tuned for more of Yoda's adventures over on our blog Fluffy Kitty!
Advertisements
Visit our Shop for Lisa Parker merchandise!