It comes as sad news that we have to post an update that a cat cafe we visited a few years back closed its doors. 🙁
This actually happened a while back but we've received a number of inquiries of people attempting to find the cafe so we thought it was important to update this post and let everyone know that sadly Purr Cat Cafe Club in Bangkok is no more. But we are happy to report that all cats are living happily with the owners and staff now at their own homes.
For those that didn't get a chance to visit the cafe please find below a blast from the past with a view as to what the cafe looked like on our visit. 🙂
The cafe had taken great care in providing 3-dimensional space for their cats. This is an important aspect of a cat cafe as it enables the cats to do their own thing whenever they don't feel like interacting with visitors.
Of course we had problems keeping the cats out of our bags… they must know that we have plenty of cat toys at home for our Shop. LOL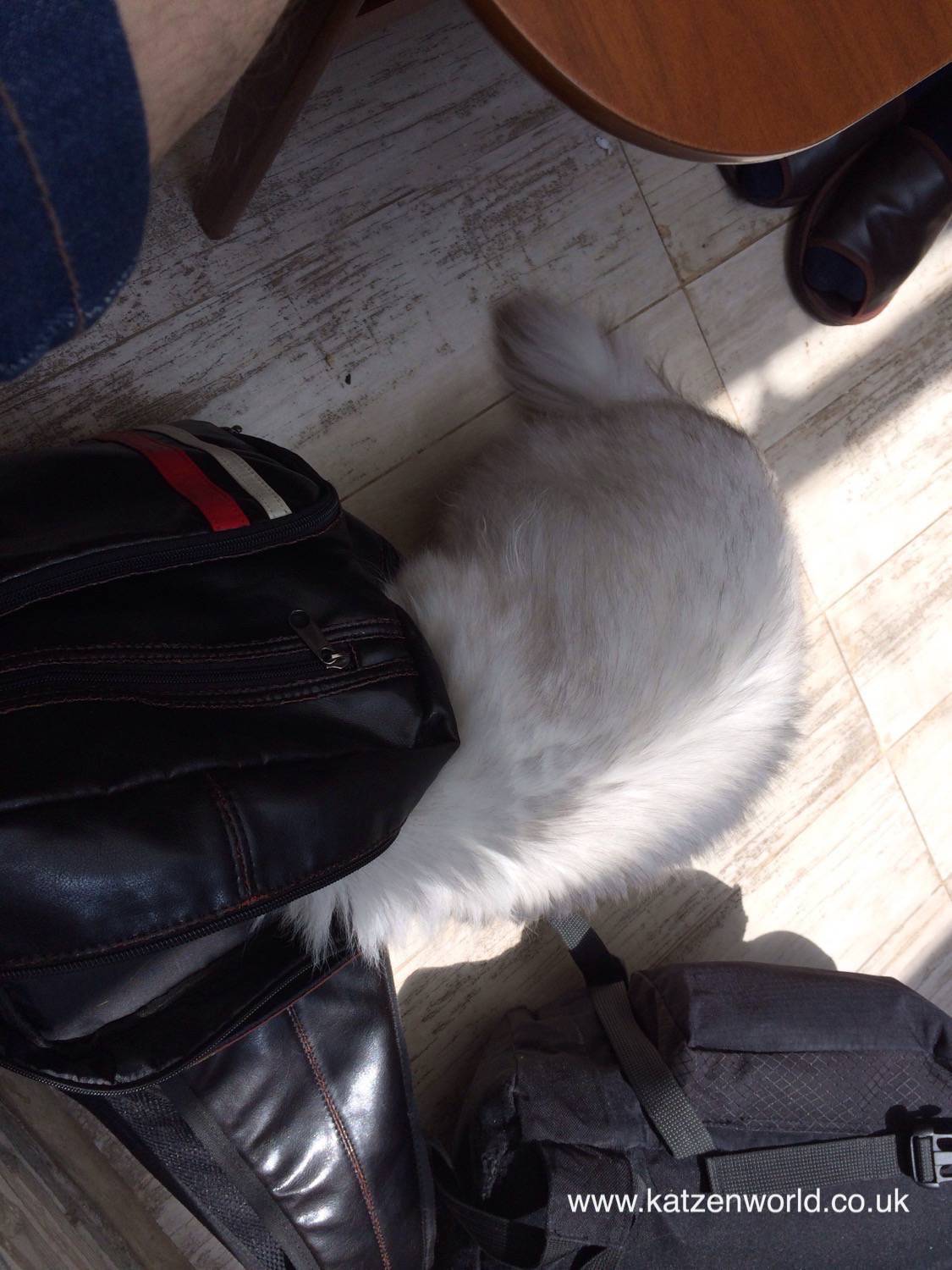 One thing we thought was especially great about this cafe was the selection of food and drinks. The only other cafe we can think of that's on paar with this would be Lady Dinah's Cat Emporium here in London. We had a chocolate cake, tiramisu and green tea latte:
This slideshow requires JavaScript.
In addition to their young adults and older cats they also had some very cute kittens. For their safety these were with their mother in a separate area of the cafe and only the staff was allowed to interact with them.
Some of the cats were more playful than others, especially when feathers were involved:
Of course grooming is a necessity especially for their longer haired cats:
They had a lot of different cats there. I especially liked the Main Coons that always remind me of a Lynx:
And of course it's always surprising where cats get comfy….
On our way out through the souvenir shop we noticed that this guy sure doesn't want to let tourists buy his favourite tins of tuna:
We hope you enjoyed this dive into the past and the cafe will most certainly be missed by us and all those that went. 🙁
If you like our blog why not sign-up to our Newsletter here! 🙂
Thanks,
Marc
Advertisements
Click to visit our Shop for the hassle-free Zen Clippers!
We regularly write about all things relating to cats on our Blog Katzenworld!
My partner and I are owned by five cheeky cats that get up to all kinds of mischief that of course, you'll also be able to find out more about on our Blog
If you are interested in joining us by becoming a regular contributor/guest author do drop us a message @ info@katzenworld.co.uk .