Today we're sharing a story about a couple of cats who have been out exploring the great outdoors in Canada with their cat mum, Marley. Now, I know cats on leads is a bit of a divisive topic at the moment but we think there should be open discussion about it. There are cat behaviourists on both sides of the fence but the take home message is – it's up to your cat(s)!
Nikki Roo and Sawyer (aka Soysauce because of his dark colouring and his favourite snack being soybeans) are Siberian forest cat brothers who were 4 years old on April 21. Nikki was the first born, and Sawyer was the runt of the litter.

I started walking them the day after we became a family – when they were just 2 months old. At first, we practiced walking in their harnesses with the leash attached just around the fenced in backyard of my home; in the blooming flowerbeds and grass. Sawyer would've been happy to never leave the backyard as he is a bit of a scaredy-cat, but Nikki is a born adventurer and quickly gained the courage to investigate the sidewalks. Wherever Nikki goes, Sawyer is close behind.
It took several months of twice a week "training sessions" walking up and down my quiet block, before they were ready to walk all the way to the park (a mere 3 blocks away). When they finally made it there, a whole new world opened up for them. For the first time, they encountered wild rabbits frolicking under evergreen trees and angry birds swooping at them to chase them away from the nests (which I made sure they never found), as well as neighbourhood children who were overjoyed to see cats at the park. Whereas before they were hesitant and timid to simply be walking down the street; they were now bursting at the seams with excitement for this grand adventure.

Nearly every day we would go back to the park, and Nikki assumed his "rock star" status; tugging on the leash as hard as he could to run up to children and demand chin scratches. Sawyer was more interested in practicing his stalking techniques on local crows, rabbits, butterflies and suspicious twigs. This continued for several months until the routine seemed to get boring for them and I decided to drive them to a bigger park in our river valley here in Edmonton, Alberta (which has the longest system of connected parks and trails in the world).
Once again their world expanded, but this time they needed to be braver than ever before as the park was frequented by dogs, cyclists and even horseback riders. The river is also a favourite local spot to go motor boating. All of the noise and action was overwhelming for Sawyer at first, but he quickly adjusted – thanks to Nikki's fearlessness inspiring him, I'm sure.

Check out the video;

Now, we go to the "big" parks every weekend, and sometimes walk for hours. They love the attention they get and the critters they can interact with, I love the exercise as Nikki's appetite is as big as his personality.

I am always looking for more memorable opportunities. This winter, my partner and I began taking them on multiday hikes in our nearby mountain range, which I wasn't sure they would be able to handle at first. But once again, Nikki and Sawyer found the challenge to be "the best thing ever," as they didn't stop purring for nearly an hour while trotting up a mountain switchback to a gorgeous viewpoint (they often express their excitement upon visiting a new area by bursting into uncontrollable purrs).
We have several big trips for them planned this spring and summer, including a canoe ride on a mountain lake and an 8 hour trip north to the boreal forest – Peace River, almost to the North West Territories border (where I am from, and where the population of black bears outnumbers people).

Safety is always our number one concern when walking them, but especially on more remote trips. We have special cat-specific harnesses that they cannot slip out of if spooked (although to-date they have never tried – they are well trained and simply climb up to my shoulder if they are frightened), we also always make sure that there is one more person than cats on a walk – so that someone has their hands free in case anything should happen. We recently got a catbackpack for added peace of mind during excursions – which Sawyer adores, and they always wear their tags when we are out of the house.
I had planned to train them to walk even before I brought them home; knowing that Siberian Forest Cats are VERY large cats (Nikki is over 20lbs). I didn't think it was right to keep such large, carefree creatures cooped up in a house for their entire lives, and it felt equally unjust to let them roam outside – where vehicles pose a very real threat to their lives. To me, the solution was simple!

After watching me train Nikki and Sawyer to walk, a number of my close friends have taken it upon themselves to leash train their own house cats – with unanimous success. I believe that any cat can learn, with enough patience and love dedicated to their training, although it certainly isn't an easy adjustment for every single cat.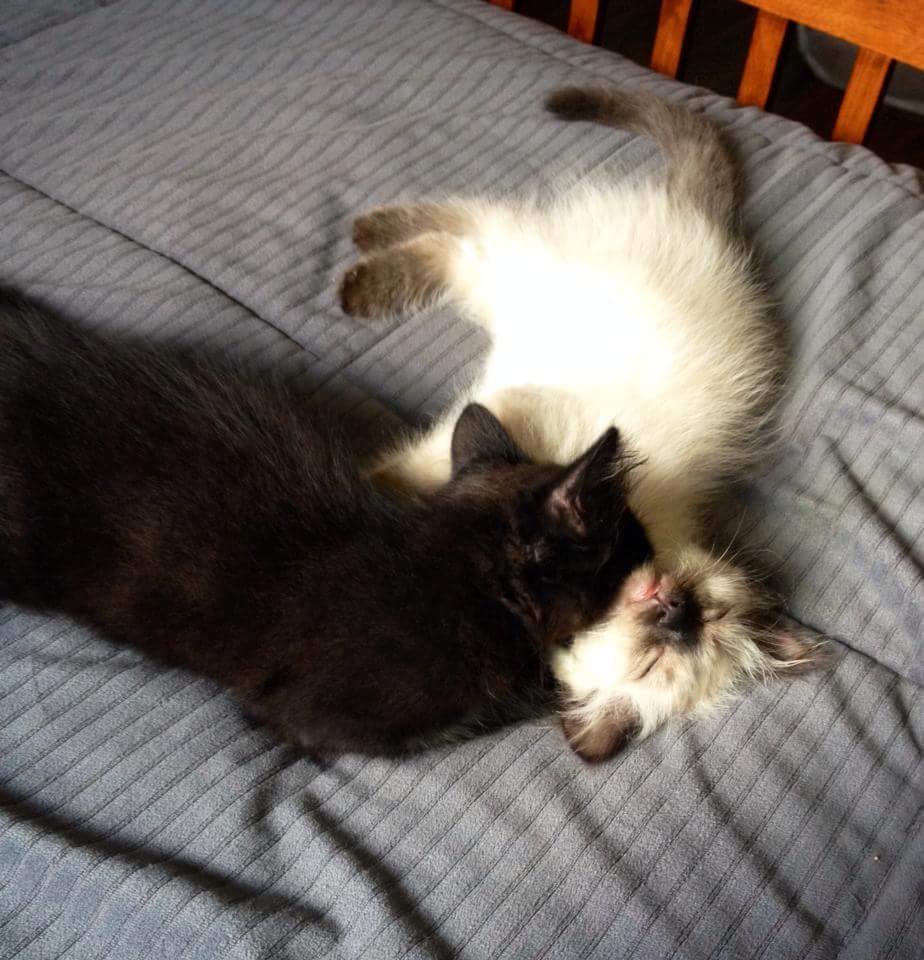 Doesn't that want to make you go out and explore the great outdoors where you are?
Iain
Advertisements
Visit our Shop for top-quality cat toys and cat lover products!